Cobweb Strange is another virtually unknown band from the United States of America which is suffering from the lack of exposure other quality bands in other genres regard take as granted. Their four albums is solid heavy prog which fans of this genre should check out.
I got in touch with them and Wade Summerlin answered my questions.
------------------------------------------------------
When was Cobweb Strange formed and do you have any background from other bands ?
 
Cobweb Strange was formed at the beginning of 1995.  The first Cobweb Strange live performance was June 30, 1995 in Atlanta, GA.  The first recorded release was the 4-Song EP "Thoughts Under Glass" which was released on July 27, 1995. 
 
Prior to Cobweb Strange, we had all played in different bands.  The last band I was in before Cobweb Strange was another progressive rock band called "Roots of Consciousness" which had a CD out on Syn-Phonic Records.  I was a huge fan of "Roots of Consciousness" before I joined the band, so it was very exciting for me.  I was asked to replace their bassist and my first show with "Roots of Consciousness" was opening for the band YES on their TALK tour.  I didn't play many shows with them, so I feel like I'm more of a fan than a former member and I highly recommend checking them out! 
 
There are two other bands that I should also mention.  In 1993 and 1994, I played in a band called "Spyglass Guest" which was the band that I was in when I wrote much of the early Cobweb Strange material.  In fact, "Spyglass Guest" had recorded a full-length album, which was never released.  That album would have included different versions of quite a few of the songs that ended up on the first Cobweb Strange album, "The Temptation of Successive Hours." 
 
The other band I should mention is "Planet of Playthings."  "Planet of Playthings" was a fun band that Derik Rinehart and I played in for a few months during the Summer of 1995 while we were looking for a guitarist for Cobweb Strange.  It was a band of many firsts. The first time Derik and I performed shows together, the first recordings Derik and I recorded together, and the first time I sang lead vocals were all in "Planet of Playthings."
 
Whose bands were you influenced by ?
 
Early on, Rush was by far our biggest influence.  Derik and I were both huge Rush fans.  Additionally, we were listening to a lot of Yes, Ozric Tentacles, King Crimson, Gentle Giant, Echolyn and early Genesis at the time.  Derik was really the one who got me into both Genesis and King Crimson.
 
 
To start with; please give me your (long or brief) thoughts and lowdowns on.......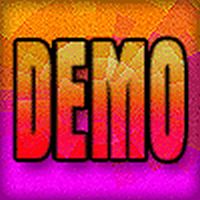 Thoughts Under Glass from 1995
 
This 4-song EP was our first release.  It was only released on cassette.  At the time people still had cassette players and it felt very expensive to release a CD.  However, very soon after this, it seems like everyone had CDs instead and cassettes were quickly disappearing from the local music scene.  We wanted to have a professional quality EP available to help book shows and so that people who enjoyed our music could take something home with them.  "Thoughts Under Glass" was thrown together very quickly.  Our guitarist at the time, Jonathan Burke, had just joined the band when we recorded this EP.  I thought he did a great job considering he was just learning the music, but I was not very happy with the recording quality or much of my vocal performance on this release.  Better versions of all four of the songs ended up on our first full-length CD, "The Temptation of Successive Hours."  As a result, there aren't many of these floating around.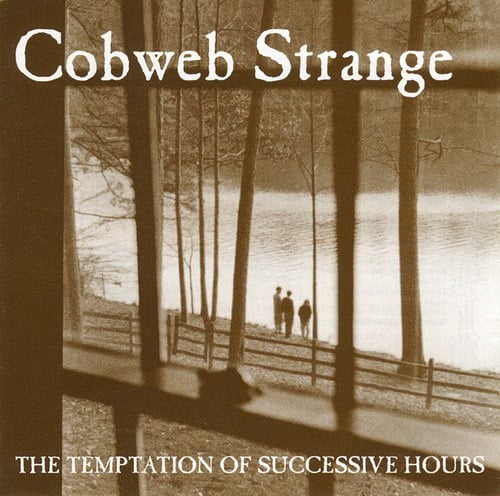 The Temptation of Successive Hours from 1996
 
It seemed to take forever to record.  Before Cobweb Strange, I had interned as a studio engineer for a while and had just opened my own studio.  Derik and I also recorded additional drum tracks in two other studios including one in the basement of a church.  "The Temptation of Successive Hours" was the first full-length album that I ever released.  As I mentioned above, I had recorded an album with the band "Spyglass Guest," but "Temptation" was the first one that ever made it all the way to a release.  I was still learning about recording, so I've always thought the recording could have been a lot better.  I'm particularly unhappy about that because several of my favorite Cobweb Strange songs were on this album.  Many of the songs were played live throughout the entire history of Cobweb Strange and I think they were solid songs, but the recording quality and vocal performances weren't great.  Our instrumental performances were fine, but I think the album falls short vocally.  I'm still not a great singer, but at the time of this recording, I was even worse than I am now.  I was really trying to figure out how to sing.  Plus, at the time, I always wrote the music before the vocals, so I sometimes struggled to figure out how to sing over what I had written.  After the album was released, many of the vocal parts ended up changing as I sang the songs live over the years.  Despite all of the frustrations that we went through recording and despite my regrets about the quality of the final product, I have many, many great memories from the time that we spent recording this album.
 

Sounds From the Gathering from 1998
 
Jonathan went to college and left the band right around the time that "Temptation" was finished.  Derik and I had literally auditioned over 100 guitarists at that point (we stopped counting at 100 because it just got so depressing).  Derik's brother Keith was filling in on guitar until we could find someone and eventually, Keith just ended up being our guitarist.  Jonathan was a great guy and a great guitarist.  He had only been playing for a year when he joined the band and we were impressed with his playing.  However, he pretty much just showed up for shows and occasional practices and didn't hang out much with us.  Conversely, Derik and I had become great friends, were roommates, and practiced together seven days a week.  When Keith joined the band, it simply felt like three best friends creating the music that we loved and having a lot of great times!
 
The recording of "Sounds from the Gathering" probably took longer than the recording of "The Temptation of Successive Hours", but it was a different experience.  Early on, I think we were all very excited about what we were doing and thought that we were finally heading in the right direction.  We were performing live a lot in those days as well.  Like "Temptation," there are elements of the production that I'm unhappy with, but I think I was doing a bit better with the vocals.  Most of the album felt very experimental.  Where the first album was heavily influenced by Rush, this one had much more of a King Crimson vibe.  Unfortunately, as time went on and things felt like they had finally come together with the band, we were all affected by different issues in our personal lives.  Keith went back to being a full-time airplane mechanic, so Deirk and I had a couple of different guys fill in on Guitar.  Then Derik and I both ended up involved with several side projects and just before the album's release, we both ended up on tour with different bands.  As a result, "Sounds from the Gathering" was released with very little tour support (there were only four Cobweb Strange shows in 1998).  Although the album received good reviews and initially sold better than "Temptation," it didn't hold its momentum.  Without the support of live performances, awareness of the album just seemed to fade away.  It really looked like it might be the end of the band.
 


 
A Breath Of October from 2002
 
When I got back from touring with another band in 1998, I got a call from a drummer named Soumen Talukder who was interested in taking Derik's place in Cobweb Strange.  Soumen joined Cobweb Strange and we started touring in support of "Sounds" in 1999 with guitarist Rusel Taylor.  By 2000, Soumen and I were also in the studio recording an album with the band "Electric Poem," so between sessions with that band, he and I got in some recording time for Cobweb Strange at the same studio – laying down basic tracks for some songs that I had been working on over the previous couple of years.  Unlike the previous couple of albums, I had pretty much given up on recording this album myself.  With the exception of one song, an engineer named Chris Griffin (who I still work with today) engineered the entire album.  Also, I ended up recording a lot of the guitar myself for "A Breath of October."  The guitarist and keyboardist for Electric Poem, Holly and Brandi, played on the album too (as well as several session musicians).  Because I was playing in several other bands that were very active over that period of time, it took several years to complete this album.  I don't exactly know how to describe the music on this album, but I will say "A Breath of October" is the closest I've ever come to releasing an album that I like.  It's dark and somewhat jazzy.  It's about as close as I've ever come to sounding like an actual vocalist.  Of all of the Cobweb Strange albums, "A Breath of October" has also received the best response by far.  Aside from television performances and live concerts that were filmed, the only professionally shot music video that Cobweb Strange ever filmed was for the songs "Currents of Nightshade" from this album.  If I were to recommend one Cobweb Strange album to anyone, this would be the one.
 


 
Seamless Selections (Compilation) from 2002
 
Many people don't know this, but "Seamless Selections" was released BEFORE "A Breath of October."  It is usually assumed that "Seamless Selections" was released as a kind of 'Best of' album.  Actually, Cobweb Strange was performing at a large festival in 2002 and "A Breath of October" wasn't complete yet.  Since "Sounds from the Gathering" was about four years old at the time, we wanted to have some of our more recent material available, so we created somewhat of a sampler CD with three songs from each of the first two albums and three songs from the upcoming album.  "Seamless Selections" actually sold very well prior to the release of "A Breath of October" because people were very interested in the new material.
 
Your latest albums is from 2002. What is the latest update on your band and what is your plans for this year ?
 
Yes, well, "A Breath of October" and "Seamless Selections" were both released in 2002, but we also recorded, mixed and mastered a live album in 2003 that was never released.  Actually, one song from that album was released on a compilation CD called "Ghost Notes" which was included in the Summer 2004 issue of "Progression Magazine."  Our activity slowed down a lot with Cobweb Strange after 2003 because of tour schedules with other bands.  I played around 250 shows in 2004 alone and when you add around 50 travel days without shows as well as studio dates to that number, you don't end up with very many days off.  I've written a good deal of music for another Cobweb Strange album, which may or may not ever be recorded.  Actually, I did record some of the basic tracks for several songs during some time off between studio sessions a couple of years ago.  The biggest problem that I face with Cobweb Strange is that it was never successful enough to do full-time.  As a result, I end up touring and recording with other bands to make a living.  I've been working on three albums this Summer for three different bands (two as producer as well as bassist and one just as a bassist and writer) and I've also spent a lot of time on the road.  I would love to record and release another Cobweb Strange album.  The songs are written, so it's really just a matter of time.
 
How was the writing and creative processes in your band ?
 
Jonathan Burke wrote one song on "The Temptation of Successive Hours" and I co-wrote one song on "A Breath of October" with a Thomas Luke from the band "Electric Poem."  Aside from that, I wrote all of the lyrics and most of the music for all three albums.  Derik Rinehart was very instrumental helping me work out some of the songs on "Sounds from the Gathering," but I had written most of the material on "The Temptation of Success Hours" years earlier and I wrote pretty much everything on "A Breath of October" before showing the material to the rest of the band.  Early on, I always started with the music and vocals came in last, but by "A Breath of October" I was writing a good bit of the music to go along with lyrics that I had written.
 
How would you describe your music and which bands would you compare your music with ?
 
I think the answers to these questions are addressed above; the first album is a lot like Rush, the second is a lot like King Crimson.  I'm not sure about "A Breath of October" aside from it being a bit more jazzy and darker.  Maybe there's a bit of Pink Floyd, old Genesis and Yes in there somewhere too.
 
How easy/difficult was it to promote your albums these days and how easy/difficult was it to get gigs ?
 
Album promotion is a tricky thing.  I've found that touring has been the most successful way to promote the albums that I've released.  Of course, there are many different ways to promote an album.  I've seen several bands that have had very successful online marketing campaigns too.  It is difficult.  The internet makes it easier to get music out there, but because it is easier, more people are doing it, so you have so much more competition.  As for gigs, there are a lot of bands out there, but there are also a lot of places to perform.  It takes a lot of time and energy to book shows and I wouldn't say that it's easy, but I've performed well over 1,000 shows, so it's not impossible.  The tricky part is booking good shows!  Haha! 
 
What is your five favourite albums of all time ?
 
Wow, that's a really tough question.  I guess I would have to say that "The Joshua Tree" by U2 is one of them because that's the album that made me want to be a musician.  "Synchronicity" by The Police would be another because that was the first album that I ever REALLY got into.  Aside from those two, there are just too many great albums for me to pick only another three.
 
Anything you want to add to this interview ?

Thank you for your interest in Cobweb Strange!
Thank you to Wade and Cobweb Strange for this interview.