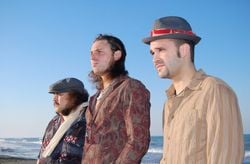 Clepsydra is an Italian band within the RPI genre. Their sound and music is much more psychedelic rock than the rest of the RPI scene though. But that is not necessary a bad thing.
I caught up with the band for their story.
-----------------
When and by whom was Clepsydra formed and do you have any background from other bands ? Why did you choose that name ?
The band was formed in May 2002 by Fabio di Gialluca and Danilo Ricci who started to write their own songs, while performing as cover band to experience the local live scene. Clepsydra were influenced by various bands and various genres, but they managed to create a distinctive sound. The band's name comes from the ancient time-measuring device, maybe the oldest; as the instrument, Clepsydra are always moving, evolving, and you just have to turn them upside-down to get more and more time.
There is also
another prog rock band
from Switzerland with the same name. Any problems or confusions in this respect ?
Yes, there's another band with the same name that is into new-progressive, but they're quite different from our vintage-psychedelic sound. Apart from some misunderstanding, there haven't been big problems.  
Whose bands were you influenced by ?
As we said earlier Clepsydra's sound is influenced by various artists, mostly Pink Floyd, Syd Barrett, Cream, Beatles, Hendrix, Kula Shaker, King Crimson, Family, The Doors, Mars Volta, Mother of Invention, Miles Davis, Blind Faith, Colosseum.....
To start with; please give me your (long or brief) thoughts and lowdowns on.......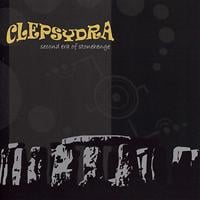 Second Era Of Stonehenge from 2007
Second Era of Stonehenge, released in 2007, is a collection of songs written from 2004 to 2007! They're very introspective songs dealing with various life experiences.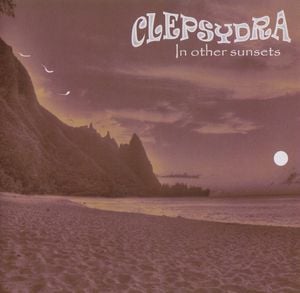 In Other Sunsets from 2009
In Other Sunsets, on the other hand, released in March 2009, is a concept-album dealing with the time; it's the journey everyone makes from the cradle to the grave, a path leading to wisdom.
What have you been up to since the release of that album ?
Since "In Other Sunsets" release we've been on tour. In the latest gigs we've been playing unpublished songs, which will appear in the new album. We spend much time in the recording studio working on new material! In Other Sunsets produced three hits (with video-clips), TV and radio interviews.
How is the writing and creative processes in your band ?
The songs are written, for the most part, by Fabio di Gialluca. Starting from a basic composition, all the songs are arranged during studio rehearsals and live concerts, until we get the version we had in mind. The songs comes by themselves, you write on the road, in the car, on the beach; the same for the lyrics, in fact we always carry tape-recorders and notepads with us.
How would you describe your music and which bands would you compare your music with ?
Our music is an experience, a journey you must to do (our fans say that). Lately we're into things such as Mars Volta, Devendra Banhart and Ulan Bator, we think they're producing great works and music, in a market where that's not possible anymore.
How is the music scene in your area and how easy/difficult is it to get gigs and get proper promotion of your albums ?
Where we live there are many valuable music bands, but few of them have a record deal, probably because they have decided to make quality music. We're fine with MP Records, since the beginning we have always agreed the songs to release and even if sometime there has been some slight problem it has been peacefully solved, it should always be like that. The advise we give to other bands is: "don't just sit and watch around, music needs movement", we had more than 200 concerts without having a booking agency working for us!!
What is your experiences with the music industry and do you have any regrets ?
The experience in the musical mainstream has just begun, it's too early to have regrets, maybe in 30 years…
What is your five favourite Italian prog albums of all time ?
Pollution (Franco Battiato),
Caution Radiation (Area)
Storia di un minuto (PFM)
Banco del mutuo Soccorso (BMS )
Un biglietto per l'inferno (Un biglietto per l'inferno)
Anything you want to add to this interview ?
At the end of this interview we would like to thank, once again, all the people supporting us and showing attachment in many ways, writing e-mails, buying our records. Many thanks to everyone, don't stay still, turn the Clepsydra upside down…
A big thank you to Clepsydra for this interview.