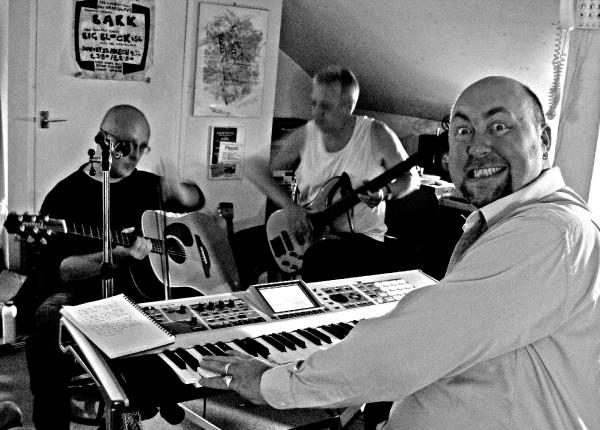 This band from UK is without doubts one of the wackiest bands in ProgArchives. Their music is pretty hilarious, but still very good at the same time. Their approach is  very much a disregard for any musical conventions. This is a mix of Monty Python and RIO. I therefore got in touch with them for the full story. The whole band answered this interview.
Health warning: This interview may give you some sore muscles. 
------------------------------
 Your biography is included in PA. But why did you choose that name ?
As you may know, 454 grams equals 16 ounces, and 16 ounces make one pound in British Weights & Measures – the Avoirdupois system. Avoirdupois meant "goods of weight", things that were sold in bulk and were weighed on large steelyards or balances. The Big Block ("gros bloc") was the balance weight on the steelyard.
Our music signifies the balance between order and chaos, light and dark, good and evil, sweet and sour, cheese and onion…
To start with; please give me your (long or brief) thoughts and lowdowns on.......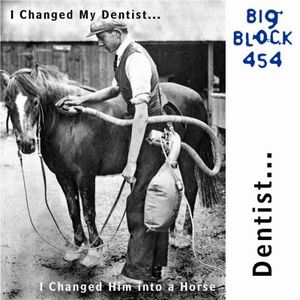 I Changed My Dentist... I Changed Him Into a Horse from 1998
The first full-length album by Big Block 454 – this defines our music and sets the standard for our career. "It takes a vigorous baboon to stir an enormous pond" – never has a truer word been spoken.
The songs are merged together into one long stream of unconsciousness. A spit in the snow. We want your minds. This is the new typography. The importance of trivia. It's all there.
Much of what we do is made by a collage-type process. We are working on a new kind of glue for sticking sounds and words together: we used to use Cow Gum, but after the BSE crisis we had to abandon that method.
"Strange travelling companions / an accumulation of dirt / two weeks without a toothbrush / a 17-day shirt". I think that just about sums it up.
A brief breakdown:
Throb – Pete Scullion on vocals. "A spit in the snow". He didn't actually say that.
Vector Analysis Can Be Fun – slide guitar in the style of Snakefinger, accompanied by Guy Fawkes fireworks – recorded out of the studio window on the night of November the 5th.
Ale & Cakes – Boiling Water… A song about tin mines in Cornwall.
17-day shirt – a true story.
Jacob's Dream – a Biblical story recited in a Cumbrian dialect.
Pump House – a piece of music commissioned by a left-wing theatre company, for their production "Out of the Red" at the Pump House in the centre of Manchester.
Thing #1 – featuring the home-made monochord instrument known as The Thing.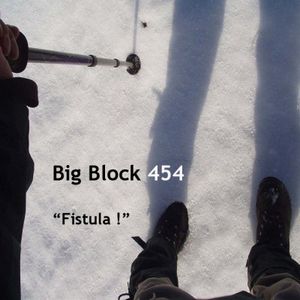 Fistula! from 1999
Music from the legendary unfinished film of the same name, by Oldham's greatest living expressionist film director Les Howarth.
A cross between "Metropolis" set in a New Manchester and H.P.Lovecraft's Cthulhu mythos, the film plots the course of 3 inquisitive tabloid reporters from Wigan who set off in 1929 to investigate the hitherto-uncharted mountains of Antarctica in a Dornier Do X flying boat. Imagine George Formby starting in a remake of John Carpenter's "The Thing" and you won't be far from the truth.
Colin: We used the banjolele extensively for the film music. And The Thing (our monochord musical instrument made from parts of a mainframe line printer power supply and a Tri-ang church kit, which has been on all our albums from "Dentist" to "Bratislava"). I'm not making this up!
Last time we heard, Les Howarth was still trying to finish the film.
Alex: It was the film project that first attracted me to the band. Ten years later, and I still haven't seen it.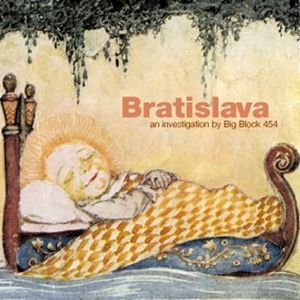 Bratislava from 2008
I rue the day I went to Bratislava. An album of capital cities (Bratislava, Tirana, Ulan Bator) and more obscure places – Anglezarke / Machpelah / Ouspensky's Cellar.
I took to the road with a German netball team. Foreign Aeroplanes Upset Sleeping Tirana. We're wearing our influences on our sleeves here.
This album is a logical extension of what we've always tried to do. We've always been interested in making pop music, but in the past our dogged insistence on being experimental has led to music that might have a minority appeal. Bratislava is our attempt to graft experimental processes onto pop music to produce a hideous chimera that will have huge appeal to the pop-buying millions. We think we've succeeded. We're not sure if the millions agree, the blind fools.
Some hints: 'Lush Ulan Bator' is Chas & Dave going on holiday with Brian Eno. It goes horribly wrong. 'Packing Away' is a very straightforward song about loss, in which a bereaved person is assaulted by a very large manatee. 'Upside-down & Dirty' is an attempt to get girls. 'Ouspensky's Cellar' is about what the little known cell of Theopsophists operating in the Lancashire countryside did on their days off.
A brief breakdown:
Motorcycle Au Pair Boy – a phrase from Kenneth Williams; a lyric that ties in early British computer and code-breaking innovators with Biggles. And the Fibonacci Series, which crops up quite often in our music.
Anglezarke – an expanse of moorland in Lancashire with many Bronze Age remains. The song features Mark playing the tumbi, a Punjabi one-stringed instrument.
I rue the day I went to Bratislava – self-explanatory, really. Have you caught any fish yet?
Hi, Lax Old Medic – Ebenezer, Machpelah, Canaan, Abraham. All mills and chapels in the Hebden Bridge area of West Yorkshire. A song exploring the close relationship between industry and religion. Ina rub-a-dub stylee.
I was Arthur Brown's Health & Safety Advisor – where Alex plays a Morris Dancing melody on the accordion, accompanied by autoharp and crumbly electronics.
Lush Ulan Bator – featuring Wasp synthesiser, which appears on several songs on this album.
Foreign Aeroplanes Upset Sleeping Tirana – Mark on lead vocals and acoustic piano.
Three Sevens Clash – written and recorded on the 7th of July 2007.
Melamine - Melamine is combined with formaldehyde to produce melamine resin, a very durable thermosetting plastic used in Formica. The end products include guitar saddles and nuts.
Upside-down & Dirty – to record Alex's vocals on this piece, his microphone was plugged into a tiny Yamaha portable guitar amp, set to overload. This amp was then concealed in a metal desk drawer (to prevent feedback and to capture that tinny ambience) and another microphone was played inside the drawer to pick up the sound. The drawer was then closed.
Ouspensky's Cellar – featuring some backwards/forwards voices, also found on "Foreign Aeroplanes…"
Packing Away – Alex performs this, accompanied in the distance by Colin's Thing and slowed-down saxophones.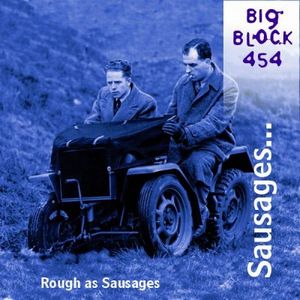 and the compilation album Rough as Sausages from 1999
A compilation of material from the earlier albums, with two songs never released anywhere else – "My watchstrap smells great" and "Marzipan Pig". The latter was our riposte to the record company who had branched out into selling confectionary as well as CDs.
Interesting cover photo of a "Holly Johnson from Frankie Goes To Hollywood" look-alike driving a Standard Jungle Bug off-road whilst smoking a cigarette with wild abandon.
Even seasoned followers of the RIO/Avant Garde scene has told me that your music is very weird........ and that says a lot. I had a look at the train video you have released and I agree with them. But how would you describe your music and which bands or scene would you compare your music with ?
Colin: I don't think our music is very weird at all. Take the short film you mentioned, "Garratts to Rhyd Ddu", which features a South African articulated steam locomotive (built in Manchester) thundering through the foothills of Snowdonia – accompanied by cheerful whistling, Russian short-wave radio transmissions and someone reciting the Fibonacci Series. An ordinary tale of everyday Welsh folk. Tell me what's weird about that?
Alex: On the other hand, it could be a video of a train with some music that sounds a bit train-like. Isn't all art like that?
In the early 1970s, Richard Branson attempted to hoodwink the dying embers of the gentle hippy scene by pretending to be a nice guy. He did this by wearing hand-knitted cardigans, sporting an unruly beard and opening shops which on the face of it appeared to be your standard head shop that happens to sell a few discs – but were actually a chain of music proto-superstores. He then pushed his line of left-field music by selling vinyl LPs for the price of a single – we picked up Faust, Amon Düül II, Can, Gong and so on. Most of my friends at school bought "The Faust Tapes" for 49p, listened to it once, decided they'd been well and truly conned and promptly used it to behead the headmaster's petunias – but I continue to listen to it to this day.
Alex: I read that as 'behind the headmaster's penis'.
As a Scandinavian living in the UK and having to put up with five minutes of cricket scores in every news report on BBC, it seems to me that your band is based on the one thousand years old British eccentric traditions which makes the rest of us wonder if UK is a mental asylum somewhere in the ocean west of Europe. All this has been described brilliantly by PG Wodehouse and Monty Python. Is your band based on the impenetrable British eccentricity or is your band an expression of a wider cultural identity ?
Colin: Cricket scores, indeed all sports scores, are an essential part of British culture. On the beaches of Dunkirk, whilst waiting for the flotilla of tiny boats that would transport them to safety, British soldiers would dodge the Nazi machine-gun bullets to crouch round their wireless sets and hear the latest score from Trent Bridge.
I remember the interminable Saturday afternoons of my youth, when father would check his Pools coupon whilst listening intently to the long-drawn-out football results… "Hamilton Academicals versus Airdrieonians… … … Late Kick-Off."
There was silence.
The lyrics on our next album may well be based purely on cricket scores and the Shipping Forecast. I often switch on the BBC at 5 o'clock in the morning to hear the Shipping Forecast – "Tyne, Dogger, Fisher, German Bight" – there's something reasurring to know that those brave men are out there catching the haddock for my fish'n'chips whilst I'm tucked up warm in bed. Keep it up chaps !
Oh, by the way. Remember that the "one thousand years old British eccentric traditions" were fuelled by the 5 Invasions of Britain. All of which came from Continental Europe, and one of which was Scandinavian. So it's partially your fault. Your lot had our women and land, but you won't get our jokes.
Alex: Imagine Colin as a retired Colonel dozing off in his armchair after a particularly large breakfast. Say what you like to him, and he'll just go muttering off at a tangent. Imagine I'm his faithful, but rather world-weary butler. I will attempt to answer your question.
There is a peculiar strain of English culture that is half whimsy, and half rather terrifying. Think Edward Lear, Vivian Stanshall, the Hobby Horse, Arthur Rackham. We share a love of those things, and that influences what we do. We insist on being English – we try to avoid blues scales or American influences, or, if we fail to avoid them, we try to force them to be British. We've done a dub reggae piece concerning vanished English industries. We've forced Augustus Pablo to join a morris dancing team. By the way, if our English eccentricity is impenetrable, we like it that way. Anyway, Scandinavia also produced the Moomins, so think on.
How is your label situation and what is your experiences with the music industry ?
Currently, we are totally self-sufficient. We record in our own studio, produce our own material, create our own artwork, make our own films, and market our own music.
In the 1990s, we were marketed by a European record company and had rather a bad experience with them. This is explained in greater detail in our song "Marzipan Pig".
Just to wrap this interview up; do you have any regrets in your music career ?
Colin:
I regret losing my British Road Services donkey jacket when I played a gig at a pub in Salford. I regret not buying a Baldwin Double-6 electric 12-string (in green sunburst) for £50; it seemed too expensive at the time. Likewise a Fender XII "hockey-stick" electric 12-string for £200 and a Hagstrom 8-string bass for £25… that was in Huddersfield… why oh why didn't I buy it?
I joined a band in order to make a fool of myself on stage and to meet oodles of lithe young women. I regret only completing 50% of this quest so far.
I regret the passing of trolley buses. I regret the fact that I will never really know the purpose of ley lines and prehistoric stone circles. I regret the fact that more and more people are frying fish'n'chips in vegetable oil instead of beef dripping.
Alex:
To quote a friend of mine, no-one ever got laid through playing experimental music.
Mark:
No.
What is your five alltime favourite albums ?
Colin:
The Clangers "Original Television Music"

White Noise "An Electric Storm"

BBC Radiophonics Workshop "Greatest Hits"

Vivian Stanshall "Sir Henry at Rawlinson End"

The Soft Machine "Volume 1"
Alex:
Robert Wyatt: "Rock Bottom"

Basil Kirchin: "Abstractions of the Industrial North"

Ashley Hutchings "Morris On"

Television: "Marquee Moon"

The Silver Band of the Oswaldwhistle Pudding Works: "Plays Stockhausen."
Mark:
Will Glahe: "Will Glahe in Bavaria"

Pink Floyd and Ron Geesin: "Atom Heart Mother"

The Thomas Tallis Trio: "Vaughan Williams 5 – Jazz 0"

Sonic Discovery: "Ooh! What do we have hear then?"

Not the Nine O'Clock News: "Hedgehog Sandwich"
What is the latest update on Big Block 454 ?
We are starting to make our back catalogue available as downloads on CD Baby, iTunes and Amazon. The first one is the 2004 album "Their coats flapped like God's chops".
We are working on a lot of new material, so should have a new album out within the next few months. Five songs are already finished – three of which have had radio plays.
Anything you want to add to this interview ?
Bagpuss, dear Bagpuss
Old Fat Furry Catpuss
Wake up and look at this thing that I bring
Wake up, be bright, be golden and light
Bagpuss, oh hear what I sing.
?... A big thank you to the band for taking time to answer my questions. 



Edited by toroddfuglesteg - June 12 2010 at 02:39