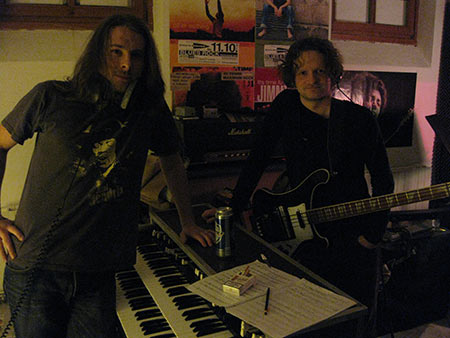 The Blank Manuskript is a Project from central Europe, situated in mountainous Austria. The whole project is organized by the two musicians Dominik Wallner (Keys, Vocals) and Alfons Wohlmuth (Bass, Flute, Vocals). The band's musical output can best be described as Progressive Rock, or - to be specific -Art-Rock with a special attention towards the narrative elements. The Band's aim is to present a story with their music, which means that the music itself is written to fit the intentional narration.
I got in touch with Alfons for the Blank Manuscript story. 
--------------------------

When was Blank Manuskript formed and do you have any background from other bands?
In late 2007 Dominik Wallner and Christian Breckner, who were student collegues at Mozarteum Salzburg had the idea of putting together a progressive rock band in the historical town of Salzburg. Dominik proposed me as a bass player since we've been collaborating quite well with our previous project "The Exhibition". We've all had our share of live concerts and ceased-to-exist projects so we decided to make this a big project with the aim of receiving international recognition.
Why did you choose that name?
We came up with the name initially, when we tried to find a monumental name for our newly formed project and an empty sheet of music paper was lying in the middle of our practice room. We thought it to be our duty to fill it with our music.
What bands were you influenced by?
Our biggest influences are heavy to trace down since we all had a different musical background. Dominik was a classically trained Pianist, who was quite well known in Salzburg for his major contributions to several rock-cover-bands. Christian Breckner had been touring with his old band for almost 10 years while pursuing his university studies on the classical guitar. I therefore was a self-trained multi-instrumentalist and a progressive rock-enthusiast thus complementing the trio.
Our roots were quite diverse but altogether, traces of bands like Camel, Alan Parsons Project, Pink Floyd and some King Crimson can be found throughout the whole compositions.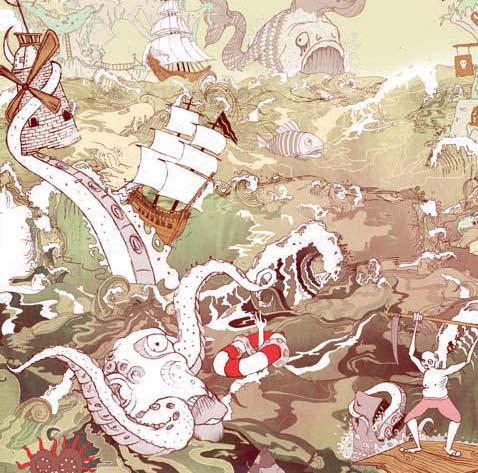 Please give me your thoughts and lowdowns on your only album to this date Tales from an Island – Impressions from Rapa Nui
We first came up with the concept in one of our discussion session in which we were searching for a concept to give us efficient possibilities for actual historical research and at the same time we wanted some freedom in adding our own elements without changing the historical facts. "Easter Island" seemed perfect for us and so we started writing the whole story and defining our main sections. Following that, we were working on the songs as a trio but soon we came to the point where it was difficult to work on our sound without having a drummer for our arrangements. So we asked the drummer Elias Papaioannou to join us. When it was slowly getting time to record, we recruited the singer and multi-instrumentalist Jakob Aistleitner in order to do some of the main vocals and a saxophone solo. The recording sessions were long and tedious because we first had to do the backline with bass and drums and then, one after one, we added the other instruments. Thanks to many musical contributions by friends from all over Austria, we were able to perform the whole album live at our CD-Presentation in the Beginning of 2009. We had a total of 8 musicians on stage, which proved to be a difficult job but it nonetheless was a big success.  
You are busy with some contributions on other projects and writing and recording a new album. Please tell me more about these projects.
Soon after that, we were contacted by Colossus Projects to contribute to two of their projects "Dante's Divinia Comedia Part II" and "Rökstenen – a tribute to Swedish Progressive Rock". We started with Rökstenen and it appeared to be a very hard job since we didn't have a drummer back then. But Jakob agreed to learn to play the drums just for this project. With the great help of our sound engineer "Manuel Schönegger" who has always been a steady helper in musical questions we recorded the whole piece in just one day.
Our second contribution "Dante's Divinia Comedia Part II" proved to be even more difficult because at that moment the whole band was spread throughout Austria, and Dominik was in Whales. Fortunately, Camillo Mainque-Jenny had agreed to join us on the drumset. I wrote the music and then Dominik added the lyrics to that. Each of the musicians recorded their parts at home and then they were put together by me, after which I sent it to the sound engineer Richard Marichal (Venezuela), who was able to squeeze out the best of our amateur-recording-techniques.
At the beginning of this year we recorded our contribution to the third part of this Trilogie. This time we played it as a quartet with Dominik on Piano, Alfons on Bass, Jakob on Vocals and Saxophone and Camillo on the drums. Manuel Schönegger was once again our recording engineer and he also contributed greatly to the sound and our arrangements. Our new quartet-sound proved to be very compact and powerful, so we decided to keep on working with this lineup. This recording happened after our loss of our founding guitarist Christian.
You did Baltic Prog Festival. Please tell us more about this experience.
Baltic Progfest was a great experience. We bought a big bus for our trip and drove all the way to Lithuania were we played our Tales from an Island-Album without the aid of extra musicians. Our album has evolved a lot in our previous live-shows and therefore I would probably consider our gig at Baltic Progfest to be the highlight of our live-shows. Though our first visit to our stage, the day before the concert, had filled us with doubt that this is really going to happen (it was raining so heavily and the whole site was almost a little lake), we were even more astonished by how the festival-crew managed to pull everything through without complications (by the time the festival had started, everything was in great condition again!). Shortly after, Christian Breckner decided to leave the band due to the constantly rising workload and his new job-affiliation.
How is the writing and creative processes in your band?
Usually, one of us comes up with the main ideas about a song and then we work together to arrange the piece in order to fit our lineup and our sound expectancies. The main composer on our first album was Dominik while I was responsible for the lyrics; but altogether, the collaboration of the whole band-core was the most important thing to actually make the songs what they are now.
How would you describe your music?
Our music can best be described using the term Artrock for we always tried to make our complex arrangements pleasant to everyone. We always put high emphasis on the point that even a non-musically-trained ear should be able to enjoy our work. We didn't write the complex parts to sound "out there"; we wrote the music to fit our narration.
Besides of the new album and the projects, what are your plans for this year and next year ?
Right now we are finishing our latest contribution to Colossus Projects while composing the material for our upcoming album. The details about our new CD are still secret, so you'll have to wait for more information on that… As soon as we release new material we will be working to bring our new compositions on stage as soon as possible.
What are your top five favourite albums of all time?
Close to the Edge (Yes)
Acquiring the Taste (Gentle Giant)
Animals (Pink Floyd)
Si on avait besoin un cinquieme saison (Harmonium)
Moonmadness (Camel)
Anything you want to add to this interview?
I want to thank everyone who made this project possible! It would not have been possible without you!
Manuel Schönegger (Sound engineering, arrangement, Saxophone, musical questions)
Christian Breckner (Former Guitar player and co-writer)
Elias Papaioannou (Former Drummer)
Örjan Strandberg (Guitars on Rökstenen)
Richard Marichal (Sound engineering on Purgatorio)
Clemens Wannemacher (Sound engineering on Tales from an Island)
Veronika Obermaier (Studio-Vocals on "The Waiting")
Cory Reithuber (live-Vocals on "The Waiting")
Martin Flatz (Narration and lyrical assistance)
Gabi Lidicky (Classical Flute on After the War Part I)
Victor de la Rosa (Percussion)
Florian Spies (Trombone on Rökstenen)
Philip Reitsperger & Clemens Göller (Illustration and Design on Tales from an Island)
Special thanks to Marco Bernard, Greg Walker and Bernard Gueffier for their great support!
And last but not least, the current band:
Dominik Wallner – Grand Piano, Fender Rhodes, Hammond, Synthesizer, Strings, Vocals
Jakob Aistleitner – Vocals, Saxophone, Flute, Organ, Drums
Camillo Mainque Jenny – Drums & Percussion
A big thank you to Alfons for this interview.