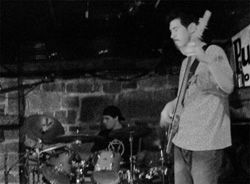 A strange one, this........ I have to admit I did not even believe it was possible to make progressive music with only bass and drums. But Clevis has proven me wrong.
I got in touch with them for some know-how and their story.
===============================
When and by whom was Clevis formed and do you have any background from other bands ? 

The roots of Clevis go way back. I started playing bass right around the same time that John started playing drums. That was about 16 years ago, we've been in bands together ever since. Somewhere around 2004, while we were in a band called "Mudshark", I started to want to experiment with writing for just bass and drums. That's how Clevis came to be.
Whose bands were you influenced by ?

For both John and I, learning how to play our instruments meant learning how to play Primus songs. After that I suppose we were influenced by bands like Tool, then stuff like Mr Bungle and its offspring (Fantomas/Secret Chiefs 3/etc).

To start with; please give me your (long or brief) thoughts and lowdowns on.......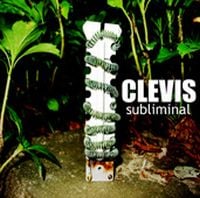 Subliminal from 2006

This was our first shot at studio recording. We were nervous and you could tell, the tracks were recorded much faster than we had ever played them before. Looking back it seems strange that there were no songs that required looping since it was a very integral part of our set at the time.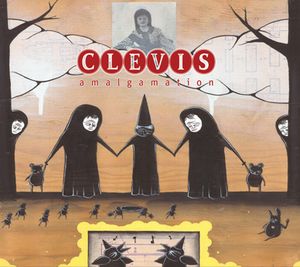 Amalgamation from 2008

We recorded this after we moved to Los Angeles CA (from Baltimore MD). The whole thing was recorded on tape without any computers, which made for an interesting experience. I feel that Amalgamation was put together with a little bit more thought than Subliminal.  

What is the latest update on your band and what is your plans for this year ? 

John and I have started a new project along with a keyboard player (Chris Hurst). I'm not sure yet if we're going to make this the next phase of Clevis or just have it be something entirely new. Right now we are finishing up a piece that I wrote based on the James Joyce short story Araby. I wanted to do something different so I decided to compose a piece of music as a whole rather than individual songs. I'm pretty happy with the way it's turning out, the story flows quite nicely. After this is completed John and Chris will each be taking a turn as leader, writing their own piece.  

Your concept of only bass and drums is enough to give a dull proghead like myself a fatal heart-attack. What's wrong with a proper Moog and guitars ? But how would you describe your musical philosophy and music ?

My personal goal with music is just to make something that doesn't sound like anything else. Although you could make an album of cows farting in harmonies that doesn't sound like anything else (I think?) but it might not be fun. So, try to sound unique and enjoy it too.

Sorry about my ignorance, but it is my understanding that there is a bass & drums only scene out there where all tangents and guitars are excluded. Please tell us more about this scene.

It's true, there are quite a few bass and drum duos out here. Before I started Clevis I had never even heard of a bass and drum duo... then I heard "Ruins" (who are amazing). In Los Angeles the most popular is likely "Ninja Academy". Another one of my favorites is "Totally Serious", both are definitely worth checking out.

I guess your albums is self released. How is your distribution and sales figures ?

Ha! Terrible... I've got boxes of this stuff lying around my house.

What is your five favourite albums of all time ?

Wow, I don't think I could even begin to make this list. Tastes change so much over time and I don't really believe in 'favorites'... yes, this is too difficult a challenge for me to handle.
Thanx to Clevis for this interview.
Their PA profile is here and their homepage with contact address for orders is here