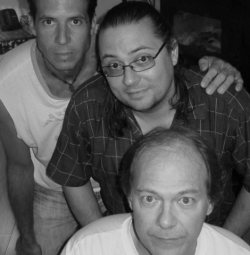 Direction from Canada has some rather strange album titles which make them a bit of an oddity in the scene. But their brand of Neo-Prog is in the vein of Camel, Genesis and Glass Hammer. It is therefore a great shame that their albums is not more known in ProgArchives. Hopefully, this interview may give them some more well deserved attention.
Serge Tremblay kindly answered my questions.
-------------------------------------------

Our Direction biography is excellent so I am not going over that again. So to start with; please give me your long or brief thought and lowdowns on.......
R from 2002

Some pieces from "R" come from early rehearsals when we were teen. This record has been, somehow, our rally point. Since we all come from a countryside where there was no musical industry at all, we had to learn to be patient. When the stars got aligned for us, we've been alloyed to record that album, finally.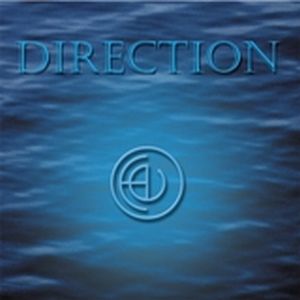 O from 2005

''O'' corresponds to the arrival of Jean-Claude at drums. Since he was our first choice to replace François, we've waited he completes the contracts in which he had already committed. In this record, we wanted a more POP-ROCK PROG approach, a content less stiff and complex than that imposed by the infantrymen of " Progressive KGB " , but more refined than that of actual Pop-Rock. Dozen of FM radio stations " disrupted with caution" their listeners and it helped to make us more known. Though ''Coucher de nuit'' (21'44'') is certainly one of our most progressive song that" Direction" recorded yet.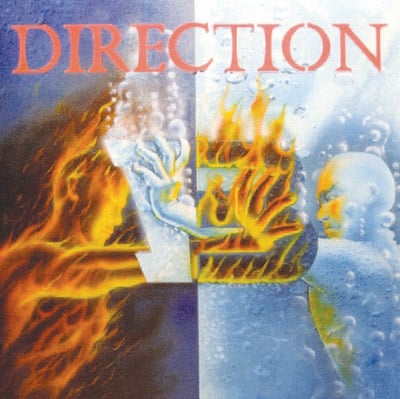 13 from 2006

'13'' is the third independent album that we launched. It gave us some little respect from the industry. It is unquestionably an album where the band's style has become more sculpted. We talked a lot of sound, style, and we spread all the ideas that nourished our expectations. We have rowed all in the same ''Direction'', and ''13'' adventure synchronized our efforts. The songs have an identity different from each other, the spectrum is wide, it has allowed everyone to express themselves more during the recording. This disc also marks the arrival of Yves Thibault (We had to look hard to find him) for the design of our record sleeves.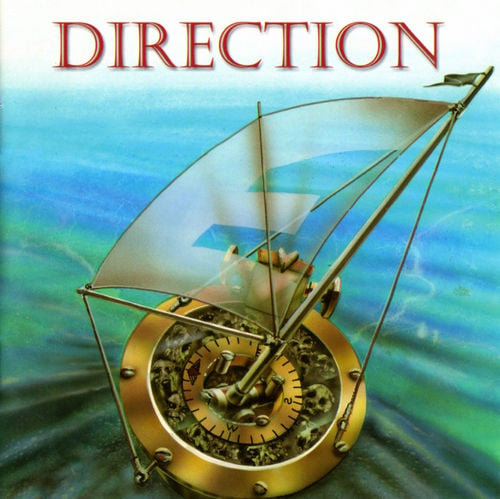 EST from 2008

On this project, Serge and Marco shared the composition of music. It has enriched the material, and it has advanced the potential of the unit. ''EST''  is the first album where Robin Gaudreault assumes no bass. It's Serge, whom is already on vocals and keyboards, who took care of it. Concerning the sound of the album, a more pronounced control of the beast (the studio) made us more able to achieve the objectives we had set for this disc. Then there was the meeting with the president of Unicorn Records. The discussion was not complicated, the Unicorn offers and our demands were consistent in every respect.
Why these short album titles ?

There's a reason for that. Say it's part of the adventure. We thought that a little mystery is fun for everyone, so ...
How is the writing and creative processes in your band ?  
The creative process is rather simple. Each of the guys work their sides to the composition of songs. These songs are then presented to everyone, who then tries to interpret it as best he can on his instrument by repeating individually. Once this is completed, a comprehensive review enables us to exploit the best ideas that emerged and to preserve what we believe to be most relevant.
How would you describe your music and which bands would you compare your music with ?
We do believe that it's possible to make music both challenging and accessible at the same time. Generally, people who dislike ''Direction'' are whether one quarter of one tenth percent who desire a change of rhythm and chord ten times per second or, they're part of the ninety five percent who desire no rhythm or chord change at all. In both case, we deal with people who never made music so we don't care. ''Direction's'' music is for a rock fan who likes to raise the level a notch or two. ''Direction'' is often cited as an inspired group of Morse Code, Rush, Yes and Genesis by journalists and columnists, so we assume.
Canada has given our planet some really fantastic bands. But how is the music scene and the gigs scene in Canada these days ?  
You got everything you want in quantity and quality on stage in Canada. From the largest to the smallest, but in ninety nine percent of cases the stage behaves financially better than those who play on it. Our strategy in respect to the scene is that it will not ignite tomorrow, so we do what we have to do rather than activate sirens for a false alarm.
Your first albums was self released while your last album was released through Unicorn. What's the difference ?  
We politely refused two offers after the release of our first album and we went independently for the two discs that have followed. We knew what we wanted and didn't want to sign just to sign. When ''Direction'' and ''Unicorn Digital'' met each other to launch the fourth album, it has been easy since we were on the same wavelength. We knew Unicorn's reputation, and we didn't had to fight for things that are obvious for any bands. The result of this agreement provided to ''Direction'' an international distribution and coverage of our activities by the major magazines of the progressive scene, so it says it all.
What is the latest update on your band and what is your plans for the rest of this year ?

We are currently in studio for a double concept album that should appear in spring 2011.
From where can your albums be purchased ?

Everywhere. The best is to consult our site at www.legroupedirection.com since the purchase section will indicate you, and that for all countries, the spot where you can buy our records. In the Unicorn Digital's site: www.unicorndigital.com  you'll also find all the information you need. You can even order directly from them.
Anything you want to add to this interview ?  
We'd like to take this interview to tell you: The most beautiful adventure that we can live on this planet is that one.
A big thank you to Serge for this interview.
Their PA profile is here