The RPI scene is truly well alive and well. A lot of new bands and older bands with a new lease of life is bringing joys to the hearts of new and old RPI fans, myself included. Il Cerchio d'Oro is one of the new/old bands which has recently re-surfaced again. I got in touch with Gino & Franco from Il Cerchio d'Oro who kindly answered my questions.
Il Cerchio d'Oro were formed in the 1970s and released some singles, later re-released as the Il Cerchio d'Oro compilation album in 1999. Did any of the Il Cerchio d'Oro members have backgrounds from other bands and which bands were you influenced by ?
Il Cerchio d'Oro members were so young at the time, only a couple of them played in a teen ager beat group. We were influenced by some beat bands at first (such as Beatles and Beach Boys and others) then by prog bands such as Pink Floyd , Yes and some italian one: Le Orme, New Trolls and The Trip among others.
When and why did Il Cerchio d'Oro break up after the release of these singles ? What were you up to during the 25 years long break ?

In that period prog music was losing interest, so the group changed name (Black out), 2 members and genre (hard rock) and recorded a single with a few concerts afterwards. Then the band broke up. After a while the rhythm section (Gino and Giuseppe Terribile) with guitarist Roberto Giordana created the Beatles cover band "Cavern" with some records and many gigs. The other Cerchio d'oro members stopped music activity.
Please  give me your (long or brief) thoughts and lowdowns on that compilation album Il Cerchio d'Oro from 1999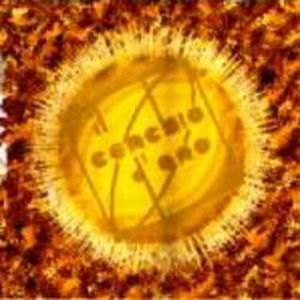 Honestly, it doesn't reflect the spirit  of the group. It's a compilation featuring demos (band rehearsals) and the songs published on the 3 singles (the latest 2 commercial and so far from prog sound) anyway for us is a "souvenir"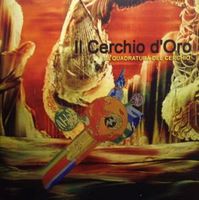 I gather that the La Quadratura del Cerchio album from 2006 also was a compilation of older demos and rehearsal tapes. Please tell us more about this album.
This album, even if the execution and the recording quality is not perfect, better represents the spirit of the group at the beginning (many of the songs are performed as a trio) only it mainly features cover songs ...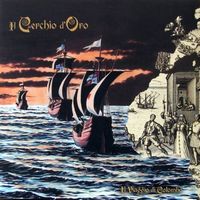 Il Cerchio d'Oro returned again after this long break to release a proper album in 2008 named Il Viaggio di Colombo. Please give me your (long or brief) thoughts and lowdowns on this album.
We wanted to write an album as we could do it in the seventies (if we had the opportunity in those years) a concept album with a vintage sound in which each member could have the possibility to express something without worries. We thing we have succeeded.

What is the latest update on your band and what is your plans for the rest of this year and next year ?
Last summer we performed Il Viaggio di Colombo live in concert for a mini local tour . In 2 occasions we divided the scene with Delirium (great band of the seventies and our friends).
Now we are (slowly) composing new material for a new album. Everyone has work and family problems, is not possible to spend much time for music; unfortunally we can play only for hobby….
How is the writing and creative processes in your band ?
As regards music Franco Piccolini (keyboard player) and Giuseppe Terribile (bass player and vocals) also his brother Gino (drums and vocals) contributes especially for vocal melodic lines.
As regards lyrics Gino and Giuseppe and most of all Pino Paolino who contributed with the group since the seventies singles.
If I had not known the facts, I would had guessed the Il Viaggio di Colombo album was released in or around 1972 along with the other great albums from that time. It has this brilliant Italian progressive rock feel. But how would you describe your music and which bands would you compare your music with ?
In fact we like that vintage sound. We can compare our music to some Italian bands and we like to imagine a crossing Le Orme/New trolls, but also we hope to have something original.
What is your experiences with the music industry and the many festival and gigs promoters in Italy ?
Concerning music industry we can say not so much: all our records have been produced by small labels, the only thing we can say is that the producers of our nowadays label (Black Widow) are great persons: they are really genuine fans of prog music and it's a pleasure to work with them.
How easy/difficult is it to promote and market your band these days ?
Our music is addressed to a certain kind of people (record collectors in particular) . We can say that our label have distributed the records in the right directions and all over the world: we have read our record reviewed in many fanzines all around the world: from Brazil to USA, from Holland to Canada and so on . We are happy to realize our work has been nearly always well appreciated. All we know that is not possible to have a large sell-out….anyway this is really ok for us!
Anything you want to add to this interview ?
Thanks a lot to you (we know you like our music and well appreciate the good prog productions) only please excuse us for the delay.....
Thank you to Il Cerchio d'Oro for this interview. 

Their PA profile is here and their homepage is here