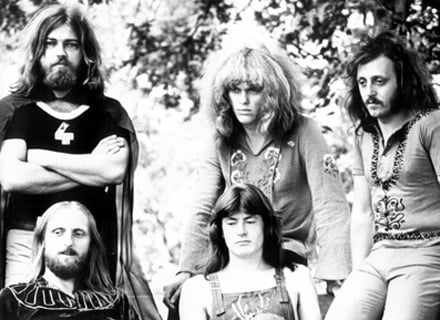 The iron curtain after WWII was a big tragedy which split Europe and the music scene into two different scenes. A split which to a certain degree still is there, 20 years after the iron curtain was torn down. Omega from Hungary is one of the bands who were formed and struggled behind the iron curtain without much recognition, both commercially and artistic, from the West. Hungary was a stalinist regime too and that did not help their situation. 
Omega have a very big discography and they still have a pretty big fanbase in Hungary. I got in touch with them for their story. Janos Kobor, their vocalist, answered my questions.   
------------------------------------------
Our Omega biography is pretty extensive so I refer everyone to that. Omega have a very extensive list of albums too. But just let us run through your history, starting with the start up. Omega was started just after the crushing of the Prague uprising in another Eastern Bloc state and I guess your pretty much Stalinist regime in Hungary some ten years after your own uprising was a bit scared too and eager to crush down on all western culture. How was the start up of Omega in this pretty frosty climate ?
The band was formed in 1962. At the beginning we covered British songs mostly that we listened to in the radio. Even the fact listening to western radios was illegal that time in Hungary. Anyhow, we always remained up-to-date. Later we began to sing in Hungarian which was a major step in order to find our own style.
In 60's we had a special cultural system in Hungary. Any artistic effort was either prohibited, tolerated or supported. Certainly, western pop-rock music was in between prohibited and tolerated category. Direct prohibition seemed to be dangerous for the state, because of the growing public interest for Beatles, Rolling Stones, etc., albeit any support was simply unthinkable. Nonetheless, we received an invitation to London in 1968 where we recorded our first LP. Hard to believe it today, but we did it very fast. We stayed only one day in the studio. Right after that the officials offered a chance to release an LP in Hungary too. The first Hungarian pop-rock album was a real milestone not only for Omega, but for the whole domestic rock music.
Please tell us more about your music and albums from 1968 to 1980.
We can discuss it in block of 3-3 LPs. As of today we still play three evergreen songs from our second album. After the first 3 albums we had changes in the band in 1971. Both the major music and song writer have left the band because of continuous arguments about which style should be our real one. from The 4th record which was a live concert, definitely turned to harder sound. Technically, we faced tremendous challenges, but we released the first live concert album in Hungary in 1972. On the 5th album we tried to avoid the conventioal four-minute songs, so one side of the LP was a 6-item suite. We could strengthen our position with the next album, while we had extensive tours, mainly in German speaking countries. It is interesting to note that we sang mostly in Hungarian language abroad too.
The real breakthrough in terms of Europe wide success became the 7th album, entitled Time Robber. One and half million is sold, chart leader in many countries, fake editions from Korea to Russia, although we have never been there. Most of fans consider albums 7-8-9 a kind of top period of Omega, also called as space rock ages. Whatever we call it, we enjoyed those years wherever we played. These three albums had an enduring impact on rock music, we had fan clubs in Switzerland, Germany, Poland, etc. Omega was chart leader in Portugal, Benelux countries, Germany, not to mention neighbouring countries. We were one of the very few groups who played continuously in East and West Germany too.
We worked hard in the 70's and probably we could not achive more from Hungary. I believe the exotic language (whatever, but not native English) was a limiting factor, just like the short leash from domestic officials in terms of traveling possibilities. Actually, we were not allowed to promote or even mention western successes in Hungary. Weird compromise, but at least it worked somehow.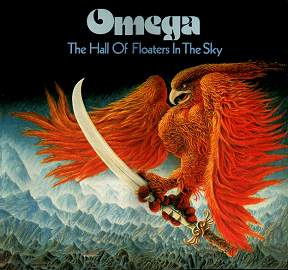 Please tell us more about your music and albums from 1980 to 1990.
The 20th anniversary of the band was celebrated in 1982 with 5 consecutive concerts in the largest sports hall in Budapest. In the 80's we were slowing down, less concerts, less albums, similarly to rock music was somewhat slowing down too. We released new LPs in 81, 82 then in 86 and 87. Each is different, exciting, but virtually we stopped working in 1987.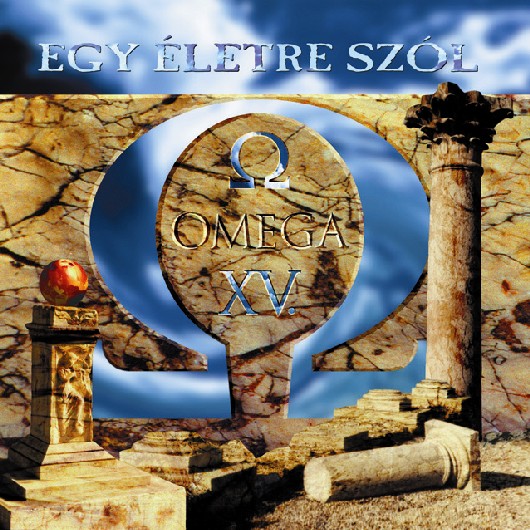 Please tell us more about your music and albums from 1990 to 2010.
After some years of silence we came back in 1994 with a great stadium gig. We had special guests from Scorpions remembering our joined tours, however the weather was terrible. We started to play in extreme storm for a crowd of 80,000. So, the double album is called wet and dry. 5 years later we even topped it in 1999, that was our no.1. stage performance, probably The last big run started in 2004 with annual tours in Germany, Poland, Czech, Slovakia, etc.
The last serial album no. 16 in 2006 had remarkable reception, maybe it had the same good impact as the famous ones. Nowadays, we select a kind of best of setlist for live concerts.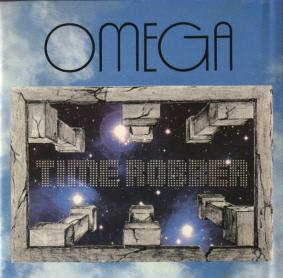 Which ones of the studio albums would you recommend to us and which one of the many Omega live and compilation albums would you recommend to us ? 
I think the Time Robber in 1976 (7th album) was a major stamp on our career. It's not a classic rock, but timeless impressive music. Also, I can recommend the last album from 2006, entitled Egi jel: Omega (16th album) which could be translated as Divine Symbol: Omega. It had a fresh, diverse sound.
Among the live albums or dvds, anything about the 1999 great stadium concert shows pretty well our stage performance.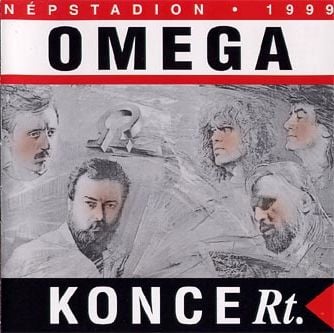 Half of your career was behind the iron curtain and the other half of your career was spent in a free world. Please tell us what the fall of the iron curtain meant to Omega and your career both in Hungary and abroad.
I wish the fall of the iron curtain would have happened much earlier. Omega had great chances in the mid 70's to achieve much wider international success. However, the limiting factors were quite strong. In the late 80's the steam was running out, so 1990 has come too late for us.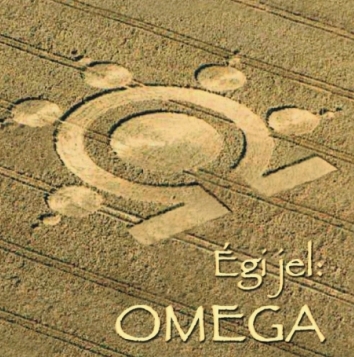 Just for those of us who are not familiar with your music. Which bands would you compare Omega with ? 
Fortunately, we found our own style soon when we began to sing in Hungarian, still in mid 60's. Three LPs can be ranked as space rock, many others are progressive rock and a few ones maybe psychedelic a bit, however, we don't prefer to categorize them.
I can't pick up names, I would like to believe that Omega is not comparable to any other band, but different. Of course, number of analogies exist when a song or just a part of a song or even a piece of a melody is similar to an other one. Notwithstanding, there were back and forth effects when we worked in neighbouring studios or tours with somebody else. E.g. Scorpions had a great success with White Dove, which is originally our 'Gyöngyhajú lány'. Also, we have some special stories, among others we wrote a song for Boney M.
Actually, we always appreciated Pink Floyd and Rolling Stones.
What was your experiences with the music industry and gigs promoters during your long career ? 
We had to stick to state controlled promoters who organized both concerts in Hungary and abroad and issued our LPs. Consequently, our possibilities were very different compared to a similar band in England or Germany. We had a long term contract with Bellaphone which worked pretty well for a while. I believe we were always good partners, but we needed a more powerful promoter, definitely. Unfortunately, we had no possibility for the change which had had been desired.

You are currently working on a solo album with Omega songs. Please tell us more about this album.
This is a symphonic interpretation of my favourite Omega songs, mainly from the progressive times, entitled Omega Rhapsody. The most songs are from album Transcendent (1996). There is only a very few overlap between our current concert setlist and the tracks of the new album. The album is almost ready, final mastering will be in 360 mastering studio in London. Omega band mates and session musicians from the past helped me with this album.
The album will be distributed by Edel (Hamburg) in whole Europe on 24th of September. I do believe the 17 timeless classical rock opuses with a monumental symphonic orchestration will focus international interest on forthcoming 50th anniversary of Omega too.
What is Omega's the latest status and update ? What is your plans for the rest of this year and next year ?
This year we accepted invitations for rock legend festivals in Hungary and abroad. We just played for the youngest audience for decades in Sopron VOLT festival last time. Certainly, there is an ongoing challenge to involve teenagers in classic rock music, we really like to do that. Apparently, they are touched.
Next year I plan a stage presentation of Omega rhapsody with symphonic orchestra. This is a challenge, we are really excited about it.
With regard further plans the band will celebrate its 50th anniversary in 2012. It can be compared to Rolling Stones only, but they had not been on stage for three years. Until they play, we do so and a bit more, hopefully. A really great gig is in our mind for 2012, but not the final one for sure.

Just to wrap this interview up; what was your best and the worst moments in Omega ?
We play with the same members since 1971, so we had lots of memorable moments, endless tours from small clubs to stadiums, we played together with all major bands of 70's and 80's. We were on a European tour in 1977. Coming back from Sweden we had a date in Szczecin, Poland on the way home. Tickets were sold out very quickly and organizers asked for an other concert on the same day then on the other day too. Finally, we played 9 concerts in 3 days. Actually, we were playing continuously and the audience changed all the time. Last year we played again in Szczecin in a great open air theatre and the organizers took us to see the stage where we played so many times. I wonder who has played 9 fully sold out rock concerts in 3 days in the same city?
Once we had a double concert in Istambul – one for males and one for females – and three days later in Lisbon. Given the fact that I do not fly at all I had to drive. Not much freeways that time on that route, so I have had enough from driving too. Actually, I got there earlier than the bandmates.
Anything you want to add to this interview ?  
I have been working for more than two years on a book, entitled "Just dreamed or perhaps it's true". I try to review as I have seen Omega times. This is a never ending story.

Thank you to Janos for this interview.
I hope it will serve as a taster for their albums.

Their PA profiles is here and their homepage is here

PART 2

......After this interview was completed, I was contacted by fellow collab and Omega fan VibrationBaby who also wanted to ask Omega some questions. 

Laszlo Benko answered VibrationBaby's questions.
Why the generic name Omega?


Tha band started in 1962. At the very beginning we had no name, we simply played in a university club on every Saturday night. Once we arrived at the club and we were shocked. There was a poster on the door: Tonight – Omega. We all believed the club just booted us out. Who is Omega, we asked the porter, it is you, he answered. He thought we should have a name, because the people were talking about us, but nobody knew the name of the band. So, the porter was right, we liked the name, which was slightly referred to the Technical University. That's all, we had no brainstorming or endless discussions about the name.

How did the relationship with Peter Hauke start? Were you really comfortable singing in English? I found your German album easier to understand.


Peter Hauke had a major role in the progress of Omegaauke
in 70's. He has followed our activity quite closely before he initially travelled to Hungary. Apparently, he knew our tracklist, he had already decided that he wanted a long term contract with us. Given the state controlled situation of the single music publisher, it was not a simple deal, but he worked it out.
I remember, when Time Robber was shown to him in a German studio. He put his feet on the table, pressed the play button, closed his eyes and listened the whole LP without a single word. Certainly, we were excited about his opinion, because that music is somewhat unusual. It's very good, it's simply perfect, he said at the end. Sometimes if a producer is enthusiastic, that wil be expensive for him.

The early translations of your songs. Did you guys do it yourselves?


In early years we had some support from the Hungarian Radio. The radio had different divisions and the English division helped us a lot. Anyway, we played mainly in Hungarian language on stage, which was not a problem for the audience.

What are your favourite Omega  song(s)?


It is really hard to say, but there are three mentionable songs that I like in particular: Morning Light (Hajnali óceán, 1987), Black Butterfly (Fekete pillangó, 1986) and Help to Find Me (Nem tudom a neved, 1974).
Morning Light has a strong melody with a beautiful rising arch, easy to fall for it, I think it is a great song.
Originally, Black Butterfly was written for a ballet. There was a memorable moment when Klaus Meine sang it with us live in 1994.
Help to Find Me is a kind of evergreen concert song with my keyboard solo. Timeless feeling for 36 years, same emotions on stage and all around.

My fave is White Magic Stone.


Yes, in the 70's for many years it was one of our major song at the end of concerts. We played it in Hungarian many-many times in abroad and the emotions passed across easily. I agree, this is a great song too. If I may notice, the questioner is not a teenager for sure :)

Tell the truth about how many songs Boney M stole from you?


There are too many rumours around it. We worked in neighbouring studios with Boney M somewhere in Germany. They were really interested in our music and one day Farian offered to buy a song. The official way should have been simply impossible, bureaucratic and useless for us personally. We all thought that we should make it somehow, so we just sold it for cash. The interesting point is that we play in a very different style, but a melody can be interpreted and adopted without limitations.
Actually, not only Rasputin, but quite a few songs (Wild Planet, Future World, etc.) has some Omega themes, no doubt about it. I think nobody knows exactly how impressions and themes were flying from us to them, but we could live with it.

George uses a wide variety of guitars. I think he likes Ibanez. What is the preferance?


He has no preference. He had different eras, styles and of course he always tried to pick up the most appropriate instrument for a song. He plays on 6-7 guitars on a concert.

How long are you guys going to go? Wish you could come to Canada?
We used to say that a bit longer than Rolling Stones. We just completed the open-air season for this year and probably we need a bit of silence. It is time to prepare for the 50th anniversary gig. We might play a few concerts in neighbouring countries, we will see. Few years ago we had invitations both to the US and Russia, but it has not been achieved. Never say never for Canada. One thing is sure, we won't have farewell concert ever.
Anything about your plans?
Omega started to prepare for the celebration of 50 years which is a unique occasion in rock history. The first step of this celebration is a re-interpretation of 17 essential songs with philharmonic orchestra. Half of the songs are in Hungarian and half of them are in English. The final mastering was made in a London studio. This new album 'Omega Rhapsody' is just published by Edel at end of October.
Omega Rhapsody will be followed soon by Omega Symphony, an instrumental album with even more philharmonic elements. The music of these two records will be presented on the tour called Omega Philharmony. The end of the tour will be in Budapest in August 2011. This event opens the 50th anniversary celebration year.
Thank you to VibrationBaby
and 
Laszlo Benko for this interview 



Edited by toroddfuglesteg - November 11 2010 at 05:41