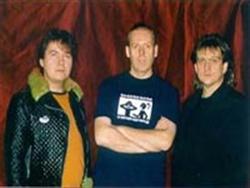 This German symphonic prog band is a pretty unknown band. But they should not be dismissed because their music is worth while our attention.
I got in touch with Thomas Kohls for the Inquire story..... so far.
--------------------
When, by whom and where was Inquire born ?
Inquire was founded back in 1996 by the current members. However our former bass player Michael Eckert passed away in 2006.
We are from Leichlingen, Germany, a small town 15 miles north of Cologne and 3 miles south of Aufderhöhe, deep in the heart of the "Bergisches Land".
What inspired you to start Inquire ?  
From our early years on we have been avid fans of progressive Rock and already played that style of music in some bands prior to Inquire. We call ourselves lucky to experience all the great Kraut Rock bands in the 70`s live in our hometown. These  extremely exiting times had a deep impact on us and encouraged us to start our own band.
To start with; please give me your (long or brief) thoughts and reflections on your albums.......

Inquire Within from 1999
In 1999 our first album "Inquire within" was recorded live in the studio in only five days.  After playing cover songs by Camel ,ELP or IQ for two years,  on "Inquire within" we finally made our own compositions.

The Neck Pillow from 2000
On "Inquire within" we were definitely very much influenced by our favourite bands. This changed on the second CD " the Neck Pillow", where we tried to create a more individual style by mixing our passion for progressive music with our love for the post war German cinema . So we came up with the idea to compose a Rock opera around the film "die Bettwurst" . The story of that film, is a bizarre love story of two unusual individuals who failed in society and seek to escape the threat of destruction into an ordinary life. This story was the perfect frame for our creative ideas.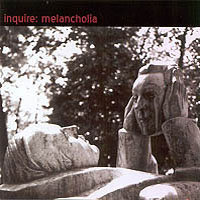 Melancholia from 2003
On "Melancholia" we were also looking for a sujet to develop our musical ideas. With Sartre`s book " Nausea" as a guiding line the more depressing direction was logical from the early beginning of the working process. At that time we realized that there would be no future for Inquire. Due to job and family commitments we were forced to put ourselves under time pressure and therefore had to compromise . Nevertheless we consider Melancholia our best work and the bonus track " Long live Rock and Roll " is still a lot of fun to play. This 20 minute piece is a rock version of the third organ symphony by the French composer Louis Vierne and was composed between 1906 and 1919. Another fact what makes Melancholia so special to us is that Eroc, the drummer of Grobschnitt, did the mastering. The "neck pillow" has a lot of references to Eroc `s infamous second CD.

Das auge ist der erste kreis-Der erste inoffizielle Live-bootleg from 2001.

Das "Auge ist der erste Kreis" is a compilation of live recordings and studio out takes. This is meant to be only for friends and diehard fans. It is definitely not for the fainted heart. This CD is dedicated to our stupid  local job center and Erich Ribbeck, the former "want to be" coach of the German national soccer team.
What have you been doing since 2003 and what is the latest update on Inquire ?
We had to go through many personal and career changes that there was no time to continue with the band until 2009. On and off we played with other bands in different styles of music. From 2005 until 2008 we reformed our school band Trespass and played some funny concerts. Since 2009 we are back with Inquire and hopefully we will find  the time and discipline to continue into the future. We have a lot of new compositions and it is only a matter of time to record and release them.
How would you describe your music and who would you compare yourself with ?
We play progressive Rock influenced by all the bands from the 70`s and the so called Kraut Rock Bands from Germany. We would describe our music as a mixture of all these sounds. Furthermore we love bands like After Crying,  Mars Volta, Ars Nova, Steve Vai,  Dream Theater, Frogg Café, Echolyn ,Versus X, Embryo  and so on… But of course we wouldn`t compare ourselves with these bands.
What is the availability of your albums and what is your experiences with the music industry ?
All our CD's are still available from almost all distributers of progressive Rock. Especially Musea from France helped us a lot to distribute our music worldwide. We are still receiving mails from fans and playlists from radio stations which is very much appreciated and more than we hoped for. The progressive Rock society is very loyal and supportive.
Prog rock is now in fashion again. What is your view on today's scene ?
For us Prog Rock has always been in fashion. However, nowadays the scene is not so close like it used to be in the 80`s, where the first magazines started and a Prog concert was something special. Therefore it is not easy to make a statement.  We would say that despite all the festivals, millions of magazines and all the other activities within the scene it is still an underground scene that fortunately is strong enough to exist beyond the madness of the mainstream music industry .
Just to wrap up this interview; what is your five all-time favourite albums ?
1.Änglagard – Hybris
2.Yello – Touch Yello
3.Antonio Sanchez – Migration
4. Phish  - Rift
5.Led Zeppelin – 3
Anything you want to add to this interview ?
Thank you for your interest in Inquire and all the best…
Thank you to Thomas for this interview