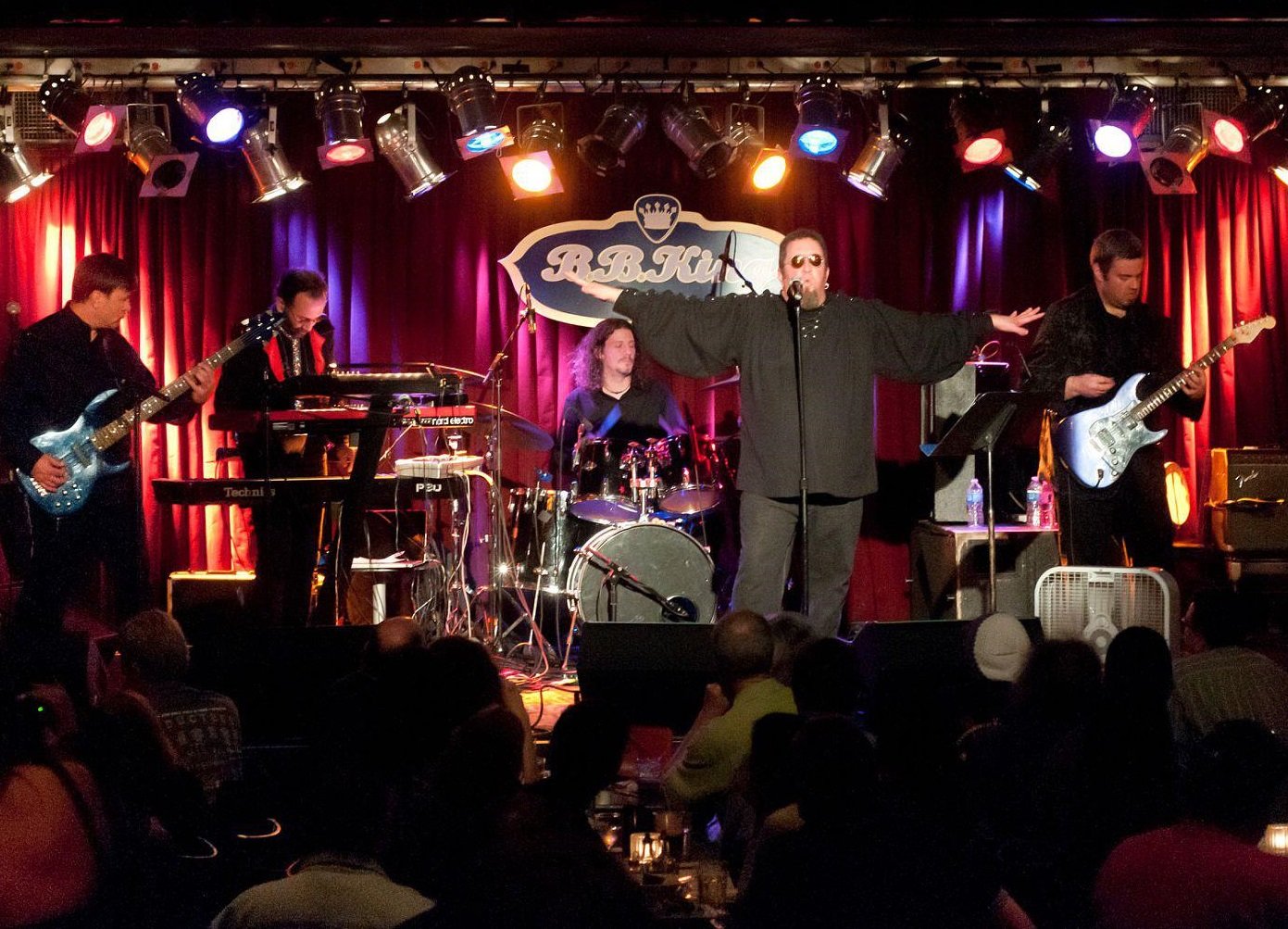 Shadow Circus from USA is already a familiar name in ProgArchives. Both their albums is a breath of fresh air in our scene and there is no doubts this band has the potential to become the one of the leading prog rock bands in the near future.
I got in touch with John Fontana and he very quickly answered my questions.
---------------------------------
Your history and the development from individuals to a band has been described in the PA profile so just let us jump straight over to your two albums. Please give us your long or brief thoughts on.......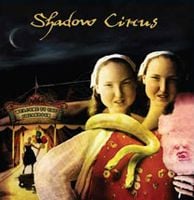 Welcome to the Freakroom from 2006
This is, of course, where it all began. It's hard to talk about this album without repeating some of what may have already been covered here...After 15 years or so of playing in rock bands in NYC, I had taken a break for a few years. As I was coming back into it, I wanted very much to join a prog band, but since none of the recordings I played on before demonstrated this style, I needed to make a demo that showed I was capable of playing this genre, so I set out to record some demos. Before sending them out to prospective bands as audition material, I forwarded the recordings to a few colleagues to get their feedback. Two of those people - Corey Folta, formerly a bandmate of mine in an alternative rock group called Persona Grata, and my good friend David Bobick, a vocalist trained in musical theater, both had strongly positive reactions to it, and thought it would be fun to complete the recordings with a full band instead of offering them to established groups as audition material. And so the core of the band was formed, and I continued to write and record until all of the songs on Welcome to the Freakroom were complete. Dave and I formed the concept of Shadow Circus, based on a mutual appreciation for Ray Bradbury's Something Wicked This Way Comes, and thought it would also make for a fun image to surround the band with. The idea that we would put on an outrageous live show was a key concept early on.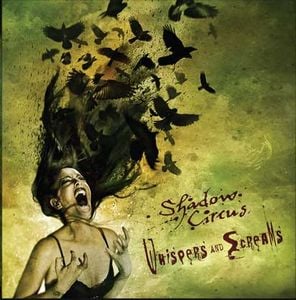 Whispers And Screams from 2009
With the first CD, the band formed around the music as I described. But with this release, we had a band in place, so the writing was much more collaborative, and with the band's current lineup in mind. So, this time, the music formed around the band! With the first CD, the other players actually recorded directly to the demos I made, to click tracks and so on. This CD was recorded with the band live in a room, with no click tracks. We wanted to be able to do subtle and organic tempo changes based on feel, rather than the rigid constraints of a click.
As I wrote the songs for this album, it was apparent that the dynamics had quite a broad range. Some things were softer than anything on the first CD ("When Morning Comes" and "Angel"), and also much heavier ("Captain Trips", "Willoughby"). It was also much more emotional music. It was written during an emotional period for all of us - Dave was having a kidney transplant during the production, each of us were having heavy things that we were going through, but we all remained dedicated to completing this, and it gave us all a lot of strength through those times. The range of emotions and dynamics is what inspired the title, Whispers and Screams.
How is the creative processes in your band ?
It traditionally starts with me taking the phone off the hook for a month or two, working on technique and studying new types of music, until the influence of it settles down and I can begin to generate ideas. With the first CD, I had spent months studying classical piano. On the second disk, I did some of that as well, and also studies composers of Celtic music. The over the period of a few months, I accumulate various musical ideas until they begin to take form. I can hear an epic begin to evolve when i find a motif that can be expressed in many different ways (as with the themes in "Journey of Everyman" and "Project Blue"). Then Dave listens and begins to form the concept of the lyrics, and we go from there. Once Dave and I have some solid things to work off of, we bring in the rest of the band to help complete the puzzle, and play it live in the studio.
When it comes to your music and your artistic image, I feel it has some vaudeville theatre rock influences in addtion to your main symphonic prog influences. In particular on your first album. But how would you describe your music ?
As I mentioned earlier, the idea of the band's identity was important to the concept of Shadow Circus since the beginning. Dave and I observed that most new bands don't take much effort in the area of "showmanship". In the 70's and 80's, if you met a rock star on the street, you felt like you were meeting someone from another planet! There was magic and mythology in it. Now you look on any stage, and see guys in cargo shorts and t-shirts, and you wonder, who is babysitting their kids? I wonder if their wives mind that they have a band? When punk rock deconstructed the prog scene in England in the late 70's, it at least did it with a sense of bravado and charm - the capes and flowing gowns of Wakeman and others were replaced by Mohawks and piercings. But as the 90's went on, and MTV faded, there was a rebellion against image - which was needed in some regards. But then it turned rock concerts into something that looked more like a high school Battle of the Bands.
So, we always wanted to put the band out there as a group that could put on a show, and make you imagine that you are experiencing something from another world.
You have chosen to release both your albums on your own record label. What is the pro and cons of going it alone ?
The first is actually released on Progrock Records. We decided to release the second one ourselves for various reasons, but the biggest reason is freedom. The concern of an indie label is to simply sell CDs. Which is great, we want to do that, too. But that can't be the main focus when you are looking for your audience. The primary goal has to be getting the music out there so that as many of your potential fans as possible will know about you. The way to do this now is through direct and quality interaction with fans. We do all kinds of giveaways, get involved with charitable causes of all kinds - these things are tricky with a label, because even the indies have major distribution networks in place that will restrict your ability to distribute freely.
Just to find out some more about you, please give us your opinions on........
Gigs and festivals
Finding an audience through constant gigging is a relic of the 70's. What really killed it in the U.S. was when the drinking age was raised to 21. Before that, college kids used to pack the clubs and see as many bands as they could. Once the drinking age was raised, the clubs emptied out, and the only people who would see you were the ones you personally invited to come to the show.
Now, with the internet, you have a chance to gain an audience online before you hit the clubs, but the trick for a new band is getting the critical mass in one geographic location. A new band may quickly gain 2000 fans, but they are spread out all over the world in such a way that maybe only five will come to show in any given place! The trick here is to focus on a geographic area to start with, even though you have access to the world. So, we're pushing very hard in the New York area, and are currently planning shows on the East Cost beginning in September, and culminating in our big show at The Triad Theater in NYC in October.
As for festivals, we are looking forward to playing our first festival at Progday this year, and are very excited about it! We hope we will get to play another one next year. I wish there were more one-off events. It seems a shame to me that the prog live scene in the U.S. consists of only 4 or 5 festivals each year. I would love to see many smaller events throughout the year - I'd like to see this happen both as a fan and a musician.
Classic prog rock bands like Yes, Genesis and Camel
To me, Yes was always the prime example of a great progressive band. I can't say enough about them - Rick Wakeman and Steve Howe have always been my heroes and inspiration on guitar and keyboards. I have also always been a huge fan of ELP, Jethro Tull, and King Crimson.
Vaudeville theatre acts like for example Alice Cooper and Kiss
Of course! When I saw Alice Cooper's show, I thought - that's what I want to do! He has guillotines and dancers acting out the songs - his shows are so much fun! Kiss is less so an influence for me, but our singer, Dave, is a huge Kiss fan, and we agree that their magic is in their presentation, and we definitely aspire to have that kind of effect on people live. If only we could afford the pyro, we would do it!
Record labels and the future of the music industry
It's anarchy right now! There is more music than ever before. There are more music listeners than ever before. Yet the business model used by the labels is less effective than ever. The problem is, without labels acting as gatekeepers, and without DJ's and journalists telling us what to look out for, it is a monumental task for listeners to find the music they want to hear - it's a needle in a haystack. And artists wonder how to find their fans.
There will ultimately need to be a system of dispensing music that is similar to cable television. Producers of television shows do not need to figure out where there audience is - they are all sitting in front of a TV, so they at least have a starting point. Music will eventually get its bearing and find a central way to connect listeners with music, but it's not there yet.
The death of the record stores
As Brian Eno once said, selling albums in the post-internet world is like trying to sell oil lamps after the invention of electricity. There's going to be something new, we just don't know what it is yet. Personally, I think buying music was ruined with the invention of the CD - I miss getting that beautiful album packaging - big, legible lyrics, gatefold sleeves, great artwork. If albums were still the main medium, mp3's would never replace them because with albums you could hold something of value in your hands that you couldn't reproduce yourself. Now anyone can burn a CD, but you would never press a vinyl album on your computer. I would love to see a serious resurgence in vinyl, but that's doubtful.
USA and growing up in the USA
I have no reference for comparison! From what I know, I wish that music and arts education were better here. It seems there is more of an appreciation for musicianship elsewhere, yet so much of the world still looks to the USA for music. I don't think much about how geographics effects musical influence - the world is a much more homogenized place now. Now communities are spread out physically all over the world, the boundaries are the ideals, not the physical borders so much.
Barack Obama vs. Sarah Palin
Oh, good heavens - certainly not Palin! I am so liberal that I have marks on my palms from hugging trees!
Usa vs Europe
I'm going to make a lot of people mad. But, you know what? I am tired of artists that are afraid to take a position on anything anymore because they afraid of scaring people away, but it was the social statements of the 60's that made music more important to people. I wish the USA would get over its macho insecurities. It seems that the USA is more afraid of female leaders, gay rights, etc. It sickens me that there is so much bigotry here now, and the conservative element is so afraid of any kind of change. The partisanship and culture wars have gotten too extreme. The right is defined by a "tough love" attitude that's inappropriate, in my opinion, for modern times - and the left is incapable of moving passed it. It does seem like Europe has much more of a focus on "we'd rather be happy than right", and I wish the USA would adopt some of that attitude.
After these rather untraditional – and very nerdy- questions; what is your plans for the rest of this year and next year ?
Starting with Progday in a few weeks, and the big show in NYC in October - some more live appearances are in the works. Then, after the holidays, we begin work on the new album.
Anything you want to add to this interview ?
I would like to thank you for this interview, and all of our fans at Progarchives for their amazing support! And to anyone in the NY area, come see us at The Triad in NYC on October 16th, and you will see what we're really about!
A big thank you to John Fontana for answering my questions.

Shadow Circus PA profile is
here


Edited by toroddfuglesteg - August 01 2010 at 02:38