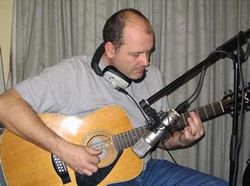 Willowglass from Yorkshire, England has got a lot of fans in this forum. It's music is symphonic prog and both the Willowglass albums is well worth checking out for those into Genesis, Camel and Anthony Phillips 
I got in touch with Andrew Marshall for the Willowglass story.
------------------------------------
What are you up to these days ?
With regards to music…I'm still struggling with the 'difficult third album' syndrome! Other than that….the usual (job, family, etc) and not enough time!
You are based in
Holmfirth
in the Yorkshire dales. How is life in the same village where the classic sitcom
Last of the Summer Wine
was filmed ? Were you involved in these productions ?
Holmfirth is a wonderful part of the country. You'll have seen the scenery on TV no doubt. I suppose life is pretty much the same wherever you go. I've always lived in the countryside (never in the City) so it's difficult to say. I love it here though. Although I must say that I try to avoid watching Last of the Summer Wine…it's not the type of thing I like to watch on TV and is not typical of the people here either! I've never been involved with the programme. They tend to film it all over the area so I've seen some of the productions taking place. I think they've decided to stop making it now.
Have you got any problems with the local old age pensioners who runs the village ragged with their various (un)scientific experiments and dating schemes involving bikes and highly mobile hedges ? 
If we have I've not come across them yet! Although you do come across some strange people sometimes.
Before you set up Willowglass as your solo-project, you played in bands for over 20 years. Please tell us more about these bands.
I've been in various local bands since I was at school…too numerous to mention. All these bands played various musical styles (heavy rock, punk, pop, prog, etc. – mostly cover versions, but some original material as well) and within those groups I've also played different instruments (guitar, bass, and keyboards). There was some interest in one band I was in (when I was playing keyboards). It was typical 80's/90's pop music. A couple of A&R guys from a major came to see us play…but it didn't get any further than that! More recently I played guitar in a blues band.
Why did you set up Willowglass and why did you choose that name ?
'Progressive' music has always been where mu heart lies. I was brought up on it during the 70's and my record collection seems to be mostly progressive music. Around 2003 I wasn't doing anything musically and had some time to write some music….and the first Willowglass album was the result. I was just trying to put together some pieces which were in the same vein as music I enjoy listening to. As for the name…..I went through numerous ones….but all the best names had already been taken! The music had already been written and I needed a name which reflected the music (pastoral, symphonic, etc) – something fairly tranquil. Willowglass seemed to do that….and it was the best I could come up with at the time!
You have released both the albums on your own label, if I am not mistaken. Was that your own choice or a matter of necessity ? What is the current situation regarding availability and distribution of your albums ?
It was a matter of necessity. I made the first album just for my own satisfaction really….it was great that people liked it and that encouraged me to do more with the second album. I've not been approached by any labels with regards to distribution, etc. so I'm having to do everything myself – CD pressing, marketing, etc. I suppose the main frustration is that I'm unable to market Willowglass properly. I've only limited funds for that and I'm sure with proper backing I could take things further. As for availability, both albums are still available from the Willowglass website, as well as some online vendors….but stocks are down to the last few now and it may not be viable at the moment for me to get anymore pressed once they have all gone. However, they are also on i-tunes & Amazon mp3 so they will be still available in that format. When the next album is released there is always some interest in the back catalogue, so I may get some more pressed then. We'll see.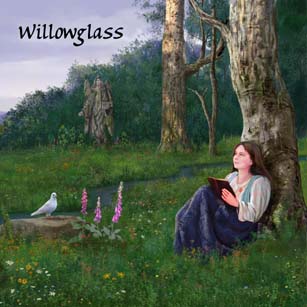 Please give us a presentation of the self-titled first album from 2005. The music, the recording, lyrics, the musicians, the artwork, the tracks.........
This was a culmination of a number of ideas I had had since around 2003 (plus some other ideas/pieces I had written way back!). None of the pieces had lyrics, although I did write some for the track Garden (and even recorded some vocals), but it didn't work so I scrubbed them and replaced them with a synth part. There was no rush in writing the material, but the recording process was very quick from what I can remember. I asked a friend, Dave Brightman, who was the drummer in the local blues band I was in before starting the Willowglass project, to help with some technical aspects, as well as to help out with the drums.
Who did the excellent art-work for this album ?
A USA based artist called Lee Gaskins. He's a great guy. I found out about him after trawling on the internet for album sleeve artists. He had already done some work for other artists and his style seemed to complement the music so I was really keen for him to do the artwork.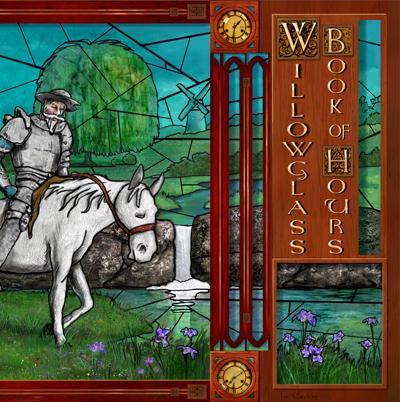 Please give us a presentation of Book Of Hours from 2008. The music, the recording, lyrics, the musicians, the artwork, the tracks.........
I started writing the second album as soon as I had finished recording the first one…so all the music was completely new. The writing came pretty quickly over about a 6 month period (on and off). Most of the time was spent recording and mixing (having a job and family means that spare time is just that…spare!). Again, there were no lyrics and the album featured Dave again on drums. I felt that this album was a bit more solid with regards to the writing and was recorded better than the first one. Again there was no particular theme…all the pieces came together and seemed to flow better (probably because they were written over a shorter time period).
Who did the artwork for this album ?
Lee Gaskins again! I wanted to get back to the days when you bought vinyl albums…..with all the artwork/gatefold sleeve, etc. I was all part of the music buying process when I was a kid which has all but been lost now. When people are buying your music I think the least you can do is present it well! There's also the 'added value' you get with the artwork rather than just downloading the music.
Besides of yourself, who else were involved in the two Willowglass albums ?
The only other person involved on the Willowglass albums is Dave Brightman. He was a big Genesis fan too so was quite happy to help out! I asked him to take part because, at the beginning, he knew a lot more than me about the technical aspects of recording….and he was a drummer!…which was useful as I wasn't particularly good on drums at the time! The drum duties were shared more or less 50/50 on the first album. I think I did slightly more drumming on the second one though. Also, having someone else involved gives the whole thing a bit more of a 'band feel' rather than just it being a solo project. I would eventually like to get a live band together to take the music out on the road at some point as well.
I guess it is fair to say that you have one or two Genesis, Anthony Phillips solo albums and Camel albums in your record collections. But which bands has influenced you most and how would you describe your music ?
Correct on all those! I think I've been influenced by many other bands…mainly progressive (e.g. King Crimson, Barclay James Harvest, Premiata Forneria Marconi, Emerson Lake & Palmer, Caravan, Focus, Van Der Graaf Generator, etc, etc), but also by many other styles of music (classical, jazz, blues…..my record collection covers most things from Abba to Yes!). How would I describe my music? Instrumental Symphonic Progressive Rock (?). What I really wanted to capture was the sound/feel of early Genesis/PFM music…..lots of 12 string, flutes, mellotron, etc. Almost a 'pastoral' feel to it all, but also with a lot of variety (something you need on a purely instrumental album!). The first two albums have gone some way to what I originally imagined, but I'm still working on it!
You are also involved in other projects, according to your webpage. Please tell us more about these projects.
I was contacted by Colossus Magazine (who have been responsible for releasing a number of compilation/concept albums on Musea Records) to ask if I'd like to take part in some of their upcoming releases. Two of them were for parts 1 & 2 of a concept based around Dante's Divine Comedy, for which I submitted a couple of original tracks (which are only currently available on these releases). Another two tracks were cover versions of tracks by Wigwam (Fairyport) and Kaipa (Oceaner Foder Liv) for releases based around famous Finnish and Swedish prog rock tracks. All of these are available on Musea Records.
Myself and many others in prog rock community is eagerly awaiting something more from Willowglass. Is there any plans for a new album.......... ? What is your plans this year and in the future ?
Yes…there are plans for another album. I'm writing it at the moment…but I've no idea when it will be finished. I'm aiming for sometime during 2011, but don't hold your breath! I have a full time job which isn't music related, so any writing/recording has to done in any spare time I have. Also, because the first two albums were quite well received, I really want the next one to be even better. The problem with that is that I'm tending to throw away a lot of ideas as 'not good enough' at the moment. So I may need to approach things a bit differently over the coming months with regards to writing if I'm going to get anywhere. I've also just been asked to submit a track for another Colossus project which will be released sometime next year so I'll be writing/recording that at the same time as the new album.
Please name your five all time albums.
Ahh! A very difficult question to answer because my favourites do change quite often. 6 months ago I'd have given you some different ones….but at the moment they would be (in no particular order)
·         Caravan – On The Land Of Grey And Pink
·         Genesis – Nursery Cryme
·         Emerson, Lake And Palmer – Pictures At An Exhibition
·         King Crimson – In The Court Of The Crimson King
·         Van Der Graaf Generator – Pawn Hearts
Anything you want to add to this interview ?
Not really. It's taken me a few months to get this far!
Thank you to Andrew Marshall for this interview. 

The Willowglass PA profile is
here





Edited by toroddfuglesteg - August 01 2010 at 16:18