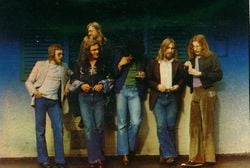 This British band is a bit of an oddity in the prog scene. They started out their career by beating Druid in a competition and went onto releasing two symphonic country albums. Those two albums has to be heard to be believed. This makes Wally one of the more interesting bands in the overcrowded English prog scene in the 1970s.
Wally is now back again and I got in touch with Roger Narraway for an interview. It was done the usual way with question-answer-question. But I found the answers so flowing that I will let Roger speak and mostly keep quiet. 
Here is what Roger has to say about Wally past & present & their albums.
--------------------------------------------------------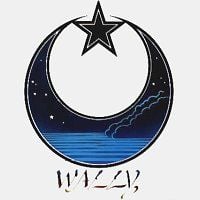 Wally' album 1974
I joined Wally between the Melody Maker contest and this, our first album 'Wally'. Bob Harris and Rick Wakeman were judges at the MM contest and Atlantic Records, when commissioning this album, chose Rick and Bob to produce, which for our first album was a huge boost to our confidence.  At that time, none of us had any real recording experience and so, finding ourselves at Morgan Studios in London was a fairly overwhelming experience. Despite this, we set to and manfully trounced both Hawkwind and Alice Cooper to break the then existing Morgan Studio bar bill then proceeded to commit to tape the performances that became 'Wally' the album.   Unlike today with the virtual 'anything is possible at the touch of a button' facility, recording techniques were then relatively basic. This meant that even simple ideas could take hours to complete and, therefore, with the studio clock ticking many ideas either got dropped or were never fully developed.  Having said all that, 'Wally' as an album, today stands the test of time in as much as it still sounds fresh and contains many of Wally's fans favourite tracks.  Personally, I would highlight what, arguably, became our 'theme tune' The Martyr; live favourite Sunday Walking Lady and the epic To The Urban Man. For all of us, to receive the first 'white label' pressing of the album was easily one of the highlights of our career.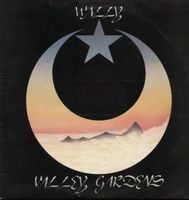 'Valley Gardens' album 1975
One year later, Rick Wakeman had moved on and Wally with Bob in the producer's chair started recording tracks for what was to become Valley Gardens.  These recordings took place both at Morgan Studios and the home studio of 'Yes' bass player Chris Squire. The entire second side is taken up by The Reason Why. This was a multi-composer piece in three sections from an original idea from Roy Webber and has always been a big 'live' favourite.  Also, we had our first Radio 1 success with Nez Perce which, as a single, became Johnnie Walker's record of the week.  During the recording of this track, having had an idea for a female vocal over the outro, we were lucky enough to meet Madelaine Bell from Blue Mink in the bar and she agreed to lend her astonishing vocal talent to the undeniable enhancement of this track. This clearly meant as much to her as it did to us as meeting Roy some years later, she immediately sang him her part note perfect!!

In comparing and contrasting these two albums, I would say that whilst 'Valley Gardens" is perhaps sonically superior, 'Wally' is for me, the more complete and satisfying album.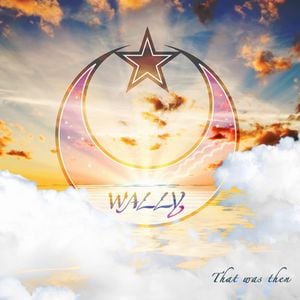 Both myself and most other thought Wally was history.
Thankfully, this is not the case.
What were the Wally members up to when Wally was in hibernation, why did you wake up again, what is the latest status report and what is your plans.
After the line-up that made the first two albums broke up, another line-up that included Jan Glennie-Smith on vocal and Ade Cook on guitar briefly gigged but never recorded.  When we finally decided to call it a day Pete Sage moved to Germany and continued his musical career. Nick Glennie-Smith moved to London and continued as musician, engineer and producer.  He subsequently moved to the USA where he now is a very successful film score composer.  The others members stayed in Harrogate and for another two or three years played together/separately in various gigging bands. Since then, I moved to London and played with various bands, The Scene and The Thrillers among others. Roy Webber continued with various bands including The Freddy Alva Band and moved on to developed a hugely successful design and media company.  Paul Middleton continues to successfully ply his trade as a musician.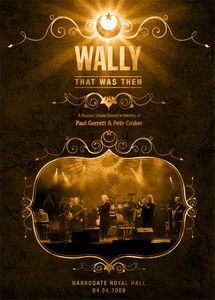 As to why we woke up again
-In late 2008 Nick and Roy were talking and the subject of possibly reforming the Band to do a one off gig came up.  Phone calls were made, people said 'yes' and said project was under way. Sadly, whilst contacting band members, Roy learned of Paul Gerret's death in Thailand.  This event reminded us, should we have needed it, of Pete Cosker's sad demise some years earlier.  These two fine musicians will be remembered by all who were witness to their fine contributions to Wally and also to those who had the priviledge of being part of their lives. This is made all the more poignant by the news at the time of writing we learn of the death of Ade Cook, who was guitarist supreme in the final 1977 Wally line up.   The decision was made to do a one-off concert at Harrogate's Royal Hall which took place in April 2009.  An edited highlight DVD, 'Wally - That was Then' records this event.  At around the same time, a CD 'That was Then' was released, this being a compilation of the first two Wally albums.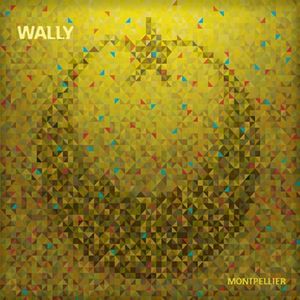 Your new Montpellier album from February this year.  
Subsequent to the concert, we spent considerable time at Soundworks Studio in Leeds compiling both DVD and CD.  It occurred to us that this was an opportunity to re-record  previously  unreleased tracks and to write new material for a  new album.  From these sessions came the CD 'Montpellier'.  'Sailor' was always a big live favourite during the final Wally gigs.  'Human' and 'Surfing' showcase Paul Middleton's previously untapped rapier-like lyrical skills and vocalisations.   'Thrill is Gone' and 'Giving' are examples of all the band members ideas coming together to create a whole which is bigger than the sum of its parts. The band are delighted that this most recent album is attracting such interest and plaudits from many wide-ranging sources - fans, press, yourself etc.  
Coming up to date.
April 2010 saw our second concert at the Royal Hall, which in many ways eclipsed the 2009 gig and we are currently looking at the possibility of a concert in 2011.  Since re-forming in 2009 Wally has been and is currently is an entirely self financed outfit. Considering that there are up to 12 people on stage at any one time, coupled with the fact that two integral band members reside outside of the UK, makes for a a logistical nightmare.  It is our love of doing what we do, plus the fantastic and continuing support of our fans and of course, our dear friend Bob Harris, that make us determined to do as much as we can to meet that support.  To that end, I am currently compiling, prior to, producing a live CD from our 2010 concert.
As to how we would describe our own music, we have been asked this many times.  We could ramble for hours about our influences (Jackson Brown; Frank Zappa; CSN; Genesis; King Crimson; Muddy Waters; Yes; Stefan Grapelli) - see what I mean! My answer has always been, Wally makes music to listen to.  Other members will have their own answer. Wally has a website www.wallymusic.co.uk and is always a good source for current and future information and includes a guestbook facility for comments and queries.
Anything you want to add to this interview ?
We are incredibly lucky to do what we do and while there are people willing to listen and support us we will do all we can to carry on doing it. 
Thank you to Roger for this interview. 

Their PA profile is here, their homepage is here
and some excellent Wally videos is here



Edited by toroddfuglesteg - August 15 2010 at 04:26