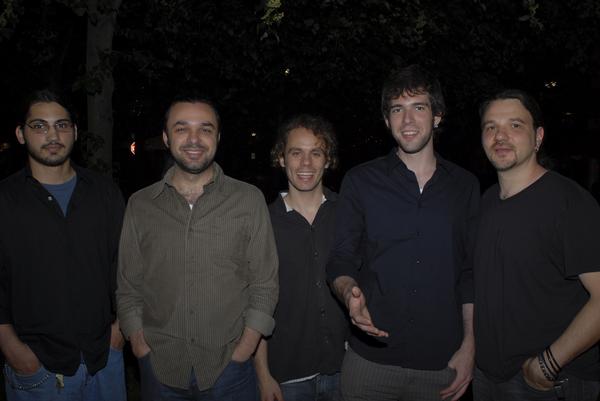 Esthema are a progressive folk band with wide, eclectic influence, including various jazz fusion branches (such is Al DiMeola) to avant moments (fans of John Zorn will recognize them). Hailing from Boston, Massachusetts, the band is compirsed of five members: Andy Milas (guitar), Bruno Esrubilsky (drums), Ignacio Long (bass), Onur Dilisen (violin) and Tery Lemanis (oud/bouzouki). Their folk influences are rooted in Greek/Turkish/Balkan music. Traces of metal and New Age music are also present.

I got in touch with them. Andy Milas answered my questions.
--------------------------------------------
Your biography has been covered in your ProgArchives profile so let's bypass this and go straight to the meat.
Please give me your (long or brief) thoughts and lowdowns on.......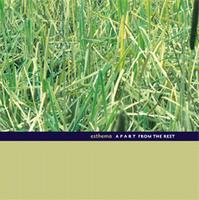 Apart From The Rest from 2007
Apart From The Rest released in July of 2007 came together as all the parts of Esthema were being put together. I started writing Consequence, the first piece on the CD with only an idea of what the whole would be and sound like. I knew I wanted to incorporate all the musical elements that I enjoyed – progressive rock, jazz, and Greek music. As the unit came together with Tery Lemanis (oud & bouzouki), Onur Dilisen (violin), Jack Mason (bass), and Carl Sorensen (drums) so did the CD. I was writing the pieces and the arrangements came together as we rehearsed. Once Esthema was whole, I really wanted to record the CD as soon as possible in order to capture the excitement of new compositions and arrangements and the exploration of getting to know one another musically and personally. I think we definitely captured an unforgettable moment in time.
Since its release Apart From The Rest was voted as one of the Top 25 independent recordings of 2008 at Indie-Music.com and in 2009 compositions from the CD were chosen and featured at the critically acclaimed Waterfire Providence in Providence, Rhode Island. Joel Simches from Boston's Noise Magazine stated, "this recording is nothing less than a true celebration of a number of different styles of world beat, jazz, rock, ethnic European and Middle Eastern traditional music" and John Collinge from Progression Magazine called it "a seamless blend of Eastern and Western motifs: Ethnic scales and meters intertwine delightfully with jazz-rock drums and bass beneath jazzy improv and winding melodies."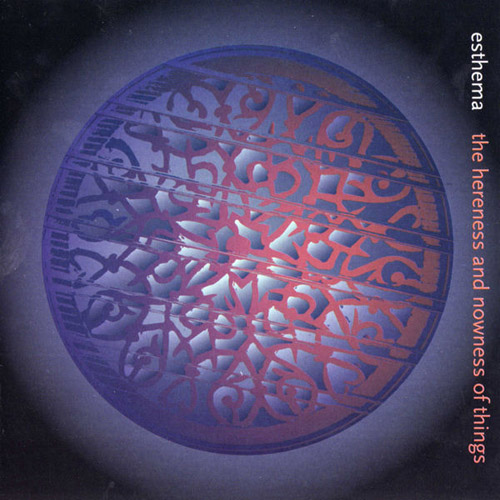 The Hereness and Nowness Of Things from 2009
The writing for The Hereness and Nowness of Things, released November 3, 2009 had started as soon as Apart From The Rest was completed. If my memory serves me correct some ideas were even around during the recording of AFTR. With the compositions for the new CD I really wanted to explore some areas that we didn't on the first CD. As you can tell from pieces like Eastern Dance, Forward Motion, and Four Colors, we explored a much more "World Music" sound. The compositions all have very specific eastern rhythms from Greece and Turkey (as well as other Near Eastern countries) and use scales that capture that vibe. Not to say that we didn't put our own twist on a very traditional sound, but we purposefully didn't stray too far. With a composition like Arrhythmia we wanted to venture into a more soundtrack-like, one could even say symphonic piece, really centric on mood and with the help of our guest cellist, Robin I think we definitely achieved the sound we were striving for. With the closing piece, On & On the goal was a more straight ahead rock vibe. This is definitely not an all power chord piece in 4/4, but it is a side of Esthema that we wanted to explore and will probably do more so in the future. Pieces like Change of Season and Illusion of Truth, I believe are definitely the most Esthema like pieces, longer in form, with many changes, and no real set pattern.
The Hereness and Nowness of Things
helped us gain more exposure than we had even anticipated, but very much wanted. In April 2010 Guitar Player magazine reviewed the CD. Barry Cleveland wrote,
"Drawing on advanced musical studies and international performance experience, the group plays at a truly world-class level, with authenticity, aplomb, and exuberance."
In addition to the Guitar Player magazine review, we have also been reviewed by Prog Archives, Progression Magazine, Skope Magazine, Phosphorescence Magazine, ProgNaut.com, Progressor, Progressive Ears, RockLine in Slovenia, Indie-Music.com, The Noise Magazine and more. In April 2010, along with a review, we were also featured in Skope Magazine. Along with so many great reviews, we have been nominated for the Top 25 Award at Indie-Music.com (results at the end of the year) and we are also seeing a great deal of interest from radio programs/stations. Across the US we have been picked up by a number of programs. And a few months ago, we were featured in our own short-film/bio (
http://www.esthema.com/video.html
).
What have you been doing after the release of The Hereness and Nowness Of Things?
Since the release of The Hereness and Nowness of Things, Esthema has been trying to capture the attention of as many people as possible via performances, radio play, reviews, magazine features, and radio features. We have been sending out CDs to all that are willing to listen. Because our music incorporates sounds from many varied genres and styles of music, both eastern and western we believe that there is a huge domestic and international audience for Esthema. We just need to find a way to get the music to them. Although the progress sometimes seems slow, we know our efforts are working. Sales of our CDs and mp3s are happening all over the United States, South America, Europe, and Turkey, and more and more radio programs have placed Esthema on their roster. In addition, I have started writing new material for a future recording.

How is the creative and song writing processes in your band?
The creative/writing process usually starts with me (Andy). I am credited for the writing of all but one composition, Four Colors that Onur wrote. But the magic for all the compositions happens when we start rehearsing the pieces and the arrangements start coming together. I end up usually bringing an all-acoustic guitar recording of the piece comprising of melodies, grooves, chord changes, and such. For some sections I may write the exact bass line that I want or exact harmony for a given section, but these sections are few and far between. Then once Tery, Onur, Ignacio, and Bruno get their hands on the pieces and we start working them through, that is when they take on a whole new life. And the beauty is that the compositions are ever evolving and growing. They really have a life of their own. New arrangements are constantly happening at rehearsals and performances. There are constant surprises. As a composer, it is probably one of the most remarkable things - working with musicians that give so much of themselves that each time they play a composition a part of who they are is left behind.
Just to give those of us who are unknown with your band a bit of a reference point or two: How would you describe your music and which bands would you would compare your music with?
There is very little truly original music. All music we hear (and Esthema writes) comes from somewhere. The categorization is just difficult because sometimes things can't be neatly put into a category. I could probably sit down and break down our compositions and tell you the influence(s) that a particular section is from. In a July 2010 review of the CD in ProgNaut.com, Terry Jackson states "If I had to compare them to any recording or band, I would say Yo-Yo Ma's Soul of the Tango or a prog-classical Gypsy Kings. There are also echoes of King Crimson, California Guitar Trio and especially Azigza." Later in the review he also draws comparisons to Spyro Gyra and Hiroshima. Peter Braidis a reviewer for Indie-Music.com wrote "If Rock fans were able to enjoy the Page/Plant tour of '95-'96 and heard all the Middle Eastern arrangements to various Led Zeppelin songs with an open ear, than why not Esthema? The track "On & On" is the closest to being maintsream or Rock oriented, largely due to the killer electric guitar solo by Andy Milas which shows a heavy Jazz Fusion influence from acts like The Mahavishnu Orchestra and Return To Forever." Others have mentioned names like Shadowfax, "an amped up Loreena Mckennitt without vocals," and Jaz Coleman and Anne Dudley.
As composer, I can tell you my influences come from a variety of artists & styles - Avishai Cohen, Garrison Fewell, Fates Warning, Tool, Porcupine Tree, Al DiMeola's World Sinfonia, Strunz & Farah, and the music of Greece from the 1920's through today, to name a very few. There are so many more. I can't say that we actually sound like any one of these particular artists but we have the elements.
In describing our music I always use the phrase World Fusion. One of our reviewers stated that all music is World Music and they were so right. So for us World Fusion is absolutely apropos. We are fusing music from various genres, styles, and cultures - a fusion of music from our World. Our compositions will feature odd rhythmic patterns reminiscent of bands like Tool and eastern rhythms like a Karsilama. We combine western modes and scales like Aeolian and Harmonic Minor with eastern scales/maqams like Houzam and Sabah. In "Change of Season" from The Hereness and Nowness of Things, we start with an eastern taxim (solo) and midway through the piece we are in a full swing with the bass soloing over changes.
Reviewers have used terms like…
"...very romantic, beautifully rich and melodic," Terry Jackson, ProgNaut.com
"…evocative and dramatic throughout." Dean Pedley, Sea of Tranquility
"…transcends boundaries and has melody, originality and spark." Dean Pedley, Sea of Tranquility
"…breathtaking world fusion music." Peter-Braidis, Indie-Music.com
"…the group plays at a truly world-class level, with authenticity, aplomb, and exuberance," Barry Cleveland, Guitar Player Magazine
"…great slab of east meets west, jazz meets world, art meets earth." Joel Simches, The Noise
"…an emotional experience that is dramatic and cinematic." Todd Sikorski, Skope Magazine

To my knowledge, you have released two albums on your own. What is the pros and cons of going it alone with regards to manufacturing, promotion and distribution?
The do-it-yourself (DIY) route definitely has its pros and cons. As you can imagine, one of the biggest cons is cost. The worst thing is having something to say and not being able to do so in the manner that you would like because you are on a fixed budget. Of course, in our case I went over budget but it is always in the back of your mind. And regarding promotion and distribution, what ends up happening after you have the product in your hand you have to find people willing to listen and support it. When you have people already established in the business that are working with/for you promoting and distributing you, you also have their reputations, contacts, and experience working for you. Doing it on your own you need to build a reputation, the contacts, and experience. People are not always as willing to work with someone they have never worked with and do not have a proven track record.
I have heard this said, read about it, and now am experiencing it first hand; the music industry has drastically changed over the course of time. Artist (art) development is not part of the industry. The industry, like any other business is in it to make money and given the changes in the recording industry, artists almost need to come with a guarantee. That is why so many contemporary artists end up looking and sounding so much alike. Given these circumstances, performers and artists straying from what is popular at the given time do not have many choices. We are almost forced to do it ourselves.
The positive to the do-it-yourself route is that there is complete artistic freedom. When an artist's boundaries are only defined by their own limitations, so much more can happen. You no longer think about what was and is, but what can be. It encourages exploration. I think that is one of the reasons we have been able to release two recordings that have transcended so many boundaries and have fused so many various styles and worlds of music.

How easy/difficult do you find it to get gigs and tours these days?
The truth is we have not looked for tours. As far as individual gigs are concerned, we mostly perform in Massachusetts and the New England/New York area. Regarding ease of acquiring gigs, the categorization of our sound is sometimes difficult and that leads to difficulty in sometimes placing us. A purist of any style of music, no matter whether it be Jazz, Prog Rock, Fusion, and in our case, Near Eastern may not be completely satisfied with our sound. We take elements from all this music and combine them into one package. Some club owners and promoters, love it and take the chance, others feel that it is too difficult to place given the demographic of their audience. And in respect to touring, I feel that in order to fully benefit from a tour, a newer lesser known artist such as Esthema would either need to be placed on an opening slot for say an artist like Avishai Cohen that already has an established audience or they need to create a buzz and demand in the area they are touring. At this point an opening slot on a tour has not presented itself and as I have mentioned, we are working on creating that necessary buzz. Playing to empty houses because people don't know who is in town doesn't benefit anyone.

Is any of you involved in any other bands besides of Esthema?
Everyone in the band is involved in multiple projects.
Onur (violin) is a member of the Plymouth Philharmonic Orchestra, Dorchester Symphony Orchestra, and Freisinger Chamber Orchestra. He also performs with the Turkish Ensemble Dunya, the Tery Lemanis Pan Middle Eastern Ensemble, and the George Kaminaris Band (Rembetika).
Tery Lemanis (bouzouki & oud) heads his own Pan Middle Eastern Ensemble on bouzouki and oud, the Tery Lemanis Ensemble, Jazz Trio, Tery Lemanis Trio on guitar, and Frank Zappa Tribute Band on guitar and vocals, The Brain Police. He also performs with Dancing Gypsy Band on oud (traditional Arabic/Middle Eastern), Dudochka on guitar (Balkan/Eastern European and the George Kaminaris Band on bouzouki (Rembetika)
Ignacio Long (bass) performs with numerous Jazz ensembles in the Boston/New York areas, such as Pablo Eluchans Trio, Pablo Eluchans Trio, Pablo Eluchans Trio, Tery Lemanis Trio, Italo Cunha, Carmen Spada Project. Also being fluent in all South American Styles, he performs with an endless number of Brazilian Axé/Samba, Latin Jazz, Uruguayan, Argentinean, Latin Pop, Brazilian Pop, and Salsa bands like Kenny Kozol, Latinova, The Gringo Kings, Samba Tremeterra, Tais Alvarenga, Nando Michelín, Fernandito Ferrer, Paula Andrea, Mari Rosa, Sonho Meu, Los Orientales, lead by Florencia Gonzalez and many many more. Ignacio also co-heads his own Argentinean rooted Jazz ensemble Urban Gauchos along with Tomás Murmis.
Bruno Esrubilsky (drums) performs with Alternative Pop singer/songwriter Kris Roche, Indie Pop Rock singer/songwriter Ann Driscoll, singer/songwriter Emily Elbert, and Pop Rockabilly singer/songwriter Zac Taylor. He also performs with Latin Pop Rock songstress Silvina Moreno, World/Asian Jazz Fusion artist Steven Chelliah, composer/guitarist Kentaro Sugiyama, and Brazilian artist Tais Alvarenga.
For me, my concentration is spent mostly on Esthema. I do still perform with local Greek bands, in addition to the Tery Lemanis Pan Middle Eastern Ensemble but I my focus needs to remain on Esthema.

What are your plans for the rest of this year and next year?
We are entertaining the possibility of doing an all-acoustic possibly live recording containing some old and some new material in 2011. But can't say for sure at this time. I really love the things I am writing and if things continue I may try and push for another studio recording for late 2011. Tough to say at this point but one thing is for sure, we are going to continue to work to get our music into the ears of as many listeners as possible.

Thank you to Andy for this interview