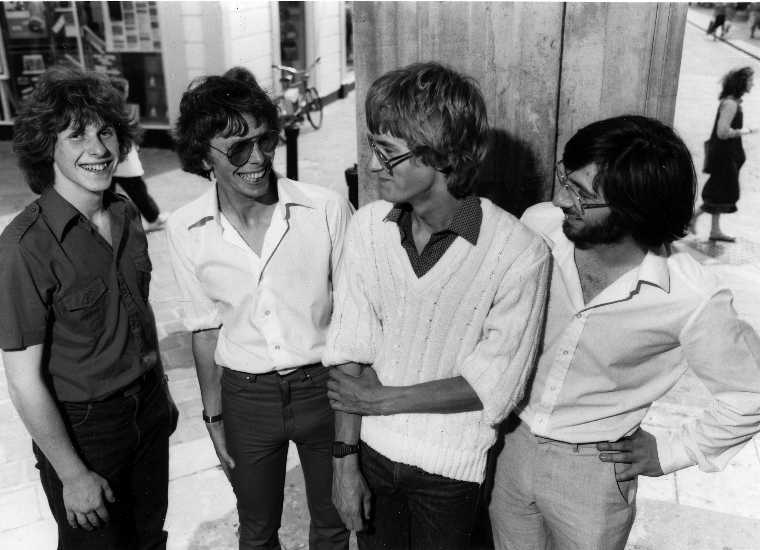 Protos is an UK neo-prog band with two albums so far. Their history is unique, as this interview proves.
Rory Ridley-Duff answered my questions.
@@@@@@@@@@@@@@@@@@@@@@@@@@@@@
Your biography has been covered in your ProgArchives profile so let's bypass this and go straight to the albums. But why did you choose that name ?
With the first album, we were young, naive and hopeful of a better future - hence the name of the album.  My mother - an artist painting under her maiden name of Ilse Sachs - produced the artwork once the album title had been decided.  The second album - a live recording - captures the essence of performing live as well as the feelings aroused by the discovery that we had a fan base in Japan.  Performers are hostage to the attitude of their audience/following, so developing a public profile feels a bit like putting your head 'into the mouth of the tiger'.  We felt this was particularly apt imagery for an album celebrating the experience of live performing, and it also seemed appropriate for the Japanese market.  The most recent album title was chosen after talking through the story that ties all the album tracks together.  Steve wrote a series of narratives about a nobleman who found love after rejecting his upbringing.  In pub discussions about the album title, Steve started calling him a 'noble pauper'.  As the story ends with his death, it was a short step to naming the album The Noble Pauper's Grave.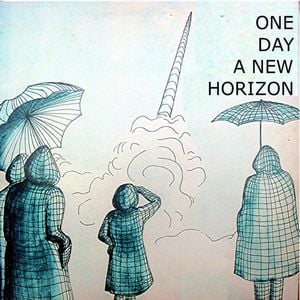 Please give me your (long or brief) thoughts and lowdowns on One Day a New Horizon from 1982
Long time ago now!  The idea of recording an album came from seeing another local band (Ground Zero - called Gemini at that time) selling an album at one of their gigs.  We asked the recording studio that supported them how they did this, and Richard Sharples (of Airship Studios) explained how the band paid for the studio time.  We reached an agreement to do the same.
At the time, three band members (Rory on keyboards, Iain on drums, and Nigel on bass) were music students at Chichester College of Technology.  This provided a fan base who wanted to buy the album, some of whom also helped out at local gigs.  We recorded the album in about two weeks in late 1981/early 1982, and released it in March 1982.  It provided us with good publicity locally, but we were never known outside our local area until the 1990s when a Japanese progressive rock magazine called us 'the best English progressive rock band since England' after getting hold of one of our albums.  We didn't learn about this until 2006, but that is when our international reputation began to develop.
You were active in the 1980s, took a 22 years long break, got back together again and recorded a new album. Why did you return again ?  
The original band broke up when its members went on to jobs (Steve), music college (Iain and Nigel) and university (Rory).  We all kept in touch over the years, and Steve and Iain remained close friends of mine.  In 2006, I was going through a career transition (from ICT consultant to university lecturer in a business school) and needed to earn some extra money.  I had held onto 3 copies of One Day a New Horizon and decided to sell one on eBay.  Imagine my surprise when it sold for £340 to a Japanese buyer?  We corresponded and learnt about the way our reputation had grown in Japan on the back of bootleg tapes of the original album.  I sold two more (both for over £100) and further correspondence with buyers alerted Steve and myself to smaller fan bases in the US, Italy and the UK.  When we mentioned that we were thinking about transferring old material onto CD, one Japanese buyer immediately contacted Marquee (Japan's main importer of progressive rock) and they placed an order for several hundred copies of a CD.  We had no plans to re-release One Day a New Horizon, but once they had placed an order, we decided to set up New Horizons Music and run with the opportunity for as long as it seemed a good idea.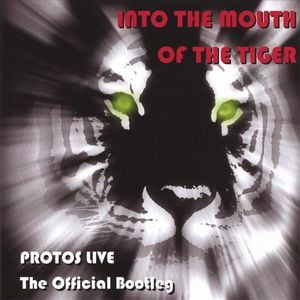 You released a live recording called Into the Mouth pf the Tiger in 2007. Please tell us more about this album.
Steve and I went through all the tapes from our gigs between 1982 - 1984.  We'd collected these from former band members and friends.  Amongst them were tapes that had been recorded to a fairly high quality by a sound technician who provided the PA system for gigs sponsored by Airship Studios.  When we listened to these, we were pleasantly surprised and began making digital recordings from them.  The recordings that ended up on the album Into the Mouth of the Tiger came from four gigs.  In 1982, Airship Studios supported local bands by putting on events at the Regis Theatre in Bognor Regis.  Four local bands each got about 45 minutes to put on a show.  Each brought along their fans and this filled the theatre.  It was a good experience for young bands to play to a decent size audience.  We used recordings from two of these events.  The third recording was from our 'farewell' gig in 1983 at one of the local high schools, just before the band members went their separate ways into higher education.  The fourth recording was a reunion gig for the Chichester Festivities in 1984.  This was an outdoor concert at Chichester Cathedral that draw a good size crowd.  It was the last time we played together live.
Some tracks on the first studio album sounded quite 'soft' to us, whereas they had a 'hard' edge when played them live.  If you compare the studio and live recordings of tracks like Thing of Beauty, The Maiden and The Fugitive, the energy in the live performances is staggering.  Releasing a live album also gave recognition to both Iain Carnegie and Nigel Rippon for their contribution and fabulous musicianship.  We wanted to put that out as an album to ensure there was a definitive record of our live performing.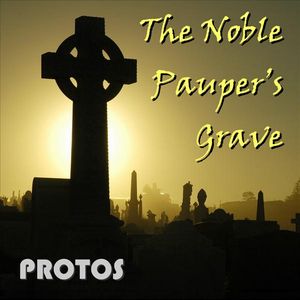 You went back into studio again and released the studio album The Noble Pauper's Grave the same year (2007). Please tell us more about this album.
We had plenty of material that we'd performed live in the 1980s (and more that we had composed but never performed).  We raided old friends' attics for archive recordings and started to realise that we probably had enough material for two further albums.  The first of these is The Noble Pauper's Grave.  It combined material we'd never performed (Travels and Outcry) with old material we played live (Born a Bit Blue, The Rally, Spring, Aftermath and Departures).  We reworked all this material in the studio over a period of about six months.  The album gave us a chance to put out studio recordings of tracks that had gone down well with live audiences (The Rally and Aftermath in particular).
As I was working part-time in 2006 / 2007, I had the time to lay down all the backing tracks and keyboards for the album.  Steve gave up two weeks of his holidays to come to Yorkshire.  During the first week, he wrote the story narratives and laid down the guitars for four tracks.  During the second week, we recorded the remaning guitar tracks and starting putting together the whole album.  We had one further weekend in Sussex to finalise guitar recordings and work on the mixing/mastering.  We spent a further two months finalising the sound of each track until both of us were happy.
You have also released some solo albums. Please tell us more about them.
Both solo albums are based on music composed throughout the 1980s.  The recordings were made in the early 1990s.  During my period at university (studying music), I had composed a large amount of classical and instrumental rock music.  With the discovery of music technology, I systematically recorded these over a two year period (from early 1991 to late 1992).  They remained unpublished until Marquee (in Japan) listened to them and were confident there would be a market.  
The classical material was released on an album called A Question of Expression (after a piano piece that was published earlier in an Anthology of Contemporary British Music).  This piano track went on to win fourth place in the piano solo category of the 2009 'Just Plain Folks' Music Awards.  The instrumental rock music was released on an album called Passing Decades at the same time.  The highlights of this album (according to reviewers on various progressive rock sites) are the second track Variations, and tracks towards the end of the album called The Maiden, Tempest and Space.  The version of The Maiden on Passing Decades is based on the 1984 composition by Protos at the Chichester Arts Festival.  Space is a recording of a classical composition submitted for my music degree.
Back to Protos. What have you been doing under that name since 2007 and what is your plans for the rest of this year and next year ?  
I've been working full-time as a university lecturer since late 2007.  This has substantially reduced the time available for music activities.  Steve and I are convinced we have at least one more album in us, but we're unsure when we'll find the time to record it (hopefully it will not take another 22 years!).  We have both written some new material that should appear on this album alongside more old tracks that we would still like to record.  It is likely that this will be the last album released by Protos unless there is an extraordinary turn of events.
Just to give those of us who are unknown with your band a bit of a reference point or two: How would you describe your music ?
As teenagers Steve and I were heavily influenced by artists like Camel, Deep Purple, Led Zeppellin, Genesis, ELP, Mike Oldfield, and some less well known artists and bands like Casiopeia, Gordon Giltrap, Gryphon and Sky.  We never 'went commercial' - our tracks were melodic, instrumental and generally 5 - 10 minutes long.  Playing live, we had a more 'rocky' edge than many progressive rock bands, and often injected humourous interludes into our live performances (showpieces for Nigel on bass, and Iain on drums).  For the most part, reviewers draw attention to the melodies in our music (comparing their quality to those in Camel's The Snowgoose).
You are based in England, have listed Rest And Be Thankful next door to me in Scotland as your favorite spot in the world (but I am not so sure about your affection for Loch Maree) and your music is firmly rooted in the British prog tradition. Do you regard yourself as a neo-prog band, retro-prog band, prog band or a rock band ?
Loch Maree is one of the most stunning Lochs in Scotland - a long way north and beyond the reach of all but the most committed tourists in the Scottish Highlands!
I'm not sure what label others would put on our music.  In the late 1970s/early 1980s, we would definitely have labelled ourselves a progressive rock band.  On  The Noble Pauper's Grave, we describe our music as art-rock.  As we are still recording music that - in some cases - was written during the 1970s/80s, perhaps the retro-prog tag is applicable.  Personally, I prefer the label art-rock as we combine instrumental rock with a symphonic quality with elements of theatre.
How is the availability of your records and what is your experience with the music industry ?  
There are quite a few outlets for our music.  The albums can be downloaded (as MP4 / MP3s) from iTunes, Napster, Spotify, Amazon and many other digital stores.  We achieved this by registering with CD Baby in the US.  CDs are harder to come by, but can still be ordered from  www.roryridleyduff.com , www.protosmusic.net, and www.newhorizonsmusic.co.uk.  We still have some stocks and supply people directly.  Steve and I have now closed down New Horizons Music as a company, but maintain the websites and continue trading as a partnership.  So, if you want digital downloads, there are plenty of places to get them.  If you want CDs, you can get them directly from us while stocks last.
What is your view on this new internet prog scene where nerds/human beings from Vladivostok to Los Angeles is suddenly taking an interest in old bands even the band members themselves have forgotten about ?  
It's great.  A Polish magazine has been very generous about our music, and we still get CD orders from Italy.  I'm sure each new generation will discover progressive rock and as time passes previously unknown bands will get the reputations they deserve based on the quality of their music.  Prog has appeal to those who want something more than 3 minute love songs, and who admire the musicianship and composition skills of other musicians (perhaps because they like to play music themselves).  There will also always be collectors who delight in finding rare music and publicising it.  In today's internet marketplace, there is no limit on the size or location of the audience that can be generated for good music.  Our experience with the Japanese market also shows that even a band playing only local gigs can find an international audience if they make the effort to publish their music.  Once music lovers get their hands on it, word of mouth does the rest.
What is your plans for the rest of this year and next year ?
Musically, activity will be limited.  My new career means that I'm writing more books/articles and fewer albums of music.  My third book comes out in January next year and publishing that will take priority.  By mid/late 2011, there is a good chance I'll return to music activity and continue working on the next Protos release.
Anything you want to add to this interview ?  
Thanks for the chance to share some further information about Protos.  Steve and I wish you all well and hope that ProgArchives keeps the genre alive.
Thank you to Rory for this interview

Their PA profile is here and their homepage here