In June the anticipated album High Street by CT based fusion band
Helmet of Gnats
came out. I was eagerly looking forward to it as I loved their s/t second album. Indeed, they deliver the goods, with stellar composition, musicianship and production.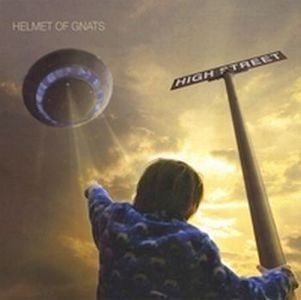 Here is
Pete Pardo
's review, posted at
Sea of Tranquility
:
"Four epic tracks, over an hours worth of music, and plenty of musical virtuosity and tight grooves-that's what you get on the new release from instrumental jazz-fusion wizards Helmet of Gnats, called
High Street
. It's been six years since the release of their last CD
A Helmet of Gnats II
, but Chris Fox (guitars), Matthew Bocchino (keyboards), Wayne Zito (bass), and Mark Conese (drums), are back, and better then ever.
What's great about Helmet of Gnats are that they are not afraid to put the 'prog' into their jazz-fusion style. Not intent to just mimick acts such as Return to Forever, Mahavishnu Orchestra, Weather Report, Brand X, and Weather Report, these guys certainly have studied their prog rock as well, and High Street pays just as much homage to Gentle Giant, Yes, Camel, King Crimson, and Genesis as it does the greats of the fusion era. Opener "Tsunami" is a quirky number with plenty of great guitar textures, intricate rhythms, and complex keyboards passages, bringing to mind classic Gentle Giant. "Tin Whiskers" offers up a bit more atmosphere in spots, but also has elements of heavier prog mixed in with some melodic jazz, delivering a real melting pot of styles. One moment they are crushing you with heavy riffs and bombastic keys, the next you hear some gorgeous passage that recalls Jeff Beck's Blow By Blow period. Fox offers up a wide assortment of screaming solos and tasty melodic runs, always supported by Bocchino and his layers of vintage keyboards. It's all fusion on the engaging "Dozer", a real winner that is sure to please fans of Return to Forever and the Chick Corea Elektric Band, thanks to Bocchino's mind bending solos and textures, not to mention the heavy grooves from Conese and Zito. The band gives us a monumental epic in the closing title track, which is 30 minutes of pure bliss. Here, Helmet of Gnats is in all their fusiony, funky, proggy glory, with wonderful electric piano, Moog, Hammond, and guitar licks flying about the mix while snappy rhythms get your toes tapping. Throw in some extended solos and some catchy melodies, and you have a long adventure that must be taken over and over again to fully enjoy...which you will, trust me.
It's not often you come across an instrumental fusion album as perfectly executed as High Street, but folks, this one earns every bit of its 5 stars here. This latest from Helmet of Gnats is a prime example of how jazz-fusion and prog can co-exist and co-habitate, offering up a heaping assortment of melodies and jaw-dropping musicianship that is sure to thrill any fan of either genre. Bravo!

Track Listing
1. Tsunami - 11:00
2. Tin Whiskers - 10:26
3. Dozer - 12:43
4. High Street - 30:11
Added:
June 27th 2010
Reviewer:
Pete Pardo
Score:
Related Link:
Band Website
"