Easter Island was originally formed in 1973 by guitarist Mark Miceli. They were easily one of the best US prog bands to have recorded during the 1970's. The music places emphasis on excellent mini-moog and Mellotron work as well as guitar, like most prog bands from the mid-'70s seemed to do. Their original and progressive music has its roots in the compositional techniques of King Crimson, Yes, and ELP.

I got in touch with Mark Miceli for the Easter Island story.
################################################
I guess the PA biography of Easter Island is pretty good. But why did you choose that band name and the whole mythology around one of the most remote islands on this planet ?  
Really, it was an inspirational choice, discovered while standing in the light of a full moon, on a dry riverbed section of the Ohio River. The band had just rehearsed in a nearby building, and the dam wickets, at the Falls of the Ohio, were closed, and consequently, the river had a "dry" section, with large, shallow pockets of standing water. We all walked out, to the middle of what would normally be a raging river. This beautiful moon was rising, quite large, and golden – very cosmic, indeed. You can imagine the kinetic energy. We had been discussing possible names, and this name burst through with an incredible force, and I knew what we would be known as. Just as everyone heard this from me, there was NO discussion. We all knew, right then. It was very much a realization of a destiny. After this inspiration, the reasons for the choice came, as we all shared the significance of this name choosing us. One of the stories, coming from the history of the island, was that these Moai, were once flesh, and because they became arrogant with their incredible powers, the gods came and turned them to stone, but promised to return, so as to make them flesh again, after they "learned their lesson". So, the promise of redemption is a key to this choice of this name, but not as the catalyst for the choice. Strictly speaking, reasons came after the choice. This island is also known as "the navel of the world", a portal of life. One of the common denominators of the members of this band, at the time, was a keen interest in the study of metaphysics. Still, another common trait was not taking this intellectualism too seriously, as it seems the Universe has quite a sense of humor. One of the names we actually discussed, before Easter Island chose us, was from listening to Firesign Theater, and one of their references to the "Celestial Doggie", a k a the Dog Star (ha ha)!! And so, this choice of Easter Island just set the stage for all of the music and lyrics that poured through. An exploration of the mysteries: inside of the mythological history of the most remote region on this planet. Perhaps no man is an island, but this community of the Moai, still is comprised of individuals, locked inside of stone prisons, awaiting their promise of Resurrection, not so much so as to continue as a community, but only to be set free. I'm sure you get the picture of what we felt. This band did have a sense of acquired freedom, as all ideas were considered, within the music, because each individual song's inspiration was comprised of parts made with free thought, by each member. So, for instance, maybe I would have the basic song structure, melody, and lyrics, written, but encouraged each individual to write their own parts. From this fertile environment, we followed each idea, and suddenly, real life was brought to each song. So each individual musician realized an evolutionary growth, in this process. Great memories! The name Avatar was also a popular choice, as I had written a song, with this name (unfortunately, only rehearsals of this song were recorded, and I believe they are long gone, although I still remember it well enough to rerecord, if I wished to). Élan Vital was also being considered., which I did later use as the title of a song on "Got Film".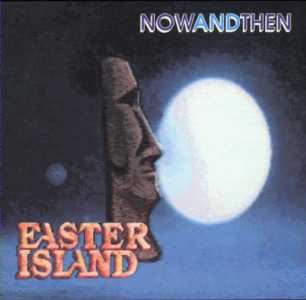 Straight to first album, Now and Then from 1979. Please give us your thoughts about this album.
This vinyl release was actually self-titled, Easter Island. Only when I re-released it many years later, did I title it Now and Then, and this was because I added one song at the beginning, "Wanderer's Lament", which was mixed into the original introduction to "Face to Face". Also, I added the song "Now and Then" at the end of the CD.
During the early 70's, we had formed a five-piece band, after several early incarnations, and began to do occasional gigs, and took the money to record our original music. After the band was clearly going to go our separate ways, we decided to go ahead and take these demos, we had accumulated, and press them into vinyl, as merely a way of documenting our collaborations, and breaking even financially. These were great songs, in my opinion, but really were true demos, without much in terms of production. We still were able to achieve an acceptable production, due to the fact that the musicianship was very good, and the songs were very well rehearsed, so we could afford to record them, without spending much time in the studio, as we could not afford it. These songs were done at different times, in different studios, but always with the same musicians, a true labor of love for each of us. Today, when I hear these songs, I have the same impression I had 30+ years ago, which is they sound like excellent demos, but, in my opinion, the words and the music stand the test of time., and I am quite proud of the art we produced. The two songs that I added to the original vinyl, were solo works of my own, but, since I was the principal writer of the band, I always felt like they were a continuation of the original works. In general, I would characterize each song as intricately woven instrumentation, using all of the then progressive instrumentation, with words crafted from what would be termed as studies in metaphysics, of which I am still a student. It was and still is a work that I am proud to have been an intricate part of.
You were gigging and touring with the likes of UK, Starcastle and Alaska at that time. Please tell us more about these gigs and tours.
To clear up this information, Easter Island, in each of it's incarnations, never toured. We did play some very nice concerts, with other significant Prog groups. The group that is on the original album, did perform with the original 4 piece UK, which was both awe inspiring, and frightening, as you can imagine, because they were the premiere Prog rock group at the time, and they were really spectacular, live. Still, we received very favorable reviews of our part of the concert, in the local paper, and had a great response from the audience, including standing ovations, which was clearly there to see UK.
All in all, it was a memorable evening, and I enjoyed my personal conversations afterward, with John Wetton and Allan Holdsworth, who were both very respectful, and very friendly. Nice guys!!!
The only other concert, this particular Easter Island did was with Mother Gong, with Daevid Allen, and included Bill Laswell on bass guitar, who also had his own band there, called the ZU Band. This concert was actually filmed, but no one seems to know what happened to the video, unfortunately. This was a particularly fun event, and everyone in the audience showed their considerable appreciation of all performances.
The next incarnation of Easter Island was with Park Crain, the bassist from the previous group, and Bob Chapman on drums, just the three of us, as I had then added guitar synth to my equipment, which allowed for a big sound from 3 pieces. I had a very fertile writing period during this time, but none but a few songs would ever be released to the public, until I re-recorded with a later version of the group. Our only concert was with Starcastle, which again went very well, and was a very nice evening.
Fast forward to 1999, and Easter Island was reincarnated with myself, Bob Chapman on drums, once again, and Richard Streander, on bass and electronic guitar, and backing vocals. We released the CD, "Mother Sun", that year, and did perform in concert with both Alaska, and Par Lindh, both very fine Prog groups.
And then there was a long break. Twenty years to be precise. What happened?
As I explained, after the breakup of the first 5-piece group, only the bassist remained working with me, and with the addition of Bob Chapman on drums, we recorded and performed together for a few years, but never released the originals I had written, during this period. From the period of 1987 through 1992, I was involved with my solo career, having released several all-instrumental CDs. During this period, I composed the CDs,
"Je Suis", "The Secret Garden", and "Therapy I", which were comprised of compositions, designed to aid the listener in meditation. I went on a musical hiatus for a few years, unfortunately, as I worked in the corporate world, in order to generate money, but returned to form the 3-piece Easter Island and produced "Mother Sun"..

Please tell us more about the second Easter Island album Mother Sun from 1999.
I was convinced by Bob Chapman, to come out of "hiding" around 1996, or so, to begin writing and recording in a Prog group environment again, and so our mutual friend Richard Streander joined us, and we began jammimg, then rehearsing, in order to put the album together. Unfortunately, "Mother Sun" never received high accolades from many Prog quarters, which remains a great disappointment for me. I was very much in a similar, metaphysical science inspired, frame of mind, and felt these songs were particularly well crafted, and was not that much of any sense of departure from the original group, in my opinion. This particular album was written in an apocalyptic mood, about the eventual collapse of our modern world, complete with a 90 degree tilt of the Earth's axis, which I witnessed during a past life regression, which extended to the near future. That was actually 22 years ago, and written in song form 12 years ago, and it seems it may be well on it's way to becoming our reality, by 2012, perhaps. My overall sense, however, was not so much "doom and gloom", as it was regeneration of the old into the new. Ironically, I felt that all existing structures would be destroyed and regenerated into new energies, including Progressive Rock music, which I felt prevented the old school from accepting this newer blend of music, which is what "Mother Sun" is all about. This Mother Sun, by the way, refers to the central galactic sun, not our dear old sol. The feminine refers only to the nurturing, life-sustaining nature of this star. The resistance of the old is, of course, futile. The old becomes the fertilizer for the new. I feel the true progressive movement is actually in the form of "Electronica", these days. One of the defining aspects of Progressive Rock, was always technologically based, in the available instruments and recording techniques. "Electronica" is the new Prog, in my opinion, as it exhibits the best sense of fusion of technology and musical cultures.
How would you describe the music on the two Easter Island albums ?
I would describe both albums as collections of neo-classic compositions, fusing Classical, rock, jazz, and avant garde', with words expressing metaphysical thoughts. I call it Meta Rock. The first album had continuity of thought, but was not really forged as a concept album. "Mother Sun" was actually a concept album. Personally, I am emotionally intrigued by both albums. Also, I would suggest louder volumes for listening, as both contain some very deep layers of music.
Why did you end Easter Island?
It is certainly not over, just in hibernation, once again. But, if you mean each incarnation, well, they have very similar reasons. The first 5-piece group basically, began to have ego clashes, which became counter-productive to any future collaborations, so it became a more concise unit of 3-pieces, with 0 ego clashes. The second recording group had great difficulty in getting the actual recording done, but not because of ego. Let's just say 2 of us did the lion's share of concentrated recording, so continuing as 3 pieces, made absolutely no sense. We are still all friends, however, as are the remaining members of the first group. Unfortunately, both Ray Vogel, keyboardist, and Mark Hendricks, drummer, have both passed away prematurely. This is VERY sad!!!! I do miss them, both as musicians, and as good friends. I am going to re-release the first album, in it's original form, sans the 2 songs included in "Now and Then", this year, hopefully.
How is the availability of the Easter Island albums, who owns the copyrights and is there any plans of re-releases ?  
Mother Sun is readily available for $10 + shipping, which can be purchased here:
[email protected]
Now and Then is out of print, but I will be releasing it again by the end of this year.
I have the copyrights and the publishing.

After the invention of the internet, both the Easter Island albums has taken up their own lives and there are people who really love these albums. What is your views on the renewed interest in Easter Islands and the scene you were a part of ?
Well, of course I am very pleased when anyone finds my music of value. The memories of this past scene are generally very positive, and I was proud to be a part of such a musical movement, and honored to have created with, and performed with so many talented musicians, during my life. I consider both the music and lyrics to be of a timeless nature, where a listener cannot tell when they were written. Easter Island will continue to resurface when there is a message to be given, for those that care to listen.
Finally, after the break up of Easter Island, you have had a good solo career and been involved in other projects. Please tell us more about these projects and your life after the end of Easter Island. 
My professional career began in 1968, with a group called "Elysian Field". We were under a recording contract with Imperial records, a division of Liberty Records – the same label as The Classics Four. We enjoyed minor success nationally with two singles, on vinyl of course, but had recorded much more. We did many concert dates, including with "The New Colony Six", "Quicksilver Messenger Service", and some TV as well, but did break up, as I split with the group to eventually form Easter Island. Finally, after all these years, Gear Fab Records released a compilation of our recorded works. We were quite innovative at that time, as we featured a hard driving sound, utilizing two lead guitarists, as very much a predecessor to what would become Southern rock. Some irony here was that the record company featured us mainly on songs written by The Classics Four, and had orchestral arrangements in the singles they released. After we left the label, ironically, the two main writers for The Classics Four, went on to form the Southern rock band, The Atlanta Rhythm Section. Funny twist! Right before I left to form Easter Island, I had the honor to have a couple of songs produced by the late great Sam Phillips, in his original Sun Studios, in Memphis. "Thank you very much". Ha ha ha! I formed a group right after leaving Elysian Field, called "Jake", and performed in festival concerts with the likes of MC5, Ted Nugent and the Amboy Dukes, Iggy and the Stooges, Mitch Rider and the Detroit Wheels, etc. From this band, I began the journey of forming Easter Island. Well, the "end", as you say, was only of the 5-piece Easter Island, that recorded the first album. Myself, Park Crain, who was the bassist for the old group, and Bob Chapman, on drums, began a very fruitful period of original music that was never released, still under the name Easter Island; We did a concert, also, with Starcastle, but played out only sparingly. This Easter Island was disbanded, and I started a writing ensemble with a female vocalist, Barbara Rosenthal, and Pete Peterson, on keyboards. We only planned to write and record, never attempted to gig out, and had a very fruitful collaboration, resulting in 5 songs, one of which I still receive royalties for, "Take The Train To Chicago" was the song, and it ended up in a French movie, of which I never knew the name. Then I began to record very ambient music for meditation, and healing, releasing 3 solo CDs. The first was "Je suis", in 1988, which gained some recognition from New Vision magazine, as well as being used for relaxation for the John Keynon Eye Research Foundation, and found it's way to several aids clinics, etc. The second was "The Secret Garden", which, like "Je suis" found it's way to many healing centers. Around this time between the two CDs, I was a main character actor in a movie, entitled "Good Cop, Bad Cop" released in 1990, as an obscure independent film that was sold over in Korea, as I was told. It was a terrible low budget affair, but I did receive some individual praise from some folks in the industry, and was encouraged to move to Los Angeles, which I never did, although I felt completely at home, with acting. It was very much like performing music to me, and I later acted in a dinner house murder mystery troupe, for several engagements, in the mid-nineties. There are many times when I think I should have moved to the action in Los Angeles, as I was again singled out as a promising actor, in a review of our performance by The Courier-Journal newspaper, in Louisville, KY. Around 1992, I was commissioned to do music, by a local company, for use in Isolation Therapy tanks, such as depicted in the movie, "Altered States". Not long afterward, this company closed shop, and so I released the two, 40-minute pieces on a CD entitled "Therapy 1", in 1992. During this same period, I was commissioned to compose music for an NLP project called "The Quanta Way" which is still available. Interestingly, I had engaged in this project with the program's founder, but we could not agree on financial considerations, so I left the project. About two tears ago, a friend in Memphis sent me a copy of "The Quanta Way", which still had my music and the guided meditation that I had recorded with a female vocalist. Ironically, it had been used without my permission, only to surface when I personally needed to use it for my own sub-conscious re-programming., as though the deceased woman that used it, had a hand in paying me back with my own work as a tool for emotional healing. Of course, I am grateful and forgave her. Then, I got involved in management with a large corporation, and did not play for about 5 years (a very dark period, as I look back on it), then this career ended after a head-on car crash, that left me unable to withstand such work and stress. It took me over 3 years to heal, but I began the last incarnation of Easter Island, soon after, which resulted in the 1999 release of "Mother Sun". Also, during this rehabilitation period, I joined an independent A&R company, based in LA, and was having success writing music for film placement, some of which was used from film library companies, and was aired on HBO, Showtime, etc. It was not theme music, as such, but "filler" music. I received an award from Berea College, for my soundtrack to a student film called " Options", for which I did the whole project. I was then commissioned to write a follow up soundtrack, for the same producer, which resulted in a film called " A Time For Jim". My favorite thing to do is composing music for film, as it is very demanding, full of expression, and emotions, that are vital to any video presentation. I had many compositions, mostly very short, that were never accepted for any films, so I put them together, and released a CD, entitled "Got Film?" which contained 22 compositions. I decided in , to collaborate on a video and soundtrack live improvisational endeavor called, "The Rocketeer Club" with a very talented avant-garde guitarist, William Sutherland. I animated 3, ten-minute videos, and included a percussion track for each. When they were finished, the two of us jammed over the videos, in a live venue, Twice Told Café, while the videos played a large projection screen. This was recorded, and released as "The Rocketeer Club" in . I was very proud of this, as it captured live sound track improvisational composition. The three pieces were "Water Lilies", "Escape", and "Alien Race". In 2006, I wrote a song for a friend, which gained some notoriety as we performed it live at the Roy Acuff Theater, in Nashville, for the Christian Country Music Awards. It was not any sort of country song, as I played some very etheric guitar synth, but was very well received. This was rewarding for me, as I reached this audience with a style, they were unfamiliar with. The song was "Thank You". Earlier this year, I released a compilation of pop love songs on a CD entitled, "Sketches Of Love", which I sell at my live performances, in the Chicago area. Most recently, I have been commissioned to compose a variety of meditation, and stress reduction CDs for a prominent steam sauna company, based out of Chicago. They will be experimenting with led lighting for spa designs that will work together with my sound for chakra therapies. These will feature ambient textures, utilizing binaural beats, as I used in "Therapy 1", as well as frequencies designed to open and attune the individual chakra centers in the body. I am excited by this project, as it will assist thousands of people in healing from within. I will begin the project in October 2010.
Anything you would like to add to this interview?
First, I would like very much to thank you, for contacting me about this interview, and publishing it. I realize I have been "under the radar" of the mainstream media industry, throughout most of my career, yet have managed to be "successful" with a very large body of work, most of which is still undiscovered. I also realize there are countless, extremely talented musicians, throughout the world that probably have similar stories, but will not even be interviewed for any publications. As I said earlier, I am a practicing metaphysician, that ironically, did a major manifestation meditation, at the beginning of Easter Island, during which I used my force of intention to manifest success of my music, particularly, Easter Island, after I will have passed on, in this life.
"Be careful what you wish for". Indeed. So far, it looks like it will truly live on. At least, I have been given a glimpse of immortality. Thank you so much for being a part of this continuation of my works.
Thank you to Mark Miceli for giving us the insight into Easter Island.