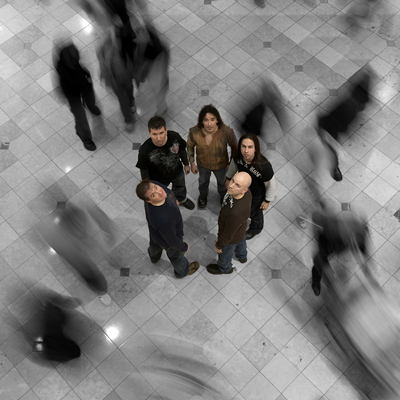 Days Before Tomorrow was founded more or less by accident, when old time elementary school friends Scott Kahn (guitars) and Eric Klein (vocals) hooked up again after a chance encounter courtesy of an advertisment at Craigslist sometime after the millenium.

They started writing and recording material in a basement studio in New Jersey, and in 2006 they released their first creative output; a 3-track, self-titled EP. The EP was well received, and one of the tracks were given a favourable mention in Billboard Magazine's 14th annual songwriting contest (and one year later a demo track submitted achieved the same honour).
With a favourable reception to their creative output, the founding duo felt it was high time to put together a real band at this stage, and the first additions to the line-up was Derek Davodowich (guitars) and Robert Maziekien Jr. (bass, formerly of Eternity X); who both joined in 2007. A bit later on Jason Gianni (drums) came aboard as well; and with a complete line-up in place they could start working on their debut album.
When the material for the album was finished, the band chose to use the services of legendary producer Ron Nevison and Grammy award winning engineer Earl Cohen to make the most out of their compositions; and in March 2009 the album; titled The Sky Is Falling, was released as a limited edition CD available from independent music shop CDBaby.

I got in touch with Scott and Eric for their story
############################################
Your biography has been covered in your ProgArchives profile so let's bypass the biography details. But why did you choose that name ?
Scott: My wife and I had just finished watching one of our favorite movies, "The Day After Tomorrow," and just started brainstorming out loud names based on it. Days Before Tomorrow struck me as very cool because technically, there is only one day before tomorrow, and that's today. So it's sort of a paradox of a name, which plays to our band's love of sci-fi concepts. When I told the other guys in the band the idea for the name they loved it.
What is your musical background and were you involved in any other bands before you started Days Before Tomorrow ?  
Scott: Everyone in this band has been in numerous other bands over the years. We all have various stage, studio, or CD credits elsewhere. I've also done some engineering and producing for other indie artists. Before Days Before Tomorrow, though, I was mostly known in the San Francisco Bay Area music scene in the bands Forbidden Planet, 730, and Hangar 18. Eric: I have been playing in bands since Junior High including a punk band called Vast Difference! I am classically trained and went to college for Opera/Musical Theatre at both Carnegie Mellon and The Manhattan School of Music. As for the other bands I have been in, I guess you should find us on Facebook and let's chat about it.
Which bands were you influenced by ?  
Scott: Marillion, Rush and Yes (their '80s years), Tears for Fears, Icehouse, Dream Theater. Eric: Influenced by? Yikes. I think there are too many to really list, but off the top of my head Styx, Yes, Genesis, Journey, Marillion, The Beatles, Led Zeppelin, Triumph, Queensryche, Depeche Mode....The list goes on. I simply love music.






Please give us your long or brief thoughts on your only album The Sky Is Falling released last year.  
Scott: We released an EP back in 2006 first. Our sound and style evolved considerably over the years, though, and we re-made those EP tracks on the CD in 2009. I'm proud of The Sky Is Falling. It has some amazing songs on it that I'm especially proud of, like "Lighters," "The Sky Is Falling," and the "Wasted Years" suite, but as we continue to evolve, sometimes I worry that it doesn't fully capture what we're about musically. Eric: I agree with Scott that we are evolving musicically but I still love The Sky Is Falling. I love the fact that we made a concept album and I love the artwork in the CD insert. I love the tracks he mentioned and I would like to add that some of the textures, poly-rhythms, and emotions of Can't Do Anything still really move me.
I find your music somewhere between AOR, neo-prog and metal. But how would you describe the music ?  
Scott: You've summed it up nicely. We say "melodic progressive rock." I really don't think of it as AOR though because our music doesn't follow that basic songwriting format, and keyboards don't dominate our rock sound as they do in lots of AOR music. But we certainly have AOR vocal harmonies — there's no mistaking big vocal hooks. You'll hear more of our heavier influences in the future... Eric: Scott puts it nicely. I would just add that the new songs, that are in the process of being recorded for an EP, are like your description but on steroids with a hint of some newer more modern influences.
How was the creative process from coming up with a theme/riff/idea to you get it down onto the album ?  
Scott: We do most of our writing collaboratively. One of us comes up with a theme, idea, chord progression, whatever, and presents it to the band at a rehearsal. Then, the other guys sort of run with it, jamming on it, and new things emerge, next sections of the song develop, and so on. We road-tested half of the songs from the CD live, before recording the CD, at various local shows, and the week before recording was spent in preproduction with Ron Nevison (producer). During that time, we changed some of the arrangements and re-wrote some things to make them stronger.
You are doing a lot of gigs in America. Do you have any plans to gig other continents too ?  
Eric: Hell yes! We're dying to get over to Europe in particular, since our largest audience so far is there. But without label or promoter support, we just haven't had the right opportunity or financial means to do so. We also want to play more shows across the US, and not just along the East and West coast as we've done. We don't have a following yet in Asia as it's harder to make label contacts there.
What is the latest updates and the plans for this and next year ?  
Scott: Any day now, we're going to begin recording a new EP that really showcases how the band has evolved musically and technically over the past year with new band members who came on board after The Sky Is Falling was already finished. A full-length concept album is planned for 2011, and this EP will contain some of that material, providing clues to the story and musical themes but keeping the main theme a surprise. Eric: We didn't want to wait until we were finished writing and recording the whole CD for people to hear how Days Before Tomorrow has evolved. The band has grown so much musically that we really wanted to get the new material in front of our fans right away, and giving away parts of our concept story in advance makes it part of a clever puzzle. Try to figure out the next story with just four or five clues, so to speak. Also, like on The Sky Is Falling, there are shared musical themes that we are anxious to introduce to listeners so they can see the progression of sections from song to song as the full album comes to fruition.
To wrap up this interview, is there anything you want to add to this interview ?  
Eric: Thanks for the opportunity to speak with you! I would just like to add that if your readers would like to download some songs for FREE from The Sky Is Falling, they can head to http://www.daysbeforetomorrow.com/music2.htm to request their free download link. Otherwise, rock on people!
Thank you to Scott & Eric for this interview

Their PA profile can be found here