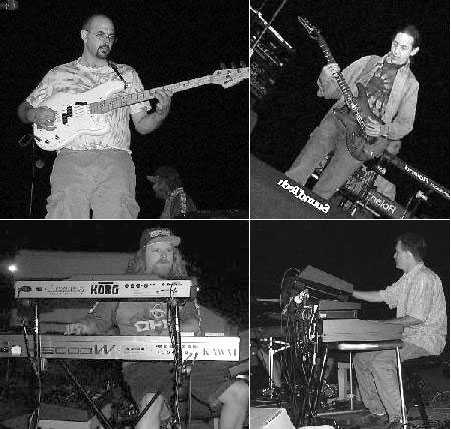 Quarkspace originally called QUARK! - was formed 1984 in Columbus, Ohio. Jay Swanson (keyboards) and his college classmates Kevin Wherry (bass) and Darren Gough (guitar) decided to work on cover material first - planning to play on parties and at local bars. Singer-songwriter Chet Santia later joined along with Paul Williams (drums) and they apparently also developed a preference for space jams more and more.

Williams and Santia both left in early 1986 to concentrate on school. The other members continued for about a year with another singer and a couple of drummers before the band went dormant for a period. 1991 they reorganized and renamed to Quarkspace because of potential lawsuits. Singer/guitarist Dave Wexler worked with the band for some time and the first eponymous album was released in 1996 presenting 14 short songs blending spacey ambient sounds with mainstream pop elements.

I got in touch with the band and Paul answered my questions. I managed to mess up their studio outputs by not including the Spacefolds albums among them. They are (wrongly ?) listed as compilation albums. Anyway, here is the interview with Paul.
########################################
Your biography has been covered in your ProgArchives profile so let's bypass the biography details. Your first name was Quark! and then you changed to Quarkspace due to potential legal problems. How did you moved from being a band in a cellar to becoming a recording artist ?
We put a recording studio in our cellar in 1998, so now we are a recording artist in a cellar!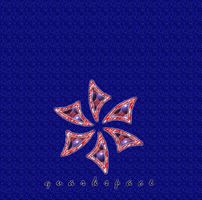 Please tell us more about your first album Quarkspace from 1996
The first Quarkspace album features strong songwriting, but our engineering techniques were still forming.  It is a worthy purchase for completists.  We'd love to re-record it using our current gear and studio proficiency, but we tend to keep looking forward instead of backward.  Songs like Dancing Swan and In My Lost Mind work better in a live format as revealed on Live Orion.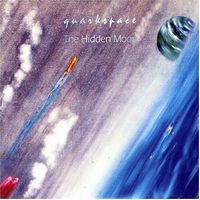 Please tell us more about your second album The Hidden Moon from 1999
The Hidden Moon became a double CD – and a long one at that – because of the happy accident of Live Orion, which wasn't a scheduled release.  So it really is two studio albums' worth of material. The band tends to prefer disc two to disc one.  I Bet He's Looking for the Spaceman into The Circle is arguably our best recorded moment.   Electronica and synthesizer-based influences also became more prominent on the Moon.  Proggies should check out our 19 minute composed epic, Where Galaxies Collide.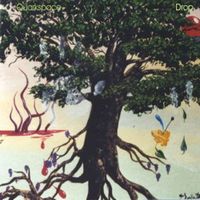 Drop is more concise than The Hidden Moon.  We released it for free considering that in the world environment at the time (Fall of 2001), it seemed inappropriate to release an album and charge people for it.  It is probably our most solid release for general music listeners.   The songs have been downloaded/streamed millions of times since 2001.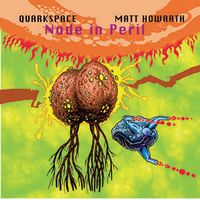 Please tell us more about your fourth album Node In Peril from 2004
Node in Peril isn't really the fourth album if one isn't counting the Spacefolds series/Live Orion, since it is a Quarkspace/Matt Howarth release as supposed to just Quarkspace.  We were honored to have Matt ask us to produce some music to go with a comic idea he had.  We used some of the best improv material from that time, with occasional overdubs, combined with two composed instrumentals.  I'd say it is the most psychedelic release we've ever done.  It would make a great videogame!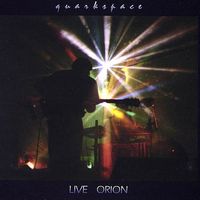 Please tell us more about your first live album Live Orion from 1998
Live Orion wasn't a planned release as stated earlier.  We played a great show at a spacerock festival at Orion Studios, and since it was recorded to multi-track, we felt it would make an excellent release.  Our live sound and scope improved after this show, becoming more expansive and synth-based, but it is still a good document for the time.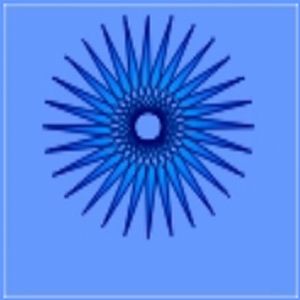 Please tell us more about your second live album Worcester 07/06/2000 from 2009
This isn't a live album, per se.  A fan became aware of one of our live shows on a torrent; we got a copy of the audio files and now host them at Quarkspace.com.  It's just a
downloadable live recording
.  Enjoy!  We expect to make a few more of these shows available at Quarkspace.com when I can get hold of the recordings. 
You also have a lot of compilation albums and singles. Is there any of those you recommend to us ?
We've never released any singles.  We've been on a few comps where bands play cover tunes.  We've got a recording of Peter Gabriel's Exposure coming out on Mellow Records' upcoming "Genesis member solo album tribute album" release later this year.  (That's not the title!)
Your last studio album was back in 2004. What have you been up to since 2004 ?
No, our last studio album, Spacefolds 10, was released earlier this year.  Spacefolds 8 came out in 2007 and Spacefolds 9 came out in 2008.  The Spacefolds Series allows us to release our best improvisations and electronica experiments that don't make one of our album releases.  We also use the Spacefolds Series to experiment with release formats.  The first four Spacefolds albums were released on cassette, re-released on CD, and are now available on iTunes and other digital music sources.  Spacefolds 5 through 7 were all CD releases, and the last 3 Spacefolds releases follow a online digital release model, but CDs are also available of as well.
We are working on our next "proper" – for lack of a better term – album – probably called "All These Suns."  We hope to release it in the second half of 2011.  Spacefolds 11 will come out earlier next year.
How is the creative process in Quarkspace from coming up with a theme/riff/idea to you get it down onto an album ?
Our only rule is that we don't follow one creative process.  It varies depending on the nature of the piece.  A significant portion of our music is improvised.  The Spacefolds Series is all improvised and the three "studio" albums all feature large percentages of improvised material.  Our electronica and loop-based work uses composed loops and arpeggiator patterns with improvisation or composed melodies on top.  We also write songs, and those come mostly from Chet and myself (Paul).  
Just to give those of us who are unknown with your music a bit of a reference point or two: How would you describe your music ?
I'd say Quarkspace is somewhere between Meddle-era Pink Floyd, Neil Young, early Soft Machine, the Orb, Tortoise, and a Grateful Dead improvisation.  Sometimes separately.  Sometimes simultaneously.  Despite the references to older artists, we are continually exploring new sonic forms, techniques, and equipment.  Our musical core is four friends who've played together for 25 years – the improvisational chemistry and telepathy are uncanny.
How is your gigs situation in America ? Is there any plans or wishes to play gigs or festivals outside this continent ?
We retired from live performance in 2001.  We still occasionally get asked to play in Europe or South America, ironically.  We do play the occasional BBQ or wedding.  Very occasional.
What is your experience with the music industry and the new internet music scene ?
In a sense, we are part of the new internet music scene as that has always been a focus of our marketing since the mid 90s.  We formed our own record company and released our own albums.  We even didn't have much interest in letting other retailers and distros sell our music.  Some did for a while in the late 90s, but we've always been more comfortable managing our own affairs and finances.  The internet allows that to happen.  All of Eternity's Jest Records releases are available on iTunes and other internet-based music services, even the ones where the CD version is sold out – like the Hidden Moon and Spacefolds 1 through Spacefolds 6.
Are you involved in any other bands or projects ?
Church of Hed is my solo project.  We released a debut CD in late 2002 and our latest CD, Rivers of Asphalt, is coming out by the end of this year.  It is an aural travelogue down Route 66.  The music is similar to the electronic side of Quarkspace, but Rivers of Asphalt does have more of a kinetic, proggy feel to it compared to the debut CD. 
National Steam was a side project of mine with former Quarkspace guitarist, Dave Wexler.  Once again, the music lies somewhere between prog and modern electronic psych. A CD was released in 1998.  It sold out, but it is still available on iTunes. We still have some National Steam freaky improv in our archives that might get released some day.
What is your plans for the rest of this year and next year ?
Releasing the Church of Hed CD, Rivers of Asphalt, is the focus for the remainder of this year.  I'm also developing a companion iPhone app to go with that release.  Quarkspace will do more recording and writing and improvising – we are also preparing Spacefolds 11 material – going through improvs and picking out the best.   Spacefolds 11 will come out early next year and hopefully All These Suns – the next Quarkspace "real" album – will be out later that year – with a companion iPhone app as well.  We may see a Quarkspace-themed iPhone game, a space shooter probably based on the Spacefolds Series.  Hmmmmm….
To wrap up this interview, is there anything you want to add to this interview ?
Thanks for asking us to talk to your readers.  Anyone interested in checking out Quarkspace simply need to download Drop from Quarkspace.com.  It is still a good representation of what we're about.  After that, try out Spacefolds 6, Spacefolds 7, and Spacefolds 10.  Keep an eye out for the Church of Hed album, Rivers of Asphalt, out later this year. 
Thank you to Paul for this interview

Both Drop & the Worchester live album has been downloaded, btw.



Edited by toroddfuglesteg - September 19 2010 at 06:44