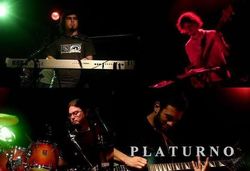 From the Valparaisian fields of Villa Alemana, in Chile, comes Platurno, a modern band destined to impress at least in a progressive rock way, if not warmly recommended overall. It consists of four main artists: Felipe Rivers is the guitarist, Sebastián Aguayo plays keyboards and classic (acoustic) guitar, Andrés Aguayo plays drums and percussion, while Fernando Peña plays electric bass (apparently having joined only recently). For their first album, they also invited another bassist, Edison Atencio, and violinist Priscila Valenzuela. It was Rivera, along former members and drummer Gerardo Sanchez, that founded Platurno, around 2001, Marcelo O'Shee playing on guitars and being the lead vocals for a while. Stable as a four-piece right now, the band also launched itself, with considerable force, into the market, creating a first album that already pleases many.

I got in touch with the band and they answered my questions.
~~~~~~~~~~~~~~~~~~~~~~~~~~~~~~~~~~~~~~~~~~~~~~~~~~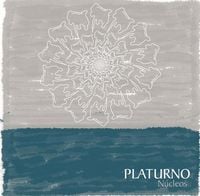 Your biography has been covered in your ProgArchives profile so let's bypass this and go straight to your album. Please give us your long or brief afterthoughts on your only album to this date Núcleos from 2006. What did you do after the release of this album ?
After finishing Nucleos, we presented it here in Chile, in Valparaíso, and we devoted ourselves to promote it with a number of presentations at a local level. We were also able to present this work and some other new things in which we were working along side with the Mexican band Cast, who were playing here in Chile in cities such as Santiago and Viña del Mar, which later on resulted in an invitation to the prestigious progressive rock international festival BajaProg XII (2008), where we showed a repertoire pretty much alike than the one we had played with Cast here in Chile but now opening the already mentioned festival in México.
How is your writing and creative processes?
We don't have a strict path or way to follow at the moment of writing. We work a lot based on improvisation, as a matter of fact we can spend plenty of time of our rehearsals improvising and getting ideas out of that. Another methodology that we commonly use is that some of us come up with a musical idea, a motif, a phrase, a melodic or harmonic sequence or a rhythm in particular etc, and we start to play that and changing it in different ways, or playing extracts of the same to use as bridges and to create new musical ideas constantly moving in the rhythm, melody and harmony.
How would you describe your music to those here who are unfamiliar with your band?
A lot of people define our music as progressive rock, but we believe that this style doesn't define what we do.
We are just 3 musicians that reflect their style influences in their composing, maybe through rock or through some more classical elements, academic elements or even folk elements as well. It has always been complicated to describe our music because we don't feel attached to any particular style and that is precisely the way we want it.
The result of our music is very eclectic, meaning that we take elements from different styles, what we think is the best to develop our art; for the same reason the Núcleos album has tracks so different one from another such as Resquebraja, which goes more into what experimental rock is and Quintay, which is a track totally incidental with scholarly touches.
Is music your main occupation or do any of you have daytime jobs outside the music scene?
We are people devoted to music; we make a living teaching and playing it, basically doing anything related to music.
What is your latest update and your plans for this and next year?
Now we are working in the editing of our second studio album alongside Musea Records from France, this album has been set to see light in October of the present year. We hope that this record, which is quite more mature and skilled rhythmically, melodically and harmonically, results in new opportunities for us to play abroad particularly. We also have the idea to make an album of pure improvisation, just one take, to be released by the end of September and promoting it freely on the internet.
To wrap up this interview, is there anything you want to add to this interview ?
We really appreciate the forum given in this interview, the interest on your behalf to contact us and to offer this chance for the public to get to know innovating and musically honest bands. We kindly invite the public to be ready for the next PLATURNO record which will be released on October under the Musea Records label.
Thank you to the band for  this interview