Amygdala are a Japanese band, the duo of Yoshiyuki Nakajima (keyboards, synths and programming) and Yoshihiro Yamaji (bass, guitar, and vocals). Drums are programmed by Nakajima and even though it's inferior to having a real drummer, it is still well done. Nakajima is also the composer of the music.

Reminiscent of electric period Univers Zero (Uzed, Heatwave) and heavy sounding, creating a heavy throbbing and dark zeuhl sound that might conjure up a faster Shub niggurath with its dense brooding atmosphere. They are comfortable in this range of intense, dark and eccentric atmosphere in their music and they do it very well.

I wanted to do an interview with this band, but the language barrier was...........well, a barrier. But DamoXt7942 (Keishiro Maki) stepped in and made this interview with Yoshiyuki possible. A big thank you to Keishiro for making this interview possible. 
=======================================
When and by whom was Amygdala formed and do you have any background from other bands? Why did you choose that name?
Begun to play and compose as Amygdala since about 1997, with another guitarist, who had been immersed into something or religionism and resigned without finishing the first album ... a great musician though. In 2003 Yoshihiro Yamaji's participation as a new guitarist could let Amygdala's players & soundscape completely unshakable.
I considered the word (and our outfit name) "Amygdala", an organ in the human brain which controls fear or discomfort and on the other hand a song title of Henry Cow, could be much suitable for our music goal ... remarkably influenced by Magma, Henry Cow, Univers Zero, we have had a strong intention to create the heaviest and darkest stuffs, but contrary to that, also doing such a complex and hallucinating production as Canterbury Scene should be so mind-blowing for us.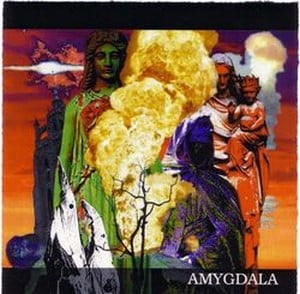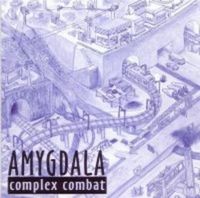 To start with; please give me your (long or brief) thoughts and lowdowns on your albums.
First, let me say thanks to Soleil Zeuhl Production and Daniel Jeand'heur for their approval of our creation. As for especially Complex Combat (2008), Daniel's drumming was so tremendous for me to get amazed. I'm very respectful toward his drum technique for our aggressively complex tunes.
What is the latest update on your band and can we expect more albums from Amygdala?
Yoshihiro Yamaji and I (Yoshiyuki Nakajima) - the unshakable members - currently have no plan to release new album yet but our next album will be fully featured with violin, cello, or so. Furthermore, although it's still a tough call, we're making a desperate effort to search a drummer as another Amygdala's permanent member and mutually understanding musician - all over the world.
I would describe your music as an more complex, faster version of Shub Niggurath's music. But how would you describe your music and which bands would you compare your music with?
Surely Stub Niggurath's first work is a terrific one, that can make more and more progress in Amygdala world. Consider Amygdala's style can be mentioned as the words - "Dark", "Heavy", "Complex" - in these points we're trying to reach the great artists above mentioned. By the way, Magma is so great, creative, and influential enough for Zeuhl artists worldwide.  
There are some good other Japanese Zeuhl bands around. Is there an active Zeuhl scene in Japan or is this sheer coincidence?
Guess lots of Japanese Zeuhl outfits can have keen sensitivity and eclecticism, peculiar to Japanese nationality, not a sheer coincident.  
What is your plans for this year and where do you want to take this band?
No marked plan to make a tour or so, we are going to devote ourselves to novel creation.
Just to wrap up this interview; what is your five all time favourite albums?
1. "Live" - MAGMA
2. "Ceux Du Dehors" - UNIVERS ZERO
3. "Western Culture" - HENRY COW
4. "Legend" - HENRY COW
5. "Matching Mole" - MATCHING MOLE
Thank you to Yoshiyuki and to Keishiro again
for this interview
Amygdala's PA profile is here and their homepage, with listening samples and shop is here