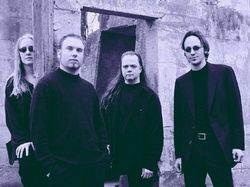 Far Corner from Milwaukee (Wisconsin) formed in the spring of 2003 and surprised with an absolutely bracing, self-titled, debut. The quartet - mainly composed of bass, piano/keyboards, drums and cello - managed it to create a mixture of chamber music, zheul, rock and jazz. But regarding the cello one might also spot a slight heavy metal kind of style. According to their homepage they were influenced by Stranvinsky and Bartok as well as several prog bands from the 70's.

I got in touch with them and Daniel Maske answered my questions.
---------------------------------------------------------------------------------------------------
Your biography has been covered in your ProgArchives profile so let's bypass the biography details. But why did you choose that name and which bands were you influenced by ?
I wrote a piece for soprano saxophone and piano called "Far Corner" in 1994. The phrase may suggest something a bit distant, even hidden, not on display "front and center." One might apply this characterization to progressive rock, in general, a less than popular style of music. The members of Far Corner share an interest in all kinds of progressive rock to some degree. I think the one rock band we all have as a common influence is Rush. A few of us are also very big into metal. We also have classical music backgrounds, and for me in particular, am influenced by the composers from the early to mid twentieth century like Penderecki, Stravinsky, Bartok. Schoenberg, etc.
Your type of music is very special and mainstream. Why makes this type of music your heart strings sings and/or what makes it so fascinating to you?
I wanted to compose and record, and perform music that didn't have to "be" something, meaning it didn't necessarily have to function as rock, classical, jazz, or any other style, just simply create music I found interesting, without working within the framework of any particular style. Since I spent a lot of time composing contemporary classical music, the music I compose for Far Corner might share characteristics w/ that style. I tend to create whatever I find interesting, not eliminating a particular musical idea because it may sound too "classical," too "heavy metal," too "bluegrass," or any style. Nothing is off limits.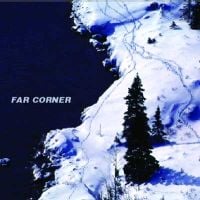 Please tell us more about your first album Far Corner from 2004
In 2001, I started composing music for piano, cello, bass, and drumset. I didn't have a band yet, but knew I'd be playing keys or drumset, and that Angie would be playing cello. Once I had three pieces finished, I recorded a demo where I played piano and drumset, Angie played cello, and Chris Walczak from Outlander played bass. After that, I wrote more music and decided to find a drummer and bass player to form a band to record a complete album and perform live. So, most of the music on "Far Corner" was composed before I knew who would be playing bass and drumset. Originally, it was going to be al acoustic: upright bass, piano, cello, and percussion. As we started recording, the studio had a Hammond organ and so I played around w/ it and decided to include a bit on the album. I decided to use electric bass instead of acoustic before recording. I also knew I wanted to try adding distortion to cello, but didn't know how it would turn out until we tried it. I liked it more than I thought I would, so I decided to go back to some of the pieces we recorded already and add more distortion to the cello parts. In some cases, I recomposed cello parts to better make use of the distortion effect.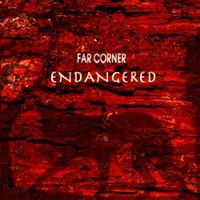 Please tell us more about your second album Endangered from 2007
For this album, I was composing much more for the specific players in Far Corner, have recorded one album w/ them already, plus many live performances got me more familiar w/ each person's individual playing style. I could then write parts taking advantage of each member's special skills. I also composed a lot more for organ, with less piano. The album also features a long track titled "Endangered," where each person composed their own part. I first recorded about twenty minutes of keyboard parts, gave it to Craig who then composed and recorded percussion based on what I recorded. Bill was next, then Angie. This was one way to attempt to achieve something different, while featuring each person's individual creativity.
How is the creative process in Far Corner from coming up with a theme/riff/idea to you get it down onto an album ?
For most of the music, I composed and notate everything, for all instruments. Players get a sheet music and a demo recording. We all spend time alone practicing our parts. When we're ready, we play together as a band and do what we can to enhance the parts a bit.
Even with every note written down, there's still room for expression to help give a bit more life to the parts. We record everything live, with all four players "going to tape" together. So far, there has been almost no overdubs. What you're getting is basically a polished live performance. On track, "Do you Think I'm Spooky?" is actually a live performance on a radio show in Milwaukee called Planet Prog. We also take things to a different extreme from the tightly composed music, and engage in free-form improvisation. There's been at least one of these improvisations on each album. We also do this live. The result is always unexpected and surprising, even if what results is not always an interesting cohesive piece of music. When we improvise, we attempt to function as as one composer creating music in real time. We don't use improvisation as a chance to jam or solo. Several of these live improvisations have been recorded and are available as a free download on our website (far-corner.com).
Just to give those of us who are unknown with your music a bit of a reference point or two: How would you describe your music ?
I'd called it aggressive chamber music with some rock and metal influences. Most of the compositions revolve around melodies/themes, developed in fairly traditional classical-like ways. It's very rhythmic and syncopated, featuring many of the prog hallmarks of changing and odd meter. Harmonically, the music is mostly atonal, meaning were not working in keys, or the tonal "major-minor" system. Synthetic scales and pitch collections outside major and minor scales and modes dominate the harmonic and melodic material. On each album so far, there is one tune based on a kind of chromatic jazz harmony, which is the closest we get to creating tonal music. There are some improvised solos, but I prefer to keep them short, and not every track features solos.
How is your gigs situation ? Is there any plans or wishes to play gigs or take part in one of these traditional rio/avant-garde festivals in Europe next year?
We would like to play RIO Fest or any progressive rock festivals. We played Progday in 2005 and performed at Orion Sound Studios the same year.
What is your experience with the music industry and the new internet music scene?
Cuneiform Records has released Far Corner's albums. They have been wonderful to work with. My dealings have mostly been with founder/owner, Steve Feigenbaum. Besides being a a well-organized, responsible, and courteous operation, I appreciate their commitment to releasing original and adventurous music. Bill Kopecky has had a lot more experience working with different record labels within the progressive rock genre.
Are you involved in any other bands or projects?
I've been composing music for a metal-band project that I hope to get started in the near future. Besides that, I spend time composing music for orchestra, band, and chamber ensembles. My most recent project is a piece for solo soprano saxophone and wind ensemble.
Bill is involved with more projects than I can keep track of. Past and present artists include Par Lindh, Michael Angelo Batio, The Flyin' Ryan Brothers, Kopecky, Yeti Rain, Haiku Funeral, Anja, Saw, and many more. Craig Walkner performs and records with Justin Black & Big Heart, Snarling Adjective Convention, and Yeti Rain. He's recently toured with Two Loons for Tea and performed with American Idol Top 36 contestant Kendall Beard, Defender, Kristie Nalley, and The Mizbehavin' Band. Former bands include Bascom Hill, EXIT, The Lotus Band, and Looking For Alice. Angie Schmidt plays cello with The Julie B Well, a progressive rock quintet out of Milwaukee, WI.
What is your plans for the rest of this year and next year ?
We are almost finished recording our third album. Once a release date is confirmed, we hope to do some kind of tour, probably in the summer.
To wrap up this interview, is there anything you want to add to this interview?
Thanks for thinking of Far Corner for your website. We appreciate the chance to get more exposure. It's easy for a (progressive) band to get put into a certain category, and then some people may not check them out because it may be a certain sub genre they've found unappealing, at least with respect to the few bands they might have heard who've been put in that category.
Far Corner has been labeled "experimental" or "avant garde" with some putting us in the RIO category. While this may be true to some extent, I think a lot of people might be surprised at how much of our music might be termed "melodic," with a sound and style, on many tracks, exhibiting traits of symphonic progressive rock and even prog metal. I think it's important for people to try to listen, at least to samples, of everything they hear about. I know I have made some great musical discoveries of bands who, when described, I would not have thought I would've liked. Thanks again for your time! †
Thank you to Daniel for this interview

Their PA profile is here and their homepage is here