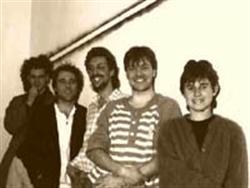 Amenophis was founded in 1978 by Michael Roessman, Wolfgang Vollmuth, and Stefan Roessmann. The name was taken from an Egyptian Pharoah, and was meant to have international appeal.

They recorded their first album in their own apartment / studio in the summer of 1983. Lack of sales forced them to sell all of the equipment, thus breaking up the band. But they reformed again some years later and released their second album.

I got in touch with Michael for the Amenophis story.
############################################################
When, by whom and where was Amenophis born ?

Wolfgang Vollmuth, my brother Stefan played in a band with the name "Tut Ench Amun". The style "Tut Ench Amun" was a kind of melodic guitar rock, inspired by music from Wishbone Ash, Golden Earing and others. When "Tut Ench Amun" became history we saw the chance to redefine our music style and found something new. We had the vision of making progressive rock music. So we founded Amenophis.

What inspired you to start Amenophis ?

The inspiration came from the progressive rock scene of the 70's. Bands like Yes, Genesis, King Crimson produced breathtaking albums at that time. Also the prog scene in Germany (e.g. Anyone's Daughter, Grobschnitt) inspired us tremendously. These guys were our heroes, and they formed our way to experience music - and later on - to find and develop our own style.

To start with; please give me your (long or brief) thoughts and lowdowns on
your two albums.......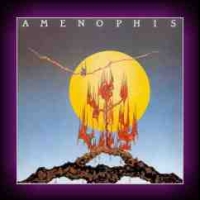 Amenophis from 1983


At the end of 1982 we came to the conclusion that there is no future for a prog rock band like "Amenophis". The progressive rock scene was simply dead at that time and we played in front of less and less people. Since we did not want to disappear without a trace we decided to record that album in our own little studio. We started recording the 1st tracks of our Amenophis album in February 1983. The songs were a 100% commitment to progressive rock since we produced the album by ourselves without any commercial interest. We thought it would be the end of our musical activities anyway so why making compromises?
I enjoyed making that album very much and at the end the outcome reflected exactly Amenophis as it was in 1983. During the following years some of the albums found their way to people who were very engaged in the progressive rock community. Articles about Amenophis appeared in progressive rock magazines. So our album raised more and more attention and it ended up with an offer from Musea Records in the beginning of the 90s to distribute our album as a CD.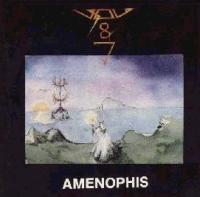 You and I from 1988

In 1987 during the time when progressive rock magazines published articles about Amenophis we got an offer from a German producer to record a second album. We agreed to reunion Amenophis and took three new people on board. Kurt Poppe joined the band on keyboards and Rene Kius replaced Stefan on the drums since Stefan could not make it. Elke Moerle joined the band for the main vocals. We recorded the album in January 1988. The circumstances of recording that album were very much different to the first one. We went in a professional studio and all the great technology has been made available to us. The downside was that we got just 10 days to get everything done including the mastering. So we worked day and night. All in all it was a tough race.

What is (mostly) the lyrical themes on your albums ?

I think most of the lyrics talk about relationship between humans, life, death, threats e.g. to our environment etc. "The Last Requiem" from the first album talks about the end of the world and how the human race tries to survive the Armageddon. In most of the cases the message of a song is packaged in a story or can be found between the lines. E.g. "Venus" asks the question whether true love can survive death - the underlying theme is the fear of loss and the searching for methods to deal with it. But there are
also other even humorous themes like "Ghost ball", telling about a guy who celebrates a party with ghosts on his garret.

How would you describe your music and who would you compare yourself with ?

We were inspired by the prog rock scene of the 70's but we had our own vision and tried to find our own style over the years. Typical elements of our music are longer instrumental parts, orchestral keyboards and melodic guitar solos. Also we like variations in our arrangements, sometimes the atmosphere changes from one moment to the other. A friend of mine has said: Amenophis has beautiful melodies and in the next moment they smash the harmony in pieces. I liked that since it describes quite well many of our
arrangements particularly on our 1st album.

When and why did Amenophis break up ?

We did the last Amenophis concert in summer 1989. Amenophis had been always a very important and time consuming part of my life. My daughter became 2 years old at that time and I got the feeling that the time has come to focus on a job ensuring a good life to my family. I think the other members felt the same way. The band decided to split up, but the members stayed in touch as good friends till today.


What did you do after the split up and did you continue with music ?

I went to Munich with my family. I stopped making music for over 10 years. Finally this quiet period ended with a birthday present from my wife. I got a little amp, and she said that this is to stop my ongoing moaning about the good old times. She likes me to start playing again. So I did. I practiced playing and built a little studio in my house to gather old and new ideas.
So thanks to my wife bringing the music back to my life ;)

What is the availability of your albums and what is your experiences with the music industry ?

Musea Records distributed both albums. As far as I know the second album can be still ordered there. The 1st album is currently sold out but can be downloaded via online music service.

Regarding our experiences with the music industry - it can be a tough thing. We felt that particularly during the 2nd period between 1987 and 1989. It was a tough business with little room for idealism. Many progressive rock bands had to made concessions in the 80s. Later in the 90s the prog rock scene started living again. That was when Musea Records offered to distribute our albums. We were happy finding that label making progressive rock music available to fans all over the world. This gives bands like us the chance to reach a wider audience.

Who owns the legal rights for your albums and do you get any contact with fans and people who are taking an interest in Amenophis ?

I think the legal rights of both albums are with the members of the band. And yes, we still get emails and letters from people all over the world.

Before the internet exists we often got letters, sometimes with photocopies of articles about Amenophis or tapes with Radio shows that had commented and played Amenophis music. Now, with the internet most of the contacts come in via email. Itís always a pleasure to hear from people, and we try to respond
to everybody. The ongoing interest of the people in our music is really an important part of our motivation to keep the Amenophis idea alive.

What is your most fondest memories of your time in Amenophis and what is your biggest regrets ?

Of course there were up and downs in the 10 years active history of Amenophis but fortunately much more ups than downs. We had really a great time together. I had the privilege to play and make music together with talented people who became close friends of mine over the years. The biggest regrets might be the ideas and compositions that had never been recorded. However you never know, maybe we will open a third chapter one day.


Prog rock is now in fashion again. What is your view on today's scene ?

I like the todayís prog rock scene very much. The scene today is even richer than in the 70s since influences from other styles enriches the entire genre. There are many creative and awesome playing bands with great ideas. It's great to see the scene living again. From my point of view the scene in the US appears to be bigger and more active than in Europe. Would be great to see the scene further growing particularly in Europe.

Just to wrap up this interview; what is your five all-time favourite albums ?

- in no particular order -
Greg Howe - Introspection
Dream Theater - Scenes From A Memory
Pink Floyd - The Dark Side Of The Moon
Yes - Close To THe Edge
Renaissance - A Song For All Seasons

Anything you want to add to this interview ?

Thank you for your interest in our music. It was a pleasure to make that interview!
Thank you to Michael for this interview
Their PA profile is here and homepage is here