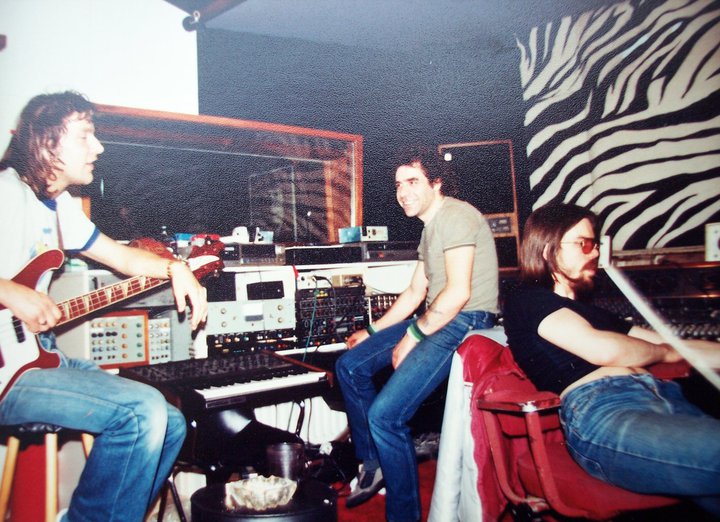 UK outfit BunChakeze is among the bands that can trace their history back to another time and age. In this case the time machine takes us back to London in the early 80's, and a young, promising band called Odin of London. They had good material and dedication to their art, but as live opportunities dried up Odin disbanded. A band without a venues where they can perform their material to an audience is a tad disheartening after all.

Some Odin members decided to form a new band, BunChakeze........... and the rest is history. I caught up with Colin Tench for the BunChakeze story.

---------------------------------------------------------------------
Your biography has been covered in your ProgArchives profile so let's bypass the biography details.
But why did you fall in love with nerdy progressive rock and wanted to play this type of music instead of any other form of music ?
Music is much like everything else you learn when you are very young. It stays with you for ever and can't be removed. In the 60s you bought 1 album and learnt everything about it. You couldn't afford another one!
We all grew up with music that changed at an alarming rate. It never happened before and has not happened since. It was so interesting and inspiring. One day it was "She loves you" and shortly after, it was "Helter Skelter" and "I am a walrus". We grew up in the most progressive era in music. I never got bored with it. It was like an extreme sport. Nobody labelled it as prog. Anyway, how on earth could progressive become a bad label for anything?
Music was a constant joy and inspiration. It was also on the radio. Wow!
The forerunner of BunChakeze was Odin. Please tell us more about this band.
Odin was conceived by Gary Derrick in 1980. I met them in 1981 because they were auditioning guitarists. Although not their aim, they took 2 of us. I had twin neck and I guess had a sound they liked and the other guy was John Culley. They couldn't decide and asked us if we minded if they took us both. I think we both loved the idea. John had a Strat and a fantastic feel and sound. At first, we didn't know his history. He had played in Black Widow and Cressida in the early 70s. He even played with Geno Washington in the 60s. He was a pro and a gifted professional guitarist.
We wrote, rehearsed and gigged in London. We were a 6 piece and felt pressure to keep it simple, in order to get gigs. Prog was a very bad word by then. During the first year we upgraded the drummer and Cliff Deighton joined us. This was bad because Cliff was totally influenced by Rush and all things prog. It was good because he took Odin to a much higher level.
Odin were a true band. All influences allowed. We were a rock band with 2 lead guitars, keyboards, big drums and long songs. We were doomed.
If Odin existed now, we would succeed. In fact, we made enough recordings at the time to release an album. That album will be released very soon. It has some of the best guitar work ever heard by John Culley! There is even a new Culley guitar piece on there.

Odin died and BunChakeze were formed and then disbanded again. What were the band members up to in the 20 years between the formation of BunChakeze and the reappearance again as BunChakeze ?

When Odin split, we sold the PA and never really had a plan to gig again. The pressures of work are bad enough but the hostilty shown to bands like Odin made it all seem a little pointless. If you already had a name, you had chance. We didn't!
We were never starstruck or thought we were great or any such nonsense.
Being realistic, we decided that bending to fads and fashions was silly. It would achieve nothing. We got an opportunity to help build a studio and that gave us studio time. Cliff, Gary and I decided to try to find the right singer, write and record an album, with no expectations of success, visit a few record companies and offer it to them. No cost to them and therefore worth a try. We did everything we set out to do and got absolutely no response. No surprise but a little sad. The album(tape) went in the cupboard, I emigrated to Sydney for a year, Cliff went to university and Gary played with various bands in London. Cliff has also played with a few bands in London. I didn't really touch the guitar again until 1992. That's when we went back into a studio, remixed the music, finished off a few sections that weren't right and went round the record companies again. A waste of time but we had a nice mix now. Ha ha!
I then proceeded to not play the guitar again and Gary and Cliff kept their hand in with some live gigs.

Joey Lugassy, the singer we discovered back in 1985, had come to London from Los Angeles. After the recording, he went back. He has been constantly active in music. He wrote and recorded a rock opera with DAYSIX. He got 2 Emmy nominations for music written for a drama series and he wrote and sung "Today" for Amnesty International.
The 4 of us are a mixed bag but have skied and travelled together and I also spent a lot of time in LA with Joey. We are still totally connected.

Reviving BunChakeze was pure chance. I was looking for John Culley, Found Pasi Koivu, who looks after the Black Widow archives. He was amazed to hear about Odin and BunChakeze and advised us to release both albums. The last 4 months have been absolutely astonishing. I'm playing guitar again!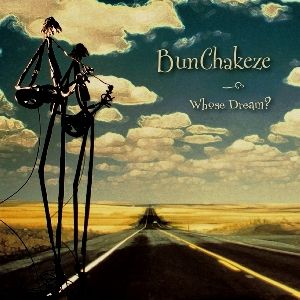 Please give us your long or brief thoughts on your only album Whose Dream? released earlier this year. How would you describe the music ? 

It's hard to describe music you wrote, played and mixed but I'll try. To my ears, it's not technical or full of deep meanings. Gary would disagree with that so it is purely my opinion. It grows on you because it has melodies and memorable tunes which are not always obvious on first hearing. It's easy to listen to and wouldn't scare your mum. I've been known to call it easy listening prog. That is where I would put Floyd, the Beatles, early Bowie and even Peter Gabriel to name a few.
I'm not suggesting we are as good as any of them but I do think the album leaves you feeling good and wanting to listen again. I think we did end up some very attractive music and it has a lot of variation. We know that a favourite track of one person is almost pedestrian to another. This is good. It isn't a 2 track album padded out with lead breaks and badly written filler material. It even has the feelgood reprise of Whose Dream? at the end. 

In the band we all hear it differently too. Again, proof that it was made by 4 individuals with their own ideas. If you like listening to the music, you don't need to know what the lyrics are. If you like the lyrics, you can listen to them without getting hammered by the music. It works on many fronts.
How is your writing and creative processes ? 

The writing was amazing. In the true band style, we all put everything into it. We even built a studio together, wall by wall! We had tunes and lyrics but not very much that formed anything at the beginning. It grew as the year went on.
If I pick out some tracks, Bun Chakeze was a work out and fun to rehearse. It started out as 3 guys jamming. I am guilty of making it into a piece that requires all the notes to be played just so but that's fun to my ears.
Walk in Paradise was me playing the wrong instrument. I got the riff on the keyboard and then transferred it to guitar. It slowly grew into a long piece around Gary's lyrics.
Flight of the Phoenix was Gary playing the wrong instrument. He came up with the begining on guitar. The fact that Gary and Cliff did a parachute jump together created Gary's lyrics. I like that!
The Deal was all about the echoplex. It just built organically and I had to write lyrics afterwards. It sounds as though it was done the other way around! It would have drums in a live setting.
Whose Dream? was written around Cliff's lyrics. I think that track was very well written and proved we weren't just having lucky accidents.
Midnight Skies happened because I found a Strat in the studio. It was all about the sound. Gary's lyrics made us really concentrate on getting that one right. I think we did. It maybe the one that we are most proud of.
To summarise, we concentrated on the sound of each track. Partly because we still had no singer.

When we found Joey, he had to work with the music as recorded. That was very difficult. We didn't leave enough space for him to really shine as often as he can. He managed to make it his own. We had tried many singers but they all failed. Joey understood how to become another instrument in the music. We were stunned! As soon as he started recording, we knew we had found THE guy. By the end, we couldn't stop listening to it. It sounded completely new to us even though we had heard it 1000 times during recording and writing.
  The question of who wrote which bits of which songs is irrelevant. We had no formula. If any one of us had been missing, the sound of the album would be completely different. To me, that is the magic of creating together. Odin had it and BunChakeze have it!
How is your gigs and festivals situation ?

  We have nothing planned because everything hinges on album sales at the moment. If we get lucky, we cannot wait to get out there. This has never been performed live and believe me, it will sound fantastic live.
What is the latest updates and the plans for this and next year ? 
At the moment we are keeping our eyes open for 2 more members for BunChakeze. Guitar and keyboards. On the album, we had a guest playing piano and of course I did all the guitars. I am so looking forward to the time when I hear 6 of us playing this music. It would be improved just by the fact of there being 6 individuals playing a part.
To wrap up this interview, is there anything you want to add to this interview ?
I spent the 70s listening to Genesis, Yes, Floyd, Focus etc. Then it all went dead. Recently I never stop listening to the new guys. Pain of Salvation, Porcupine Tree, Flower Kings etc. The 20 years in the middle, it was Zappa, Vai, Satriani, Al DiMeola. I guess my brain needs the excitement. Joey, Gary and Cliff and I, have different musical tastes and that's why we work well together.
Gary is more rock influenced, Cliff and Gary like Rush, I don't. Joey loves Early genesis and of course Peter Gabriel but he isn't grounded in progressive rock at all. I also like Yanni and Opeth. Ha ha!!

Our music is not "TOO" anything. I hope to go forward with the same approach as ever. Find a sound together, mix it up, compliment each other's ideas and end up with something unique to that band. That's the point. That's the magic of music.
Pasi Koivu is a visionary and a keyboard wizard. He really has put us on the map. He is 100% responsible for what is happening now. Our thanks and great respect go out to him.
Thank you to Colin for this interview

Their PA profile is here and their homepage here