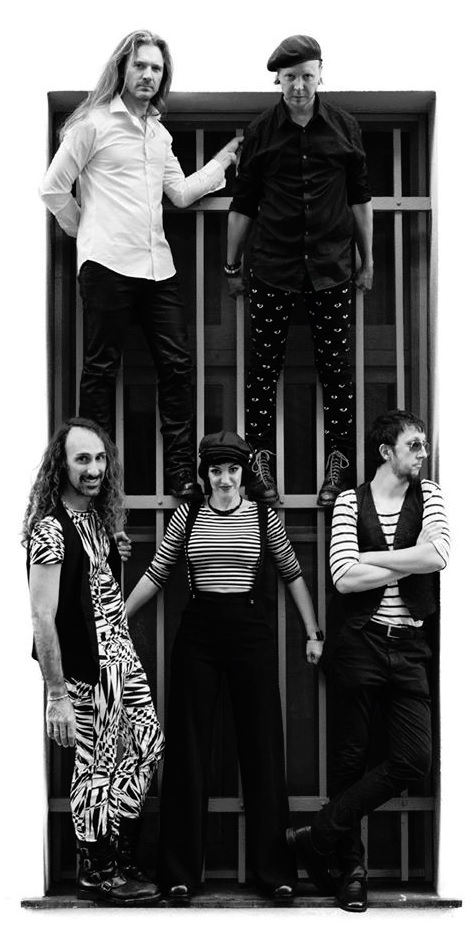 Il Tempio delle Clessidre are an Italian prog band from Genova and were formed in 2006 on the initiative of Elisa Montaldo and Gabriele Guidi Colombi (two young musicians who previously had been both members of a band called Hidebehind) who met with veteran Stefano "Lupo" Galifi, vocalist on famous Museo Rosenbach's album "Zarathustra" and later rock-blues singer in local cover bands. The first line up was completed by Massimiliano Costacurta and Corrado Bronzato. The name of the band was inspired by the title of a part of the suite "Zarathustra" and the initial idea of the musicians was to play on stage the whole album "Zarathustra" with the original singer using vintage sounds a new arrangements, then turn to the composition of original pieces in the same vein.

After some line up changes, in September 2010 the band released an eponymous debut album on the independent label Black Widow Records containing only original pieces.

I got in touch with the band for their story. Both Elisa and Fabio answered my questions.
---------------------------------------------------------------------------------------------------
Your biography has been covered in your PA profile. But why did you fall in love with the old Italian prog scene and wanted to play this type of music instead of any other form of music ?  
ELISA: some years ago I felt in love with the '70 progressive rock because I was actually looking for that kind of music even if I didn't know it yet! It has been "love at first listening", I was fond of hard rock and heavy metal and one day I occasionally listened to "In the court of the Crimson King": well, it was a true discovery for me, it was the music I was dreaming of!
I unconsciously began playing progressive, since I was a little girl I started composing music very near to progressive: it is now my natural way of musical and emotional expression.
What is your musical background and were you involved in any other bands before you started Il Tempio delle Clessidre ?
ELISA: I began classical piano studies at the age of 9, but since I was 2 I instinctively played piano (toy pianos!). I started playing in cover bands in 1992, performing pop, rock, folk, metal, hard rock. I played keyboards in a hard rock band for several years, we performed Deep Purple, Uriah Heep and Black Sabbath. Then I entered in a band called Trama, we played a tribute to Marillion and started to work for the second album: that was a progressive rock band and I immediatly understood that such genre was my ideal dimension. So I took part of the prog band Hidebehind proposing my own compositions, in the meantime I entered Narrow Pass project (Musea Records) for one year, then in 2006 I finally decided to create a more precise musical identity and so Il Tempio delle Clessidre came out!
FABIO: my musical background emerges from classical music, too. I got my degree at the music school playing classical guitar, then I started playing electric bass when I came in contact with hard rock and metal music (Queen and Iron Maiden among the others). I founded the prog metal band Daedalus and entered the symphonic folk group IANVA (in which I play classical guitar). When Lupo Galifi asked me to join Il Tempio delle Clessidre I could barely believe my ears!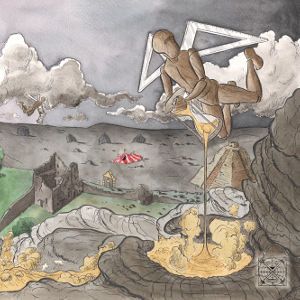 Please give us your long or brief thoughts on your only album Il Tempio delle Clessidre released earlier this year. How would you describe the music ?
ELISA: well, I can tell that "Il Tempio delle Clessidre" is not only an album for me, it's a whole world, a piece of life that took shape in the course of the years. The music we propose is new and fresh even if we know that it's not so innovative, but this is a choice: one of our aims is to recreate the sounds and atmospheres of '70's progressive rock; nowadays it's hard to create something completely new in progressive rock, because the music of '70s has a heavy influence in this kind of artistic expression, so we wanted to re-create some typical '70 sound even if it could be seen as a lack of originality. But our music was born spontaneously and without premeditations, we play what we like in the way we like. Obviously, there's a precise idea of which we want to express and if you listen to the sounds, the atmospheres and every particular element you can find several musical influences: that's our music that grew up under our eyes (and ears) without knowing where it would have taken us!
FABIO: one of the most important aspects in this band is the wide difference in the musical taste of each of us. This helped creating songs with a great variety of elements and nuances. Every musician adds a character, an ingredient to the recipe, thus creating something peculiar.
Where can this album be purchased from and how is it's distribution ?
ELISA: the label which released the album is Black Widow Records and the main distribution is managed by Masterpiece, but we think that soon the album will be available in stores and mail-orders all over the world. Black Widow has a really good action in promoting the band, so we hope that people will search for the record anywhere!
How is your writing and creative processes ?
ELISA: we start separate sections of work: I and Fabio compose the music by ourselves and bring it to the other guys in midi versions or simple piano and voice recordings: after that, we start studying the instrumental parts but in the meantime we try also to do improvisation and add new ideas to improve the songs. Then we propose the lyrics and melodies to Stefano "Lupo" Galifi and decide the right tone for his voice. Lupo has a "bluesy attitude" and he often puts some vocal embellishments to the songs.
When I get inspiration I immediately go to my piano and play: improvisation is the most important thing for me, I compose music directly from my emotions, dreams and ideas and try to translate those ones into music. The following passage is the improving of the technical aspects and then I give instructions to the other members for the arrangements and style (even if each one of us has to put into the composition his ideas and musical solutions). For instance in this album there are even a lot of keyboard parts that came out in the final recording session, I improvised on the main parts giving more emphasis and fullness to the music. The research for the right sounds is very important for our music: I often overlap different sounds from my keyboards to create the right tone colour, and try to emulate the classical progressive sounds that I love (Mellotron, Chamberlin, Hammond organ). The guitars are strictly connected with the keyboards in our music, they are very refined and versatile, Giulio is a really good guitarist and he has a great musical sensibility that makes the arrangements original, well balanced and in harmony with the real sense of the compositions.
FABIO: I like to give the band a trace of each section and instrumental line in the songs I write, then we work together to obtain the best sounding result through the technique and taste of all of us.
Sometimes, at the end of a recording session, we listen back to the very first versions of the songs and even to the midi files… our reaction towards the huge differences is always funny and amazing!
How is your gigs and festivals situation. Are you currently doing gigs or are you a studio band only ?
ELISA: we love to play live! We hope it could happen more and more from now on. We had only two concerts before the release of the album, then we passed the last year concentrating our efforts in doing the best work we could. Unfortunately music is not our main job and we took a long time to finish the record, working hard on weekends and evenings.
We are looking forward to do gigs, we have scheduled some showcases and live concerts in October, we'll be guests at the Centro Studi Progressive Italiano during a radio show, we'll have to introduce the album in a couple of record stores, then we'll play together with Il Biglietto per l'Inferno.Folk in a teather here in Genoa at the end of October. We're very enthusiastic to play our music live, we'll try to transport the audience in a "vintage" atmosphere where Lupo's voice will thrill people who loves '70's progressive rock.
What is the latest updates and the plans for this and next year ?
ELISA: at first we'll try to have our music known by the most people possible and introduce ourselves in different occasions. We planned to release a LP limited edition with a fantastic grey vinyl with a signed poster, a real photo of the band and a card with a silver printing. Thanks to Black Widow and his attention to good packaging we're happy to accessorize our music with such images and materials!
We're not able to make plans for the future 'cause all starts by here and now…but we're already starting to work on some new compositions, even if we're working hard to prepare ourselves for the gigs. There are so many things we'd like to do and we hope that the future will give us the opportunity to express again and again!
To wrap up this interview, is there anything you want to add to this interview ?
ELISA: well, I would like to put the light on this fact: Stefano "Lupo" Galifi passed this last 35 years singing blues, hard rock and soul, he never stopped singing 'cause he really loves music and cannot live without it. He accepted to face this difficult and long work and returned singing with the progressive "attitude" and face new lyrics and melodies after so many years, without guarantees of success and with a great consumption of energies and money, confronting with young musicians: I think that it's a very admirable fact. It's just a demonstration of the endless passion for music that makes his voice a great energetic flame with a never-ending youth.
We're happy when someone gives us impressions, critiques, opinions and thoughts about our work because we think that one of the most beautiful and amazing aspects of create and playin' music is to share emotions and passion with the listening people and to create moments of joy in the name of Prog!
Thank you to Fabio and Elisa for this interview