October, 2010 interview with Markus Grutzner of 7for 4
Recently Markus Grutzner bass player for Munich based German fusion band 7for 4 graciously took some time to answer some questions about the band. Those who might not be familiar with this phenomenal group whose stylings and music calibre can be considered similar in many ways to American bands Liquid Tension Experiment and Planet X as well as Montréal based Canadian band Spaced Out might want to check out their bio here on Progarchives
www.progarchives.com/artist.asp?id=1279
by Martin Dietrich where you can also find a link to their official website before reading this interview. There are also some samples of their unusual talents that can be found on youtube.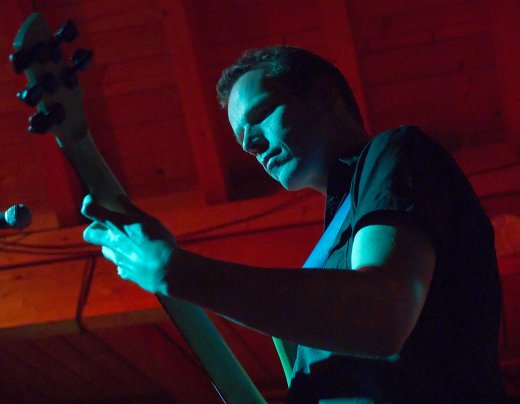 VB :

First off, before listening to any of the 7for 4 albums, Contact, Time or Diffusion I have to strap myself into the ejection seat. It's like taking a ride in a jet fighter performing every aerobatic maneuver in the book and dfinding myself drained with substantial weight loss! Where the heck do you guys find the energy? It's definitely a thinking man's brand of music with new discoveries with each listen. Could you comment on this?

MG :
Causing weight loss was never our intention, Maybe we should market dietary music... but we do intend to create music that never gets boring especially to ourselves. We never liked the idea of listening to our songs 10 years after and thinking : well this arrangement could have been better, I could have played that groove tighter, this atmosphere doesn't really fit... in order to avoid this, we strive to play every single note " on purpose " and not by accident or convenience. Sometimes our focus on interesting compositions leads to quite complex tunes, but that's not for the sake of showing off our athletic ambitions. Just happens along the way. It is all about transporting a certain atmosphere to the listener, no matter how many notes are used. " Silent Flow " is a good example - although being slow and relatively simple, it should have the same intensity as a furious tune like " Tokamak ". I think that in the first place the energy you mentioned comes from our intense concentration to all these details.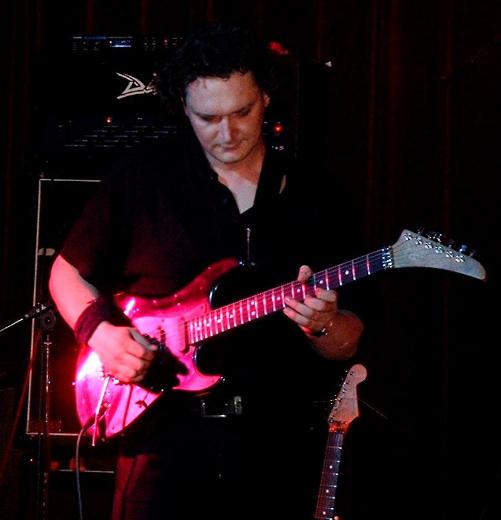 VB :
7for 4 is not an all out pedal-to-the metal fusion band like say Planet X or Liquid Tension Experiment and focusses on a lot of harmonies and melodies and doesn't rely soley on freaking out. But I still find that the band's music is driven by Wolfgang ZenK's guitar. What is the chemistry like when you're on stage? Is Wolfgang the leader calling all the shots or is it an even chemistry? Are the rest of the guys in the band as scientifically minded as he is?
MG :
Thinking of Wolfgang, I predominantly see him as a composer. He writes all the songs and is certainly the creative power that fuels the band. Bsides that he is an absolutely amazing guitarist, and obviously there's a whole lot of sophisticated guitar work in our music. But 7for 4 was never meant to be a guitar player's solo project - each member is free to contribute his own music, it's just hard to keep up with Wolfgang's enourmous creative output, so we mostly end up choosing his ideas - Which is good! Regarding our live shows, I would say that you see 4 musicians on equal terms delivering a complete band performance, not just a backing band for a guitarist.

VB :
The band hasn't achieved the commercial success that it deserves ( yet! ). Why do think that bands like Rammstein hold more appeal for the masses than say, your band or Barbara Dennerlien? Is it simply because it's more challenging, complex and adventurous? Sometimes it really makes my brain hurt ( I,m listening to " Flux Capacitor " right now ) I mean wer're not talking about 3 chord strumming in the slack key of Gmajor here! Thoughts ?
MG :
Honestly we don't care much foe commercial success. First and foremost we want to create music that we like - If happens to appeal to other listeners then that's great, of course. We have always been aware that this won't be a rck star kind of thing. Although the quantity of our fans may not be huge, I call them " high quality" fans - they find ways to buy our Cds from every country in the world and often give us enthusiastic feedback.

VB :
Does 7for 4 have a trademark piece? Something that you HAVE to play at every gig. There are certainly some standout compositions. Do you have any personal favourites ?
MG :
I think we have never played a concert without E-Gyptian. That's our must-play song. My personal favourites changequite often. Usually a song that we are working on.

VB :
Two of my favourite 7for 4 tracks are "E-Gyptian" and "Burnt Chicken Wings". Some sections of E-Gyptian remind me of Django Reinhardt's Gypsy jazz stylings combine with all kinds of other crazy modes. Some parts even sound like Django Reinhardrt meets Ywingiee Maqlmsteen! Would this be a fair evealuation? " Burnt Chicken Wings " has an ostensible Dixie Dreggs country/jazzrock feel to it but I also hear some Primus in the mix ( minus the Les Claypool wackiness! ) One fun thing about listening to 7for 4 is deconstructing it. Could you offer some thoughts on these two compositions?
MG :
I love that swing feel in E-Gyptian, and that nice mix of styles that converge seemlessly and it has one of my favourite guitar solos. yes, these songs have " quotations " from verydifferent styles. Wolfgang is an artist who constantly broadens his musical horizons by listening to all different kinds of music, he acceptes the challenges of digging into the details. Being a professional guitar instructor might also be a motivational factor to get involved with new styles. I think 7for 4 is his playground to turn thos manifold inspirations into creating new and original music.

VB :
And now that inevitable question. Can you explain the meaning of the band's name and how it came about? Apparently it is somewhat mathematical in nature and doesn't sound like the name of a band at all.
MG :
I'm afraid I can't remember the full story. That was so long ago and there was most likely some beers involved... it had something to do with odd time signatures like 7/8 played by 4 musicians. We had already recorded our first album and needed something to print on the CD cover soon. We picked 7for 4 because it sounded cool and because we were 100% sure that this name was not already being used by any other band.

VB :
When Wolfgang did tbe interview with Guitar Nine Records he stated that after composing a piece he hands out sheet music to the rest of the guys and you play it and record it. Just like that? I mean this is pretty intimidating material. It's not music that you just sight read through and say " OK boys let's lay it down on the first take". Or do you say to youself " how the freak does this guy expect me to play this?" Or do you say cool man, no sweat". How do you develop a composition as a group in rehearsals?
MG :
Usually the development of a new song evolves over a longer period, sometimes several months. So the new ideas come in smaller, more digestable pieces. We do not write sheet music for the complete arrangements, that would take far too much effort. Wolfgang writes down some chord progressions or unison themes to make communication easier and save time during rehearsals and evaluate it later to see if the ideas work in the context of the band. Before we actually start recording, there are lots of changes, sometimes the initial nucleus of a new song is even discarded and we end up with other parts that we built around it.

VB :
How long have you been playing? What made you choose bass and what are some of your influences/heroes?
MG :
I started playing guitar and bas when I was 13 or 14 but focussed on bass quite soon. Actually I think it was a schoolmate of mine who talked me into it because he played guitar and he needed a bass player for his band ( probably a very typical start of a bass player's career ). I can't name a particular bass hero... in the early years I taught myself by playing all the records that I listened to, lots of heavy rock stuff, later fusion bands like Weather Report. I liked geddy Lee and Jaco pastoriuos butI don't think that they have signifigantly influenced the way I play bass.

VB :
Does gear really matter? I notice that you use a 5 string bass. Is this just a personal preference or is that lower B string required to play 7for 4 music?
MG :
These days 5 string basses are more common that 4 strings, so I don't think it as an exceptional instrument. I like the extended range at the low end, but 7for 4 would sound OK with a 4 string bass I guess. I'm not a gear addict and most of my stuff I've been using for years without major changes. But once in a while a new piece can be a source of inspiration, just playing around with new sounds you sometimes come up with new ideas.

VB :
How does the band come up with song titles? After the song is written or are they written around an idea or concept?
MG :
While we're still working on them most songs have a more or less silly working title. The final name is chosen later. If possible it should reflect the atmosphere of a song. For the Time album we tried to find titles that have something to do with the term "time". Also the CD booklet has been designed around this concept.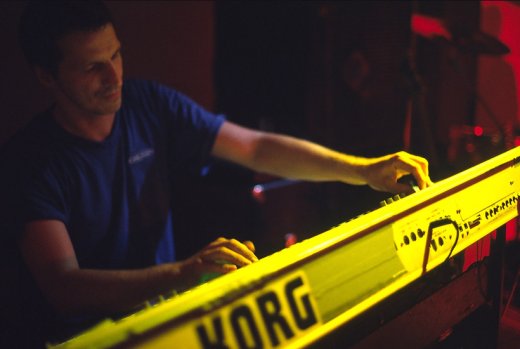 VB :
Are there any musical disciplines that the band shuns or avoids? I was just listening to n" Cyclotron" from the latest album Diffusion and noticed some Bach-like interpolations amidst the metal madness. Mystic Mouse from the same album has some classical rings to it as well. Does your key board player, Markus Froschmeier have a classical background per chance?
MG :
That's the benefit of being non-commercial - there are no limitations. Good music is not a matter of style or genre. Any kind of music can be interesting if well performed. So you can expect more flavours in the future. Right now we are working on a waltz that is really great fun to play. It might just end up on our next CD.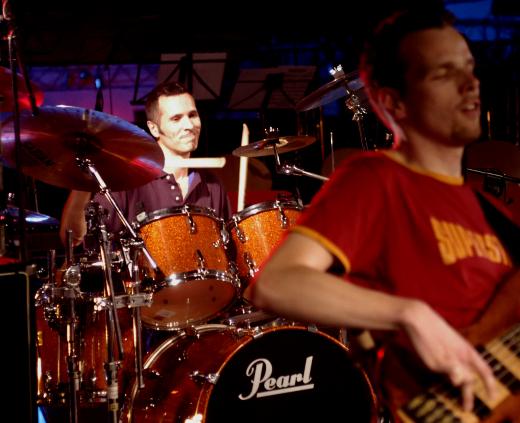 VB :
Were you going for a top forty single when you recorded " Where Are You Now?" with Conny Krietmeier from Daisy Ultra ( just kidding

). How did you guys end up working with her and are there any plans for more vocal music in the future ?
MG :
With two vocal tunes on "Contact " & "Time" we wanted to add another colour to the albums. On our instrumental songs most melodies are performed by the guitar and keyboards, but for a vocalm track the instruments have to leave more space. It's a slightly different way of composing and arranging. Conny K has been around in the local Munich scene for a long time, we already knew her well when we invited her to sing on this track. There might be some more vocal music in the future, but we don't have any specific plans right now.

VB :
Plans for another album and what lies in the foreseable future for 7for 4? Are you going to go for an international audience? Perhaps North America?
MG :
Currently we are in the song writing phase for album # 4. That is our main focus, so there won't be very many live shows in the next months. We recieve many requests to play outside of Europe. Touring Canada and the United States would be great, of course, but difficult to organize for a band that is not a big act. But we are in contact with some festival organizers in the US. Hopefully we get something settled in the not too distant future.

Once again, thanks to Markus Grutzner for taking the time to respond to these questions.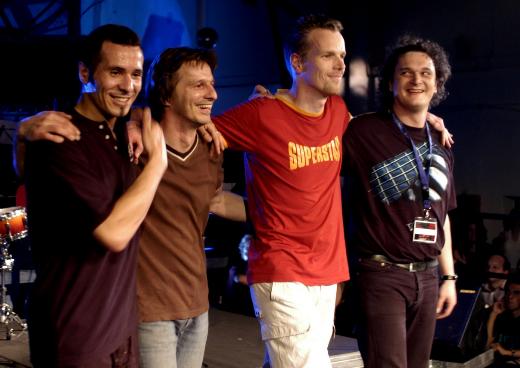 Edited by Vibrationbaby - March 14 2011 at 13:50