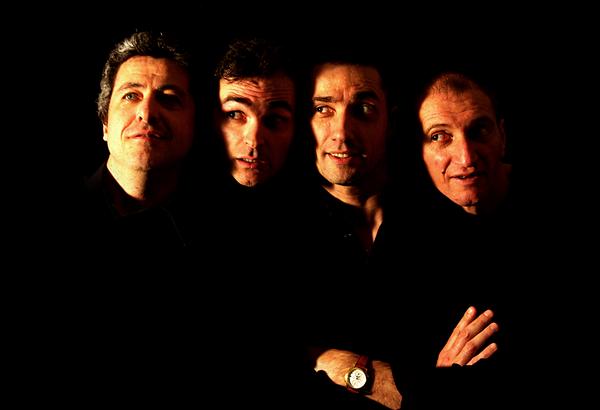 French outfit EYE 2 EYE, at the onset known as Eye to Eye, was formed in early 2003, when Didier Pegues (drums) and Phillipe Benabes (keyboards) decided to form a new band when their previous outfit AND folded. And when Cecile Carratero (bass) hooked up with the duo after the demise of her former band Limelight, Eye to Eye was instigated. And with the addition of Mederic Colas (guitars) and Benoit Derat (vocals, guitar), the band was born. Two albums followed. 
I got in touch with the band and both Didier and Philippe answered the questions.
----------------------------------------------------------------------------------------------------------------
Your biography has been covered in your ProgArchives profile so let's bypass this and go straight to the albums. But why did you choose the Eye 2 Eye name?
Didier:  It means that, for many years, Philippe and I are working on many Musical projects, and we try to do it with the same point of view. We've always trying to work under a democratic way, for reaching the point where everyone's happy to play and to work with us… We just try to do things and to see things eye to eye… We first were named EYE TO EYE, but in 2008 we received a mail from the management of another Anglo-American group which was called EYE TO EYE for many years, so we both agreed to finally use EYE 2 EYE as a name.
Who were your musical inspirations?
Didier: There are many musical inspirations in our Music… I listen to many kind of Music: Folk, Jazz, Classical music, World music, Hard Rock, Pop, Celtic Music, Electronic Music, everything that is melodic with good vibrations! The first group I ever loved is Supertramp. Then I discovered The Electric Light Orchestra, Pink Floyd, King Crimson, Genesis, Angel, Yes, Kansas, UK and many mythic groups from the seventies, which were influenced themselves by the Beatles… When I discovered Marillion in the middle of the Eighties, I considered this group as an Oasis in the musical desert of that period. Shortly after, I discovered some others like IQ, Pallas or Pendragon… All of them have certainly influenced our music in a way or another…
Philippe: I started to listen to Supęrtramp when I was 12. I discovered Pink Floyd at 15, but I really started to discover music with Marillion when I was 18. I love French groups like Ange, Versailles, or Asia Minor for example, Italian groups like banco, Jumbo, Pierrot lunaire, Japanese also, the must for me being Gerard. I love also Swedish groups like Anekdoten, anglagard, and more recently Therion. In the supergroups I would say king crimson. My top 3 albums are lizard, Darwin, and the first Gerard.
I also listen to more pop music like Muse, air or Archive.
Please give me your (long or brief) thoughts and lowdowns on......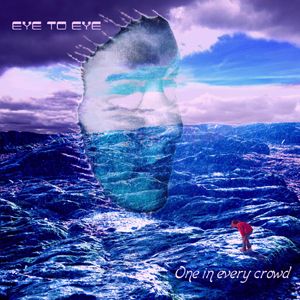 One in Every Crowd from 2006
Didier: I considered that first album as a kind of Liberation. During the 90's, Phil and me where working in a Band called ADN… After a first CD (« Prelude » 1999), we decided to do a double concept album. But after some months, we were obliged to admit that that concept was not going the way we first wanted, because every composition was ruled by our singer… So we decided to split in the beginning of 2003. Then we decided to form a new group, and EYE 2 EYE was born! The ideas came easily and after 6 months, all the music was written. It was for us a great period of inspiration. When we finished our Ayreon's cover of "Back on planet Earth", Arjen Lucassen was amazed by the way we did it and he wrote us to encourage us to continue. I have to admit it was an honour!!...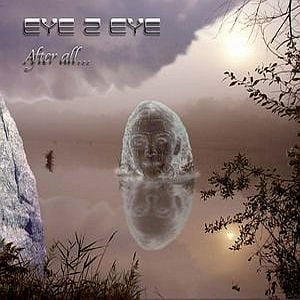 After All... from 2009
Didier: When "One in Every Crowd" was released at the end of 2006, Benoit Derat and Cécile Carretero decided to leave for personal reasons. Then we found Aymeric Delteil and Jacques Daly. Both of them made an incredible work in a relatively short time. I think the production is much better on this album than on the previous one (and I do hope it will be much better on the next one). Amirouche Ali Benali did his first compositions on "After all…" because when he arrived for "One in Every Crowd", all the songs were already composed. I first wanted to do a concept album but we finally renounced, because Jacques did not agree to do so… The album was finished at the end of June 2008, but MUSEA didn't release it before February 2009. One of my best souvenir is certainly when we were nominated for the Progawards 2009 in Italy. It's very gratifying when you're a "young unknown group".
A new album has been announced, but that was in 2009. What is the latest update and what can we expect from a new album?
Didier: Between June 2008 and February 2009, we continued to compose some new material. But in between, Jacques preferred to continue a Solo Carrier…
So it is true that we actually work on a brand new album that is all musically composed. It will be an adaptation of Oscar Wilde's "Picture of Dorian Gray". We still have to work on Lyrics at the moment with a brand new singer, but we do hope it will be finished soon. We especially try to bring some new instruments in our Music, like the acoustic twelve strings guitar, which is very new for us. There will be also more keyboard melodies like Tony Bnks did. We expect to release that new album during the first months of 2011…
What is the lyrical topics on your albums and how is your creative process from coming up with a theme/riff/idea to you get it down onto an album?
Didier: Well, it depends of the moment. Sometime you let your fingers play on a keyboard or a guitar, and you don't know why, but there is a kind of magic that comes, or not… Sometime, you just have an idea, a subject you wanna develop, and then you have to adapt the kind of music you need on it… Our next album has a strong story, so we try to do our best to put the right feeling, the right note, the right mood at the right place. In fact, it's really difficult to explain, because it's never the same. Each track is a different experience for every musician, but that is why doing music is so exciting, I think!
Just to give those of us who are unknown with your band a bit of a reference point or two: How would you describe your music?
Didier: The first word that comes to me is: "Emotion"… We just try to share emotions with everyone listening to us, and of course, we do hope those emotions will reach a grand majority of people. If it's the case, we can consider we made it!
Another word could be: "Contrast". We try to go from one side to another, the Yin and the Yang, the Black and the White, the Beauty and the Beast… That's why progressive music is so rich. We can go from a very heavy passage to a very ambient one. That's what pleased Arjen Lucassen in our Cover of "Back on Planet Earth". Piano and Synthesizers on one side, Heavy Guitars, Bass and Drums on the other in a different mood…
At last "Melody" could be the third and the most important word to describe our music. It's certainly the most important thing we want to bring in it!
How is the French rock scene today and how is your gigs situation? Do you also play gigs and festivals outside France?
Didier: The real problem in France nowadays, is that there are more Progressive Rock Groups than Progressive Freaks… We'd like to play much more than we do on stage. But we are not professional musicians and we all have our work beside music, so it's not really easy to find the time to do it, but we'd like to do some gigs, to play in some Festivals! There are many Prog-Festivals in France so we do hope we will play quickly...
What is your experience with the music industry and the internet music scene?
Didier: I do believe that nowadays, Internet is the best way to be exposed.  
Our Myspace site permitted us to be heard in every part of the world in a few minutes. It's a fantastic way to be recognized musically and visually. The only real problem with Internet is to be illegally downloaded.
But there are two different problems:
On one side, the artist doesn't earn any money on his work, and some others are doing their own illegal benefits with it…
On the other side, when you're unknown, it can be some kind of free publicity. I prefer someone who illegally downloads our albums, who loves them and talk about them around him, better than someone who buy them and forget them in a place or another. Over a long period, I believe that this first option will be much "bankable" than the second one… But the best way, is naturally, to earn on each side if it is possible!
Is any of your members involved in any other bands or projects?
Didier: Amirouche is often working in some Pubs in Paris. He's playing oriental styled music. But he also works for another Group which is mixing Celtic and Oriental Music in a group called Nomadia.
Our new singer, Jam, has his own group which is called Transperception. His debut album "Colour Green" has to be released soon by MUSEA. Be careful, because it will be a fantastic album!!
What are your plans for the rest of this year and next year?
Didier: Our plans are quite simple: we have to finish to record, to mix and do the mastering of our new album, as soon as possible. Then we will try to play it live, in its integrality, as Marillion for "Misplaced Childhood" or "Brave" , Queenr˙che for "Operation Mindcrime 1 and 2", or Pink Floyd for "Dark Side…" or "The Wall", etc…  
It would be a formidable experience…
Anything you want to add to this interview?

Didier: First of all, we are glad to see that more and more people appreciate our work around the world and we do hope our popularity will keep on increase with our next album. We do hope you will appreciate it… Thank you for your work and your passion for Progressive Rock. We do need people like you. Best wishes from France.
Thank you to Didier and Philippe for this interview