The Tea Club - The 2nd ProgArchives Interview (Nov 2010)

Back in January 2009 I did our first interview with the prog pride of the northeastern United States, The Tea Club. We talked about their debut album, the well-received "General Winter's Secret Museum." With their second album coming out it seemed the time was right to check back in with Becky, Kyle, and brothers Dan and Pat.
(Note: My questions were sent in two parts. Between the first batch and second batch of questions, I was notified of substantial personnel changes and additions which have occurred in The Tea Club. About half-way through the interview, the band will recap the changes.)
Two years ago, The Tea Club were living harmoniously in a large rented house enjoying the critical success of General Winter, whilst devising plans for his successor. We learned about their unique childhood, with prog loving parents and police encounters for the unseemly crime of "laying on the ground without being dead." We learned about the group's name, how they found each other, their listening habits, and their musical thoughts and philosophies.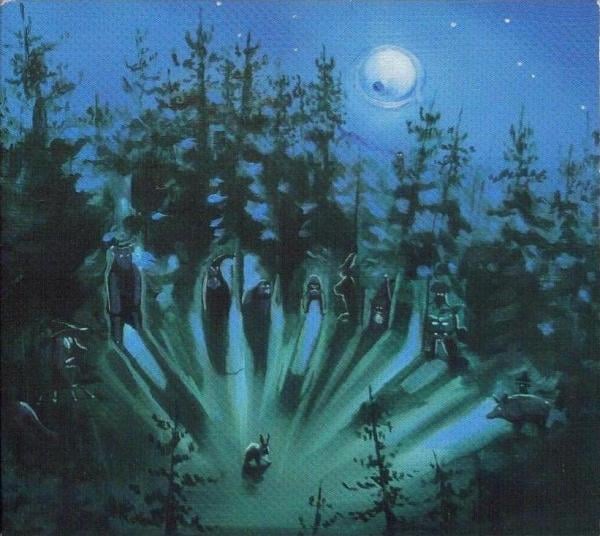 -The new CD "Rabbit" (released 2010)
So after that big set-up, let's start with the question most on the mind of Tea Club fans at ProgArchives. After all this time living the crazy rock and roll lifestyle, are you still living harmoniously in a big house? Is there a feline or canine band mascot and if so what's his/her name?
JIM: This is the most peaceful and relaxed I've seen the guys in a long time, and I've known them since I was about 12 years old. And they seem to be playing with so much joy lately- something that'd been sadly absent for a while. As for mascots, I don't know but they definitely have a lot of pets.
DAN: Yeah, it's just me, Pat, our significant others, our roadie Keanan, three cats, a guinea pig, and a rabbit renting the house these days. But we all still practice in our attic! It's 10 degrees hotter in the summer and 10 degrees colder in the winter.
CHARLES: I think I'm gonna have to go with Wilson here.
PAT: We have a giant Easter Bunny lawn decoration that has a light in it that we occasionally bring to shows. It's significance has become more apparent since titling the new record. I've affectionately named her Louis Marie Alcott.
Before we talk about the new music, get me updated on what each of you are listening to at the moment.
JIM: I have this song called 'Ursuline' by a band called Malajube on my iTunes. I have no idea where it came from or who they are but it's a great song. 'Black Rain', the new Soundgarden song is phenomenal and if there was ever a band I'm glad to have back it's them. Otherwise stuff I love is anything Phil Collins, Beach Boys, Doves (a truly under-rated band), Mew, Prince. And recently lots of obscure 80s stuff my girlfriend Heather plays me.
DAN: I've been listening to The Black Rider by Tom Waits. I think it's the weirdest Tom Waits record, and that's a bold statement. The new Wolf Parade album is good too. And Sunset Rubdown. Also I recently acquired Cantus Firmus by Advent, which is really enjoyable.
CHARLES: I have been listening to a lot of Sonic Youth lately mostly Sonic Nurse. The new Circa Survive album Blue Sky Noise. The Last Broadcast from Doves, and Catch for Us the Foxes from Mewithoutyou. The new Band of Horses album Infinite Arms also.
BECKY: Lots of Jeremy Enigk and all of the bands he's been in, Bjork, Yann Tiersen, Nick Drake, Jenny Lewis, some Radiohead. Also Rexedog's new album is pretty great.
PAT: 4 records are going through my head at all times, Relayer from Yes, Pet Sounds from The Beach Boys, In the Wake of Posideon by King Crimson and Swimming by French Kicks. I've also been digging into the immense catalogue of The Magnetic Fields and all of Stephen Merrit's glory as of late. I'm going through my 'Disillusioned by Jazz' period right now.
-Pat (photos courtesy of Adam Peditto Photography)
Give us some of the highlights of the summer gigs you played. How has the live sound been developing?
JIM: This new incarnation of the band is probably the most epic ever. Letting Becky be dedicated to keyboards allows them to be integrated much better into the live songs, and quite frankly she is a better keyboard player than bassist- and she was a good bassist.
Chuck on bass is just rock solid- there is nobody you'd rather have in that position than him. Having played in a band with him for years, he is the most consistently solid player I've ever heard. He rarely deviates- he just attacks each piece. Joe is a drumming phenom, infused with crazy jazz chops. It is really a miracle that we even located him. The wild card is probably me on third guitar, but it really adds another layer to everything, and I think the real fruits of this will be seen in new material, which I hope will yield some really heavy stuff again. And we can each trade off of each other back and forth, adding little flourishes. The best of all of this being that with extra instrumental voices to carry the playing, it really frees Dan and Pat up to be as passionate with the vocals as they wish.
DAN: We actually didn't wind up playing very much until late summer. It was definitely a transitional period for us. The few gigs that we did play, we had a fellow by the name of Craig Van Hise playing drums. He's the mastermind behind a Philly-based band called Virtual Virgin. He sacrificed a lot of his time just to make sure that we could continue playing out, and he did an awesome job.
PAT: The older I get the more I hate loud rock music. Nevertheless, we've spent a lot of time getting this considerably loud band to be great live. We've rehearsed A LOT and have been playing live more consistently than ever. The only way to be great live is to PLAY live OFTEN!! There's no amount of rehearsing you can do to prepare for the nightmare live performance scenario, you have to be seasoned. You have to be able to adjust at the drop of a dime and never let the audience know. That confidence only comes from experience. It's all about maintaining the illusion for the audience otherwise they'll find something much more interesting happening outside or in the bathroom or in their car. You know the experienced bands from the inexperienced bands within the first 5 seconds they walk on stage. It's one thing to practice scales in your room for 8 hours a day and it's another thing to do it in front of people, and have it BE LISTENABLE! Tea Club records sound great so we better be great live or no one's gonna care. Our live shows are certainly different from the records but I personally love it when bands play their music with the same spirit as the records but take a few more chances in the live setting. My personal role model for this would have to be the '73/'74 live King Crimson. They translated their very dense studio material brilliantly, incorporating all of the subtle beauty with disturbing power. They were not afraid to fail (which they rarely did) and that pushed them to an otherwordly level. And it was only 4 guys! A profane showcase of talent! Alas, at a recent Tea Club show longtime friend and fan Pete Fitzpatrick came up to me after our set and said it's "always a religious experience" seeing The Tea Club live. I of course gave him a hug.
Last time we spoke, I asked about the pressure to have a "normal career" and Pat said something very cool: "I see this as my career. I've accrued a variety of experiences that you could get nowhere else than by playing your own music in a band. When I'm old, I'll have stories to tell. I may not have much of a 'nest egg' but I'll have had an interesting life. Why give up playing music just because you can't make any money from it? If that's what makes you give up then you probably got into music for the wrong reasons in the first place. I'm filled with what seems like a limitless optimism for this band."
As someone who has had one of those energy-sucking careers I admired this spirit. Given these feelings, if a younger cousin or family friend, maybe 15-16 years old came to you and said they want to follow in your footsteps, what advice would you give them?
JIM: My feeling is that everybody should really experience being in a band at some point or another. Playing together with/ for people, there's really nothing like it. And they will know after a month or so and their first show if it is really something they can put up with. There aren't a lot of rewards in music as a career, outside of the music itself and sometimes, if you're lucky, the people you get to meet.
CHARLES: Where I am at right now, I don't think I could be happier. I reached a point in my life where I have let other people's ideas and pressures of the world go. The only time I am really happy is when I let everything go and play music. I could play another show and never get paid for it, peoples first response to being in a band is always something about money. It's not about that for me, it used to piss me off, make me never talk about it, now I embrace it really. The freedom and creativity you have while playing music makes me forget about everything else. Most people I don't think will or can ever actually understand what that means to me. So working an energy-sucking career is fine to be able to live and allow you to do what you love and are passionate about.. The music is the part that makes everything else worth it. But it's definitely not for everyone, and it's different for everyone.
DAN: Well when we first started the band, we knew we wanted to wholeheartedly pursue it because we weren't hearing the music that we wanted to hear coming from other bands, and we believed that we could make that music ourselves. We felt that we had something new to offer, otherwise we wouldn't have taken it so seriously. So if a teenager wanted to pursue music the way we did, I would have to tell them to sit down and ask yourself, do you really believe that you have a unique vision? Are you going to do something unique or are you going to try and re-write previously written songs? I mean, I know that it is impossible to write something 100 percent original, and I know that we have ripped off other band. It's inevitable. But we've always believed that we're creating something new and pursued music with that spirit. And if you don't have that spirit, I don't think you're going to appreciate the, as Jim said, very few rewards that a music career offers. Unless you want to try and make money copying other bands. Good luck with that.
BECKY: If you're going to be in a band then I think it's crucial to have band members that are also your friends. You need people who understand you on a deeper level than just music, have similar intentions and ambitions, people who "get it." If you have to work a sh*tty job then get through it by thinking about music and leaving work at work. Love every minute of it because you're doing what you love. Most importantly, never stop.

-Danno
Tell me how things have changed in the writing and recording process with the addition of Becky, with having her energy in the mix and having a full time bass player on board.
Were there other things about recording this album (again with the amazing Tim Gilles) that were different, better or worse, than your experience recording General Winter?
DAN: Some of the people from the studio made the remark that when we recorded General Winter, we were a lot more withdrawn and moody, but the songs were more kind of whimsical and upbeat. But this time around, we were more friendly and laughing a lot, but they noticed that all of the songs had these particularly miserable lyrics, haha. But it was phenomenal. There was this general feeling in the air that we were going to record something special, and we could take all the time in the world to make it great. I started to see Tim less as this strict father figure that I had seen him as before, and more as an old friend and a great collaborator, and someone I really trusted musically. It seemed like everyone involved was putting a lot of love and care into the songs. It's funny, because there was a lot of darkness and heaviness happening in our personal lives. But honestly, I would say recording Rabbit is something that I will always look back on as one of the best experiences of my life. And all of the engineers were fantastic. We wound up recording with Chris Larson the most, and we had a lot of fun. He introduced us to an anime about baking bread and got me started with a serious Starburst addiction.
PAT: Becky's enthusiasm for new music is infectious. She loves writing. It's so important to have that excitement in the writing core. It encourages everyone to work at a high level. She also comes from a very different musical background and will slam things when she thinks they suck. Dan and I are brutal with one another but we usually know what the other's thinking. Becky will come out of left field and point something out that we would've missed. She's very aware of the brother's tendency to reach into their bag of tricks when stumped and is constantly pushing for something different. She's a true "progressive" artist but refuses to admit it.
In answer to the second question I had a lot more confidence recording this time around. That's not to say that Tim wasn't actively doing as much as he could to destroy me (just kidding of course…not really..) but I was a little more prepared for what I was getting myself into. I knew what I wanted from myself on this record and I got pretty close to it. I was just a lot more focused. There were a lot of very sad things that were happening around us as we made Rabbit but we were able to separate them and even draw inspiration from some of it. We were on a mission to make this damn thing and we did it!

-Becky

Give us an update on any label news. I know you guys have entered agreements with different companies for distribution despite not having a standard recording contract. Anything you'd like to share about these issues?
DAN: We recently got involved with Laser's Edge and they're great. We've got other distribution companies helping us out overseas, and CDBaby has yet to let us down. I like what we're doing right now. It's working. I don't want to sign with a record label unless I know that they're going to do a lot more for us than we're doing on our own right now.
PAT: There's a lot to be positive about right now. We're selling a lot more cds than we anticipated and we're meeting a lot of helpful and influential people who really love what we're doing. We laid the groundwork with "General Winter" but the reaction we're getting from "Rabbit" is incredible and shocking. This is how these things work, some bands strike gold on their first shot, others have to earn it and we are earning it. We've been winning fans one at a time since the beginning and it's really starting to pick up. Remember, we were doing this years ago when no one had any idea who The Tea Club was and we'll continue doing it whether anyone cares or not.
There have been some truly heated forum discussion on ProgArchives lately about illegal downloading and its effects on the lives/livelihoods of musicians. Some say the train has left the station and bands need to adapt, others admit it is happening but excoriate those music fans who will take the fruits of a band's labor without paying for it. Is it "theft?" Some insist it is not "stealing" while others insist that it is. I would like to know how all of you view the issue of illegal downloading, not only as it may affect you, but in general terms and moral terms.

JIM: I'm going to answer this fiercely and logically. I don't think music piracy is stealing so much as it is not paying someone for a job they did. It's really more like hiring somebody to do your plumbing and then refusing to pay them- it's stiffing them. Would you like to work a week and then not be paid at the end? Probably not. I am open to illegal downloading simply because I do perhaps stupidly believe that if people do end up liking what they download they will get gratification out of eventually paying the artist- because surely on some level they realize not paying the artist will eventually prevent the artist from creating more art.
But that's what it really comes down to- we enter into this as a job. Not too many people enter into a career expecting not to be paid- but that's what musicians do all the time. In the back of their minds they believe that eventually their contributions will be recognized and they will be compensated. No other profession is like that. It's almost like you have to earn the right to be paid for what you do. But really we're entertainers. You pay the clown that entertains at a birthday party, right? Well certainly we're more entertaining than that so we do deserve to be paid. But alas.
DAN: I don't feel particularly affected by it. One has to understand, from my life experience, music was never something that you could make a lot of money off of. You do it because you want to create art and you love it, and you make money to support it by doing something menial, so long as it doesn't severely disable your ability to create art. So I really don't care about illegal downloading, and that's just me being honest. I think the change has already happened, people are going to do it, and it's going to take an act of God to stop it. But I've had some positive experiences with illegal downloading when I was a teenager. It was really helpful in finding songs from bands that I loved that were B-sides or live unreleased things that I just couldn't find or order anywhere. When I found the treasure trove of unrecorded live Jeremy Enigk songs and Sunny Day Real Estate B-sides online, I indulged. They were awesome. I would never have gotten to hear them otherwise, they were unavailable. So in that aspect it's great. But the people who still pay for music are the ones who are going to follow your career and listen to your songs more than three times and in the proper order. Those music fans still exist, and them paying their own money for our music is an act of love, and I think it creates a stronger bond in the artist/listener relationship. I know I sure appreciate it, because they don't have to do it.
PAT: I have no real moral opinion on this. People wanted anarchy and they got it. For anyone in our situation it's good and bad. For people who aren't musicians I guess it's mostly good. They get music for free and everyone likes getting cool stuff for free. I think recording studios are the ones suffering the most and I think that's what will really change. There's gonna be a lot more horribly recorded/produced music available now that every idiot with a laptop can make a record. It's a double edged sword, you're gonna have to sift through a lot more garbage to get to the good stuff. But on the other hand poor bands and rich bands are finally on semi-equal ground and that's kind of encouraging. I personally believe that the Greed of Man will win out in the end. There's too much money still to be made in music and there's no way it can continue to be freely shared for the common good of the people forever. Someone will find a way to restore power to those who want it and we may find ourselves looking back fondly on these days of free pop culture. It's probably going to end up being a lot like the Terminator movies… or Back to the Future 2.

-Jim

Of course one cannot live on prog alone, and so I ask how do The Tea Club amuse themselves? Outside interests? Hobbies? Bowling league?
JIM: Playing Animal Crossing. I also love Mega Man. I write a lot- poems, stories. Dan and I have been making comic books for a decade or so. More than anything though, Dan and I just try to keep everybody laughing, which is about as much fun as one can ask for.
DAN: Outside of music, I love to draw. Me and Jim have begun doing a new series of bizarre comic books, and it's exciting. I don't really have any intent on releasing them or anything, we do it just to stretch our imaginations as far as we possibly can and make each other laugh. I've also taken to attempting to beat every officially released Legend Of Zelda title available in the US. I mean, I consider myself a hardcore Zelda fan, but I've never actually beaten the original Zelda for NES? Or the second quest? Unacceptable. This must be corrected.
CHARLES: Lots and lots of anime, and watching the Philadelphia Flyers. They go together right?
BECKY: Sewing and looking at pictures of baby animals on the internet.
PAT: I read. Often. I also enjoy aimlessly walking around, although I haven't done that as much as I'd like to.
What's a typical group meal like at Tea central? Anyone have a special dish?
JIM: We have made multiple group trips to Wawa. Of course, I love pizza.
BECKY: Coffee.
DAN: Yeah you would think it would be tea, but coffee seems to be it for us. Although Becky refuses to drink the coffee I make because of the "weird" organic sugar and milk I use.
PAT: I wouldn't say anyone "cooks" in The Tea Club. In fact I don't believe anyone "prepares" food in the band either.

-Charles

Do you have any plans or perhaps just intuitions where the Tea Club "sound" will be in several years? Are there different areas of music or songwriting that you wish to explore?
JIM: I think the best is yet to come. I believe the sound will get more expansive, and we have a few ideas for some things to exploit the three guitars. The truth is though that Dan and Pat really have a treasure trove of material that continues to build, and the future will be a good mixture of stuff they've been working on for a while now as well as completely new things.
BECKY: I want our sound to get weirder, maybe slightly more groovy. But that doesn't really correlate with my main ambition as a keyboardist which is to construct the most intense chords possible.
PAT: This is a new band. The first 2 records stand for what they are, I love them and am exceptionally proud of them but I expect new tea club to be radically different. It has to be. The first 2 records were Dan/Pat/Kyle and later Becky. Without Kyle that Tea Club simply cannot exist and the worst thing we could do would be to look backward and try to recreate or worse yet imitate what we have already done. It would be disrespectful to our fans and to our founding drummer. I would look for new tea club to be heavier and faster in spite of my growing hatred for loud rockin' tunes. It's really unavoidable with all these maniacs in the band now. Becky is a classically trained pianist, Joe, Chuck and Jim are all multi-instrumentalists and I've been fiddling around with a saxophone. There's a lot of talent in this group and I plan on squeezing out every ounce of it I can.
DAN: I want to continue to knowingly allow songs to have way too many things going on at once when they would clearly benefit from being simplified.
I remember that some of you are old Genesis fans so I want to ask a prog-geek question to whomever wishes to play. What is your favorite Genesis album and why?
JIM: I love Duke. Particularly the first track, the drums are great. But my favorite Genesis song is 'For Absent Friends'- it's one of the most beautiful things I've ever heard.
CHARLES: I think I am also gonna agree with Jim on this one and go with Duke. Dukes Travels is a pretty great song.
DAN: Nursery Cryme for me. I love every moment of that album. Every instrument is so imaginative; the story-telling is top-notch... And it has this kind of innocence to it, because they're so young. I remember being shocked when I saw videos of them from this period, because they're all like 20 and they look great. It sparked my bizarre hetero-man-crush on Peter Gabriel. Probably another reason for my love of this period of the band. But very recently, I too have begun to appreciate Duke. It's really not bad. I mean, it has "Misunderstanding" on it, which reminds me of every retail job I ever have had. But "Guide Vocal"… man, what a melody. That song, "Man Of Our Times", and "Duke's Travels" are actually becoming some of my favorite Genesis songs, PG or PC.
PAT: Nursery Cryme is my favorite as well. It was the first Genesis album I really listened to and eventually fell in love with. So it has the most nostalgia/sentimentality for me. That being said Selling England by the Pound is probably their greatest achievement of that period. It's a flawless piece of art as far as I'm concerned.

-Joe

The band has received so many great reviews of the debut album. What are some of the most memorable lines to you personally that reviewers have written?
DAN: Putting your album out to be reviewed is scary, because you're opening yourself up to internet reviewers who listen to the first song and go "ths album is horibel nd there all ugly!!" and post it on every website imaginable. But the first review I read was from Micah Rollins here on ProgArchives, and he said "this is a prime example of what actual passion and love for originality in music can bring." I really didn't expect it. Reading a lot of those reviews, I couldn't believe that people were actually "getting it".
JIM: I'm pretty sure somebody accidentally referred to 'Ice Clock' as 'Ice Cock', which surely takes the cake.
BECKY: I recall "Beach Boys on speed" while referring to Werewolves. Not accurate but hilarious!
PAT: Yeah, someone also said something about us sounding like a cross between Billie Joe Armstrong and Brian Wilson. They really hit the head on the nail with that one…(*sarcasm*)…We're also getting very few Rush comparisons for the new record which makes me happy.. I also like the reviews that only mention the first song cause I like to imagine the reviewer listening to the first 2 minutes of the record, throwing the cd in the trash and writing the entire review before they knock off for bed.
Pat I believe said the theme of the debut was: "a lot of it is about fear and doubt. There's a sense of longing. Longing for life to be different." How do the conceptual themes of the new album differ? Elaborate on what you want this new album to say to the listener thematically and musically.
DAN: Well, me and Pat wound up writing a lot of lyrics individually, so you have two different stories from two different characters. When we were putting the tracklisting together, we wanted the two stories to be flowing together. The story that I wound up telling is about someone who decides that reality isn't good enough, and that they don't want any part of it. So they go into their own world. But something tragic comes and yanks them out of it. And even though they're almost destroyed by it, they endure it, and the small amount of good in this world is enough to keep them alive. We always knew that Astro would be the last song, but originally I wanted Royal Oil Can to be second to last. Because that song is about feeling saved by the love in this world that really does exist and is real. And it would be a very uplifting closer. But I like how it turned out early in the album. Because there's so much more hardship that you endure AFTER you get to that point where you've been saved from despair and you can go on. You have to keep living and face reality again. And you question everything again, like in the middle of Nuclear Density Gauge. But that's why I like Tumbleweeds where it's at. I see that song as looking outwardly defeated, but actually being at peace. Even if it doesn't look that way, or even if you don't always feel that way. You've been through so much that you're at peace with surrendering to something that's out of your control.
PAT: Rabbit is about the destruction of innocence. It's about cruelty and the desire to flee it. It's about bitter acceptance and the turmoil it causes….It's also about magicians and spiders so deal with it!!
Teas, please fill us in on the changes and the new people joining the group.
DAN: Well, Becky has switched from bass to full-time keyboardist. Jim Berger, our original bassist, rejoined the band and is playing guitar. Charles Batdorf is playing bass, and Joe Rizzolo is now playing drums.
BECKY: For lack of a better word, everything is a lot more "epic." With this line-up we're able to recreate the full sound that's on the album. Each of us has room to reach our full potential as instrumentalists because we're not stuck trying to accomplish more than humanly possible! This has been a Tea Club staple for as long as I've known the band so there's a lot of pressure taken off of everyone.


If the new guys wish to introduce themselves, have at it here. Tell us about yourselves and your thoughts on joining The Tea Club.
JIM: I am actually a very old member of the band. It's been six years since the last time I was in the band and I'm hoping this time to ride things out for a little bit longer. I don't think I could say I helped conceive the Tea Club, but I certainly watched it happen. After what I guess you could call a falling out, I eventually formed a band- ironically enough with Chuck, and now here we both are playing together again and with pretty much the same equipment to boot.
What I really want to say is, this is the modern equivalent of being asked to join Yes or King Crimson in the early 70's. It's a high honor. And although we've all been through a lot we are putting our best feet forward and I think what you have now is a group of people who truly love what they are doing, and I am hoping the joy rubs off on the audience too. These guys deserve to succeed. Heck, all of us do.
JOE: I am a musician who has been playing and performing music for more than half of my 21 years on this Earth. Music is my love, and I am open to all forms and styles. Playing in the Tea Club has been wonderful and I hope to do it for years to come.
CHARLES: Well I have played music for about half of my life now. I have also known Dan since I was 5 years old. Jim and I were in another band for over 3 years. I never thought I would be a member of this group though. It's a great thing to be in a band and play music and hang out with people that you have known for that long.
BECKY: Saying that I love the band as much as when I joined would be an understatement. I love it now more than ever. It's been a VERY stressful journey but it seems like everything is falling into place. Finally! We have matured tremendously. I have been trying to become the "unfalteringly optimistic" member of the band and hopefully that's more encouraging than obnoxious!

-The Tea Club 2010



Thanks for the early copy of "Rabbit" which will be on my 2010 best list. It's a truly wonderful piece of work that I've been playing almost non-stop for weeks. Tell us about the title, the cover, and the significance of the rabbit.
JIM: I personally choose to believe the rabbit is a call back to 'falling down the rabbit hole' from 'Ice Clock' at the end of General Winter's- but I could be wrong there.
PAT: I don't want to give too much away but the rabbit represents childhood and the surrounding monsters represent all that destroys childhood. (Freud would be having a stroke right now…) Kendra DeSimone (info at bottom) painted it in 2 days and would send me pictures on my phone of its progress. I knew from the first picture that it was going to be amazing. We must have come up with about 150 album titles but it was Tim that suggested we go with Rabbit. "Remarkable Lives", "Blue Morning Moon", and "Maximum Love Vibes" were all close contenders…there's a little tidbit for ya.
"Diamondized" seems a very personal track with the lines "One too many thoughts I've had to avoid---that could not be deeper in my head---I used to let that get to me---But now I look for the good in it." I notice heaviness running through many tracks but also a hopeful feeling. Clouds but ultimate optimism. Fair assessment?
DAN: With "Diamondized"… that's a particularly tragic song. But I'm happy with how the lyrics came out, because I expressed that particular feeling as best as I possibly ever could. That feeling of true, world crushing, soul sucking anxiety. The thoughts that won't leave you alone. You try to fight it and you're defeated over and over. A psychiatrist would have a great time with those lyrics, I'm sure. But yeah, absolutely, we had to have ultimate optimism. We were getting pretty far out there, as far as the darkness and the pessimism and the misery. So we felt that we had a responsibility to throw in lines about faith and redemption. Really, the darker lyrics, like in the middle of Nuclear Density Gauge, weren't intended to be taken out of context from the rest of the album, because they go exactly against what I ultimately believe. What I believe, as opposed to my feelings, which are constantly changing. I do have faith in God and I do believe in miracles. I just don't always feel that way and I'm being honest about it. Sometimes I feel like I have to do everything myself and everything will let me down and I experience a lot of doubt and fear. Because I'm human. And it's therapeutic to get that out of me and sing it. It's a cliché I guess, but I cannot sing with authority something that I don't actually feel. But it was very important to me to make sure that those dark feelings didn't become the ultimate theme of the album.


What did Steve Shelley do to deserve it?
CHARLES: Talk to us in the first place? If anyone knows The Tea Club and how we are with directions I don't think he would have even bothered.
PAT: I'll give you the true story behind this song in a rare candid moment. We went to see a Thurston Moore solo show in Philadelphia a few years ago and got to hang out with the band afterwards. Steve Shelley is the drummer for Sonic Youth and was playing with Thurston for his solo gigs. Steve lives somewhere in northern New Jersey and asked me how to get to the Ben Franklin Bridge which would take him back to Jersey (yes, Philadelphia has a bridge named after Ben Franklin…they also have one named after Betsy Ross…). I was a little star-struck and very quickly gave him what I believed at the time to be correct directions. Later that night I relayed the story and to my horror realized that I had not only given Steve Shelley wrong directions but that the directions I gave lead to a notoriously bad neighborhood in the city. Sonic Youth has since released another record and Steve Shelley is rightly behind the drumkit so we can all breathe easy but things were a little sketchy there for a while.


Acoustic guitars come alive on this one. Nice touch.
DAN: I loved having the two acoustic songs on Rabbit. I'd like to include it more. I've even joked around with the band and told them that I will only play acoustic from here on out. Like Robert Fripp in the 80's: "No cymbals and no phrasing." Just be extremely dogmatic and only play the acoustic guitar.
PAT: Royal Oil Can and Tumbleweeds almost didn't make the record. We weren't going to show them to Tim because they were so unfinished. Becky and Kyle didn't have anything for them and Dan and I had played them together only a few times but we decided to demo them anyway. Tim instantly loved them and insisted we include them. Kyle had to write the drums in the studio for Royal Oil (with a little help from Tim..) but it turned out being easily one of my favorite tracks. For my money Dan's lead vocals on both acoustic songs are the stuff of legend. It's frail, human, beautiful, singing that gets captured on tape RARELY! He insisted on sitting on a stool to record them. The engineers tried to talk him out of it but he wouldn't budge.

"Tumbleweeds" is another powerful track with a great vocal and mood. I love the imagery and especially the line "I must look dead Frozen in the Silver Flower Bed."
Can you tell us a little about the silver flower bed?
DAN: Those lyrics came about in a really bizarre way. I remember being in my living room and lying on a couch really late at night when everyone else was asleep. I don't really remember why, I think maybe I was reading or something. Now sometimes, when I go for a long period without sleep, I start to get in this weird state of mind where my imagination runs particularly wild. Well I was lying there with my eyes closed and I started to picture these strange things. It was like I wasn't really thinking of them, I was just seeing them. (Now before I go any further, I have to state that I don't do any drugs unless they are prescribed by a doctor. Literally. A lot of people have a hard time believing that, but it's true.) Anyway, I started seeing images of this garden in the winter, and these tall blue giants kind of gliding around on a frozen lake. So I reached for my notebook and started writing down all these things I was imagining. And I picked a lot of lines out and used them for Tumbleweeds. But the "silver flower bed" line was about lying in this ice garden, all the flowers are made of ice and you're looking up at the sky and it's that weird solid grey color that it has during a snowstorm. And to any passerby, you'd just look like a body that had frozen to death.


Tell us about Tom Brislin, how he came to work with you, and about the expanded role of keyboards on the new album.
DAN: Being in the same room with Tom Brislin and watching him record those parts, Tim suggesting something completely crazy and him just making it appear… He's a magician. A true virtuoso player. And literally one of the nicest people I've ever met. He also owns a phenomenal pair of mint green corduroy pants that I am extremely jealous of.
JIM: I met Tom once with Dan and Pat at a show- he was playing with Francis Dunnery. Tom played some good keys on the album but his greatest contribution may have been the hilarious stories he relayed to Dan and Pat about touring with Yes during the Yes Symphonic tour.
PAT: We met Tom through Brett Kull from the mighty echolyn. We became friends with Brett and the whole echolyn crew last year and they suggested we contact Tom and see if he'd be interested in recording with us. We showed him some demo stuff and he really liked it so he agreed to play on the record. Tom recorded all his parts in 2 sessions. He's an absolute genius and like Dan said one of the nicest, most down to earth, most supportive people I've ever met. He was perfect!


Questions for Becky specifically. I enjoyed your bass playing very much on Rabbit and found it had a grounding presence to contrast the freedom of the McGowan guitar styles. Are you going to miss the bass?
Also tell us about your switch from bass to keys, reworking the Brislin parts, etc.
Last, how did you like the recording process and are you pumped for shows?
BECKY: I will miss playing bass. Of course I loved playing the bass-lines and I spent a lot of time practicing and defining myself as the bass player. I really couldn't see myself as anything else. I started playing keyboards as an additional sound for the quiet sections when bass seemed inappropriate, which ultimately led to just being mediocre at both. I knew I wasn't flourishing but in no way did I want to be the full-time keyboardist in a prog band! The concept sounded completely foreign to me but it's fantastic because there's an exorbitant amount of freedom. I feel like I'm extracting the best of my abilities as a musician. I can do weird, even tasteless riffs if I want to. That doesn't mean I will (everyone in the band knows I take a lot of pride in trying to be tasteful!). Contrary to popular belief, I have a soft spot for progressive rock. I'm still trying to figure out how to digest some of it though (i.e. Genesis). For the record, I will openly profess that Firth of Fifth rules from beginning to end.
As for Tom Brislin, I credit him for his contributions and for indirectly challenging me. Recreating and reworking the parts enabled me to push myself as a keyboardist while discovering my own "style," per se. There wasn't the pressure of writing an album's worth of material and I got to put my own twist on it while transcribing the music to our live sound. In retrospect it was the most opportune time for me to switch instruments. I'm excited about it. ALSO TOTALLY PUMPED FOR SHOWS. Seriously!


I feel the album is a complete victory for music that I often refer to as "sincere" or "authentic." It feels completely from the heart and devoid of any compromise. These are traits that make for something really special. I guess that's not a question. Comment?
DAN: It's of utmost importance to us to preserve that authenticity. A lot of great bands, prog and otherwise, have that authenticity until it's compromised by the idea of making the music a product that you're selling. It's just repulsive to me to think of purposely doing things to the music we write to make it fashionable so we can be rock stars. It seems so ugly and wrong. Maybe the idea of rock songs from a rock band meaning more than money is ridiculous to some people, but it's precious to me.
JIM: I don't think the band ever would compromise its vision. Honestly, in Dan and Pat you have such great songwriters that whatever they come up with will inherently be listenable- they don't write things that are catchy- they write things that are truly memorable- and there's a big difference.
JOE: Writing and performing with one's soul has always been important to me and is the only way I wish to partake in music. No matter the setting, music, as in all life's ventures, is done best when it is done with love. When I first heard the band I heard music that, primarily through vocal delivery, for me, delivered love and passion in their music. That is why I have been glad to be a part of this group: the never lacking soul.
PAT: We actually paid Joe to say that!!
DAN: Pat WOULD say that.
"Astro" is a favorite of mine and closes the album with epic feel. Musically and lyrically this one seems to pull out all the stops. Tell us as much as you wish.
JIM: The most interesting thing I know about 'Astro' is that it has a thematic brother- a song called 'Soap Man' that got aborted and that is potentially every bit as epic. And yeah, 'Astro' is quite an epic. Also, Tom's solo in the beginning of 'Astro' was so brilliant that Dan painstakingly learned it note for note on his guitar and recreates it live every time- it's a favorite moment of mine.
PAT: Astro was one of the last songs written for Rabbit. A lot of the chord changes and melodies had existed for a while but it wasn't until I got an acoustic 12-string for Christmas that we put it all together. Dan and I basically arranged the entire thing on Christmas day and recorded an acoustic version of it to show to Kyle at our next rehearsal. He loved it and was actually afraid to play on it (the hallmark of a truly great drummer). We worked on it for weeks. It was a tough song to translate into a rock song but I think we made it work. Astro was also the first song Becky worked on! That's a trial by fire if ever there was one. The lyrics were intended to sum up the themes and recurring stories of the entire record. I wrote pages and pages of stuff and it took me a long time to find what I wanted. But we needed it to resolve in some way lyrically. A lot of people questioned why we ended the record on such a dark note but to me it's a positive ending. It ends with faith albeit a broken faith. That's something I relate to.

If there's any justice in rock and roll, this thing will take off for you guys. Is everyone ready to travel and do shows/festivals around the country and/or Europe should the opportunity present itself?
JIM: I think we are about as ready for that as we will ever be. The Tea Club always had trouble becoming a dedicated live band- always some hitch arising to throw things off just as a line-up gelled. I believe this group's a keeper.
DAN: Totally. In a heartbeat.
JOE: I live to spread hope and a positive outlook through music, and in this group, that message shines through in the passion and love with which we perform. It is truly a blessing to be alive and able to perform music at any level, and look forward to continuing to do so. Hopefully, the world will give us the chance to continue to perform and share our passion with all of those who will listen.
CHARLES: Hopefully. I mean that's what I'm looking forward to at this point.
BECKY: HELL YES!!
PAT: It's always been my dream and we're doing everything in our power to make it happen.

If I can get personal one more time, what does it mean to each of you (Dan and Pat) to be in a band with your brother? I noted in my review that the dual guitars and your vocal harmonies often sound "intuitive" in the way they work together. Explain the dynamic a little if you can.
PAT: Dan is my closest friend and ally. We survived a very strange childhood together. Our relationship is very unique and is probably most similar to old war buddies! He's likely the only human on earth that really understands me. We have a strange link in all things in our lives. We always know what the other is thinking and we finish each other's sentences. We're basically identical twins separated by 3 years. This is probably most apparent when we write music. We don't really have to try, it just happens. When Dan works on a song I wrote more often than not the first thing he plays becomes his part. He only needs to hear it once and he just picks it out of the air like it was waiting there for him already written. His musical ear is unearthly. And it's not schooled, it's COMPLETELY intuitive. Tim (the band's producer) has referred to us as gifted natives. That's probably the most accurate assessment. We've jammed and written with other musicians of high musical education and they're always dumbfounded by our ability to communicate with one another. We just have a 'Thing', that's all there is to it. I'm of the opinion that it is not of this world.
DAN: I was going to answer this too, but Pat already said exactly what I was going to.


Famous last words until we speak again?
JIM: It was an honor to be interviewed by a fellow Jim. I can dig some Italian prog. How could anyone not love the bass line to PFM's 'Celebration'?
CHARLES: Don't trust Bronson.
DAN: During the time I started this interview and the time I finished it, I beat the first Zelda for NES. And the second quest. Although I did have to use GameFAQs.
PAT: During the time I started this interview I tried and failed to finish Catch-22 for the second time in my life. I bitterly accept the fact that I will never finish anything written by Joseph Heller.
I want to thank The Tea Club for the great music and the interview. Thanks to Tim Gilles for his hard work recording these fine albums. Thanks to Kendra for the amazing album cover. I thank Kyle for blowing me away with his playing, and I want to wish him the very best of life. Special thanks to Dan for your friendship and wisdom. And thanks to the Rabbit for being a soothing force during a rather sad season of my life. There's soul in them thar' songs. Buy Rabbit. It kicks ass.

-former drummer Kyle Minnick

For more information:
The band: http://www.theteaclub.net/index.htm

The producer: http://www.bigbluemeenie.com/website/index.php

The cover artist: http://www.kendradesimone.com/index.html


Edited by Finnforest - November 22 2010 at 07:59