Claiming eccentric titles like Free Jazz, Spazzcore and Avant-garde; though descriptive they don't quite show justice to "The Flying Luttenbachers" music scope. Hailing from Chicago their root span back to 1991, when 18 year old free Jazz fanatic Weasel Walter (multi-instrumentalist) was to join musical forces with Arts Student Bill Pisarri. Right off the gun they found their roots, rehearsing as an improvisational collective. Later on that year (in December) the duo recruited accomplished saxophonist Harold Russel and concocted the name "The Flying Luttenbachers". Several lineups and albums followed.
I got in touch with Weasel Walter for The Flying Luttenbachers story.
-------------------------------------------------------------------------------------------------
Your biography has been covered in your ProgArchives profile so let's bypass the biography details.
Why did you chose that name and which bands were you influenced by ?
By the way, my first name is Weasel and my last name is Walter. If we were in Japan, i suppose my first name would be Walter by the looks of it, but in English it's not! I don't know why people cannot get this right . . .
The Flying Luttenbachers began in Winter 1991 as a duo with myself and the late musician Hal Russell. My friend Chad Organ invited himself into the band soon after and we took the name as a play on Hal's given last name "Luttenbacher". It's purely sophomoric. Arbitrary. After Hal left the band in mid-1992, some people thought it was inappropriate that I kept the name. At that point it had taken on a bigger meaning: it became a brand for the aesthetic I intended to promote. The group was originally a democracy, but I took over as a sort of benign dictator quickly. I had a lot of ideas and I was trying to push things very hard. I don't think many people could keep up with me or saw things in the way I saw them. I had to become the leader to get things done.
Was and is there a like minded music scene in Chicago and were/are you a part of this scene ?
The scene I related to the most in Chicago took place between 1993 and 1997 in and around the Wicker Park neighborhood. Living was cheap and there were a lot of unhinged personalities around at that time, so it was easy to be creative. I suppose our peers were people like The Scissor Girls, Trenchmouth, Bobby Conn, Quintron and the other members of his early band Math, Cheer-Accident, US Maple and the band Couch from Ann Arbor. There were a lot of other people involved, like Nondor Nevai, The Lumpen Times, Jeff Day, Kelly Kuvo, etc. but those listed were the main bands I could strongly relate to, despite the fact that musically we were all coming from very disparate styles. I also played in a ton of other bands in this period including Lake Of Dracula and Hatewave. At the time I had a strong relation to the improvised music scene in Chicago.
Ken Vandermark and Jeb Bishop were early members of the Luttenbachers and we were part of a large pool of free improvisers which were coming up at the time. Chicago really died for me after 1997 or so. The locus of our activities became gentrified and the scene was factionalized, so things sort of fell apart in terms of what I was personally interested in. I was pretty miserable after that until I got up the momentum to leave Chicago and move to Oakland, California in 2003. I suppose I had a reputation for being a somewhat difficult personality during the '90s. I had a tendency for being extremely abrasive and I was fighting very hard for my aesthetics and I really thought I had to wage war on the opposing forces. It was very grim, like war. Ha ha ha. Now I really don't care what anybody else does. I accept that I'm on the outside and I don't worry about it. If people have bad taste, it's really not my problem. There are still a few people out there holding a grudge against me and my big mouth, but they're going on seriously outdated information. Would they want the bullsh*t they pulled in grade school held against them forever? I don't think so. My inspirations were punk, free jazz and no wave. Whatever. What do you expect?
Over to your albums. Please tell us more about..........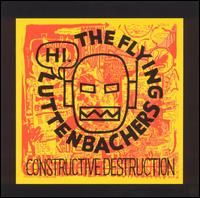 your debut album Constructive Destruction from 1994
The band morphed from an acoustic free jazz trio in 1992 and the beginning of 1993 to an electric quintet by spring 1993, adding guitarist Dylan Posa (Brise-Glace, Cheer-Accident) and bassist Jeb Bishop to the core of myself, Ken Vandermark and Chad Organ. By the Winter of 1993, I thought we were ready to record an album, so we went to the studio and hit it. Nobody there really knew what we were doing in terms of recording (that includes the engineers), so I wound up mixing it the best I could - which was not so good. Ha ha ha. One track came from a live gig in October 1993, but other than that, it's a fairly straight studio session. At some point I intend to remix it and reissue it, but I'm having a hard time finding the specific tape machine I need to do the transfer. Some people joke that "Constructive Destruction" is the album "girls like". It's definitely not the most complex music ever, but simply some kind of merger between punk/prog riffs and screaming free-jazz horns. It's pretty simple and somewhat elegant of a recipe really. I was into James Chance and stuff like that and I wanted to put no-bullsh*t rock aggression with crazy improvising.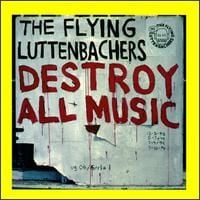 Destroy All Music from 1995
A very scrappy release cadged together from various live and studio tapes of dubious quality. This one kicked up the intensity a few notches and people still seem to like it. I was totally broke (as usual) so I recorded the band when and however I could. I mixed much of this stuff completely under the gun in people's living rooms and stuff like that . . . this was before the days of sitting at home and pro-tooling everything to a pile of slick garbage. I'd mix the stuff as fast as possible and go, "okay, let's get out of here!" Ha ha ha. I'm most happy with the definitive reissue put out a year ago by Skin Graft Records - it's properly mastered and features some powerful bonus tracks that reflect the volcanic energy of the live band from the time. Ken Vandermark is only on about half of this because he quit the band in Spring 1994 to pursue his own stuff. Obviously, he made the right choice. Ha ha ha. We soldiered on through the Fall of 1994 before I kicked the whole band out and made a few crappy solo singles. I also played some Flying Luttenbachers shows by myself with tape backing in early 1995. Very scummy, but real. I was hell bent on expressing my agenda.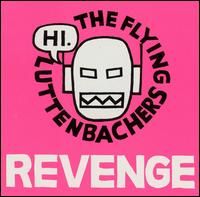 Revenge of the Flying Luttenbachers from 1996
Part of why I jettisoned the old band was that I was feeling like I wanted to really step up the intensity level much further than I thought those guys would go. It had to do with sensibility too . . . they had just way too much taste. I wanted to get really f**ked up and do something really crazy, way beyond chops and all this sh*t. Kevin Drumm turned me onto death metal around 1993 and that ethos was really influencing everything I was doing at this stage. I wanted to create something blasphemous and really radical. By mid-1995 I recruited my childhood friend Chuck Falzone and my dorm buddy Bill Pisarri to play with me because playing alone was too depressing and dark. Ha ha ha. In fact Bill learned bass in about a week to play the first show! He was always kind of a genius, so I knew he could pull it off. We were really extreme and people began to notice us pretty quickly. We got into flying a huge pentagram banner and makeup and ugly clothes and confrontation. By the Fall of 1995, Skin Graft showed interest in releasing our stuff, so we spent a few days in January 1996 recording the Revenge album in a tiny dirt-floor crawlspace under Chuck's apartment, cranked up to full volume. We mixed the hell out of the tracks in early 1996 and it came out later that year. Originally the cover was supposed to be bright red, but the printer didn't double print the pantone ink and it came out bright pink instead! Ha ha ha. At the time we were really pissed, but quickly embraced the irony in it. I did a rough remaster of it recently and it really needed it . . .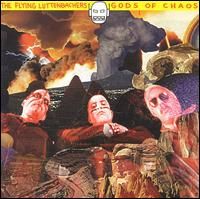 Gods of Chaos from 1997
Oh yes, our big concept album. Ha ha ha. Most of the material on this had been written by time of the Revenge sessions, but we had this idea of saving some stuff for a reaaaaally annoying album illustrating the destruction of the earth. We tracked it in mid '97 and just overdubbed the hell out of everything, making it as dense and weird as possible. All the mixing was done by hand on a board, with all three of us rehearsing complex slider moves and muting like crazy people. Jim O'Rourke - always a supporter of our band - helped us assemble the master digitally on his computer. I had a sort of nervous breakdown during the last day of the session and had to bail and get myself back together. It was a creative time, but poverty was really having a very negative effect on my psyche. I like the remastered version from a few years ago better than the original version. It's tighter sounding and louder, the way it should have been in the first place. All of my old productions sound like sh*t, but it was the best I could do. I learned a lot of things about recording the hard way. I'm a much better producer now due to this.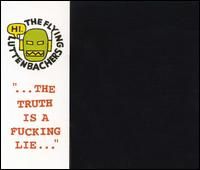 "...The Truth Is A f**king Lie..." from 1999
As if it couldn't get anymore dark and negative, here comes this one. The title is from a Nondor Nevai recording/sample and reflects my extreme discontent at this point. I was extremely impoverished and living on someone's couch when this record was made. The Revenge band had broken up and I wasn't really sure of the direction we were heading in beyond knowing I wanted to reintegrate free playing into the concept. The record itself is a bunch of badly recorded live stuff. This one really needs to be remastered very, very badly. It would be much more coherent if it were cleaned up. It was the best I could do at the time. The record was made for almost nothing and sounds like it. Regardless, it has this weird, dark appeal. Back in the day, a lot of people came to me and said it was their favorite Luttenbachers record. It's pretty naked emotionally and there's nothing pretty about it. I believe that real art isn't always nice and clean and obviously other people agree with me.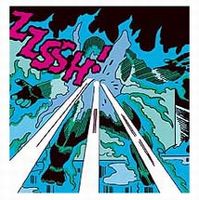 Trauma from 2001
From late 1998 through the end of 2000, The Flying Luttenbachers was essentially an improvised music project. The core of the band was myself (on snareless drumset), reedist Michael Colligan and bassist Kurt Johnson. We spent a lot of time talking about what the music shouldn't be and that's how we achieved our group sound. It really wasn't "free": we used a lot of cues and were very specific about what exactly we were playing, so by the time we recorded this session in 2000, our music was very tight and well conceived. Originally this was planned to be a triple LP, but two is plenty. Ha ha ha. I suppose you could relate it to free jazz, but it's not free and it's not jazz. We were trying to make an extreme statement and I think we succeeded greatly. The production, by Todd Rittmann (US Maple) and Rob Wilkus is clear and perfect. This album was a real step forward for the unit. Intermittently this lineup was augmented with the feisty cellist Fred Lonberg-Holm.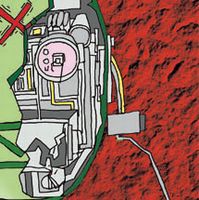 Infection and Decline from 2002
After a financially disastrous European tour in late 2000, I felt the urge to play hypercomposed music matching the kind of compositional ambition of groups like Magma, King Crimson and Univers Zero, so I found two guys who liked prog and started rehearsing. This record was made in Fall 2001 in a loft space on an ADAT recorder and it represents my move into mixing on home computer. At the time i was so fried that the mastering is really tinny and irritating, but this has been rectified on a reissue due in a few weeks . . . People will be really blown away by the new version. It sounds great. Basically this release is what I tagged "Brutal Prog": the complexity of progressive rock WITHOUT any of the "nice" stuff. Just gnarly dissonance and harshness. I definitely felt a comradeship in this approach with bands like Orthrelm, Hella, Upsilon Acrux, Grand Ulena, etc., but I think we took it to a certain extreme. Our cover of "De Futura" wasn't really a homage, but more like a research project. By taking that piece apart and putting it back together, I learned what writing a long-form piece was all about.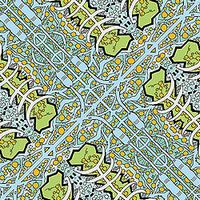 Systems Emerge from Complete Disorder from 2003
Speaking of long-form pieces, the 22 minute "Rise of the Iridescent Behemoth" from this album is definitely one of my masterpieces. I just really let myself go with this one and went for it. I didn't worry about any of it being playable or anything - just wrote music and pushed it as far as it could go. There's definitely a structural sophistication to this album that I'm very proud of. It's a true solo album. Every aspect (but the live photo!) was done by myself. What else can I say? Judging from this site, some "prog fans" really seem to hate the Luttenbachers music, but to me the term "progressive rock" isn't a style - it's an attitude. I am trying to progress rock forms into the future, NOT play some rehash of old "prog" music. Some people are just living in the past. It's their problem. They just can't take it. They can talk all the sh*t they want, but this album is exactly what I intended it to be and it stands the test of time. Furthermore, they can say what ever they like about it, but their dumb blather isn't going to be the thing that stops me from making my music. They are just being impotent and egotistical, that's all.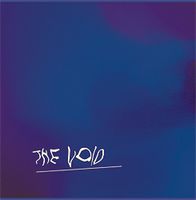 The Void from 2004
New year, new band, new city. Hello, sunny Oakland, California. After some people whined about how complicated "Systems" was, I thought I'd piss on their graves and write an entire album out of about four riffs and prove they wouldn't know the difference. Ha ha ha. I'm happy with this album. It's a musical suite and it's definitely influenced by Bartok, Stravinsky and Messiaen's approaches to structure. Of course, some people whined that the album was "too simple" or a "regression". I quickly learned that The Flying Luttenbachers were in a no-win situation with the fans: either it wasn't good enough or it was TOO good for them. Ugh. The problem with being too "progressive" is that most people just can't handle it . . . regardless, there was great potential with these guys and I followed the inspiration. This album is cold and cruel. A great modernist rock record.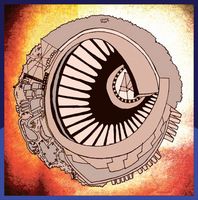 Cataclysm from 2006
By 2005 we were a four-piece with Ed Rodriguez (Deerhoof, Gorge Trio) and Mick Barr (Orthrelm, Krallice) on guitars, Mike Green (Burmese) on bass and myself. With two guitarists of excellence, I knew I could really push the music forward . . . Cataclysm is basically a studio recording of our repertoire from that year - a mix of old and new material - and another long solo piece. The structure, once again, is conceptual and illustrative of a narrative. I'm happy with the album and performances. Live "The Void", we did this pretty much live in the studio in an afternoon (except the solo piece, which I worked on for years) with almost no overdubs beyond some guitar doublings. 2005 had a lot of substitutions in the personnel, so it was pretty hard to move forward too quickly as far as new material went, but we did the best we could. There is a killer five-camera-angle, board-audio DVD of this band playing an hour long live set that I will release some day, but people need to wake up and give the band some credit before that happens. People should refrain from asking me about it - that's my stock answer.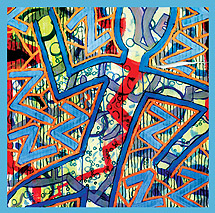 Incarceration By Abstraction from 2007

The live band met a very sad end by November 2006. We had the best line-up ever (including Mick's replacement Rob Pumpelly), playing the greatest material, but people were just not into it. Nobody wanted to hear what we were doing and it was getting really demoralizing for us, both psychically and financially. The amount of work we were putting into being the best band possible wasn't paying off in any way whatsoever and it ultimately killed the group. Imagine working full-time and not getting paid a dime: that was my life in 2006. My friend Nondor saw how unhappy I was and told me to just forget it and disband the project. I knew he was right. It wasn't done creatively at all, but the onus was too heavy, so I gave up. Before I officially ended The Flying Luttenbachers, I set about doing solo recordings of the material I wrote for Ed and Mick that we never got to learn and capped off the whole thing with a big riddle: The only Luttenbachers song with vocals ever. I made one more track for a compilation featuring Henry Kaiser on guitar and that was the end of The Flying Luttenbachers. RIP 1991-2007.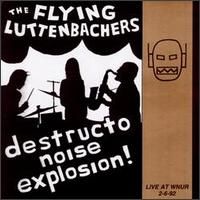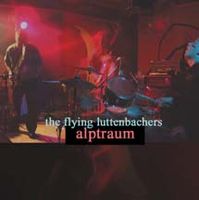 Your two live albums Destructo Noise Explosion: Live at Wnur 2-6-92 and Alptraum.
Well, "WNUR" was our first public appearance and "Alptraum" was a sort of stopgap album we put out to sell on tour. At some point, I will reissue the "Alptraum" music in a remastered form with some bonus stuff that will blow the minds of the fans of the free-jazz phase of the band. The original "Alptraum" has all these stupid digital glitches due to some computer incompetence by yours truly. Those will be corrected on the future editions.
How would you describe your musical journey and developments from debut album to the 2007 album ?
A pursuit of harmonic dissonance, complexity, otherworldliness, intensity and anger towards the norms of society.
How was the writing and creative processes in The Flying Luttenbachers ?
It depended on my mood and motivation in the particular era. The earliest material was limited to very simple jazz "heads" with soloing in the middle. I started working on more sophisticated forms as I got more ideas and technique. I always based my writing off of concrete abstract goals bearing in mind the personnel on hand - their strengths and weaknesses. Some people don't seem to get how deliberate my harmonic agenda was within the group. Every note made some kind of sense within the framework. I was trying to redefine tonality to my own personal needs and tastes. If it sounds like greek now, it probably won't later as people's ears become more open and sophisticated. I basically wrote the kind of music I wanted to play and hear, nothing more, nothing less. I always thought the way to be a great band was to be really different and go all the way. That might be true, but it doesn't mean anybody will realize it other than you. I'd love to restart the band at some point, but it would take some really unique musicians and I different social and economic climate. I'm afraid the current times are exactly 180 degrees out of phase with the goals of The Flying Luttenbachers. Now, I just make unpopular music but don't kill myself working so hard at it. Ha ha ha. I play what I like, but not many agree with me. Their loss!

How would you describe your sound and music ?
Fast. Dissonant. Devoid of conventional notions of beauty. Asymmetrical. Nihilistic. Complex.
It is my understanding from your homepage that The Flying Luttenbachers is no more. Why have you ceased the flight ?
Cannot afford to do it psychologically or financially at the level it needs to be at. There is currently no audience for this music beyond the few people who already know about it. People who want more should simply listen to the old records, or follow my diverse current work as an extension and/or extrapolation of the band.
What is your personal plans for this and next year ? Any chance we will see you active in any other bands or projects ?
Uh . . . if this isn't a stock question, I'm actually pretty offended by being asked this. My work has been absolutely ceaseless for almost 20 years and my output has been even more prolific since ending The Flying Luttenbachers. My web profile is easily accessible if one can muster the base intelligence to enter my name in a simple search engine. Magazines don't write about real music anymore, so you won't be reading about me in print any time soon. If people aren't paying attention, it's not my fault. I've never steered from my course. I've never pandered or compromised. My music and playing is as strong or stronger than it's ever been. I can't help it if people ignore my work. It's mostly because they are idiots with bad taste! In current culture, public profile often boils down to cash changing hands. Publicity is a pay to play game and not based on actual merit. I don't have any money and I don't wear brown lipstick, so you're going to have to try a wee bit harder to follow what I do. It's there if you bother to look. My goal this year is the same as any year: to survive.
So, to answer this f**king dumbly worded question: YES. I currently play in Behold...The Arctopus, a no wave trio called Cellular Chaos, a trio with Peter Evans and Mary Halvorson, a trio with Sheik Anorak and Mario Rechtern, a trio with Mike Forbes and Andrew Scott Young, Quok with Ava Mendoza and Tim Dahl, and a co-led group with Marc Edwards as well as continual ad hoc improvisation formats. I am negotiating joining the band Zs as well. My label ugEXPLODE is on its 45th catalog number currently. All of these groups will have releases in 2011. Before I left for the East Coast in December 2009, I was in the band Burmese, as well, which will have a new release featuring me on drums this year.
To wrap up this interview, is there anything you want to add to this interview ?
Real music has gone underground again. It seemed like for a while, everybody "knew everything" due to the seemingly omniscient intellectual umbrella of internet, but now it looks like to me that most people don't know sh*t! Great music is still falling through the cracks like crazy. I know mine is. I just think most people are stupid and confused. My art is the opposition to this. It's for smart people who want intensity and danger in their art. If you're one of those people, don't hesitate to get in to get in touch. When people finally catch up with what The Flying Luttenbachers accomplished over a 16 year life span, then, maybe, we will return. Until then, oblivion awaits .  .  .
Thank you to Weasel Walter for this interview