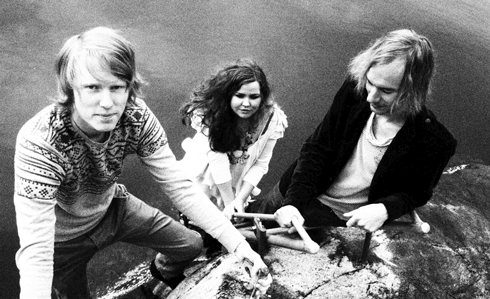 Maybe Funin is a new name here in ProgArchives but Funin are a Norwegian seven piece band which sounds like a cross breed between Robert Wyatt, Radiohead and Caravan. They have just released their debut album Unsound and I got in touch with them through their record label. 
Here is what they had to say.
----------------------------------------------------------------------------------------------
To start with, please tell us when, where and by whom Funin was started. What is your musical background, your musical inspirations and were you involved in any other bands before you started Funin ?

Funin started as a electronica duo consisting of Øyvind Vie Berg and Marit Elisabeth Svendsbøe.
They met each other in january 2005 and they immediately started to make music.
Their music where played on the radio in Norway and abroad.
As the years went by they found several live band members. Aleksander Tveit(guitar), Sissel Ørstavik(violin),
Edvard Mjanger(bass/contra bass), Audun Berg Selfjord(cello) and Hans Christian Dalgaard(drums).
Gaute Stedje and Mats Mæland Jensen came into the band when Hans Christian and Aleksander quit.
Mats became the new drummer and Gaute became the third songwriter in the band. 


Why did you wanted to play this type of music instead of any other form of music and what is the Funin ethos?

We make music we like. For us the songs have to be evocative or emotional. There need to be rythms and sounds that gets us excited and makes us want to play around with.



Please give us your long or brief thoughts on your debut album Unsound released earlier this year.

We have worked really hard with this album. It really lays blood, sweat and tears behind our music. We want to reach people who need our music and we hope our music can be therapeutic for some people.
We haven`t made music for the masses, only for music lovers.

This is actually our second album. We had material for a whole album that we were supposed
to release, but because of a bad record deal it didn`t get released after all.
When we got the deal with Karisma Records we started all over and made new songs.
So after all this time and struggle it`s a really good feeling to finally release "Unsound".

How is your writing and creative processes ?

We often work alone Øyvind, Gaute or Marit Elisabeth and make sketches for a new song. Then we sit togheter and share opinions, and if there is something we want to take further we work together to complete it.

The lyrics on this album is written by Marit Elisabeth and it`s both dark and optimistic. She write about loneliness, anxiety, grief, depression and hope. She writes both about her own experiences and to her friends.
She often writes metaphorically.

I would describe your music as a blend of Flairck, Aranis, the Canterbury scene, Radiohead and Bjork. But how would you describe your music ?

It`s very difficult to describe our music cause it`s not faithful to a particular genre.
We just want to make music we would be happy to discover ourselves. Exiting, inspiring music which has the ability to grow on you.
We are inspired by many different bands and Radiohead and Björk is certainly one of them.

Bergen has a wide variety of bands and music styles in addition to a university with it's own cultural scene. Many people would claim that Bergen is both the cultural (and the real) capitol of Norway. Have you found your
main inspirations in Bergen or have you lifted your heads above the seven mountains surrounding Bergen ?

Bergen is a beatiful city with a exciting cultural life. It`s like a meeting point for talented people from smaller places all over Norway. But the music we make is not inspired by any particular bands from Bergen.

You are a seven piece orchestra with some rather untraditional instruments in the popular music context. How is it to gig with so many band members and those instruments ?

It is demanding for the sound engeener but it is fantastic to be able to recreate the music live with so many skilled musicians. The only downside is that it is difficult to plan rehearsels.

What is your plans for the rest of this year and next year ?

We are happy to tell that we soon are out with a new music video signed Thomas Hicks with our song "Everything".
In a couple of weeks our new homesite is up and running.
We`re planning a tour for the next year. And we are still making new songs. 
Thank you to Funin for this interview
More information about them can be found here


Edited by toroddfuglesteg - December 27 2010 at 16:22