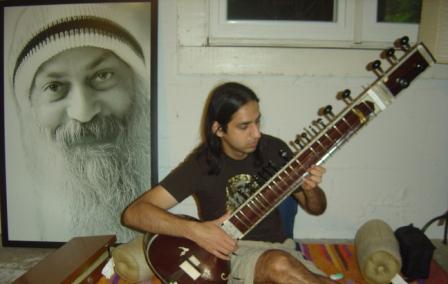 US outfit Red Orchid is the creative vehicle of vocalist, guitarist and composer Sanmeet Sidhu. Joined by drummer Tom Dupree, keyboardist Rick Stu and bassist Steven X an album's worth of material was recorded assembled in 2009. With Red Orchid as the moniker, the final product was issued in December 2009 as Sky Is Falling.

I got in touch with Sanmeet and he very kindly gave us this interview.
-----------------------------------------------------
Your biography has been covered in your ProgArchives profile so let's bypass the biography details. But why did you choose that name ?
That's interesting question to start up, cause no one's ever asked! The idea behind the name Red Orchid was to signify a certain vibe and freshness that ideally would be presented in the form of music.  I really liked it and felt just right for the kind of project I had in mind. Hard to explain but some words just naturally fit in, Red Orchid still has that appeal to me. A constant reminder to keep music pure and refreshing. And for a change, it wasn't something already taken! 

What is your musical background and were you involved in any other bands before you started Red Orchid ?
Musically, guitar has been the strength and primary source of inspiration. A lot of it is really self-taught although there has been contributions from at least couple teachers in the early stage. Overtime though out of just curiosity and pure joy of music, I have continued to explore and dab few instruments as I get a handle on. Few of these like Piano, Synths, Bass, Bansuri (Indian Flute) I played in the first record "Sky is falling" along with guitar and vocals. I think I just manage to get my point across. As far as bands, sure I have played in few over time but nothing worth mentioning really. All we did was play bunch of cheesy covers anyhow, and a few originals here and there.

Which bands were you influenced by ?
With only 30 minutes worth music to offer yet, if I were to pick few influences its got to be the heavyweights for now - Porcupine Tree, Rush, Pink Floyd, Opeth (softer side), Deep Purple, Thin Lizzy. Growing up I've spent more time playing Floyd and Rush than any other band so its natural for some of that to flow over. Going forward though, we'll hear a lot more diversification specially from some of the Post-rock, post-pop-prog, alternative side of music.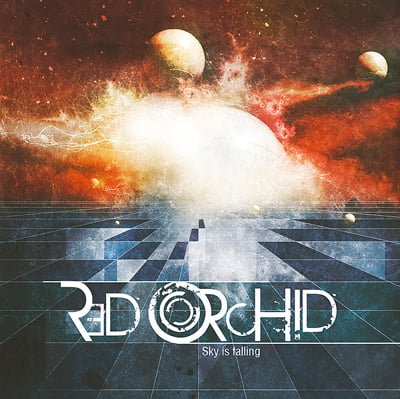 Please give us your long or brief thoughts on your only album Sky Is Falling released last year. How would you describe the music ?
Sky is Falling is melodic, dynamic and entertaining record inspired from bands I've appreciate growing up. Songs often shift from soft acoustic guitar and piano segments to heavy electric guitars. Total runtime is 30 minutes, 5 songs of which 4 hover around 7 minute mark. It's a work of passion, well balanced and honest record. To me that is the most important and fundamental objective. We've got some excellent reviews at DPPR, Sea of Tranquility, USA prog, etc that do speak volume about the music and confirm our view and belief in what we have done. 
From where can this album be purchased from and how is it's distribution ?
CD can be ordered any where in the world directly from band store (
www.redorchidbloom.com
),
justforkicks.de
music in Germany, or bandcamp. Downloads are pretty much available everywhere, Band store, iTunes, Amazon, eMusic, Rhapsody, bandcamp, etc.

How is your writing and creative processes ?
It's pretty straight forward. I write mostly on my own with a guitar in my hand! Sometimes an odd song pops out by jamming like the title track Sky Is Falling that was borne by playing with my then bassist. But mostly its myself messing around with the variety of instruments and gadgets I have collected overtime in my home studio. Both approaches have their pluses and its really down to the circumstances, preference, etc. In my case, I just dont get enough time jamming with others due to other commitments, so I spend a lot of time writing by myself pretty late at night. It really works well as I get the freedom and time to express however way I like to. Sometimes a tune pops out of nothing, just couple notes and it starts something. Other times the idea is there but I just got to grind my way forward. 
You are currently working on a new album called Blood Vessels and Marshmellows. What can we expect from this album ?
Strong dynamics, odd shifts and fluid album structure! It's going to be very different album from the first record. The biggest change is in the overall approach towards the writing process. Pretty much everything is laid out up front this time, including album title even before a note was hit. Most songs are written sequentially and I hope this is how the final product comes across. Much like a coherent unit where each song spawns the next one.  It's going to push a few boundaries for sure. There is this new dimension of Post-rock added to the mix but the overall sound is hardly anything close to it. The goal always is to explore new territories and add new flavors to what we already have cooking! More than half of the album is already done so we can expect it to be out sometime next year, likely the later half. The effort put in is huge and I think it will be for all to see. It wont be rushed so if its gotta wait..it will.
Besides of the new album, what is the latest update and your plans for the rest of this year and next year ?
Next album is for sure the priority! We recently released one track from the forthcoming album that can be seen above, also happens to be also our first video attempt on youtube. In addition, we are also continuing some promotion on our current record. Without any funding, backing, label support, management, etc its a lot of work to manage and cover all grounds. Add on top other commitments I have including a job, family, etc. Our policy has always been wait and watch, little baby steps at a time! 
I have a photo of Sanmeet Sidhu with an instrument I believe is sitar. As a curious cat; how is playing sitar compared to a guitar, technical wise ? 
Sitar is a very powerful and hypnotic instrument. As concept or technique, its quite different from guitar other than the fact that both are string instruments which actually does help a little for sure.  For starters, just the way you sit and hold the instrument is going to give some workout. Then its got some 17 odd strings, however you dont' really actively play on all of them. For example, the sympathetic strings (11 total) are behind the main strings and used mainly for droning effect that you play with your pinky. Frets are also much deeper maybe similar to scalloped guitar so the bends aren't anywhere close to how you would do on guitar. And unlike western music, there aren't any written notes either in Indian Classical. For decades, the knowledge has been passed on by word of mouth. If you hear a Tabla concert, you probably get the idea. It's like a language on its own. Then the Indian Classical theory that revolves around Ragas!

To wrap up this interview, is there anything you want to add to this interview ?
I would like to thank you for this interview first. It was certainly enjoyable to answer these questions. For readers, please take a moment to check out our music that is available for full streaming and ordering from our website. And finally, we hope to deliver some good new and fresh music in 2011, so stay tuned !
Thank you to Sanmeet for this interview