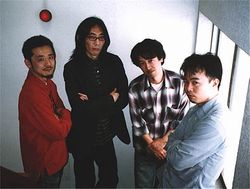 Pochakaite Malko is a Japanese band who emerged from Tokyo in August 1996. The name they took is Bulgarian for "just a minute". The origins of the band can be traced to the meeting of Shigekazu Kuwahara (bass) and Kazuo Ogino (keyboards) in a previous band led by Tatsuya Yoshida called Magma Copy Band in 1995. 
I and Keishiro Maki got in touch with the band for their story. Kazuo Ogino answered our questions.
----------------------------------------------------------------------
Your biography has been covered in your ProgArchives profile so let's bypass this and go straight to the meat. Your band have a connection to Bulgaria on the other side of the world for some reason. Please explain this strange connection.  
In the early days of our band, Shigekazu (Kuwahara) and I have been much immersed into Bulgarian traditional music.
With regard to myself especially, I have learned how to play Kaval (a Bulgarian pipe) or taken a short course in Bulgarian dance music & rhythm.
Consider, as a result, Bulgarian traditional music could exert much influence upon our music style (e.g. changeable rhythm, melody line) in our beginning.
Currently we have been more influenced by various conventional music all over the world (especially India, Arabia, and Asia) or classical music history (in ancient Greek or Europe), obviously.
Please give us your long or brief afterthoughts on..........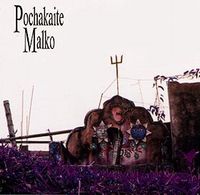 Pochakaite Malko from 2001
A work stuffed with all we wanted to do from beginning to end.
In this sense our debut album might be crowded with full of power, and simultaneously lacking in balance or unity.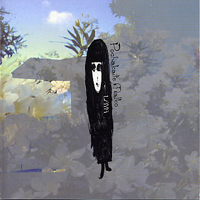 Laya from 2004
A violin-based creation after replacing some members.
We tried to play more naturally than the previous album dyed with violent soundscape.
"Laya" was recorded in the studio near Yamanaka Lake, where we camped and gigged together in winter ... this atmosphere might relax our music style in this work.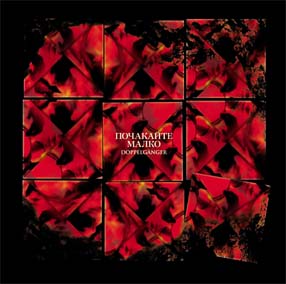 Doppelgänger from 2006
Dramatic alternation of sound technology or situation around us had come and produced this album. Most impressive for me, honestly.
What is the latest update on Pochakaite Malko and what is your plans for this and next year ?
Now under preparation for some gigs in Japan. Others have not been decided yet.
How is your writing and creative processes ?  
Always complete final arrangement via rehearsal, with some demo tapes previously arranged by each member.
Our original demos are sometimes drastically altered, and sometimes played as a complete arrangement with very little change.
Just to give those of us who are unknown with your band a bit of a reference point or two: How would you describe your music and which bands would you would compare your music with ?
POCHAKAITE MALKO's soundscape is "heavy, dark, violent, and beautiful music with various music essence, broken & reconstructed by rock rhythm energy continuing from 70s till now" ... in my own words.
How is life in Japan these days and how is the gigs situation for your band ? Is music your main occupation or do any of you have daytime jobs outside the music scene ?  
Now cannot gain enough profit for us to make a living, but who cares?
All around the world are lots of artists like POCHAKAITE MALKO, playing in progressive rock scene and making an honest living.
And believe me, whatever happens, our fans and supporters can encourage us to make an effort toward high-quality performance for all.
That's all I wanna emphasize.
Which other bands and projects are the Pochakaite Malko members currently involved in ?
As you know, Akihisa (Tsuboy) has been more renowned and versatile in KBB et al., Junzo (Tateiwa) has been very active in classic, folk, or pop music scene, and as for Shigekazu (Kuwahara), his band ZLETOVSKO (no official release yet) can be appreciated by POCHAKAITE MALKO freaks I'm sure.
Thanks for your interview ... Kazuo Ogino
Thank you to Kazuo for this interview