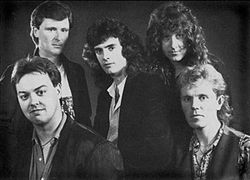 Originally from Newtownards near Belfast in Northern Ireland, Winter was formed in 1988. Johnny Lennie (vocals) was the central member, with Rab Beggs (guitars), Phil Murray (keyboards), Rick Loyer (bass) and John Murphy (drums, percussion) joining him to record the mini-LP "Across The Circle's Edge", self-released in 1990.
And then nothing was heard from Winter for a very long time. But the name Winter has now reappeared with a website run by Phil Murray, the keyboard player from 1987 to 1991. I got in touch with him for the Winter story.
-------------------------------------------------------------------------------------------
Your biography has been covered in your ProgArchives profile so let's bypass the biography details. Your band hails from Newtownards, just south-east of Belfast in Northern Ireland. You grew up during The Troubles, a thoroughly nasty, vicious 30 years long simmering civil war which left no families or communities untouched. I guess my question to a large degree has answered itself, but how was it to grow up at that time ?
Like a lot of people living through different conflict situations around the world, when you grow up through it you tend to be aware of the dangers but try to get on with a normal life. I think the vast majority of people in Northern Ireland despised the hideous and senseless violence that was going on -- but unfortunately it was the idiots, bigots and criminals who tended to grab the media headlines around the world for 30 years - which tarnished the perception of the entire country. But the reality was that honest, decent, hard working and talented people were doing their best to get on and enjoy their lives every day. There was a unique Northern Irish wit that always prevailed I think, no matter how dire a situation seemed to be. Plus we all had the relative freedom to express ideas through music, art, work and so on, in spite of the political mess, whereas in many other countries, expression through the arts was suppressed. It is certainly a better society to live in these days and hopefully that will continue.
In the middle of all this which would had broken the souls of must of us, why did you take up music ?
As is the case with most musicians. I just had an instinctive liking for music and rhythm - like art, or sport, it always seemed to be a great escape from everything else in life. I am great believer that we are all born with a natural rhythm - our heart beat, the pulses inside are heads and so on - and musicians can articulate and project that natural rhythm through music or dance. For me it was a natural step to be influenced by what I was listening too, either on the radio or the likes of early Queen records and records that my Dad had, and then to attempt to play what I heard on piano or guitar - and my brothers were all very musical also. So that led on to piano lessons and eventually playing in bands.
Which bands were you influenced by and why did you choose that name ?
We had a good cross section of musical influences with bands like Rush, Marillion, Gary Moore, Queen and Led Zeppelin, as well as Johnny's classical influences. It was mostly in the hard rock or progressive rock / metal genre.  We deliberated over a number of names but in the end WINTER seemed good as it symbolised change, like the change from old to new, light and shade, life and death, major and minor, point and counterpoint and so on. It gave us some scope to explore those parallels in the music through tempo changes, key changes, dynamics, musical moods etc. – at least that was the general idea anyway !!! In the end it still has to sound good no matter how simple or complex the piece is.
How active were you as a gig band in the gigs scene in Northern Ireland which during The Troubles was surprisingly very vibrant despite of the Miami show band massacre ? What is your best and worst memories from this time on the road ?
We tried to be pretty active with gigs most weeks - Northern Ireland is probably no different to many regions in that sometimes, if you are playing mostly your own material , it can make it difficult to find venues because they primarily want covers bands. Yes, there were many terrific bands in Northern Ireland - there still are actually. The best and worst memories are more to do with the band rather than related to the troubles. Playing at the Baggot Inn, Dublin was a highlight as it was renowned for showcasing acts like U2 and Thin Lizzy - and the worst would be playing in front of 4 people in Antrim! - yep, the tumbleweeds certainly rolled that night!!! And some venues were noted for the abusive bent of their patrons but I think we generally gave as good as we got - if they hurled any abuse we just turned it up louder!! There was one hilarious occasion when part of the PA stack started to fall and Rab ended up playing one handed guitar while using his other hand to hold up the mid range and tweeter speakers during 2 songs! The audience thought he was just taking the piss - but in fact he was in danger of being crushed!  How the hell he did it I will never know!
How did you get in touch with and signed with SI Music ?  
The contact with SI music happened after I had left the band - so I can only offer limited info about it - but Ricky and Johnny managed to secure a deal with SI Music, Holland in 1992, to release a CD version of the 6 songs we had previously recorded with Lawrence Thomson on the E.P. titled ACROSS THE CIRCLE'S EDGE - recorded 1990. SI Music re-mastered the songs and released a limited press run in CD format. Although not credited on the sleeve notes, John Murphy and Rab Beggs played all the drums and guitars, respectively, on the CD version.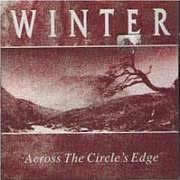 Please tell us more about your only release to this date, Across The Circle's Edge from 1992. Any plans to re-release it as a digital download or as a physical release ?
We originally recorded it as an E.P. demo in 1990 with excellent producer and musician, Lawrence Thomson in Newtownards. You can read more on the WINTER web site of course
www.winteronline.co.uk
.  We created our own label, Circle's Edge Records and had the songs pressed in vinyl format - 1,000 copies I believe, to be used mainly for media promotion and attracting record company attention. So the CD version that SI Music released in 1992, was a re-mastered version of the songs we recorded in 1990 -- all performed by the original Winter line-up. There are no plans to re-release it on CD, as far as I am aware, but we are hoping to release updated digital versions of the tracks on iTunes early in 2011. The updated versions have the additional keyboard tracks included, that I had omitted originally, so they are much closer to how they should have sounded on the CD.
Just to give those of us who are unknown with your music a bit of a reference point or two: How would you describe your music and which bands are you pretty similar too ?
We liked heavy rock but with a nod to the progressive style of the likes of Rush and Marillion. I guess we had comparisons with Marillion and even Queensryche believe it or not! -- but I think we had a harder edge to our sound and always looked for good hooks and melodies in the songs. 
Winter broke up after the release of your only album. What are the Winter members up to now ?
John is Director China Sourcing for the Royal Mail Group, Rab is an active musician and guitar tutor with rock bands in Northern Ireland and still sounding as superb as ever. Johnny is Classical Music Editor for TimeOut magazine and TimeOut online. Ricky is Managing Director with a Language Translation company in England and I own  
www.FingerprintDigitalMedia.com
as a self employed web designer and home based musician.
You have set up a website to honour your band Winter and their fans. And rightly so. Is there any plans to develop this website further ?  
Yes, I would like to add a lot more in terms of some live tracks, photos and hopefully comments from the original Winter line-up. Plus in 2011 I hope to have the latest versions of the songs from Across The Circle's Edge published on iTunes and other digital download media. 
Any plans for Winter or yourself to do some gigs and play some of your songs live again ?  
Well I can't comment for the other guys but personally I think the answer is 'No'. It's quite nice to look back at the good time we had in WINTER and now to have the chance to breathe new life into the songs via the web site, but like a lot of bands - picking it all up again and finding the time to even attempt it, 20 years later, is a step too far.
In my view; the musicians and entertainers who kept some flickering of humanity alive during the The Troubles deserves the Nobel Peace Prize. Anyway, to wrap up this interview, is there anything you want to add to this interview ?  
Well thanks Torodd for taking the time to ask the questions - The excellent work you guys carry out on the Prog Rock web site is invaluable!
 I hope other rock fans will enjoy the WINTER back catalogue [albeit a handful of songs!] on the
www.winteronline.co.uk
web site. Please feel free to send in your comments or questions and of course keep a look out for those iTunes from Across The Circle's Edge! 
Thank you to Phil Murray for this interview



Edited by toroddfuglesteg - December 23 2010 at 05:51