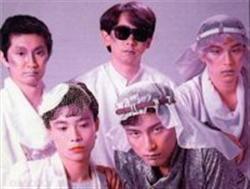 This is one of the most original Japanese progrock bands, they were active in the Eighties and made a serie of interesting albums. Most of them contain classical sounding keyboards, cheerful violinplay, Japanese (and some English) vocals and many waves of Mellotron. The most obvious hints are King Crimson (Mellotron and guitar), UK (keyboards and violin) and PFM (classical sound and violin).
I got in touch with them for their story.
===========================================================
Why did you choose that name (for the albums)?




Misty Moon (1985)
The Scene of Pale Blue (1987)

Nobuyuki Sakurai, Drums (NS): Lyrics for these two main title tunes were mainly written by Aya, a collaborator of the band in its early days, whose contact has been missing for long.

Shusei Tsukamoto, Keyboard (ST): Thought just taken from these main titles as the album titles respectively.



A Boy Playing the Magical Bugle Horn (1986)

Nobuyuki Sakurai: The title was inspired by the Gustav Mahler's lied called "Des
Knaben Wunderhorn" in German, "The Youth's Magic Horn" in English. Tsukamoto liked the idea that it could be used as the title for the then coming concept album. The whole story following the title was written by myself and other members came up with the musical compositions based on the story.

Shusei Tsukamoto: Not sure which was earlier than the title was decided, wishing to create a concept oriented album, or already having decided to do so. It was just by chance that the idea came to me when watching a musical commentary programme on TV about Gustav Mahler's Symphonies where
German lied "Des Knaben Wunderhorn" has been used. Actually, Japanese translation of the title of the German lied, sounded to me to some extent "This is it!" and then we started working on it. Therefore, the title itself was inspired by Mahler or the German lied, however, the contents of our album does not have any relation with those prior works.



Outer Mania (1992)

Nobuyuki Sakurai: Probably this was named by Mr. Ueno, long time executive producer of the band, not knowing how or why.



Silver Apples on the Moon (1989)

Nobuyuki Sakurai: This was inspired by "The Golden Apples of the Sun", written by an American great Sci-Fi, fantasy and horror writer and poet, Ray Bradbury, who has been best known for "The Martian Chronicles", or "Fahrenheit 451" which was also filmed. "Silver Apples" or "Moon" reflect the image of the band IMO, and at the same time I had some intention of further exploration of the musical space of the band.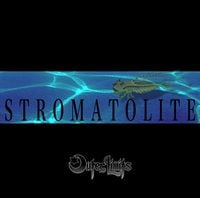 Stromatolite (2007)

Nobuyuki Sakurai: Stromatolites, used as the album title proposed by Tsukamoto, are structured fossils composed of many layers of sediments and Cyanobacteria which used to exist almost everywhere on the earth to provide a great amount of oxygen during the Precambrian age, a long time ago. The use of the word Stromatolite as the album title sounds to me somehow realisation, synchronisation or sublimation musically since the beginning of the earth and oxygen.

Shusei Tsukamoto: The album has chronological aspect as well since the selected tracks covers late 80s through the latest compositions.
Just to give those of us who are unknown with your band a bit of a reference point or two: How would you describe your music ?

Shusei Tsukamoto: Some influence can be seen in works in the early years of the band, e.g. from overseas prog rock, hard rock with which members were familiar in their high school days, and contemporary classical music especially from impressionist and on.

Shusei Tsukamoto: I myself was oriented to more and further original, complex and perfection in the musical works. Therefore the musical works, which were composed, arranged and scored all by myself, increased more and more. Until the album "A Boy Playing the Magical Bugle Horn", it had became the common style of musical composition in the band including other members' works.

Shusei Tsukamoto: One may see it is the violin that takes front line role in the Outer Limits' music, however, the basis of our music is counterpointed ensemble with melodies played by violin, keyboards, guitar and bass. In addition, as it is rock music, energy and dynamism are expressed with drums and other rockier instruments. In short, classical counterpointed ensemble and rockier energy and dynamism are altered and played at the same time like a kaleidoscope, this would be, I think, the most appealing point of the band.

Shusei Tsukamoto: Regarding composition of the bands' music, there are two aspects which can be characteristics of the band, classical composition method and the use of odd time signatures. Most of our music is made from one single easy-to-catch type of theme melody. The rest of the part is made from its variation or the second theme. This principle is used even in parts with complex counterpoints. The use of unusual time signatures e.g. quintuple, septuple and so on, can also be a characteristics of the band, however, it is rather a result from the melodies and not from the intentional use.

How is the availability of your records and what is your experience with the music industry ?

Shusei Tsukamoto: Outer Limits catalogue is still available through French label Musea Records. Stromatolite is also available from iTunes Store.

Shusei Tsukamoto: Prog Rock has still not been a popularly accepted form of music in Japanese music industry, especially it is quite tough market for the bands made in Japan. There has been very few that made commercial success. It may not be too much to say that none of the currently active prog rock bands in Japan are run as their primary businesses, and Outer Limits is not the exception. Musical elements of prog rock has been, on the other, well accepted in the music used in games and
animations, where it may be good to say that the prog rock has made commercial success. However, these successes are made by elements of prog rock and by individual composers, not by the prog rock bands.

What is your view on this new Internet prog/metal scene where nerds/human beings from all over the world is suddenly popping up in your inbox based on some minutes of music on YouTube and Myspace. Is it easier to run Outer Limits now than back in the 1980s when cassette tapes still were the ultimate of human inventions ?

Nobuyuki Sakurai: It is good and bad for musicians. Distribution through legacy network from record labels to stores has been, so to speak, collapsed by the Internet distribution, e.g. iTunes Store or Amazon, while piracy by file sharing is still a concern. However, it was made known to us after releasing Stromatolite that diversified distribution is an option.

Shusei Tsukamoto: It is still too early to say that the download sales of Stromatolite in iTunes has been successful. The market situation around Outer Limits may not have been changed much since the days of
Cassette Tapes, Vinyls and CDs. It is actually a plan to upload live performance video from the 30th anniversary concert onto e.g. YouTube once band members agree.

What is your plans for the rest of this year and next year ? Is any of you involved in any other bands or projects ?

Nobuyuki Sakurai: The Rolling Stones is one of the greatest musicians. Their movie "Shine A Light" is also great and I feel some nostalgia in it as if I were watching a traditional musical art. It may or must be a mission to progress that Outer Limits has been engaged in.

Takashi Kawaguchi, Violin (TK): To rock the string quartet, that has been my recent challenge. Some of my trial works can be found at YouTube (e.g. http://www.youtube.com/watch?v=Hy_K-a5IScI).

Shusei Tsukamoto: So far, since 2009 live gig of 30th anniversary, there has not been any plans for Outer Limits.

Shusei Tsukamoto: Personally I've been working on compositions and arrangements for TVs, advertisements, or even for other musicians. Some of those recent works can also be found at YouTube with "ShuseiTsukamoto" as the search key, which includes "Isuzu Gawa (River Isuzu)", a music dedicated to a shrine, and tour film from "Toshi Grace Live" backed by some Vienna members. My latest challenge is playing the accordion, with which I tried in live gigs and recorded works with several musicians.

Takashi Aramaki, Guitar (TA): The year 2010 has been so tough for me to engage myself in music. Discoloured Ice, the latest release of Outer Limits in 2008 for a compilation album called "Jap's Progre", for which I wrote lyrics taking Global Warming as the main theme, gave me a hint for my professional career direction. I started working on those kind of environmental issues, changing my living location from Tokyo to Osaka, travelling around more in European continent and islands. Osaka has been quite an interesting city where other Japanese prog colleagues were born, e.g. Pageant, Mr. Sirius and a lot more. Hope I can run a prog project in the near future, maybe in the year 2011, while Outer Limits stays in dormant.


(Japanese-English translation by Takashi Aramaki)
Thank you to Outer Limits for this interview

Their PA profile is here and homepage's here



Edited by toroddfuglesteg - December 23 2010 at 06:22