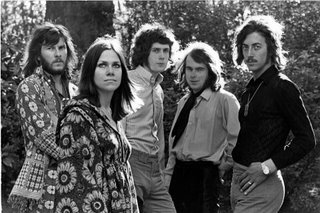 Formed by friends in 1968, Room was a very good quintet from Blandford Forum, Dorset that made one album for Decca after winning second prize at a Melody Maker talent contest in '69. The unit included guitarist Steve Edge and featured the unique voice of Jane Kevern, Roy Putt's bass, Bob Jenkins's percussion and the lead guitar of Chris Williams. The five achieved a large, booming sound by merging heavy psychedelic rock, progressive jazz and full orchestration.
I got in touch with Steve Edge for this interview.
#################################################
When, where and by whom was Room started ? Did any of you, past and present Room members, play in any other bands before joining up in Room ? Why did you choose that name ?
Room was started in Blandford, Dorset, UK by Chris Williams (lead guitar) and Roy Putt (bass) in 1968 under the name "One Way". Other members were Pete Redfearn (drums) and Roger Hope (vocals). I believe Chris had played with other bands before he moved from Yorkshire to Dorset. In October 1968, I joined as a guitarist. I'd played with a number of local groups since 1963. Jane Kevern (vocals) also joined around the same time. By then, the band was called "The Room" after a poem of the same name. Roger Hope left in early 1969 and joined another local band "Team Dokus". In the summer of 1969 Room went professional with Bob Jenkins taking over from Pete.
 
How was the music scene in Dorset and the west counties when you started ? 
It was very much dance music. All local bands played popular music. That is what people wanted. Room were no exception and did a range of soul classics. A wide ranging musical repertoire was also essential when supporting bigger acts which came from all types of genre. Meantime, the group members were heavily into blues, however, which was also becoming popular. Other musical influences were also introduced making, by spring 1969, quite an eclectic set list, most of it self-penned. The main influences were Peter Green, Fairport, Byrds, John Mayall, Syd Barrett, Ray Davies, John Sebastian, Mick Abrahams, Cream and Mississippi John Hurt.
You were signed on the legendary Decca label. How did this come about and what was your experiences with Decca ? 
In December 1969, Room made a demo tape of just two tracks. EMI were interested. But soon the Decca deal was done following the band's appearance at the Melody Maker's annual band contest at the Lyceum, London. Decca were quite good to us. They gave us a good producer, a good engineer and a good musical director, along with a good studio. They also gave us advance royalties! What Decca didn't do? They didn't promote the album. But that was the industry norm for most rookie bands in those days.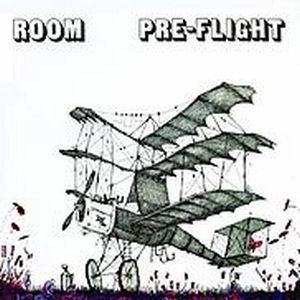 Over to your only album to this date, Pre-Flight from 1970. Please tell us more about this album.
The tracks on "Pre-flight" were selected from about a dozen recorded over a couple of days at the studio in West Hampstead. Most went down in one or two takes with vocals dubbed afterwards. The strings and brass added later. Soon after the recording session, I left the band. The remaining four members along with the record company and band management made the final album track list selection. The tracks were a reasonable example of what Room were playing at gigs at the time although some of the softer, melodic songs were omitted. The album did not sell well. Much later the album was issued as a CD on a Korean label and more recently Cherry Red records remastered the original Deram tapes and issued a CD in 2008.
 
Room broke up after that album. Please tell us why, when, where and what the band members has been up to since the break up.
Actually Room continued well into 1971 before splitting up. As I said above, I left in summer 1970 for personal reasons, with the others continuing as a quartet. I'm not sure why the band split but I suspect it was the lack of progress. Roy and Chris played together in various bands for a few years, Roy going on to play locally with Raw Deal and The Jim Etherington Band and Chris with the excellent Average Blues Band. Jane gave up singing, I believe. Bob Jenkins went on to play as a full member or supporting role with a number of well known artists and bands, for example Helen Shapiro and B-Sharpe. I gave up performing after leaving Room although I still enjoy playing guitar and irish bouzouki.
 
You have started a Room blog who now functions as a museum for your band. An excellent idea we both fully support and endorse. What is your future plans for this blog and is a Room reunion on the cards ? 
roomprogressive.blogspot.com
is simply an attempt to gather as much material in words and pictures  which otherwise might be lost to the world. It has also helped some of the band members keep in touch. I guess the blog will just grow as and when stuff comes to light. There is no real likelihood of a Room reunion - but never say never!
I cannot fail noticing that the Pre-Flight album is available again. In particular through Amazon. Please tell us more about this re-release and how that came about. 
Esoteric Recordings contacted me in 2007. I think they'd seen the blog. They said they were remastering the original Deram tapes with a view to releasing a CD under the Cherry Red label. And could I help with pictures and words for the sleeve notes. I contacted Roy and Chris who kindly sent me some photos and a few words and I cobbled together some notes for Esoteric.

To wrap up this interview, is there anything you want to add to this interview ? 
I'm pleased that there is still a bit of interest in the music of Room even though it is very dated now! I'd love to make contact with some of the early followers of the band - folks from Blandford and Bournemouth especially. And on a personal note, I'd love to get hold of the recording made by Room at Orange Studios of my song "Vehicle"!
Thank you to Steve Edge for this interview