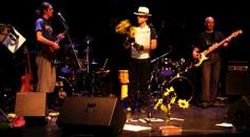 Qwaarn started life in 2004, at the initiative of drummer François Bernatchez, being initially a musical formation proposed for a musical epic entirely in progressive rock, an interplanetary voyage lived through Qwaarn, the story's main character.

Qwaarn is also a "group in progress" whose members are fluid, appearing according to the musical needs of the piece they are working on. Several of them are active in other groups or are working on solo projects. The varied backgrounds and the fluidity of the musicians also enriches the sound and musical landscape of this group with its unusual way of operating.
Surrounded from the start by Martin Bleau on the guitar and Daniel Bernatchez (brother of François) on the keyboard, the trio rapidly put together its first album, "The Word Of Qwaarn", which appeared at the end of 2004. They were joined for the taping by Stéphane D. (Mélia, Sens.) on bass and Mathieu Lessard (Dagmahr) who supplied vocals.

I got in touch with the band and Francois answered my questions.
~~~~~~~~~~~~~~~~~~~~~~~~~~~~~~~~~~~~~~~~~~~~~~~~~~~~~~~~~~~~
Our Qwaarn biography answers most questions about your past so let's bypass this.Qwaarn has a fluid membership.In which order bands and projects is the Qwaarn members involved in?
For now,all others present musicians are only involved in personal projects.As nobody is a professional musician,friends are our main contributors.
Why are you making this kind of music and what makes it so fascinating to you ?
When I was a Kid,many years ago,I was fascinating by live bands performing all
together,playing strange music and riffs (to my ears ).I did not known what they were doing:the One was not always at the right or same place ,it was uncomfortable but it was intriguing !That's how I discovered prog music:all those long pieces with big and large strings and cosmic voices !
For sure,over the time,I found the difference between 4 4 ,5 4 ,13 8 and all those time signature.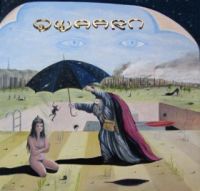 Over to yours albums. Please tell us more about your first album The Word of Qwaarn from 2004.
This was for most of us our first time recording in a professional studio !
As I am the initiator of the band,I invited few friends and my brother to collaborate .It took about a year to complete the 8 pieces.We started from piece no 1 and as all the album is a continuous story,we followed with piece no 2 and so on.As we are all big fans of Genesis, we asked Paul Whitehead to design the Dc illustration.He did a great job !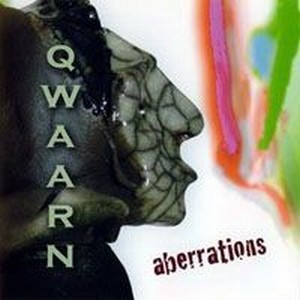 Please tell us more about your second album Aberrations from 2007.
Aberrations is still a concept album,and the story continues with the main personage :Qwaarn.
We composed all songs without our singer ( Mathieu Lessard ) who returned performing with his own group Dagmahr. Didier Berthuis was interested to join and has not only the capacity to sing but has interest in arranging all the compositions.
That what he did, adding some horn here and there ,doubling strings and so on.He was very involved in the group .We have learned all the modification and recorded it.This album is under the Unicorn 's label.We performed few shows that included both albums.
You are currently working on a third album.What can we expect from this album ?
It 's still in our head a concept album with stories about the achievments of Qwaarn. `'My Achievments ' is the title of this third album.It was planned for a 8 songs album but ended with an extra song.The processus of creation was a lot longer than the two previous albums.It took more than 3 years !The fact that our lead singer left the group for his own project did not help ...But now Claude Desrochers,a multi intrumentist and singer give us a hand to complete all the vocals.We are now mixing and we the release of this album in planned in 2011.
How is your creative process from coming up with a theme/riff/idea to you get it down onto an album ?
Each of our 3 albums starts with the developpement of the story and after I write the text for each song. In the beginning of the process,each player read the story and contribute in the song by proposing some riffs,ideas,ambiance,style…
Almost everything is composed as a group,that means that we record a first version,listen to it and then make modification etc.It can take many versions to end to something that please to everybody !
Usually the basic riff is in 4 4 ,we try it in 12 8,5 4,7 4 ,at different tempo,and find something who follows well the text of the song and does not look at what we already done !
We also have a bank of good riffs that has been composed by the members.This is a long process to go through ,I don't really recommend it,but this is the way we have beeing working since the beginning.
But in the third album,I will say that we decided,for few songs, that this member will be the leader and will have the final word to any modification.
We also liked this way,it was different and …faster !
Just to give those of us who are unknown with your music a bit of reference point or two:How would you describe your music ?
AH Ha:good question !
As we all have different influences,some of our songs are more Genesis ,others Bowie…As the members changed,each player bring his own experience.I made a tour on internet 's critics and found name like:Caravan,Pink Floyd,Led Zeppelin,Marillion,Pendragon,Camel,IQ…You know,we are trying to play Neo prog. But as the creation goes,we never knows where it's gonna go !
What is your experience with the music industry and the new internet music scene ?
As we do not count on music to pay our bills,we did not really developed a strong presence on the internet.
I think that the last update on our site was…couple years ago…Sorry for the technology.But you can find our music on CD BABY,on iTunes.We are convinced that we should do more on this but
we are amateur musicians that only decided to record what they loved to do and make few shows for friends.
What is your plans for this year and next year ?
There is only short term goal:finish the album !...and wait for the critics,we always having fun to read what they can see in our music.
To wrap up this interview, is there anything you want to add to this interview ?
Promoting prog music ,by those years,might seemed more easy than it was 10 years ago… but I'm not sure at all: there is a lot of new bands and as it is easier to record music,I believe that it is really hard to stand out of the crowd !
Thank you to Francois for this interview