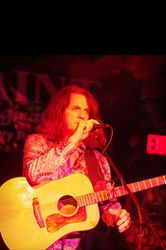 Anton Roolaart was born in Netherlands but being very young, he moved with his family to United States, he grew listening Classical music that his father loved so much and shared with him, at the age of 13 decides to study Classical guitar before exploring the secrets of the instrument by his own.

As a teenager he was exposed to the Classic Prog acts like Yes Genesis and Pink Floyd which made him develop a passion for the challenging genre what made him start to write some songs and perform his material in numerous clubs on the Charlotte NC area while studying electrical and multi-track sound engineering in College.
In the next years and being obsessive about the evolution and development of Progressive Rock he decided to expand his studies to Jazz guitar, Piano and Drums, which have been very important for the release of his debut album "Dreamer".

I got in touch with Anton and here is his replies to my questions.
~~~~~~~~~~~~~~~~~~~~~~~~~~~~~~~~~~~~~~~~~~~~~~~~~~~~~~~~~~~~~~~~~~~~~~~~~~~~~
You have a long career behind the scenes in the music industry which also include a stint with ProgRockRadio.com. Just to start with, please tell us more about your background and why you took up music.  

Well, I am originally from the Netherlands but have lived in USA most of my life.  I like to travel and visit the Netherlands now and then since my father, sister, and relatives live there as well as Belgium (where my mother is from).  I was brought up listening to my father play Classical and Opera records when I was young, especially on Sundays - he loved to listen and work on his art (he is a painter) or read, I will also say we had a nice sound system for the times.  My father liked to play the music loud..  Soon afterward my parents divorced and he went back to Europe.   My mother raised me and bought me a classical guitar at the age of 13, I proceeded to study classical guitar for about 2 years, taking private lessons with a gentleman named Gus Tool.  After that I guess you could say I was teaching myself guitar.  Soon I started learning songs from Cat Stevens, Beatles, Neil Young, etc ...  My older brother had records from ELP, Jethro Tull, Uriah Heep, etc... which I liked as well. I wrote my first song when I was about 18 years old.  The song is entitled "Shipwreck" and it's about people that get stranded on an island, learn to live a different, hard but simple life, and opt to stay on the island when given the opportunity to return to civilization.  I  hope to record that song one day...  My brother was also in a rock band for a little while and I thought that was cool.. but I was kinda doing my own thing.. mostly on acoustic 6, 12, and classical guitars with friends .. and I starting to write some my own songs... I also become a fan of guitarists like Steve Howe, Alvin Lee, David Gilmore as well as the music of Pink Floyd, Yes (who really stood out for me), early Genesis, King Crimson, Bowie,, just to name a few... Many of the veterans of prog rock as well.   After high school I became interested in recording and went to school for that.   Then I also started my home studio with MIDI and keybaords... etc...  I played in several cover bands over the years but preferred writing and performing original music.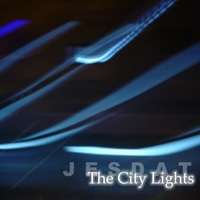 You were working with the Spanish band Jesdat on their only album so far; The City Lights from 2005. Please tell us more about this cooperation and album.




It is an interesting story.   I was in the middle of writing and recording tracks for "Dreamer" when I received an email from a guy from the Basque area of Spain named Jupe.  He is the drummer for JESDAT.   He had found me and my music on the web.   Jupe and some other Spanish musicians from various parts of Spain were working on a theme-based album of ambient, prog rock and they needed a vocalist to sing in English.  What was interesting to me was that we worked remotely and at the time none of the musicians had never met each other.  Anyway, they asked if I would be interested to sing lead vocals for them.  now, I lived in Spain for a short while in the early 80's with my sister who lived there for many years and I speak Spanish as well.  Anyway, they sent me some music and lyrics and I worked with them to make it all fit and work vocally.   Then, I sent them tracks and they used it on their CD for "Wings of Fire".  The story (theme) for that CD is about a boy that was raised in darkness at home in a basement or something like that, thinking he was blind, then one day he escapes to find he is not blind at all, he experiences the "City Lights".  It was a nice idea and experience.  We continued to keep in touch with each other and talked about another project but I unfortunately could not put the attention to it at that time that I wish I could have and the new project never really took off as far as I know.  I am very grateful to have worked with these creative and talented guys from Spain.  Maybe one day we'll pick it up again.



You eventually went your own way as a solo artist. Please tell us more about your first and only album to this date; Dreamer from 2008.


Over the years I had taken a stab at playing in cover bands but always yearned to work on original music. The Dreamer CD project started somewhere in 2004.   I had been into recording and writing for a long time but never really produced anything for the public.   I met some people like Rave Tesar (Annie Haslam, Renaissance) and we became good friends.  He played on the album and guided me with the production.   He is a very talented and nice person.  So, I made up my mind to produce an album with songs I had written long ago and wanted to lay down, as well as some new songs that I was writing at the time.   Later I met and interviewed Chris Squire and Steve Nardelli (Syn) and they invited me to London for a press release, I told them about my music and eventually Steve Nardelli signed me onto the Umbrello Records label he runs and thus Dreamer was released on the UR label on April 24, 2007.  

Ok, I am educated as an engineer and also love many aspects of creating music, like writing the songs, performing them, recording them, arranging, working with different musicians.  It's an environment that I spent many, many years in my home studio, and now I am working more with other people as a solo artist.  I am thinking of starting another project that would be more of a group where I am not the only one writing the songs and I could play more guitar and some keyboards.  That would be fun.  After Dreamer came out and the reviews looked good,  I decided to put together a band which now consists of Kendall Scott on keys, Vinnie Puryear on Bass, Mike Frashce on Drums, and myself as the core band in the US.
How is your writing and creative processes ?




I consider myself more a composer than an instrumentalist first of all.   I think of songs I'm working on as a whole, in that, although I am a guitarist (when talking about playing an instrument), I think and compose music hearing parts for many instruments.  I use the guitar as well as keyboards and the sounds available to me to write.  I look to obtain a feeling and melody that is pleasant or works for me.  Lyrics are also important to me in that I can't just write something that doesn't mean something to me or is not related to me personally I guess.  But I don't consider myself a good lyricist.  I wish I could improve that.  I come up with some lyrics I am happy with, but some times it's hard for me to come up with the rest that is needed for the song.   Then all of a sudden boom it comes to me.   I am also a little bit of a perfectionist in that I don't mind being patient and spending a lot of time, not just to realize a piece of music that is hopefully good... I concentrate on the details and I spend a lot of time trying different things, including recording sounds in the environment or and many different sounds available to me.   I love the creativity...   As I'm developing a song, I listen to it over and over, sometimes parts come from nowhere in my head and I try to recreate them with various instruments... Lately I've been working more with middle-eastern or eastern sounds as well.  Adding a little here and there.  Sometimes I find things I like by accident and I love it when that happens... I will say that besides my main money-earning job, and of course my radio station (which is also time consuming and a labor of love), I spend most of my time working on music in some way or fashion.  It's kinda like my own little world if you know what I mean.  Luckily I don't like TV that much and don't watch TV that much for years.   A couple of years ago I got separated and now live alone after being married a long time and raising a family.  But I also love interaction with people and that goes with music as well.   Anyway, there are so many options available now to create music, especially in the digital world we live in today.  As I stated, I like to explore new ideas with new techology, but also like a lot of traditional sounds, instruments and approaches to music.  I think they are very important and those approaches are often bypassed or ignored today.   I am also fortunate to be exposed to a lot of prog, rock, psychedelic and ambient music from all over the world via Prog Rock Radio, the station I founded 6 years ago and run.  There are so many artists that have inspired me and there are many great bands out there that, if you don't listen to internet radio or if you are outside the prog scene, they are hard to find.  I am grateful to be exposed to all of that and provide the vehicle for their music with ProgRockRadio. 
For those of the readers who are not familiar with your music: How would you describe your music and how would you describe your guitar style ?

The quick answer I tell people is somewhere between Yes and Pink Floyd with a dash of Bowie, but I'm not so certain how accurate that is.  Also, I have other pieces that are written for piano and strings that will be on a different kind of album one day that don't fall into that description.   So, what can I say, if you read the other reviews here on ProgArchives they mention anything from some Beatles, Yes, Pink Floyd and from the perspective of the guitar, they have made some references to Steve Hackett, Steve Howe, even Jan Ackerman but seriously I wish... One could definitely say the music is more on the ambient side of rock or symphonic rock with neo-progressive flavors.
You have just recorded a new album. Please tell us more about this new album and what we can expect from it.
I actually started working on my 2nd yet-to-be-named album a couple of years ago after "Dreamer" came out, but due to other things in my life I had to put that on hold for a while.  However, I was still writing, playing or doing something with music at home during that time.  As I mentioned, ust after Dreamer came out I put a band together with Kendall Scott on keys, Vinnie Puryear on Bass, Mike Frashce on drums and we did several gigs during 2007-2009.  Now, you could say that the new project has gone into full gear now.  I am working with these guys and also come musicians abroad.   While it is still probably 6 months or so away to being completed and hopefully available, the process of recording is well under way.  I've already written all the tunes that will be on the CD and most of the recording has been done for 5 of the tunes.. and we expect to have at least 2 more songs.   The album will have a song that is probably the longest song (over 10 minutes or so) I've recorded and you'll hear more on that later.  It may also happen that a new song might creep it's way onto the album as was the case with "On to the Afterglow" on Dreamer.  But for the most part, all songs have been decided upon and most parts have been recorded for 5 of those songs.  I should mention that I just got back from Holland where we recorded drum tracks for 4 songs and were performed by my friend Pieter van Hoorn (from Knight Area).  That was a great experience to work with those guys in their studio.  Great people.  More info on that here: 
http://www.knightarea.com/news/id/15/pieter-records-4-songs-for-anton-roolaart/
.  I really enjoy his playing and hope to work more with him.  Mike (drummer here in US) will be playing on the album as well.   Finally, there is a good possibility that I will get another special "guest" artist appearing on my album but it's too soon to say at this moment. 
Besides of that album, what is your plans for this year and beyond ?

Hopefully get a small tour in North America and/or Europe within a year or so to promote the new album.  But that is definitely on the top of my list after completing the album.  Pieter talked about wanting to play with us if we go there (Europe) and that would be great.   And of course, I will continue to write and compose music, I don't see any time that I will stop doing that.  It is my passion.   I would like to say that I really like working with various musicians and am making plans to work more with musicians in other countries in the future, like Europe, and South America, who knows ... it is music that bonds us all.  
To wrap up this interview, is there anything you want to add to this interview ?  

I want to thank everyone here at ProgArchives for this Interview, and needless to say I am really excited about the new album.  I am also humbled by all the good reviews for Dreamer and those that have enjoyed the album and sent me messages saying so.  The prog scene is vast and great, and I really hope it expands more into the younger audience, I think Porcupine Tree is helping with that, and I love their music as well.  Thank you !
Thank you to Anton for this interview