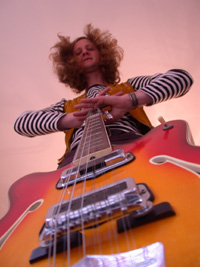 Andrew Douglas Rothbard is a US-based musician, currently based in San Francisco. After stints as bassist and keyboardist in the bands VSS and Pleasure Forever (and their precursor Slaves) in the 90's, he decided to start recording solo albums, a planned five-record series outlining the Discordian concept of the Law of Fives: Thesis, Antithesis, Synthesis, Parenthesis, and Paralysis, each of which represents a different stage of maya.

He started this project in 2003; and so far two of the planned five productions has been released: Abandoned Meander (2006) and Exodusarabesque (2009).

I got in touch with Andrew and here is his answers to my questions.
###########################################################
Just to start with, please tell us more about your background and why you took up music.
I started playing piano at the age of six. I came from a place where you had to create your own fun, so I spent a lot of time at the piano learning how to play most days.  I  wanted to be in a band, and that's what I spent most of my teenage years trying to do.  I would just make up cassette tapes of fake bands that I was a part of.  I remember trying to record my alarm clock on a hand held cassette recorder in the fifth grade because I wanted sound effects on my fake band's album. I  grew up with a lot of eighties pop music.  That was what was on the radio.  Lot's of Roland keyboards and drum machines.    There was always some kid with the hippy parents who still had all the old LP's from the 1960's.  It was those Beatles records from '66-'70 that interested me. Music made in a complete vaccum hermetically sealed from the outside world.  The tones actually started to implode as you get deeper inside.  I did not have the vocabulary to describe what I thought that I heard on those albums, so I just listened over and over. I had a copy of the White Album on cassette with no track titles, no cover, nothing but "White Album" hand scrawled across the tape.  Think back before the World Wide Web,  24 bit remasters, digital booklets explaining each song, and the scores of books about the sessions at Abbey Road, and reduce it down to this cassette recorded from an LP that at the time was twenty years old itself. The Beatles just scared the sh*t out of me.

The epoch came to me when I was about 13.  It was two things really: Syd Barrett and marijuana.  I actually bought the double album, "A Nice Pair".  The cover seemed like it was going to be another Dark Side of the Moon (Hipgnosis design), but it sounded so similar to those freaky Beatles records.  Everything that was so nightmarish about those Beatles records became a daydream.  The vibe was much more light.  People always talk about Syd in this dark kind of way, but that first Floyd album destroyed every bad dream I ever had.  I no longer was mourning my lost adolescence.  You could be a child forever on that stuff. I have to admit though, I really could not shake the darkness of the White Album upon first listening.  I had no idea about Manson, Apple, Maharshi, LSD, etc.  Just an 11 year kid who a year earlier was listening to Michael Jackson...

Please tell us more about VSS and Pleasure Forever, the bands you played in before going solo. Why did you branch out on your own as a solo artist ?

The VSS and Pleasure Forever were a rare and fantastic combination of people that slogged through the trenches in various configurations over the span of eight years.  I owe a lot to those guys because I was the youngest member, and they had to put up with my antics while trying to get out on the road, put out albums, etc.  The VSS was the first band that I was in that actually left town, and I needed a trip out into the world. This group of people just had a real work ethic.  We started the band, and within a month were touring California. I was just in awe of the entire situation for a long time.  I had no idea how I even got to be in this group. I had just turned nineteen and the year was 1995.  The history of The VSS is not exactly well documented, although the four of us have tried to keep the memory of that band alive to some extent. There is a wonderful re-issue of our our one and only album as well as a DVD of live videos out now from Hyrda Head.    After we made the aforementioned album in 1997, I decided that I was going to quit music. At 21 years old, I felt that I had made the penultimate musical statement  with this band. I put everything I had into that album, which was recorded in the span of just one week, although it was years in the making.  It was just such a complete experience for me, that I thought the only logical conclusion was a sort of death.  Perhaps it was the psilocybin talking.  Too much Tibetan Book of the Dead.  Chasing ego death through the music.  So anyways, I told everyone that I was quitting, and that was that for about a week.  Some of the guys in the band found me holed up in my girlfriends apartment and basically told me that I was not finished with music. I thought that was an interesting idea, so what next?
Pleasure Forever was three of the original four people that were in The VSS.  I was really motivated to make Pleasure Forever a huge commercially successful rock and roll band. I wanted to be Queen.  The VSS were a part of the DIY post hardcore community of the 1990's, and after several years of that scene, I decided I wanted to be a rich and decadent rock and roller.  Perhaps I was following the lineage of the 1960's into the 1970's subconsciously.  The fantasy was to move from a grass roots struggle to a more glamourous kind of adventure.  The first Pleasure Forever album was supposed to be some kind of riff on the Great Gatsby to some extent.  We were also surround by nouveau riche dot com yuppies at turn of the millinium San Francisco.  It was headed for a collapse and we kind of knew it, but we wanted to take a snap shot before it happened. Pleasure Forever signed to a proper record label, had managers for various aspects of our tours, and attempted to step our affairs up exactly one notch.  We released our first record in 2001, and played those ten songs for two years on tour in the the US and Europe.  In late 2002, we attempted to make a new record.  This is where a lot of my solo ideas really started to take shape.  The first thing I did was start to clean up, because the decadent trip was becoming a drag.  So now I could really pay attention to what was happening in the studio.  The second thing I did was buy a proper four track cassette. I was 26 years old by now, and I needed to learn how to record music for myself.  So we were recording the second Pleasure Forever record in a proper studio, and I was coming home and trying to take what I had learned there and apply to the four track, etc.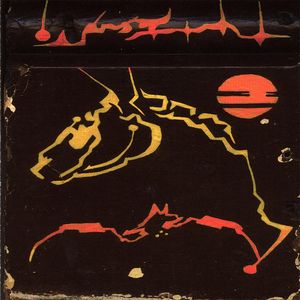 Please tell us more about your first album Abandoned Meander from 2006.
I started working on solo recording projects while I was in The VSS in 1996. The one piece of solid equipment I had was an analog synth, the Roland Juno 6.  I would make recordings on a broken 1/4" reel to reel, and never thought it would amount to anything other than something for fun. Mainly it was a lot of synth and guitar drone stuff sped up, slowed down, what have you. It is precisely these early recordings that became an integral factor in the Abandoned Meander album.  One of the playback heads on my first real to real was broken, so I would hear side two playing backwards over what was play forwards on side one. Sometimes the sounds would sync in amazing ways, and I realized  I could just record the exact notes I wanted backwards under specific parts of the song if I got a better piece of equipment. I finally upgraded decks a couple of years later, but only from one track to two track.  I thought that I had bought a 1/4" 4 track, but it turned out to be what they called a 'mastering' deck with two stereo channels.  
I started recording Abandoned Meander in 2000 or so on the two track reel to reel.  Before then I had tried my hand at recording direct to cassette.   I was touring and recording with Pleasure Forever as my main musical project, and a lot of times Abandoned Meander material would end up in the hands of that band.  I was always re-organizing what songs were left over from Pleasure Forever for my solo stuff. Over dubbing on the two track was possible, but I would have to bounce tracks using a mixer I literally found on a street corner.  The quality of the bounced tracks was audibly degenerated. I really like those type of sounds now, but back then I really felt like hot tape boost/saturation was the sure sign of a novice engineer.  Now it's probably my favorite type of sound to capture.  I wrote the song Tempeste at a church around the corner from my house, and actually went back there four years later to record it on the same piano with a four track.  My point is that I had bits and pieces of that album in my head for five or six years, and did my best to remember everything so when I could finally execute the idea, it would still be there.  What had been recorded on the two track was like one track, one take recordings that captured the room, the player, and the vibe, but punching in or overdubbing was not happening. I held on to these original takes in hopes of using them once I got better equipment, but I had ideas beyond what my gear could do.
Finally around 2005, I ended up with a 24 track hard disk recorder, pro tools, a sequencer, analog drum machines, and a Roland Juno 60, (which was a programable version of the Juno 6), a JS 200 acoustic, and a Fender Coronado 12 string electric.  It would seem that I had no less than an arsenal of sound power at my disposal to finish that record, and yet I still went back to that early dirty sound from the broken tape head as my overall reference point for that album.  I certainly would not have had the capability to be so exacting with the edits, and placement of sounds if it had not been for the digital realm.  I have to admit  that the baseline for everything on Abandoned Meander was boiled right back down to a single track analog approach.


Please tell us more about your second album Exodusarabesque from 2009.
I love acoustic guitars, and I still feel that the most challenging musical feat is to try and pull off a performance with just an acoustic guitar and voice.  I toured up and down the west coast with just a guitar singing the songs for Abandoned Meander shortly after Pleasure Forever broke up.  I found it to be the most exciting, and challenging tour of my life.  That being said, Exodusarabesque was my attempt at cutting the last umbilical cord to everything ever having to do with psychedelic folk.  Naturally, it was back to the lab, and back to  my magic broken tape head machine for the answer.  I also was trying to document the failure of 'success', as we know it in the material world. The world economy was failing right before our eyes, and it was a shock to a lot of people. I sampled an atm machine dispensing cash over an over and stuck it in on the last track to  signify the overspending, over inflated, over speculated bubble bursting at the end of the oughties.  In some ways, I was trying to recapitulate some of the sentiments that were on the first Pleasure Forever album which was recorded during the dot com bust of 2000. 
I went back to a lot of the sounds I was interested in my early twenties.  The rediscovery of electronic sounds of our childhoods in the 1980's was a big thing with The VSS.  We were playing a lot of shows with hardcore bands, and we tried to bring a little bit more of the 80's back into the '90's.  It had been about ten years since I had really dug into those sounds, so I started re-investigating a lot of albums from that era, with my love for psych and prog, and tried to just amp it up. 

These are the two first albums in a five albums series. Please tell us more about the concept for this five parts series.


The five albums in the series are related to the concepts of These, Antithesis, Synthesis, Parenthesis, and Paralysis as outlined in Robert Anton Wilson and Robert Shea's 'Illuminatus! Trilogy'.  If you dig around the appendices in the back of the volumes, the are specific elements relating to each stage including Astrology signs, Tarot cards, and I Ching hexagrams.  Right now I am working on the last three albums of this series, and trying to correlate the appropriate sounds accordingly.  
How is your writing and creative processes ?
The latest thing is that I'm into is this idea of no more masterpieces.  I really tried with Exodusarabesque to reach some sort of apotheosis of studio f**kery, and I feel that I got too caught up in trying to make a masterwork.  I just edited the sh*t out of that record.  I thought I could make Dark Side of the Moon in my studio apartment by myself.  My writing process for the last two years has basically just jamming with a drum machine and thinking about the beach.  California culture is all kinds of important to me.  I pull up to a red light and my Nuggets compilation gets drowned out by some gangster bass coming from the car next to me.  That's my process really.  Just taking notes on California every day because it takes me to school more than anything else.  At the same time, I admit to trying to  impress the record nerds with that last album. That's the end of it though.  Like I said, no more masterpieces.
For those of the readers who are not familiar with your music: How would you describe your music ?
Unprogressive.
What is your plans for the rest of this year and beyond ?
I'm going to release the last three albums of the five album series at the end of the year.  
To wrap up this interview, is there anything you want to add to this interview ?
Please visit
my site
:  to download the entire five record set at the end of 2011!  Peace in the valley brothers and sisters.
Thank you to Andrew for this interview