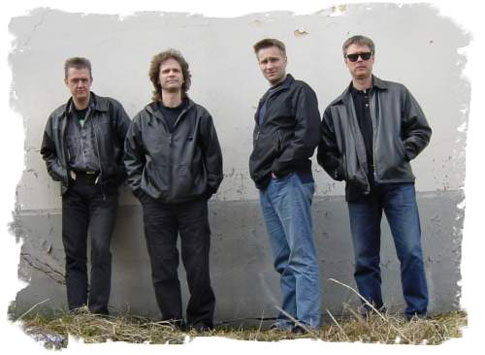 Outstanding swedish band who plays a thick melodic prog. Tasteful arrangements over long compositions with enough musicianship to keep the focus on the melody, without loosing it. In short; this is a band fans of melodic prog must check out. I got in touch with the band and Goran (first question) and Ulf (the rest) answered my questions.
------------------------------------------------------------------------------------------------------
When, where and by whom was Galleon set up. Why did you choose that name and which bands were you influenced by ?

Galleon started as a three piece named Aragon back in 1985, experimenting with different kind of music and musicians before it ended up with my brother Dan;Micke and Me,and we made a demotape that we sent out, and got a letter from an Australian band named Aragon that we had to change the name, so i Göran took an english dictionary and wrote down some 20-30 names and we had a wote and the name Galleon won
we did not have internet at the time so we didn´t know that there is actually 1 or 2 more bands with the same name.
Our main influences at the time were Rush and Marillion.

This is an archive based interview also intended for the fans you get well after both you and I have passed away so let's go straight to your albums. Please give us your long or brief views on your albums, starting with.......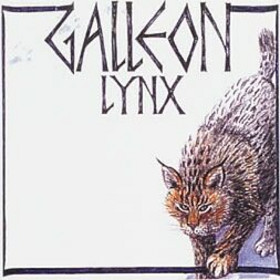 Lynx 1993

I wasn't a part of the band and was working just as an engineer/producer at the time. We recorded three songs over a weekend in September 1991, for a demo cassette. Later that year Dan Fors injured his right foot and was unable to play drums for awhile. In May-June 1992 he had recovered well enough to continue with the other five songs. The whole recording was not meant to be a CD, or so they told me. There are different kinds of setups for recording a demo as opposed to a CD. If you are recording a demo, sound get to take the backseat in favor of efficiency. So that's the way I tend to listen to it, knowing it's actually a demo. After its release, Göran, god bless him, called me every other week updating me on sales and stuff, and kept on asking if I wanted to join. He wouldn't take no for an answer so eventually I did.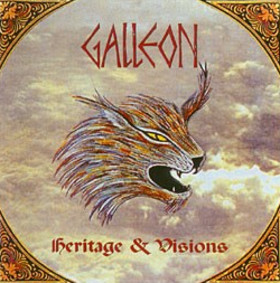 Heritage and Visions 1994

Most of the songs were already finished about the same time as we recorded Lynx. And in 1993, when I had become a member of the group, we spent the summer arranging and rehearsing the songs. We were pretty familiar with the material when it was time to go into the studio, so the recording could be more focused on the sound, so that's a bit more coherent on H&V's. But those days we were using low budget equipment, so the production is still poor compared to others made in commercial studios.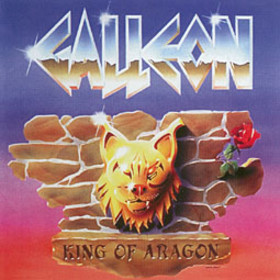 King of Aragon 1995

When we had started the recording of H&V's we got the offer from Xero Corporation to release both Lynx and H&V for the Asian market. And as we had this mini CD "At this moment in time" we asked them if they would consider releasing that as well. Their response was that it was not part of their business plan to release mini CD's but if we could make it a full-length album, they would be happy to release it for the Asian market only. So we took some more leftovers from the All European Project, and added bits of pieces here and there, dusting off very old songs, e.g. "Long Lonely Shadows" was an idea I've had in the drawer since 1984. And we were also in a hurry, as Xero wanted to release it as soon as possible. The whole attitude towards the project were a bit overly playful, so I think of this record as somewhat of a whimsical side album.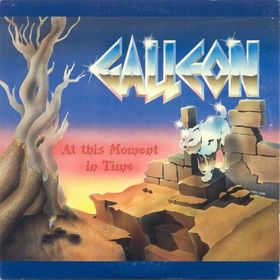 At this Moment in Time 1995

When we realized that the recording of All European hero was going to be delayed, we decided to make a limited release to fans only. Just to show we were still around. We already had gathered some leftovers from "The All European Hero" we knew weren't going to end up on the album so we took some of the best material and recorded it for this mini CD. The song 'King of Aragon' was originally written for "Heritage and Visions" but the Master tape did for some mysterious reason disappear, We re-recorded it for the mini CD as it was too good a song just to abandon.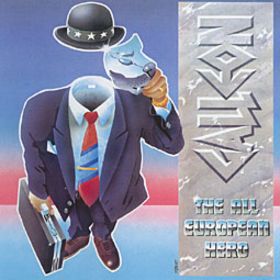 All European Hero 1996

Spending almost two years in piecing the puzzle together that was to become our first concept album, was basically our first set back in our history. There are two important ingredients that fails on this album and that is the sound, but also the story. Micke had originally a really good solid story, but I believe we were too many chefs involved that made it stray in too many different directions. I think there are some very good songs on the album, but they don't come across because of the whole quality of the production.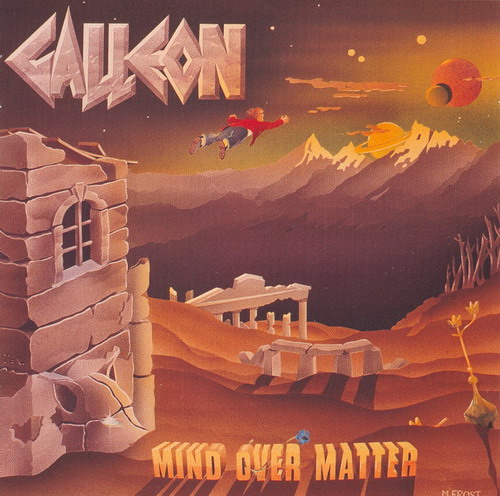 Mind over Matter 1998

What I remember the most from this recording is that we struggled with everything possible; arrangements, performance and recording equipment. We actually ended up recording the album twice! After the first recording was finished we realized it wouldn't hold to any previous standards, so we decided to record it a second time. Dan is primarily a live drummer, and he was never comfortable in a studio environment, and now it got to the point that he almost refused to play anything at all. So for the second take on the album we moved the recording equipment to our rehearsing room to record all the drums in an attempt to release him from his studio fright. Micke had totally lost the interest in the band and we had a hard time getting him to play his parts. At the time he was also living in Stockholm, which made it even harder to even get him to show up in the studio. In the end we managed to put the album together and as far as I'm concerned this is one of our best albums we made, considering the circumstances.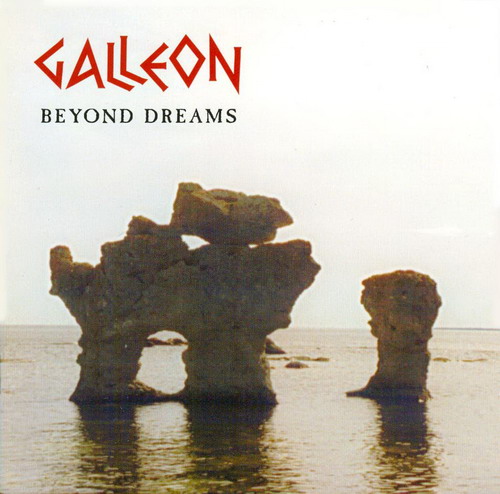 Beyond Dreams from 2000

After the struggle with Mind over Matter we took some time off from each other. I had a lot of material in the works, inspired by the two tours we made in 1996-1997, so I was working pretty intense making songs. We confronted Micke and asked him if he wanted to involve himself more in the band, but he said no and that was the end of it. I called Sven in February-March something in 1999 asking him if would be interested to join the band. We had a first rehearsal sometime in april and we hit it off really, really well. We rehearsed and started to record early summer the same year. I don't remember we had any kind of trouble recording this album, but it took a long time anyway as I was moving to Ljusdal to be able to put more time into the band. This was also the first album released by Progress Records only. Previous albums were released on the VF label, and later licensed to Progress.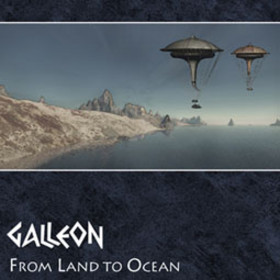 From Land to Ocean from 2003

Göran were having this dream of making a double studio album. And one evening we were in the studio waiting for Sven to show up for some last minute guitar overdubs on Beyond Dreams, when I played around with the new Alesis Q8 keyboard Göran just had purchased. I was playing around with different sounds, and it was inspirational. Many of the original ideas came off that night and we recorded it on cassette to remembering, and for Göran to start working on a concept idea. We set out to put all the bits and pieces from the ideas scribbled down on the cassette all together as a band. We decided we should work on developing the ideas into songs everybody together as a band. But as we all have regular jobs aside from Galleon, the opportunities to rehearse are few. As Sven is living a hundred miles away from the rest of us, it's even harder to get together. This obviously makes this process taking a lot of time. The song "The Ocean", which were intended for CD 2, took one and a half year to create, leaving us with yet another year making the songs for CD 1. The actual recording didn't take much time because we were pretty well rehearsed having been playing the songs for so long. I think the end result is pretty good considering that a project of this size really should be carried out only if you are able to devote yourself to music full-time.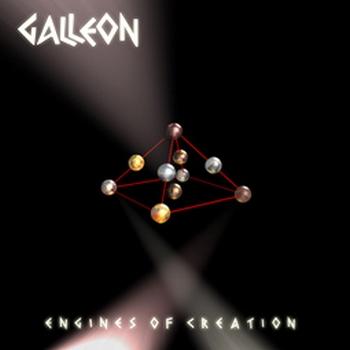 Engines of Creation, 2007

The making of "From Land to Ocean" was taking its toll on all of us. And we didn't get any gigs either so it was time for another "time out" from eachother in early 2004. We managed to get two gigs in September 2004, one in Belgium and another in Switzerland. That "tour" turned out to be a nightmare. As we rely heavily on Görans Taurus bass pedals, especially on almost all songs from "From Land to Ocean", the basspedals broke down just days before we were supposed to leave. They were working sometimes and sometimes not, and we had nothing to replace them with. On stage I had to have one keyboard ready to fill in the bassparts in case the Taurus didn't work, making me lose focus on my own parts most of the time. The gigs turned out erratic and chaotic and didn't leave much of an impression. The bus we rented to take us the 1000 plus miles broke down somewhere in the south of Germany on our way home and had to be repaired. For some reason the workshop didn't have spare parts available so we had to stay five extra days waiting, which of course puts a strain on the economics. Luckily we had managed to sell a lot of albums, so balancing the financial loss.
We didn't have any real idea or focus when we started to work on new album, and the rehearsal became 90% coffebreaks and 10% frustrated attempts in making new songs. Eventually Dan got tired of it all and quit. Enter Göran Johnsson. We tried to continue developing some of the ideas we did work on, but I was becoming more and more frustrated in having no directions. Eventually the two Görans rallied up to make songs for a new album. I don't know why, but this album is the one that speaks the least to me. I don't think it's bad, it's just something there that leaves me empty.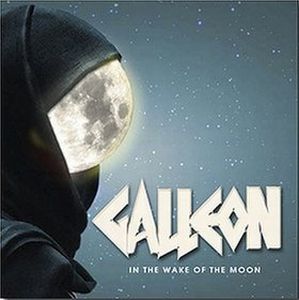 In the Wake of the Moon from 2010

Early in 2008 I heard King Crimsons "The Power to Believe", and that made my confidence in progressive music coming back. All of a sudden all these ideas just poured out of me, and before I knew it I had two dozens of new songs. We started to record about 10 or twelve of these songs while making a beginners mistake in not checking the vocal parts. Göran had to write lyrics and come up with melodies to an already recorded background. A bit embarrassing to tell you the truth. However we were lucky that at least seven songs came out better than expected. We trashed four or fice songs that didn't work, and "Here comes the Rain" was re-recorded in a different key and version. That was it. Tracking the drums didn't take long. Göran Johnsson has this ability of getting into any song no matter how complex it is, so tracking drums worked like a charm. But then there's the issue having available slots of time to record the rest of the instruments that seems to drag out every production we make these days. As being close to the big 5-0 you're also living in a different time zone than when you were younger. All of a sudden two months have passed but it feels like it's only been two days. Anyway, I'm pretty pleased with this album.

How is the current availability of all your albums ?

We hope the albums to be more accessible on the shelves now, having a new record company. It does not appear to be available on Spotify yet, but we'll soon see if it gets there. Otherwise there are plenty of sites on the internet selling it, so it should be pretty easy to obtain.

How would you describe your musical developments from the debut album to last year's album ?

The first thing that comes to mind is that we have matured. I don't think the concept has changed that much through the years though. In my opinion we are still searching for an identity of some sorts, but I don't think it's a matter of sound. I am thinking about some kind of conceptual identity whereas we need to agree on what we want to communicate. Nowadays, with the internet and all happening, it's all the more important to be very specific in your communication.

How would you describe your music and which album do you regard as your best album ?

I like to think of our style as being a form of cross-over between neo progressive, and classic seventies symphonic rock, dressed in a somewhat modern sound.

Personally I think Mind over Matter is the album I like the best. The others have some good parts, and some less good parts. In retrospect I think there are some good songs on all albums, some we could perhaps have presented better.

How is the creative processes in your band from coming up with an idea to commiting it onto an album ?

That has been shifting through the years really. Back in the days someone could come up with a rather sketchy idea which then was developed by everybody in the band. But lately, to save time - every individual is having a pretty advanced idea of where their song is going. If we were going start to develop ideas as a band, every new album would be released with a ten to twenty years interval. The time we can sacrifice for rehearsals is scarce, because we live quite far from each other, and everybody needs to have regular jobs in order to put the food on their table.
 
You have released a lot of albums and have done some gigs. What is your experiences with the music industry and the gigs promotors ?

As we only have a limited amount of touring experience, the only thing I can say about promoters is that the ones we have met appears to be very honest and has a very idealistic approach. I guess it's because there's not a lot of money involved in the genre, or at least not at our level.

Internet brings of course a whole different set of opportunities to market and share your music but there's also a flip side to that; Nowadays music is shared freely through the file sharing communities, and the reward for your efforts is zero to none. Especially for the likes of us, working in a narrow genre and who can't really make a living out of our music, it hits a lot harder than the big buck music business. Sadly there are people out there thinking that they're fighting the big capitalist record companies by sharing music for free, when in fact they hurt us working on a smaller scale the most. I really hope someone clever comes up with a solution on how to rectify this attitude or issue, because being on this level, you end up in a catch 22 situation where you really need to work hard to maintain and increase the level of your musical standard, while you find yourself spending most of your time having to earn your living on a regular job.

What is your plans for this year and beyond ?

We are currently looking for some management that can put together a tour, as we're eager to take this setup to a live stage. Unfortunately we don't have the possibility of organizing it ourselves anymore. We have enough material for another album as well, but for now we focus on rehearsing for a potential tour.

To wrap up this interview, is there anything you want to add to this interview ?

Not apart from wishing everybody at Progarchives.com a productive and prosperous 2011!
Thank you to Ulf & Goran for this interview
Their PA profile is here and their homepage's here




Edited by toroddfuglesteg - February 12 2011 at 16:09