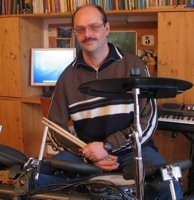 The Healing Road is the moniker used by German composer and multi-instrumentalist Hanspeter Hess when releasing his musical creations.

He started recording his own compositions in 2005, and with contributions from friends and aquaintances 2006 saw the release of the first album "The Healing Road". Two more albums followed.
I got in touch with Hanspeter for his story.
=====================================================================
When and where was The Healing Road started ? Did you play in any other bands before setting up in The Healing Road ? Why did you choose that name ?
I started the project when I began homerecording in 2005, I never played in a band before. After classical training and some piano gigs in my youth I only played piano or keyboard for myself for 2 decades. Then I bought my first Apple computer and discovered what can be done today using software like Logic. So I plugged in a keyboard, began to record, arrange and upload some tracks in some internet communities. One of those was
www.thebearded.de
, the German Spock's Beard fanclub. Some musicians there decided to do a project together which later became "The Bearded's Project" and raised more than 7000 Euros for the German Aid for Afghan Children. I've been part of the project so I had to find a name for my musical output. I chose "The Healing Road" after having read Neil Peart's moving book "Ghost Rider - Travels on the Healing Road". It seemed to be a good choice to me because in my own life music has always been kind of a "medication for the soul", not just entertainment.

I guess The Healing Road is a one man band. Have you ever got anyone else involved on session basis or permanent basis ? What instruments are you playing and which ones are you outsourcing ?
It's my project and I decide if I consider one of my ideas good enough to be recorded. Then I start looking for musicians who like it and want to contribute. Some of them became "permanent members" like Thommy Frank, Stefan Dittmar, Roland Enders or Kai Heyrock. But we live in
different parts of Germany and everyone has jobs and families, our albums are made after work and on weekends. There are no sessions. I send them demo tracks and they decide if they like them and want to contribute.
I had classical piano training for about 10 years, very few guitar lessons long long ago and little contact to other instruments (mallets, percussion, flute and others) in my school days. On the first albums I played keyboards and Roland V-Drums and "outsourced" every other instrument or played it on keyboards using sampled sounds. On the new one I also play some acoustic instruments (banjo, ukulele, percussion, flute, even a little clarinet, harmonica and more) and I even play on
the iPad using Jordan Rudess' "Morphwiz" software.


Over to your three albums. Please give us your long or brief views on your albums, starting with.......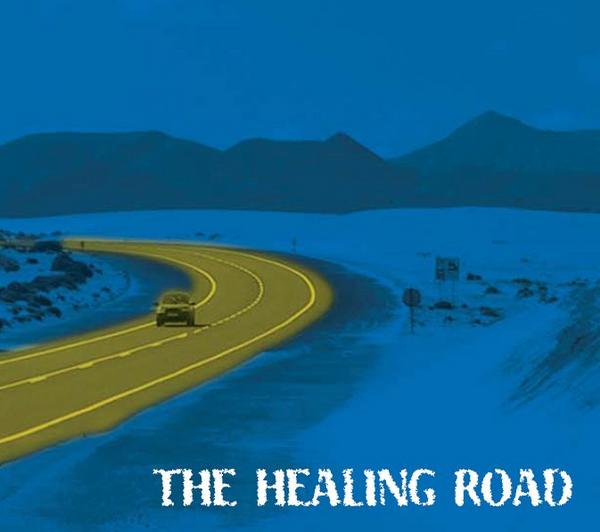 The Healing Road from 2006


This is a collection of my first recorded tracks so there is no clear musical direction. I didn't have any plan to publish them on CD until more and more people asked for it. It's mainly done on the keyboard using all kinds of sampled sounds. Thommy Frank (git, voc), Roland Enders (git) and Kai Heyrock (git) are guest musicians. I'm still very proud of my first longer pieces like "Crovenia" or "Turbulences". I think there are some good ideas on it but also some weaker tracks I did just for fun. There are very few copies left, I'll continue to offer it on iTunes but I don't think there will be another pressing.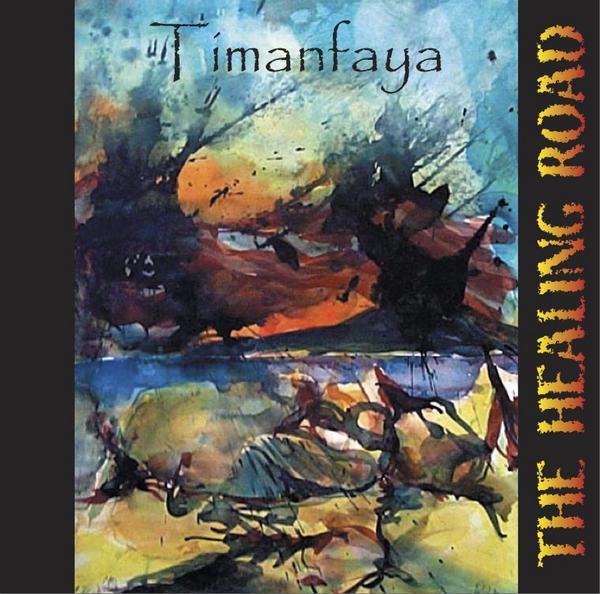 Timanfaya from 2007


Timanfaya has been quite an effort. This is my first "real" album which means the tracks have been recorded with the intention to make an album. The plan was to make it sound like a classic Progrock album. The music is about my travels to the volcanic island of Lanzarote. Recording this
was an adventure. More and more guest musicians came in, I realized that I couldn't do the mix myself and hired a professional to "produce" the record (Andy Horn). I found an artist who provided some of his works for the booklet (Herbert Wanderer) so everything grew bigger and bigger and in the end I had an almost semi-professional album in my hands. I sold some copies myself until a few months later Musea offered to distribute the album worldwide. Timanfaya gave me a lot of confidence, it was the first time that a bigger crowd of people from all over the world
listened to my music.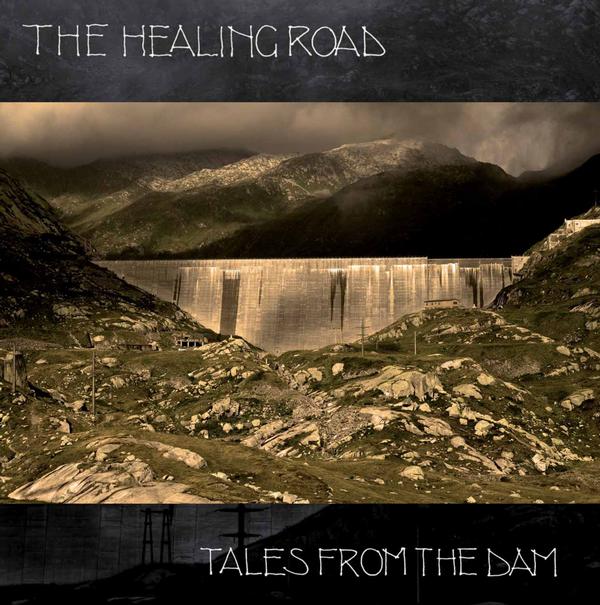 Tales From The Dam from 2008

After having been quite happy with "Timanfaya" I thought about how to continue with The Healing Road. There was one big dream left: holding my own vinyl LP in my hands. I grew up with vinyl records, it would be fantastic to have one recorded by myself. So I took the challenge. It would be a lot of work, it would be expensive and it surely would not sell too many copies. How many people still have record players at home? But I was thrilled by the idea and simply did it. An LP with colored inner sleeve and labels and the whole material also pressed on a bonus CD so theta you don't have to own a record player to listen to it.
Musically "Tales" is a journey through various moods and styles. There are some classic Progrock parts but also electronic and experimental influences. Recording went very smooth, all the musicians involved did a great job and so did Matthias Klaiber who designed the package. To my
surprise Musea Records believed in the album and agreed to distribute it. I still hold the record in my hands from time to time and have a big smile on my face because having realized this project makes me happy and proud.

You are currently working on your fourth album and just about to unleash it. What can we expect from this album ?
You can expect less sampled and more real instruments than on my last efforts, two longer tracks, each one between 20 and 25 minutes long and more consistent than "Tales from the dam". The music is influenced by the first albums of Mike Oldfield and by the pastoral landscape around
Schwaebisch Hall, Southern Germany, where most of the ideas for the album came together. The recording of the basic tracks has been pure fun, everything was very relaxed, no time schedule, no plans for release back then, a lot of playing around with various instruments and a funny little recording session on the Schwaebisch Hall campground where we recorded some accordion tracks right by the little lake there. The team involved didn't change much. Thommy Frank plays guitars and bass, Roland Enders wrote and sung a beautiful folk tune for the end of the album, Herbert Wanderer provided some of his paintings, Matthias Klaiber is currently busy with the design and Musea Records is going to distribute the album. The plan is to have it out in April 2011, I hope this will work. The album will be called "Backdrop". Check
www.healingroad.de
for more information.
How is your creative processes from coming up with ideas to commiting the songs to an album ?
Usually, I start playing a melody or chord sequence, then build an arrangement around the initial element. If I like what I've done so far, I'm thinking about how to go on from there, so another melody or chord sequence follows, and after that another arrangement. I try to give the recorded parts a solid arrangement so the guest musicians already know exactly what I have in mind when they listen to the tracks. If it sounds the way I want it to, I usually upload it to my webspace and send the link to the guest musician or musicians. They decide if they like it and want to contribute. Then they make suggestions and record their tracks. I add them to my music and rearrange the parts if necessary. Sometimes I get really great stuff that has to be featured so that I delete some of my own tracks to give the guest musicians' track more space. Longer tracks are recorded in many parts. The new album has 12 parts that were recorded separately.

You signed on Musea after the second album Timanfaya which was re-released by them. How is it to work with a label like Musea ?
I think Musea is the right label for people like myself. I don't want to be part of the big business, I'm not dreaming about playing in big arenas, making lots of money and being a rock star. I just love making music and obviously there are some people out there who love to listen to it. Musea helps me to reach those listeners, to be able to offer my stuff on a CD in good quality and sell the albums. I don't have to compromise. I do things the way I want and give the finished product to Musea. They can take it or leave it. Fortunately they wanted to have each album I offered them so far. I'm quite pleased with Musea.
I find your music is a bit difficult to describe, so how would you describe your music and which bands would you compare yourself with ?
That's difficult, you're right. I think a major influence is the music of Mike Oldfield, especially his early recordings. On some tracks you also can hear that I really love the work of Tony Banks, he's my favorite keyboard player. I love Yes and Rush but I don't think that people can figure that out by listening to my music. So how to describe my music? "Symphonic progressive rock"? That sounds horrible. One guy who liked "Timanfaya" proposed to call it "Geographic Rock". I liked that because I studied Geography, but that's not really helping to define the music. I have to admit that I have no satisfying idea how to describe my music.


I gather that The Healing Road is a studio project at the moment. Do you have any plans to perform live under this name ?

Not at the moment. All of us have jobs and families and lives beyond music. My music would be very difficult for us to play live, we would have to rehearse for months. Right now that is simply not possible.

Besides of a new album, what is your latest update and plans for this year and beyond ?

Winning the lottery, quitting my job and recording with Mike Oldfield on the Bahamas. If that should not work, I'll try to finish "Backdrop", hand it over to Musea and be happy about each copy they sell. Then I'll take a little break from music and wait until new ideas come along.

Finally; you are member of an association called the Bearded Artist Network. Please tell us more about this network and it's threat against the likes of Gillette (two pounds for a single shaving blade is frigging expensive !!).

We seriously consider about changing the name to "Artists Against Shaving!". No, most of my guest musicians are members of the German Spock's Beard community called "The Bearded". "The Bearded Artist network" is just about making a little promotion for the other musicians on our websites. Most of us have musical projects in the making and hope that people will listen to their output. So everyone of us is giving a little corner of our websites for the other ones to present their music. If for example some people like the guitar or voice on my next album they can listen to the music of the guys simply by clicking on a song of them without leaving my website.

To wrap up this interview, is there anything you want to add to this interview ?

It's been a pleasure to answer your questions and I hope I was not too boring. ;-)
Thank you to Hanspeter for this interview