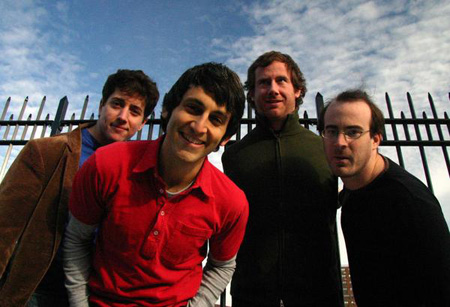 Gutbucket was formed in 1999 by bass player, Eric Rockwin, Saxophonist, Ken Thompson, guitar player, Ty Citerman and drummer, Paul Chuffo. in the New York area and have since been playing touring in the surrounding area and beyond while and recording. They say that it's not important who they play to, it's that the music fit right in, and their music has been described as, "a shot of glorious spazmitude into the minimalist cool of the New York downtown scene." They have a clear punk attitude to them which they apply graciously to their jazz and art rock chops, making for a very interesting listen. While the band have participated in many side projects they also enjoy occasionally playing alongside an orchestra to have a "musical conversation".

The band have released four albums to date on both cd and vinyl formats ("for all the analog freaks out there") and one live DVD, which would seem appropriate based on the band's now legendarily frantic live shows. In 2007 Paul Chuffo would leave the band only to be replaced with Adam D Gold, who will appear on the band's fourth studio album, "A Modest Proposal".

I got in touch with the band and Ty answered my questions.
~~~~~~~~~~~~~~~~~~~~~~~~~~~~~~~~~~~~~~~~~~~~~~~~~~~~~~~~~~~~~~~~~
When, where and by whom was Gutbucket started ? Did any of you, past and present Gutbucket members, play in any other bands before joining up in Gutbucket ? Why did you choose that name ?
Gutbucket began in February 1999 after Ty, Ken and Paul (the original drummer) left a 9-piece soul/jazz project that began in the studios of pioneering jazz radio station WKCR-FM in New York. Eric answered an ad placed in the back of the Village Voice, and his audition turned into a free-for-all musical conversation on early Gutbucket originals and far-out explorations of Thelonious Monk tunes.
The name "Gutbucket" dates back to the days of Prohibition in the US during the 1920s and early '30s. It referred to the bucket used to collect the spillage when making bootleg alcohol in speakeasies - but musicians began talking about "gutbucket" jazz as a raunchy, dirty, bluesy form of music played in those establishments during that time. 
Our music doesn't at all sound like that music, but we liked the spirit of the name and thought we could apply it to our more modern music.
How was the music scene in your area when you started ?
We began as a jazz-related band that played in rock clubs that featured diverse music programming. We've often been among the outsiders in the NY scene, as we're a bit too weird and lack the singer that would propel us in the rock scene; and we're also a bit too loud and amplified to be comfortably at home in the jazz world. So we explore the outskirts and the underbelly without getting too comfortable anywhere.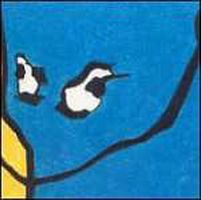 Let's go straight to the first album. Please tell us more about InsomniacsDream from 2001
We recorded Insomniacsdream over a weekend in 2000 at our friend Christian Quick's house studio just outside Washington, DC. We set up on Friday late into the night, and tracked songs live all day Saturday and Sunday. The album was a solid document of our live sound at the time, without too much studio tinkering, though when we mixed it with our friend Ed Haber, we did play around a bit with enlarging and altering drum sounds and the sounds of the amplified instruments. This was the music that we played live constantly at the time - somewhat simpler tunes with angular yet sometimes consonant melodies, odd-meter rhythms and noisy improvisation. Some songs were heavy rock-trance tunes like "RocknRoll" and some were Balkan-jazz inspired pieces like "Being Questioned About Iran-Contra While Eating French Onion Soup."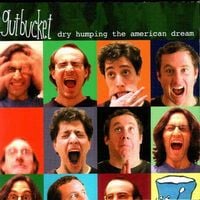 Please tell us more about your second album Dry Humping The American Dream from 2002
We recorded this album in rural Pennsylvania with our friend Scott Strickland engineering the session. We again recorded over the course of a weekend, still in one live room. These tunes explored a bit more of the genre-smashing sectional song structure that some people associate with the John Zorn project Naked City, though our compositions were always meant to be based on motifs and melodic themes that tied them together. Featured songs included Ken's slow burner "O.J. Bin Laden" and Eric's twisty head-banger "Snarling Wrath of Angry Gods."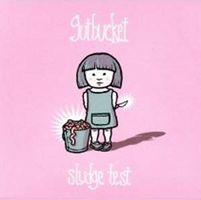 Please tell us more about your third album Sludge Test from 2006
For this album we finally began to explore the studio more as an instrument, ad we also pressed our first vinyl. We saved up a bunch of money and flew to San Francisco for two weeks and hunkered down at the legendary analog house Tiny Telephone Studios with engineer Jay Pellicci (Deerhoof, Erase Errata). We tracked songs to 2" tape and orchestrated layers of extra heavy guitars, various horns and other noise toys. 
We even mixed this album all-analog.  Jay and his brother Ian worked the faders and literally had to learn our complicated tunes by memory to mix them live on their board (which had no motorized faders) down to 1/2" tape.  They practiced their mixes before they printed them, just as we had to practice to perform live in the studio. This was really incredible to watch. On the vinyl LP we put out, nothing touched digital the whole way through - we even mastered straight from tape to vinyl with no computer, with one of the few facilities in the country that could do that.
This record also featured the only cover song in our repertoire, Olivier Messiaen's haunting "Danse de la Fureur, Pour les Sept Trompettes" from his "Quartet for the End of Time."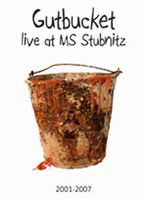 Please tell us more about your live DVD Live at MS Stubnitz from 2008
We've played on the MS Stubnitz more than a dozen times - it's an amazing former German fishing boat that a bunch of artists bought and turned into a mobile performance space/video center/concert space/bar/dance club. We played there for the first time in January 2001 in Rostock, Germany - it was our first-ever European gig (when you play there, you also sleep on the boat!). The folks who run the boat document every concert and sometime in 2007 or so, they proposed we do a compilation of Gutbucket's concert videos, since there was so much incredible archival footage to choose from.
This was the first release for their in-house label; so the entire making of the DVD was done by them, but in daily collaboration via long international phone calls and passing files back and forth between us and them. They were careful to create a DVD mix that will also play as a live concert, as well as something to watch; plus there are interviews with us and personalized liner notes, etc.  It wound up being an incredible document of the first 10 years of the band through the prism of one space.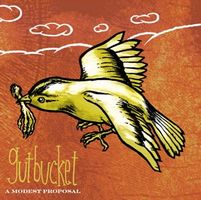 Please tell us more about your fourth album A Modest Proposal from 2009
Our original drummer Paul left the band in 2007, so that year, we recruited Adam D Gold to hold down the band's drum chair, and this change in personnel pushed the band's sound in new directions - different elements, highly technical modern classical influences, a broader dynamic range. Adam also had a whole new batch of compositions by Ty, Eric and Ken to make his own, which he did to great effect. These are the tunes of "A Modest Proposal." The CD was recorded in Minneapolis, MN at the Terrarium (again to analog tape) and featured even more elaborate orchestrations and arrangements with vibraphone, multiple organs, horns/reeds, guitars, etc. The record brought in the influences of modern classical composition, melded with rock and jazz.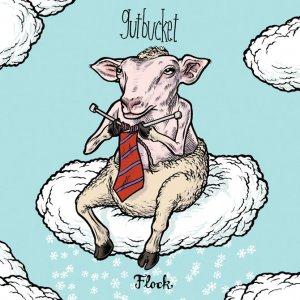 Please tell us more about your fifth and most resent album Flock from this year
"Flock" took the modern classical+jazz+rock direction of "A Modest Proposal" and even more fully realized the band's new sound. After recording the bulk of the music to analog tape during the early summer months of 2010, we spent the rest of the summer adding overdubs, developing the arrangements, editing, and perfecting the final versions of each tune. This album is the band's best use of the studio to date. All four composers in the group are represented as well, with Adam's debut composition "Tryst 'n Shout" featured here.
How is the creative processes in your band from coming up with ideas to getting them onto an album ?

Each band member writes and arranges his own compositions. We use Sibelius software to score everything, so we can email each other scores and parts, and ask for feedback like "Is this possible on your instrument?" or stuff like that. We will occasionally send each other MIDI mp3s of rough early versions of songs to see what people think, or work on song fragments in rehearsal. But for the most part, we read parts that each composer has written, and the improvisation (if any) is written into the sheet music. In this sense we've moved much more into a "composers' collective" mentality for the past couple records, whereas the first couple of CDs involved loose fragments and collective arranging.  
But as we've all become quite confident as composers, we pull the band in different directions. Because we know we're writing for each other and due to the strength of our musical personalities, the band still sounds like Gutbucket no matter which different ways the composers go.

Just to give those of us who are unknown with your music a bit of a reference point or two: How would you describe your music ?
Gutbucket's sound is composer-driven art-rock-tainted chamber jazz with a ferocious and fun live show.
Are you a live band or only a studio band at the moment ?


We are a live band first, always! We began as a live band and continue to be primarily that- but we do enjoy working in the studio to see what we can do with our music that's not as easily possible with just four musicians and their instruments on stage.
According to the always reliable Northern Korean News Bureau, your hometown New York lost half of it's population last year in a famine. How did this famine impact on your creative processes ?

That's funny, we hadn't noticed this famine - but we do value food almost more than we value music. We talk about it constantly, keeping careful track of the food we eat and what we like the best. We require a hearty allotment of daily calories from a wide variety of fruits, vegetables, meats, chocolate and whole grains in order to produce the high quality music that we do.
What is your plans for the rest of this year and beyond ?
Our new CD "Flock" comes out in late February. We will do a bit of touring in the US and Canada in March and early April, then tour Europe throughout most of April. We'll be back in the states to catch our breath and then will tour the West Coast of the US in May. Then we return to Europe for some touring in France in July. Beyond that, we'll continue to write new music, travel to interesting places to perform it, and record our 6th CD sometime down the road!
To wrap up this interview, is there anything you want to add to this interview ?
Come see us perform somewhere - hopefully we'll visit you soon! 
And if you'd like to support us, also, please go to 
http://www.gutweb.com/
 and load up on some music (and other fine Gutbucket products)!
If you're about social media, you can hang out with us on Facebook or on Twitter at @gutbucketnyc.
Thank you to Ty for this interview