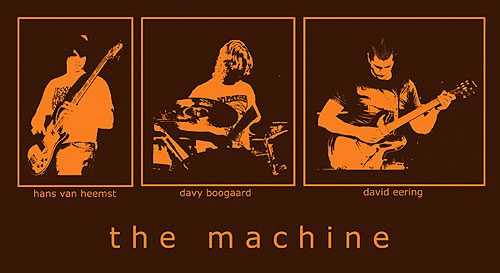 In September 2006, a three-piece ensemble with heavy enthusiasm for stoner coloured psychedelic rock necessarily came from Netherland - called The MACHINE. Their soundscape are much influenced by various artists - from 60s psychedelic jam bands or early 70s rock pioneers like Jimi Hendrix Experience, Blue Cheer, Pink Floyd or Black Sabbath, to recent stoner-psychedelic developer like Kyuss, Sleep or Colour Haze. Since October 2007 they have made the line-up tight and united - Davy Boogaard (drums, percussion), Hans van Heemst (bass), and David Eering (guitars, voices).

The MACHINE released their debut album 'Shadow of the Machine' on their own, much approved by lots of reviewers and fans. With the unexpected success, they could sign German label Nasoni Records, and in May 2009, released the following album 'Solar Corona' with heavier Kyuss-like riffs and much more atmospheric, improvised plays like their gigs.

I got in touch with the band and they replied to my questions.
#############################################
When, where and by whom was The Machine started ? Did any of you, past and present The Machine members, play in any other bands before joining up in The Machine ? Why did you choose that name ?

[David] Really standard, but we met in our last year at high school (2005). Aged 20, 18 and 18, we started to jam there when we didn't had to attend any classes and practiced for a gig at a schoolparty (a set with cover songs, Hans on bass AND vocals!). We immediately noticed a special chemistry back then. I really wanted to continue as a band and start to write our own songs, apparently Davy did too so we asked Hans if he wanted to stay with us as our bassplayer. Unfortunately he had to decline our invitation, because he was about to attend university at the time and wanted to put all of his efforts into that. So we asked two other guys Davy knew from some of his prior rockbands to join: Eduard de Jager on bass and Tim Fleur became our singer. We named ourselves "1984" and played some local shows and recorded a couple of demos. Me and Davy were getting a bit uncomfortable with the, to our ears, easy-listening/poppy feel of the songs which was the singer's input, so we went on as a three-piece. After this we named ourselves "The Machine" (after the Pink Floyd song "Welcome to…" and we wanted to have a name which had a bit more balls, just like the music): we started to downtune the guitars and were getting more heavy and psychedelic. I took over the singing duties before recording two demos. Eduard's funky style of playing the bass did not suit the new sound of the band anymore so we got Hans back instead, who already was our roadie/friend/stand-in bassplayer. This was in September 2007, and to me, this was the real start of The Machine.[Hans] Yeah I remember the summer before I started college thinking that there was no way I could combine a band and my study. Ha! What did I knew about college back then.... Joke was on me! Cause there is nothing more relaxing after a period of studying than jamming your mind back to emptiness!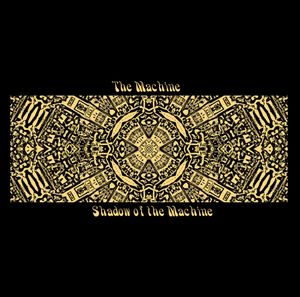 Your debut album was the Shadow Of The Machine album from 2007. Please tell us more about this album.

[David] It was recorded very soon after Hans rejoined Davy and me. It's a collection of songs from different phases of the band: "Miracles" is a 1984-song for instance. It also features some tunes from the period with Eduard on bass and a couple of tracks were written in the very short period we had with Hans. Two tracks were written in the studio during the recordings. We just had the, to us at the time, funny idea to record our stuff, doing everything on our own. I already had been messing around with recording my own ideas at home for quite some time. We recorded the entire album completely live in two days, with no overdubs. The vocals were added after we laid down the instrumental parts. We released it without a label, and did not try to do so, because we recorded our songs just to try something out and see how other people would react to it. So we went to a pressing company with a masterdisc and the artwork and at first had them print 50 copies. We made the album available through our website and MySpace. To our surprise, it became quite popular. E-mails with orders were coming in, from entire Holland to Germany, Argentina, France, Australia and more. This is how things started to get more serious to us. Not that we take everything very serious nowadays by the way ;-).
[Hans] I was in the band for a few months or maybe even less. So it was hard work to keep up, but at the end I was damn proud!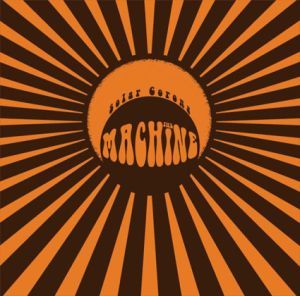 Your second and so far latest album Solar Corona followed in 2009 after signing on Nasoni Records. Please tell us more about this album.

[David] We composed the majority of those songs in the studio, I think four or five out of the seven tracks. With Solar Corona we moved further into jam-territory, resulting in longer, also instrumental songs. It's also a bit mellower compared to Shadow, with more laidback singing. I took up singing not very long before recording Shadow, so using my voice as an instrument also took and still takes some time to develop. We used to jam a lot those days, every rehearsal we did was one big jam. We quickly structured the raw jams and I wrote the lyrics to the jams. Our latest effort is called "Drie" by the way, recently released at Elektrohasch Records, at CD and 2LP. We're quite proud of this, because Stefan Koglek (labelchief and guitarist/vocalist with Colour Haze) is very passionate about music and this love shines through with every release he does, we really recognize the passion. He puts a lot of effort in his releases, also by promoting the stuff very good. But really, check out this album, it's our best up till now! It has more structured songs, more typical stonerrock riffing and I put more energy into the vocals. We´re already writing a follow-up, which will probably be more heavy and with some shorter songs, looking at the way the new ideas are shaping up.
[Hans] Composing the songs in the studio was stressful sometimes, that's why we finished composing the songs on Drie before entering the studio. But you do catch some vibes sometimes, I remember for instance with the title song 'Solar Corona' we were practicing. To spare some blisters I was playing just with my thumb (instead of index and middle finger) during what I thought was a practice run. Turned out David was already recording and the take was good. When we listened to it the bassline was very groovy so we just stuck with it.

How is the creative processes in your band from coming up with an idea to it's being recorded ?

[David] We used to rely a lot on quickly structure a jam, let a song build up, a solo part, explode, again a solo part, explode and so on. But with our latest album Drie, we started to really compose a bit more. The songs Tsiolkovsky's Budget and First Unique Prime for instance; they're both over 15 minutes but those are all composed minutes. The solo parts may vary a little bit during the live shows, but even those are composed. There are more examples like this one at Drie. The new, new material we're writing is even more well thought out. We're also choosing a bit for this, aiming at more compact songs without five-minute-long guitar solos. It even features a song in a 5/4 time signature. We can't keep on delivering albums relying on the same procedures every time. We like the new songs to be refreshing to our ears first and not writing the same kind of album again and again. It's also more exciting to ourselves when playing live of course.
[Hans] True, but don't worry that the live shows will be more boring. We still have lots of songs which we like to expand/go with the flow in a live environment. The the-machine-show-never-the-same-show attitude isn't gone.
[David] True!
For those of us unknown with your music; how would you describe your music and which bands would you compare yourself with ?

[David] I always find this difficult to answer, but I'll give it a try :-). Psychedelic stonerrock is the most convenient label I think. Although our music sometimes also has some prog, blues or jazz influences. My love for (the Band of Gypsies era of) Hendrix should be quite noticeable from time to time. Sometimes we like to chill out with relaxed, psychedelic parts and on the other hand rock out hard with some heavy riffing. The other obvious name to drop would be the mighty Kyuss of course, although Pink Floyd should be mentioned as well. Looking at more recent groups, we all like bands as for instance Motorpsycho, Brant Bjork, Causa Sui and Colour Haze. Especially Motorpsycho is really worth checking out live, mindblowing stuff!  Oh and I would like to mention our friends and labelmates Sungrazer, also a quite young and fresh stonerrock band from The Netherlands.
[Hans] Music from the 60s and 70s have a great influence. Grateful Dead, Blue Cheer, Grand Funk etc. I'm not comparing us with them, it's more that we're on the same wavelength.
[David] Yeah, the whole 'free' feeling the bands from that period had really appeals to us. I think it's cool to go to a concert and see a band stretch songs (or shorten!) and/or playing a tune with a different approach, but with the original vibe still intact. Instead of a contemporary pop/rock/rap/crossover/dance band that's playing the same liveshow every night, in exactly the same let's say 100 minutes. It's nice to see older songs of a band evaluating together with the growth a band is going through.
What is the latest The Machine update and your plans for this year and beyond ?

[David] Besides the recent release of Drie at Elektrohasch Records, we started a collaboration with Sound Of Liberation, a booking agency. Or even better, THE booking agency for our kind of music in Europe. The guys and gals at SOL are really nice and we expect great things of it. This will get us some nice (international) gigs in the near future and plans are being made for a European tour for Fall 2011. We'd like to play as many shows as our jobs (Davy and myself) and study (Hans) allow us to do. And, of course, hopefully we can release our fourth album. To be honest we don't look that much further into the future, we'll just see how everything will develop. As with many European bands, it's one of my personal dreams to be able to do a very nice US-tour someday, without returning completely broke.
[Hans] Also today I bought some new incense.
To wrap up this interview, is there anything you want to add to this interview ?

[David] Mark it eight dude.
[Hans] Kerk!
[David] P.S. Cool that a site devoted to progressive rock asked us to do an interview! Speaking of prog and related music, some of my personal favourites are Zappa, King Crimson, Pink Floyd, Hypnos 69 (labelmates and highly recommend for fans of King Crimson and Pink Floyd), Mahavishnu Orchestra (!!), the latest album by Mastodon "Crack The Skye" and the band 35007 (Dutch, too bad they don't exist anymore). Oh and the answers we gave have the full approval of Davy.
Thank you to the band for this review



Edited by toroddfuglesteg - February 06 2011 at 11:47