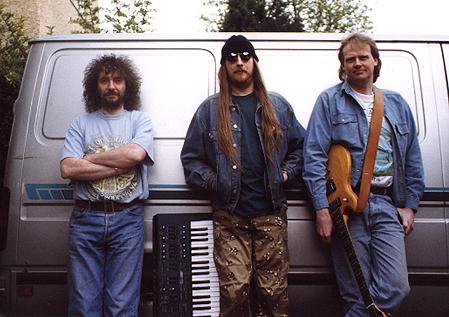 Haze was formed in 1978 by brothers Chris and Paul McMahon and were one of a handful of groups in the late 70's/early 80's who embraced progressive rock and formed the neo-prog movement in the UK. The band spent years going through several lineup changes and small gigs, until 1983 when drummer Paul Chisnell joined the band. The band would remain stable for the next five years until its demise in 1988. 
....... so we all thought. But the band is back again, sort of, and they answered my questions. 
Guitarist/vocalist Paul McMahon = PMc
and 
Chris McMahon (bass/keyboards) = CMc.
########################################################
When, where and by whom was Haze started ? Did any of you, past and present Haze members, play in any other bands before joining up in Haze ? Why did you choose that name ?

PMc - Haze were started by Chris & Me in 1978 while still at school. Chris was 17 and I was 15 at the time. We had played together at home and in other school bands since 1976 and had started writing and recording our own songs at home. The original line up of Haze had four people in it, but we quickly got rid of the keyboard player and changed drummers a few times until Paul Chisnell joined in 1983. In fact, he had taught maths to our previous drummer, who recommended him to us!

We rehearsed and recorded in a converted cellar, which got very sweaty and smelly, hence we had a can of air freshener handy in the rehearsal room. One day, probably at the first practice, the drummer picked up the air freshener and said "Hmm, Haze. Good name for a band!"

CMc - we used to record on a two track reel to reel that you could record left & right separately, so I would play drums & Paul play rhythm guitar on the left track, then I'd play bass & Paul play lead guitar on the right track, then we'd mix it down to cassette with me playing organ & Paul singing live while we mixed!

Paul Chisnell played in a band called Gehena before Haze, who were vaguely prog influenced.

How was the music scene in your area when you started ?

PMc - We were never really aware of the music scene as we were only kids. We were entirely focused on getting the music right and never really paid much attention to the world outside! When we started playing pubs, we were very naive, but different to most other local bands, who were obviously influenced by Sheffield's two big successes, the Human League and Def Leppard. We had very little in common with either!

CMc - I went out more than Paul did, he'd be at home practising Ritchie Blackmore solos & I'd be our boozing! There were a lot of punk & new romantic/electronica bands around, and the usual old heavy rock, but not much else! Dagaband were just down the road in Chesterfield, but we didn't encounter them 'til later.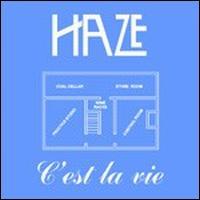 Over to your albums. Your debut album was C'est La Vie/The Ember from 1984. Please tell us more about this album.

PMc - When Paul Chisnell joined in 1983, his two ambitions were to play Sheffield City Hall and record a vinyl album. We managed to play the City Hall in October 1983 by getting to the final of a local competition, and started recording down our cellar in late 1983. The album was finished in 1984 and featured a mixture of old songs which we had written between 1976 and 1983 and a few new songs written in rehearsals with Paul Chisnell. The album sounds very home made - we really had very basic equipment and not much idea how to use it! The Ember, although repackaged with C'est La Vie, was recorded in 1985 as a 12" single - New Order had just had a massive hit with Blue Monday on 12" single, and we were told that format was all the rage in 1985!. By this time, we had been on the road pretty consistently and the songs were fairly well knocked into shape. Paul Chisnell had also sold his house and bought a bigger drum kit, so it sounded a bit more professional. As with everything we ever did, this album contains a variety of styles. There are pop songs like Roger's Revenge and Don't Leave me Here alongside dark prog pieces like The Load and Mirage. We always assumed that people would like to hear some variety in an album. How wrong can you be!

CMc - C'est La Vie was our first vinyl LP, but "Cellar Tapes" from 1983 was our first cassette album & features the older songs. After C'est La Vie we recorded the "Cellar Replay" cassette then were starting to think about a new LP when Pinnacle Records (who were our distributors) suggested a 12" single. We put C'est La Vie and The Ember together when Cyclops Records reissued them on CD in 1996.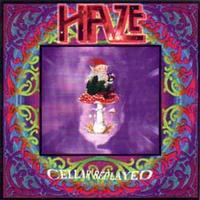 Your second album was Cellar Replayed from 1985. Please tell us more about this album.

PMc - We had recorded a cassette only album called The Cellar Tapes in 1982 with a previous drummer. The songs were okay, and formed the backbone of the live set when Paul joined, but we were unhappy with the recording quality and now played the songs much better live. Cellar Replay was intended to be a remake of The Cellar Tapes, although we held back two songs from the original cassette, intending to record them on Stoat & Bottle. We took the opportunity of filling the time up with a couple of even older songs which had never been recorded before. Originally, Cellar Replayed was cassette only, until it's remix and CD issue a couple of years ago. Because all the songs are older than the C'est la Vie material, classic prog fans probably prefer this to our other albums!

CMc - We added a couple of extra tracks onto the cassette version of "Cellar Replay" when Cyclops reissued it on CD as "Cellar Replayed" in 2000. We took The Exiles Song and Seven Stones from the Cellar Tapes, as these were the two songs from that release that we hadn't re-recorded for Cellar Replay, plus we put the live version of Seven Stones on from our live cassette album "Warts'n'All" from 1986.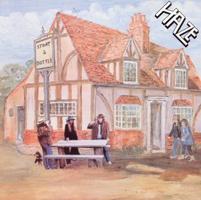 Your third album was Stoat & Bottle from 1987. Please tell us more about this album.

PMc - We had always wanted to do a spoof "concept" album, and thought that the funniest way to do it would be to present it as a night in a pub. The songs, other than the title track and Last Orders don't really have any other connection, but it gave us a chance to have beer mats printed with the album to advertise it!. True to form, we have all sorts of stuff on here. Classic, Free-style blues on Autumn, prog epics like Ophelia and Last Orders jostling for position with pop songs like Fading
Away and Tunnel Vision. By 1987, we were touring heavily, drinking heavily and becoming a little bit peeved with our total lack of progress (no pun intended). When someone pointed out that the tenth anniversary of the formation of the band was imminent in 1988, it became obvious that this was time to call it a day for Haze and Paul Chisnell played one last tenth anniversary gig before leaving.

CMc - We'd started recording the album over the summer of 1996. In fact we thought we'd finished it & released "Tunnel Vision" as a single from it to coincide with our autumn tour, but then we were in a car crash on the way to the first gig of the tour & everything got cancelled 'til Christmas. We then re-recorded most of the album in early 1997 & released it in April, by which time Pinnacle were in liquidation & we'd lost our distribution deal, and a lot of the bands' momentum.
The 2008 CD reissue of Stoat & Bottle (amazing that it took 12 years to reissue albums that took 3 years to make!) included some demos of songs that Paul had written in 1987 after Stoat was recorded, & ended up becoming part of the World Turtle set.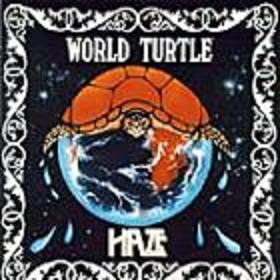 Your fourth album was World Turtle from 1994. Please tell us more about this album.

PMc - Myself & Chris had already decided to carry on and pursue our eclectic approach to music and we formed several line ups with bass players and drummers pursuing the funk, rock and pop aspects and completely ignoring prog. (After all, that's what the world in general had been doing since 1976!). What emerged out of this was the realisation that we really weren't happy playing with anyone else, and luckily, computers had reached the point where they could be programmed to play almost as badly as a real person. We carried on performing as a duo, backed by programmed drums & bass. I basically programmed drum parts and Chris did the bass parts. We felt good about it, until we realised that audiences basically want to see real live, sweaty people playing the music and didn't really care for a rock band with the same line up as the pet shop boys!. We did however have the nerve to record an album of songs which were mostly written for Haze after Stoat & Bottle which had never been recorded. Being deliberately obtuse, we called the CD Haze and the band World Turtle, allowing people (including the record company) to misread it as a CD called World Turtle by the band Haze!. The recording production is of course, clean & perfect, unlike Haze! The songs are, I think, as good or better than any of the older Haze material, but the prog influence has been pretty well buried.

CMc - it was Cyclops Records idea to muddy the water with the title. Kinesis had just released In The End & Cyclops signed us for a licensing deal, but wanted us to do a Haze album. I told them we were now called World Turtle & couldn't put it out as Haze without Paul Chisnell, but they (rightly) didn't think anyone had heard of, or would buy an album by World Turtle. So we agreed that they would promote it as World Turtle by Haze & we would promoter it as Haze by World Turtle. We recorded everything at home, but went into a pro studio to mix, the first time we'd done this (apart from the track Shadows on the Fire in Harmony compilation) since our first single The Night in 1981.

Material wise, it's all Paul's writing, as is most Haze, but without the influence of Paul Chisnell's eccentric drumming and my extended instrumentals. I was also playing in Von Daniken at the time doing new age/prog instrumental stuff. I felt that this era of World Turtle played Haze songs without the instrumental sections, which were played by Von Daniken instead!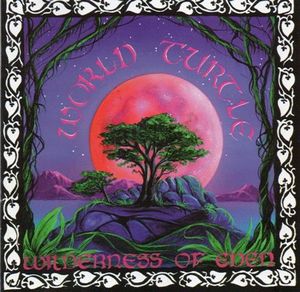 Your fifth and most recent studio album is Wilderness Of Eden from 1997. Please tell us more about this album.

PMc - By this stage, we had stopped touring altogether and music had become a hobby rather than a failed career! This lack of pressure meant that we could just write, record and play whatever we wanted. The result is, for me, the best thing we have done so far. Technology had caught up to the point that we could programme drum patterns by actually recording people hitting things!. The result is a much more natural feel to the album. The songs still range from acoustic folk (Wave) to thrash metal (Wolf) and even prog (Vertigo). Of course, Haze's 20th Anniversary was looming in 1998 and Paul Chisnell had been approached about possibly doing a one off gig to celebrate. The gig was recorded and released and Haze began playing infrequent gigs, which had the unfortunate side effect of virtually killing off the Wilderness material, as the demand (of course) was for the old Haze songs.

CMc - I agree with Paul, this is by a long way the best thing we've ever recorded, best songs, best performance, best production - professional but not as clinical as Haze/World Turtle. We pulled in a number of guests to vary things a bit & tried to get back to the experimental feel of Cellar Replay, including short instrumental interludes, experimental soundscapes & improvised extended endings.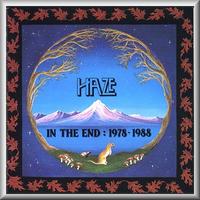 Please also tell us about the In The End compilation album from 1993.

PMc - Kinesis records wanted a compilation/taster CD to introduce people to Haze without them having to but the entire back catalogue. Chris and Warren, our sound engineer, remixed a best of Haze CD, which does a good job of pretending that we were always a prog band by ignoring half of our recorded output! I wasn't involved in the making of the CD, but I think they managed to improve the original recorded sound quite a bit.

CMc - The offer of releasing a Haze CD came out of the blue when interest in Haze seemed to be at an all time low, so we were very pleased to do it.
Kinesis wanted a prog CD so we agreed a track listing which gives that impression. It's probably our best selling release & introduced a lot of new people to Haze music who had missed us in the 80s

For those of us unknown with your music; how would you describe you music and which bands would you compare yourself with ?


PMc - The music I love as a kid was classical (Planet's Suite, 1812 overture), heavy rock (Deep Purple/Led Zeppelin) and prog (Genesis/King Crimson). I believe our own music has a strong melodic sense, song driven rather than technically impressive, with enough intelligent arrangement to satisfy the more demanding listener without being too overtly complicated and putting off the more casual listener. Above all, I hope our music rewards repeated listening.

CMc - I think that's a difficult question for anyone to answer who isn't in a tribute band!

Pretty much the same influences as Paul - Holst, Tchaikovsky, Beatles, Stones, then Purple, Zep, Sabbath, Floyd, finally Genesis, Yes, Crimson, and probably favourite of the lot Van Der Graaf Generator. Paul Chisnell was very much into Bill Bruford, Coliseum ll, Zappa. I also liked more of the psychedelic hippy stuff, Gong, Hawkwind, Steve Hillage, and more recently folk/rock stuff Waterboys, Levellers etc.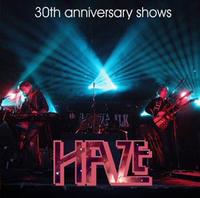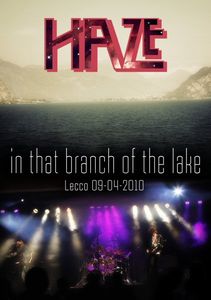 Your most recent sign of life though is the 30th anniversary live album 30th Anniversary Shows from 2008 and the In That Branch Of The Lake DVD from last year. Please tell us more about these two releases and the gigs they are based on.

PMc - The 30th Anniversary was a fun gig to play. We deliberately chose obscure songs, new songs and some revamped songs we had played with Treebeard, our folk/rock project. I think the resulting CD is a good, fair representation of what you could expect from a Haze live gig these days.

In the branch of the lake was a bit of a fluke. Our Italian friend, Daniele, had set up a few gigs for us around Como in Northern Italy. The first night, a combined Treebeard/Haze gig, was a complete disaster and I would gladly have jumped on a plane home immediately - or jumped in Lake Como straight after the gig. The second night, we knew Daniele was paying to record the whole show on a professional camera set up and we were desperate not to let him down. The brief for the gig was to play entirely our own material for two and a half hours (pretty much like the 30th Anniversary) and I am proud to say that we just about pulled it off. The sound was recorded via one of the static cameras, so it is not remixed or multitracked, so the quality is not professional, but the DVD looks amazing and the sound is just as if you had been at the gig. Due to a classic piece of Italian organisation, there were hardly any people at the gig, but that's another story!

CMc - It's a fine line to walk picking songs for a live set (especially one to be released on CD), the musicians want the play the new songs that are still fresh and exciting to them, the fans want the songs they first heard when the got into the band 25 years ago! For the 30th anniversary my main plan was to avoid making it the 20th anniversary part 2, fortunately we'd got some new songs - including Dragon Fly which Paul came up with in rehearsal for the shows - and a big enough back
catalogue to pick a different selection of oldies.
The DVD was all Daniele's work, the only disappointment being that the sound engineer screwed up with providing a mix from the desk, so we had to go with the room sound from one of the cameras, which has a bit of a bootleg quality about it. The set we played was similar to the 30th
anniversary, but included another new track, and our never before recorded epic from 1979 "Changes In Time". Perhaps not our greatest work (though our longest!) it's quite a heart on sleeve summary of our influences (Rush, Genesis, Yes, Pink Floyd all in one song!)


There has been a long studio silence from you. But the gigs indicates that there may be some life in Haze. Do you have any plans to go to studio again and to release new material ?

PMc - After the DVD and 30th Anniversary CD, there is probably some demand for new studio recorded material and we are beginning to record several new songs which have only ever been released in live form. We may also sneak some older unrecorded songs on there and possibly some
tunes from our rocking electric ceilidh band(!).It will probably turn out to be another eclectic mixture but what the hell? At least Simon bloody Cowell won't be involved.

CMc - We've demo'd 12 songs and will be going into the studio to record drum tracks in a couple of weeks (Feb '11). We've got 4 Paul songs, 4 Chris songs, 2 oldies, 1 Paul Chisnell song & 1 instrumental, and as I write Paul is frantically trying to finish off another song in time for the studio.

Any more gigs planned ?

PMc- Chris will reach 50 in April, so there will be a flurry of activity around 8th-11th April. After that, we will see how the new recordings are received and possibly tour in a fairly genteel way to support it.

CMc - So far we've Northampton Racehorse confirmed on 8th April & a Sheffield gig TBC on the 10th. We'll put more dates together, hopefully including Italy again when the album is out, maybe later this year or early 2012.

To wrap up this interview, is there anything you want to add to this interview ?

PMc - Only that, after half a lifetime spent trying to persuade people that there is more than one kind of good music, it is nice to be able to tell people how it all went from our (fairly detached) point of view.

CMc - I've never felt we've been part of the mainstream, or even part of that fairly minor tributary that is prog rock, but have always gone our own way, irrespective of current trends.
Thank you to Chris and Paul for this interview