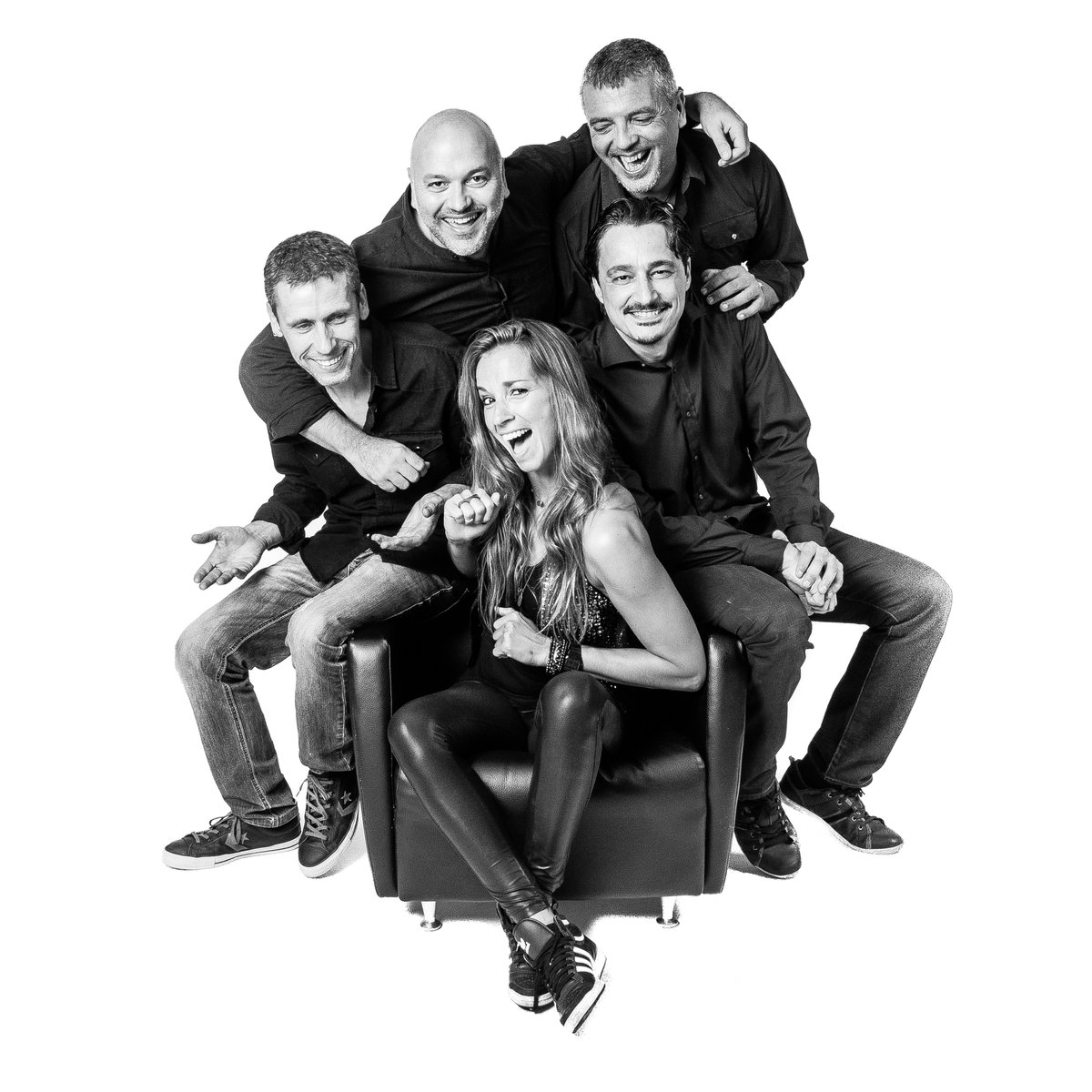 Harvest is a band based in Barcelona, Spain, and was formed in 2008. The instigators were Monique van der Kolk (vocals), Jordi Amela (keyboards) and Jordi Prats (guitars), who had come to know each other in a previous band project. As their musical taste and vision was pretty similar, it was an easy decision to form their own band when the time was right. A few months after the formation Roger Vilageliu (bass) and Alex Ojea (drums) hooked up with the founding trio, completing the line-up.

The band has chosen to release their debut album as both a free MP3 download from their homepage and a nicely priced high quality sound CD. This may be the solution other bands should consider too.
I got in touch with the band and Monique answered my questions.
~~~~~~~~~~~~~~~~~~~~~~~~~~~~~~~~~~~~~~~~~~~~~~~~~~~~~~~~~
When, where and by whom was Harvest started? Did any of you, past and present Harvest members, play in any other bands before joining up in Harvest? Why did you choose that name?

Harvest was founded in February 2008 by both Jordis and Monique. We met each other for some tryouts for the previous project of Dracma. Soon after this, a bunch of songs were written and composed. After some months, Roger and Alex joined the band and we were complete! We all did play in other bands. For example Jordi Prats and Jordi Amela at Dracma (there are some reviews at Progarchives). We also played at other local bands, like Rara Avis, The Stygian Lake amongst others… We came up with the name Harvest after quite some thinking and tons of other options. First, the title came from the same called song from Opeth, a beautiful song we all like very much. But, what was more important was the meaning of the word. As it felt like that was actually what we were doing: Harvesting.

How is the music scene in your area of Spain?
It's a quite difficult scene, and we think that this discussion could be a long one. Even though we consider that in Spain there is much artistic talent, we also consider that Spain has lost its musical personality. Due to commercial reasons, music with a more Latin air is more accepted and this has done that in many cases, more creative options have been put aside… Now, it finally seems that there are so called "alternative" bands that are finding their place and being received with open arms by those who want to listen to "different" music and with more quality.
Regarding progressive music, this word seems "old" to some, but the ones of us who do think that this genre is evolving constantly have to "disguise" their music or put another tag on it, hoping that in this way this music will be accepted in this country. This is the reason why we think that our music is more accepted abroad. In Spain it's more appreciated when our type of music is imported. Of course, this is a general opinion; it's not all black or white. There are a lot of people who are not influenced by marketing and who do explore the musical universe where they find the music that satisfies them.

Your only album to this date was the Underground Community album from 2009. Please tell us more about this album.
Underground Community is our first album and that will always make it more special. Other albums will come, but the first will always have something that the others won't have. We are all very satisfied with the work we delivered while making Underground Community. But most of all, we are really happy with the reception of this album.
We recorded and produced this debut album in our own Studio, with our own resources. We were driven by our enthusiasm, as a novel band we were. Once the album was launched, it had quite some good and hopeful reviews, both on national and international level. So, of course we are very happy in having an album that is like our perfect "visiting card"!
All songs are written by ourselves, except the cover "Waiting to Happen" which is an original song from Marillion. The reason of putting this song on the record was that, initially, we played this song on our live shows. Like a "thank you" to those who made it possible that we were supporting this wonderful band at their gig in Barcelona in 2009. After this, when Mellow Records accepted in having us for their Tribute to Marillion cd, we decided to cover this song, but with our own interpretation. On the other hand, our own songs communicate several kinds of emotions and the lyrics are based on daily experiences.
Let's not forget about the artwork, another very important aspect of an album. The illustrations are made by Antonio Seijas. In our opinion, he's a great artist who has his particular vision and way of showing it. The images he made for the booklet, and the front cover, represent the songs perfectly. We simply love his work. He also delivered amazing artwork for Gazpacho, Marillion, The Wishing Tree, etc.
This album is a free download from your website (but also sold as a CD). Why did you choose to offer this album as a free download?
We think that as of today, we have to accept that the musical industry has changed. Before, the bands offered gigs in order to promote their music. Nowadays, it's possible to offer free music on one hand and gigs on the other hand which, by the way, are not so low-priced, trying to survive in this difficult industry. Even though our music is self-financed, we couldn't forget about the reality that is: That it is very difficult to sell CD's when you are an unknown band. So, this is why we decided 2 things: Making a physical CD, with a good quality and beautiful images and illustrations as well as giving the free download option, via our own website. Curiously, we did sell quite some CD's, and we know that lots of them were sold after the free download. Our conclusion is that who listens to us on mp3, want to have us on their CD shelf too!

For those of us unknown with your music; how would you describe your music and which bands would you compare yourself with?
I think that our music can be described as rock, pop and prog in different proportions, depending on the song. We wish to be very intense and emotional, but in a progressive way: each song grows depending of his own personality, maybe very quiet at the beginning and reaching the top at the end, or maybe keeping a dreamer atmosphere during the whole song...it depends.
Bands we compare ourselves with? Well, we prefer the public to make the comparisons; in the end this is inevitable. But we do have our influences, and bands we love to listen to, like for example Blackfield, Chick Corea, The Gathering, Camel, Porcupine Tree, Marillion…

What have you been up to since the release of this album and what is your latest update and plans for this year?
After the release of Underground Community in late 2009, we have been very busy in promoting the CD and so far, we are very satisfied with the results. We have been supported by national mass-circulation magazines like This is Rock or Route 66, as well as radio stations as Rac1 or COMRadio. We were also mentioned on many national and international internet portals such as Progwereld (Holland), Dprp (Holland/UK) and Musicwaves (France). And on Progawards 2009 (Italy) we were finalists for Best Debut Album. The jury of the LG contest "Play at Rock in Rio" chose us to be finalists… So a lot of positive things occur and we are proud of them! Regarding the concerts we have played during this phase, we could emphasize the presentation concert at Sala Bikini Barcelona (is a landmark in the country), FNAC in Madrid, Barcelona and Zaragoza, festivals as the Delta Sound in Tarragona...
Referring to the plans we have for this year, only say that we are now engaged in the production of our second album. There are quite some songs that seem to find their way. We think that the influence by many styles is present but we also think that it will be very different than the first album. Without a doubt, we will continue "building" upon our biggest influence which is Progressive rock because this is something that is automatic while creating our songs, but.. always with our "Harvest sound".

To wrap up this interview, is there anything you want to add to this interview?
First of all, thanks so much to Progarchives for this interview. This website is a reference for us and it is great to know that daily users of this website will get us to know a little bit more. We encourage everyone who reads this interview to listen to our music, as we really think that each of our songs has something to offer. Thanks to all!
Thank you to Monique for this interview
Their PA profile is here and their free download album & homepage is here