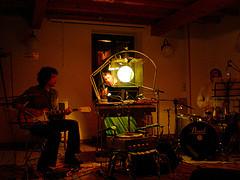 "Il Babau & i maledetti cretini" (The Bogeyman & the Damned Cretins) is an artistic project born at the end of the last century in the neighborhoods near Milan. Originally a typical rock combo (voice-guitar-bass&drum), they took their name from a comic-picture by Dino Buzzati (famous Italian journalist, writer, & painter) to whom is dedicated the first "opera prima," the concept album "dio Dio mio che cosa abbiamo fatto". An original sound inspired by prog-psych-hard rock of the '70s with post-punk overtones, it was released in October of 2003 by Lautoprodotto label. Personnel changes reduced the band to the Casanova brothers (Damiano & Franz); in this new formation they re-invented the "phonodrama" concept, a sort of audio-tale, with an umpteenth tribute to Buzzati in 2006. "Chi sta scavando?" is a performance in which the reading of the passages is supported & trailed by an original soundtrack for the images evoked by words.
I got in touch with the band and Damiano answered my questions.
##################################################################
When, where and by whom was your band born ? Did any of you, past and present members, play in any other bands before joining up in your band ? 
The band was formed at the end of 2000 in a simple room in Vimodrone in the suburbs of Milan.
The original lineup consisted the brothers Franz & Damiano Casanova (voice & guitar), Vincenzo di Garbo (bass), Alessandro Lariccia (drum).
In 2005 Vincenzo and Alessandro left Il Babau; In mid 2008 Andrea Dic̣ (drum & noises) joined the band.
Franz Vincenzo and I, had played together in our first teen-band "RAI" for a couple of years in the mid '90. Andrea plays with "Stardog" and was member of "Phoebe Zeitgeist", "Guignol", "Gopala".
Why did you choose that name ?
See below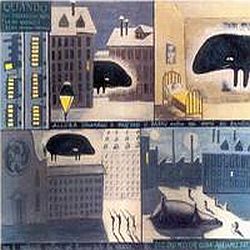 Your debut album Dio Dio Mio, Che Cosa Abbiamo Fatto was released in 2003. Please tell us more about this album and it's lyrical and musical concept.
First of all, the album is formed by 6 tracks, the first 4 named "tetralogia" are fully dedicated to Buzzati's concept of Babau-Bogey (see the comic-picture)
in wich the monster, representing our irrational instincts-fears-animal aspects-child ingenuity, is killed by "maledetti cretini-damned cretins", spokesman of rationality-progress-order. But, after the beast's death, these assassins repented exclaim "God, my God whath have we done! (Dio, Dio mio che cosa abbiamo fatto!)"
So "Antro-cavern" represents the entry in the dark side of unconscious.
In "Il Babau",the Bogey reveals itself and its power through our desires and fears.
"Coda-tail" closes the monster apparition.
In "I maledetti cretini-damned cretins" the hunting starts and the tragedy brings to an end.
The 5th song "Quella di Vincenzo-Vincenzo's one", is a sort of ironic love song maybe too long (the screams at the end seem to confirm it).
The last piece "Avviamento con resistenze rotoriche-rotor resistors start", describes a passage from a bucolic-rural surroundings with traditional japanese influences to an industrial-alienating-noisy factory. All the above after the missing ratification of Kyoto treaty.
The whole album has been recorded in three days.
For those of us unknown with your music; how would you describe you music and which bands would you compare yourself with ?
Like a sort of mix of influences including:
The first Sabbath's albums, Popol Vuh, Goblin (these three, for me, are the stepfathers of our old album),  Barret's Floyd, the sperimental scene from late '60 to first '70 in Europe in general and the '70s italian movie soundtracks; all of that played with a sort of theatrical attitude. 
What have you been up to since 2003 and what is your latest update ? What is your plans for this year and beyond ?
The rhytmic session abandonment reduced the band at me & Franz; in this obliged formation we re-invented the "phonodrama" concept, a sort of audio-tale with an umphteenth tribute to Buzzati in the birth centenary (2006):"Chi sta scavando?"  a performance in which the reading of the passages is supported & trailed by an original soundtrack for the images evoked by words.
Since Andrea joined il Babau, we start to work on three tales by E.A.Poe
In fact, we tell you a story with a soundtrack. Imagine, a voice recount "the tell-tale heart" (as example) supported by guitar-drum-keyboard-noises. Our last shows cover three tales (the tell-tale heart, the mask of red death & The Facts in the Case of M. Valdemar) for 1hour and 15minutes of non-stop music.
In september '10 we complete the registration of this work and now we're in negotiation with a label to produce three illustrated audiobooks. The intention is to make 3 different albums with the "libretto" complete with Italian/English texts, so everyone will can understand everything, it'll be like see a movie with the subtitles.
To wrap up this interview, is there anything you want to add to this interview ?
Il Babau & i maledetti cretini thanks every (expecially no-italian) progfan for the support.
It's curios for us think that after many years there is someone, with different language, interested to our old album; we hope you can listen to the new as soon as possible.
Thank you to Damiano for this interview