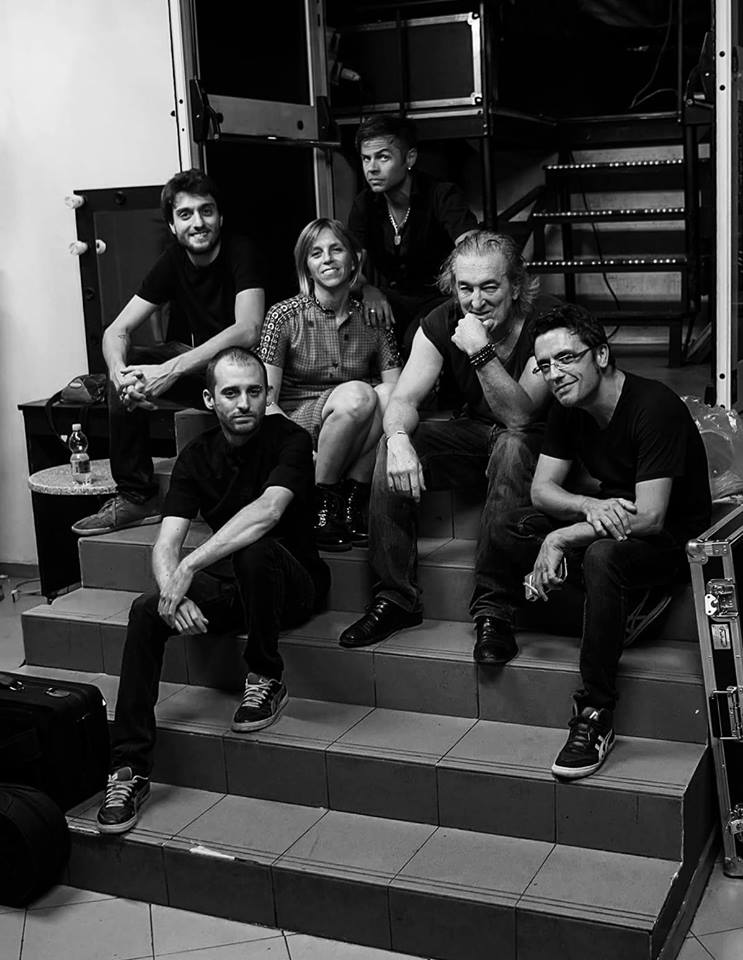 Italian band Syndone is Nik Comoglio's one time project. Nico (Nik) Comoglio was born in Turin on 28/11/62. He was graduated as architect but at the same time privately studied piano and composition.

Still in University he created several jingles for ads and soundtracks for two semi-professional movies.
From 1990 to 1993, he formed the new prog band, "Syndone" ("Shroud"), with whom he recorded two CD's: "Spleen" and "Inca", produced by Beppe Crovella from "Arti & Mestieri" band, for the music label Vinyl Magic s.a.s. in Milano. Two other members were Paolo Sburlati- drums, and Fulvio Serra- bass.

Three albums has so far been the result. Syndone has just released their new album Melapesante and I got in touch with Nik for the Syndone story.
###########################################################
Your biography has been covered in your ProgArchives profile so let's bypass the biography details. But which bands were you influenced by and why did you choose that name ?
Most of all "Genesis", "ELP", "Kim Crimson", "Gentle Giant" and "The Nice" partly. We wanted a name that would evoke all together "Sacredness", "Turin," "Spirituality" and "Scored Grooves" (like an old vinyl LP) so I thought of SYNDONE, with the "Y" to differentiate it from the famous relic and make it international at the same time, without being blasphemous. This name in fact immediately evokes Turin in any part of the world … and I liked this!
How was the music scene in your area when you started up ?
In late 80's there was no talk of new-progressive yet, although you could feel everywhere a clear ferment of a return to this style by the artists. In Italy, my country, everything was "static", with plastered mass-produced forms of blank songs without any ideas at their bottom. So I decided to put together an "ELP" style trio, with Paolo Sburlati on drums and Fulvio Serra on bass, and to develop my new ideas in a very power way, as a kind of "ideological provocation."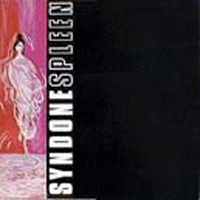 That brings us to your debut album. Please tell us more about Spleen from 1992
"Spleen" (an homage to Baudelaire's Les Fleurs du Mal) was a still "immature" work, with too many pop-jazz influences inside, but it was a real challenge for me! I wanted to experiment with all the new 90's sample keyboards, enjoying myself to test every sounds library being in the studio. We thought we were creating an interesting sound for the album but, truly, it was not so original…the temptation to play with all those kbds presets "fake but true" was big as well as it was a big mistake.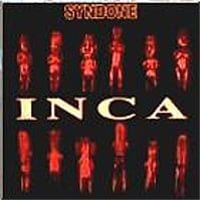 Please also tell us more about your second album Inca from 1993
"Inca" sounded immediately much better just from the beginning; it was much rough than "Spleen" but more progressive and very next to this genre. We use only vintage instruments (even drums, bass, amplifiers and effects) and every track of the album was recorded absolutely live with few overdubbing. The pieces were arranged to be performed live by a trio band. Press treated it very well.
Beppe Crovella produced both albums. How did you get in touch with him and how was the cooperation with him ?
The experience with Beppe Crovella dates back to the end of 1989 when we met in his studio. I had several pieces of progressive music to show him, and from this collaboration came the two albums. I have to say that working with Beppe was always a good feeling because, being a musician himself in addition to a producer, he was very open to expressiveness, art, music and to the musicality of the tunes, often giving us artistic advices during the recording sessions. So the albums took off!
And then there was a long silence from you. What were you up to during these years ?
I began to evolve in classical music, studying composition with Maestro Azio Corghi, whom I'm just now collaborating with, learning to write for orchestra, solo reed/brass instruments, small string chamber ensemble and opera singers; this allowed me to discover new exciting horizons, especially in a way of harmony and orchestration. I also worked as a composer of advertising jingle spots for some italian commercial networks, film soundtracks and TV documentaries. I've recently composed music for ballet, opera/musical and oratorios… that's my lovely theatre experience! My solo albums are:
"Il Sogno di Itaca" (2003), "Anima di Legno" (2006), "Acqueforti"(2009).
See also
www.nikcomoglio.it
for details.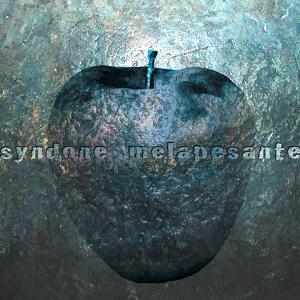 Melapesante from last year is your comeback album. Please tell us more about the creation of the songs for this album and the album itself.
The idea of making a concept album over the apple symbolism was very exciting!
…"Following the thread of images of the apple in western culture, writing the lyrics for the songs on the album, so many little elements in our world, in the development of our civilization, struck me": from Newton's scientific discoveries to Magritte's paintings." And within the history of humanity, from the Greeks until today, the apple has always been a symbol that, especially until the beginning of the 1900's with the coming of psychoanalysis and the new sciences, represented something negative, connected with sin, desire, and the unknown. We owe this judgment to our traditions and religious culture"… [Ricky].
With this album and through the texts, we attempt, on the other hand, not to give a judgment on what the apple represents … whether this is a turning point, a point of change or a movement, perhaps not controlled, toward our own freedom or toward a decline, we do not wish to align ourselves one way or another, because this would make no sense. All we want to do, and that we hope will happen is that this symbol will become "smoothly heavy" for progressive music.
To whom it may concern, these are the basic ideas of the lyrics of Melapesante:
Track 1
OPHELIA'S MELANCHOLY
Saturn, the seventh heaven of Dante's system, was considered by the ancients to correspond to lead, one of the heaviest metals; it is also known as "the melancholy planet."
From these similarities and assonances in this track, Ophelia (understood as a Shakespearian character) is hypothesized traveling after her death toward this heaven.
This is the passage into a new life taking with her a constant  disappointment with earthly tensions. Thus "Melancholia" becomes the primary feeling, rescue and destiny.
Over the centuries, the image of drowned Ophelia became the true archetype of feminine folly, always connected in some way to sexuality or to disappointed love. It represents, like the Apple, someone who cannot disregard her own femininity and cannot be separated from her sexuality.
Track 3
MELAPESANTE
Melapesante is an idea, an opinion that hits you, the choice that upsets the balance, a center of attraction. 
Symbols travel in time and every time they re-emerge, they indicate a change.
Images and the concepts expressed by them go straight to the heart and it is impossible not to avoid the weight.
In a voyage through mythology, from the Garden of Eden (the Serpent) to Logica (the Devil), the Apple appears to contradict dogmas, to reveal truths, to represent carnal desire as the fulfillment of the senses and conquest of the centrality of the being.
This indicates the escape route toward freedom from the oppression of religion and the battle against ignorance and superstition.
This is why the initiates have bitten the fruit of knowledge and freedom; none of us is excluded from this game!
Track 4
MAGRITTE
The image is that of works such as "Le fils de l'homme" and "La chambre d' écoute" by Magritte.
The track is intended in homage to the message of the Belgian painter, using symbols such as "the apple," "the man with the hat" and "the sea."
Reality is shown, but perhaps it is not what is seen; the mystery and the acceptance of the undefined is the only way that humans have to face reality, to perceive the "silence of the world."
Track 5
GARDENS OF THE HESPERIDES
A leap into Greek mythology, in the Garden of the Hesperides, the protectors, along with the dragon Ladone, of the tree of golden apples (pomi).
The point of view is that of an Argonaut who, arriving in the Garden the day following the theft of the apple and the killing of the dragon, sees the nymphs change into trees and the birth of a new constellation in the sky, that of the Serpent.
The willow is the tree-nymph on which he will rest.
The myth represents the existence of a kind of paradise, object of human desire, and of a hope of immortality (the golden apple).
Track 6
MALO IN ADVERSITY
Track dedicated to catastrophe of the World Trade Center [09/112001 NYC].
Malo/um means "Mela (Apple)" but also "Mal": the evil of one who has done what was done and those who have allowed it to be done.
Images of that day won't go away. The memory of the news, the videos, and the anger still revives visions and reflections on the hope of a new age.
Slowly, leaves of burned paper with farewell messages, falls like black snow on the Grande Mela
Track 7
THINKING APPLE
Thoughts cut from a fruit.
An apple is hanging from a tree, it looks around, it detaches itself, and catches sight of Newton sitting just below it.
Undecided whether to fall on his head, conscious of the weight of its gesture, it reviews known and unknown details of the life of the great English scientist.
Track 8
WILLIAM TELL'S APPLE
In Japanese traditions associated with archery, the arrow is the symbol of love. Its phallic shape is obvious: it penetrates into the center like the male principle and introduces itself into the feminine element (the apple, of course).
The two hundred steps are those that separated William Tell's arrow from his son's head.
Tell is virtue and Gessler, his rival and slave to a power he cannot refuse, will fall in their miserable death with the background of a people exultant with their conquest of freedom.
Track 9
WITHIN THE UNCONSCIOUS
(Comoglio)
The apple, because of its spherical shape, represents terrestrial desires and their fulfillment. Yahweh's prohibition warned man against the dominion of these desires that drag him toward a materialistic life if regression at the expense of his spiritual development. This divine warning makes the man aware of the two directions inviting him to choose. But the choice is not always between two roads to take; often it is between two parts ones own being that are constantly in conflict between each other and only one of which, in the end, is predominant. The unconscious is the door through which the part of the dominated character wishes to make contact with the "I" to prevail; or, sometimes, it is our conscious side that wishes to hide in the unconscious to escape reality.
Melapesante is a mature album, showing artistic maturity in writing and care with sound.
That being said, this album does make reference to clichés from the Syndone of the 1990s; we didn't want to entirely give up that particular sound that we created then; for example: here too we leave out the electric guitar but we introduced other timbres with the use of the vibraphone or different types of keyboards.
We also have to remember that in these eighteen years since "Inca," technology has made great strides from the point of view of recapturing sound, even improving the sound itself; the new microphones used have made recording vintage keyboards, voices, and acoustic instruments much clearer and deeper, and this important aspect of innovation must not be underestimated.
In any case we had to also consider another fact, the natural comparison with the other two albums, which were successful in their own way.
We needed to take a step forward both artistically and technologically to begin at a level, if not higher, at least on an equal footing compared to the two other productions, to then rise to an optimal position, better than the one we left behind.
What inspires you to create new music and what is your recording technics ?
Inspiration? It's hard to talk about inspiration; I really don't know when inspiration comes to me! Anyway… generally, with prog. music, I start to work on a new riff or on a new melodic line that sounds me weird; at this time I use only my acoustic piano (and nothing else) to jot down on paper the first harmonic and rhythmic structure of the song. Then I go to the computer to write the main orchestration, the "obbligato" parts, the "tempo" indications, making a midi sample simulation file. Then I e-mail the score to the band with the music file. Next step I join the band to rehearse the whole thing live, trying arrangements, solos, drums rhythms, incipit and finals. For "Melapesante" we've recorded by this way: 1) Drums and bass over the midi file – 2) All the hammonds and acoustic pianos and Rhodes – 3) Vibe, percussions, cellos and strings, brass – 4) All keyboards – 5) Main solos – 6) Lead Vocal – 7) Other solos and guests featuring – 8) Backing vocals – 9) Samples, taurus basses and effects – 10) Mix down – 11) Mastering
Just to give those of us who are unknown with your music a bit of a reference point or two: How would you describe your music ?
Generally my music is strongly rooted in a classical background by now; I think this is the point of the matter! Even when I get back to write progressive music (as on Melapesante project) my heart still feels itself in a rocker way but my brain feels itself in a classical way. I could define it "crossover music."… but I don't know if it's correct!
What is your plans for the rest of this year and beyond ?
To promote this album as well as we can, through press reviews, interviews, live concerts, radios and televisions…. and the meantime we'd try to jot down new music for the next album.
To wrap up this interview, is there anything you want to add to this interview ?
I keep coming back to prog. with curiosity, enthusiasm and creative energy renewed, and I return after many years of different musical experiences that I have definitely matured in many ways. I think this new album will be something very innovative and weird, because it will combine the variety and the artistic expressions that characterize our musical experiences. Above all it is the result of a common desire to create always good music.
Nik Comoglio
(by courtesy of Syndone prog. Band)
Thank you to Nik for this interview