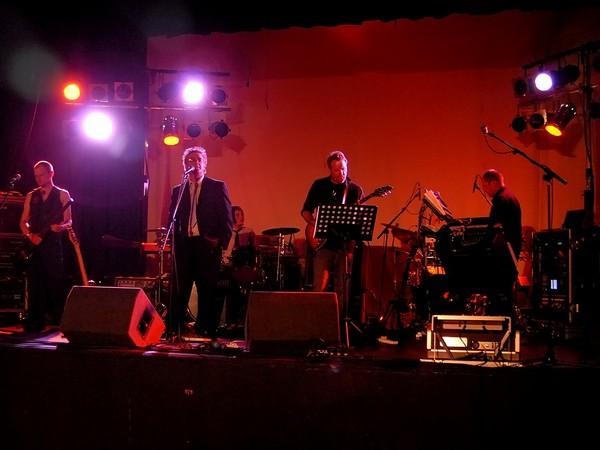 HIGH SPY is a band based in the Midlands region in England, and is the latest in a long line of bands and projects involving keyboardist Mark Price (formerly of EXECUTIONER, FINAL CONFLICT, FRAMEWORK, GRACE, PROXY MUSIC, ECHOBASE, COLONIAL MOVERS). In this particular case he is the founder of the band, which he decided to form in February 2006.
I got in touch with Mark Price and he sent me the High Spy story which I have chosen to publish as it came because it works better this way. Here is his words and the High Spy story. 
#########################################################
I formed High Spy, because I wanted a fresh start with a new name and new package, to start with a blank canvas. I was almost tempted back to some of the previous bands I played with but because of band politics, and repeating what had already been done etc, this never happened. I wanted to use the name FRAMEWORK - but I had opposition from some of the previous members, and so I thought it would be easier just to start again.
The only reason I have been in so many bands is that sometimes a change is good and I felt that I had given all I could within these projects.

(I have also have another project which has been running for over 14 years called ECHOBASE. We are currently working on our 3rd album, in the style of Gary Numan, Kraftwerk and Tangerine Dream.)
My main influences are YES, PINK FLOYD, MARILLION, GENESIS and RUSH, there are quite a few albums from other bands which have influenced me, I am not into all of their work but bands such as ELOY, HAWKWIND, PENDARGON, IQ, PORCUPINE TREE, DEMON, ASIA, and so on including a lot of electronic music.
I wanted a name for the band which was slightly different, which could mean something different to people. The name comes from a place in the Lake District in England (spy means mountain) so High Spy means High Mountain. A lot of people climb to the top and place rocks there – check it out on the web. Also having another meaning was that of a Spy – who was high up in the ranks, like 007.
The reason for the many live releases was that the second album was taking too long to record, so as a taster we put these various releases out, so fans who could get to know the songs before the studio album came out. The live CDs are now no longer available these can be seen on Ebay from time to time.

We also felt that the format DVD was underused by bands so we produced Head for the Moon DVD with loads of extras, including a complete remix of the CD album, complete with visuals.
Yes there is a master plan, to release as many albums as possible, including a DVD documentary once the fourth album has been released. The current line up is eager to continue forward we a have over 100 songs and ideas, which we anticipate being released over the next 10 years or so. The album we are currently completing will be another milestone in our song creation. Our fan base is growing, steadily and so far we have been pretty much ignored by the Prog networks (except you), this does not really concern us, as we have a great relationship with our fan base who are steadily spreading the word.
We are probably one of the most hard working bands around at the moment, and afraid to say what we mean and to get out there and play.
REBIRTH: THE BIG MACHINE
This is basically a building block album, everyone put their song ideas into the pot and this is what came out, recorded at three different studios and mastered at Abbey Road Studios, it does feel slightly disjointed, more of a compilation, but this was just to get us started. Our first real album is Head For The Moon, this is where we truly worked as a band.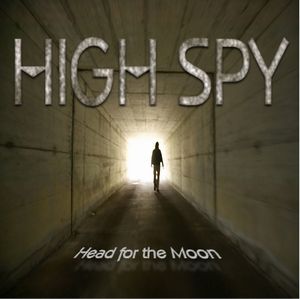 HEAD FOR THE MOON
This is basically following the path of life from waking up (THUNDER)
Through to (SECRET GARDEN), this is not a concept album but more of a theme running through.
The album raises awareness about the thin line between sanity and lunacy,
Life and Death and generally what life throws at you could cause you to cross the line.
The original run had a bonus track (hidden track) which contained various sounds from the album, during a thunder storm. This is quite an interesting sound collection and we are in the process of creating an information page on our website for this one track.
MAP OF LIFE or DARE TO DREAM – (working titles only….?)
The album will be more extreme in sound, where on the previous album fitted well in a 80's Prog theme, this one will be more heavy and yet light to both extremes. Example almost like Rush and then the quieter moments of Pink Floyd. We are releasing a slightly different version of Drowning in the next couple of days, accompanied by a music video which will be on You Tube.
This will be 3 minutes in length and available on download only. The album version as a different ending and the track will be 8 minutes in length.

Tracks on the new album will be,
1.Arrival - Instrumental
2.Drowning – about pressures of life at the end of each day
3.Move The Earth - How much a person can mean to you
4.Mirror Man – Tribute to Michael Jackson
5.On The Breeze – About being born on the wrong side of the line/border etc
6.Eyes of The World - The seconds when the world witnessed the first Trade Tower collapsing
7.Skinny Man - Relationships
8.Cappuccino – Wanting 15 minutes of fame.
plus one bonus track still being composed but hopefully will be included on the album.
All the DVDs are good in their own ways
I think the best one so far is Only Human recorded live! Capturing the band warts and all, the other two DVDs are still rather good.
On the Head For The Moon DVD, there is more of a documentary feel rather than a performance.
And on Year by Year DVD, it features three of the members in 1992 incarnation of HIGH SPY which was FRAMEWORK.
The FRAMEWORK band was short lived and their was a lot of material which never came to the public, so some of the songs not all, are now included in the HIGH SPY Catalogue. For example on the new album one of the sections of one of the tracks is a re-working of an old FRAMEWORK track.
Lyrical topics of the albums and tracks are mainly about everyday issues, social, personal and sometimes political, and we even bring humour into our lyrics, you only have to listen to the subtleties of Rollercoaster.
Inspiration for a track comes from anyone of us, once we have the idea, there is no set formulae, it just evolves, for example the track "Just in Time" was written in a couple of days.
When we record we put the musical parts down in stages, first we put a basic drum and keyboard track down with a guide vocal, and then we put the proper bass part down followed by the guitar and proper vocals. Once we have done this we re do the drums and sometimes the bass, because there are some things the vocalist will do at the end which will inspire the instrumental parts to add or take away parts. We have found this to be a very good method working, it does sometimes feel we are taking longer then necessary, but the results always come out better, and since all the tracks have been road tested, we know what we want in the studio. Once all the parts are down, the good fun starts, it is like going into a sweet shop and decided what to leave in, or out, add effects etc. This is where the album comes together! We usually spend about 8 to 10 hours mixing one track over a two day period, with lots of refreshment.
HIGH SPY are inspired by good music, nearly all the tracks are songs first where you can actually play them on an acoustic guitar or piano, and then we just add bits. The main inspiration has got to be from RUSH/GENESIS/PINK FLOYD and YES. In fact the references for the album HEAD FOR THE MOON, came from these albums…
PINK FLOYD – A Momentary Lapse of Reason/Division Bell/The Wall/
Dark Side of The Moon
YES – Drama/Going For The One/Talk/90125
GENESIS – Duke/Trespass
RUSH – Hemispheres/Moving Pictures
ASIA - Asia
MARILLION – Afraid of Sunlight
TWELFTH NIGHT – Art and Illusion
PENDRAGON – The Jewel/Pure
PORCUPINE TREE – Fear of a Blank Planet
DEMON – British Standard Approved
HAWKWIND – Church of Hawkwind
We have no plans to play live in 2011, instead we want to record two and release two albums this year, the 3rd album is almost complete, and we have already started on the follow up – crazy I know, but we just need to get this music out there. Playing live has always been challenging, so when we set out to play live we decided to include some props and a video screen, no matter what the size of venue was, we wanted to create an occasion. Unfortunately with the recession the numbers have been falling and it has not bee cost effective to play, where in fact we were losing money, so we decided to do one big concert last year at the Victoria Hall Stoke on Trent England and call it The Big Bang Show! ( in reference to the theory of the Big Bang, the beginning of the universe to tie in with Rebirth and Head For The Moon), we are definitely putting plans together to play in 2012, and hopefully by then we will have four albums worth of material to play.
Thank you to Mark Price for this piece of history

The High Spy PA profile is
here