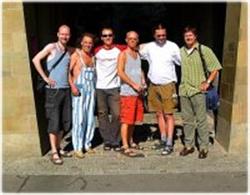 Ritual is a relatively new Swedish band with a very unique sound, using acoustic instruments like violin, mandolina, bouzouki, etc.. Melodic complex rythms reminds of early YES but with a personal and innovative touch. An excellent folk-prog production with skilled musicians.

This band is regarded as one of the better Swedish prog bands at the moment and I got in touch with Fredrik for the story.
##############################################################
When, where and by whom was Ritual started ? Did any of you, past and present Ritual members, play in any other bands before joining up in Ritual ? Why did you choose that name ?
Johan (drums), Patrik (vocals, guitar) and me (Fredrik: bass) met in 1988 and formed a band. We all had our musical roots in rock, hard rock and heavy metal, and we had all been playing in various hardrock and metal bands. We met and joined forces because we shared a wish to move towards a more "experimental" and progressive musical approach. The band eventually became known as Bröd (Swedish word for bread) and it had other people in it as well. Bröd recorded some demos and played a few gigs but nothing really happened career wise. But it was a good "school" for us.
At the end of 1992 Bröd split up, but Johan, Patrik and myself, the original trio, immediately started up a new group since we still felt we had the same musical and creative ambitions. Keyboard player Jon Gamble joined us in January 1993, and the band was complete! We decided to call our band RITUAL.
The name 'Ritual' has a good ring to it. To me it associates to tribal cultures, animism, nature religion, but also to dedication and devotion. We feel very dedicated and devoted to our music. Playing music can itself be a sort of ritual and music is an important part of many rituals around the world. Originally I think we got the idea for the name from the song 'Ritual' on the 'Tales From Topographic Oceans' album by Yes.
That's how the band came into existence. We released our debut album in 1995 on the Musea record label. It was very well received in Europe and it got good reviews, so we toured a lot in Europe during 1996.
How was the music scene in your area when you started ?
There was not and isn't still any interest in progressive music from the general media in Stockholm. People tend to be very hip and trend aware here in Stockholm and progressive rock is not particularly trendy here!
When we started, progressive rock only existed in a very small but quite dedicated sub-culture movement. Bands like Landberk, Änglagård, Anekdoten and ourselves had just formed and we all met from time to time. Sometimes we played together at small prog-festivals organised here and there in Sweden. But the interest in our music was always greater from outside of Sweden. The opportunities were better in other European countries and that's why a French record label released our debut album. And that's why we all mainly toured and played outside of Sweden pretty much from the start.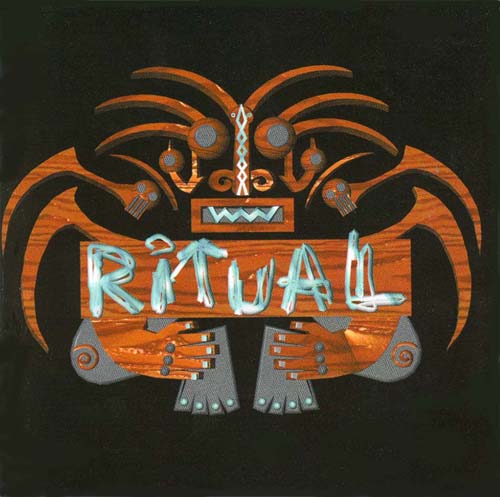 Over to your albums. Your debut album was Ritual from 1995. Please tell us more about this album.
In 1995 we had enough material to make an album. Most of the music was written between 1993 (when Ritual was formed) and 1995, but "Seasong for the Moominpappa" was written earlier, in the "Bröd"-years. Around 1994-1995 we got in contact with the French progressive rock label Musea, who wanted to make an album with us.  
The album was recorded in the summer (of 1995) at Rommarö Studio, by sound engineer Hans Fredriksson. This was the beginning of a still lasting creative collaboration between Ritual and Hans, who has been our co-producer, sound engineer and "fifth member" ever since.
The first album is very varied and it has a lot of youthfulness about it. It has some characteristics that I now think you can say are typical of Ritual: the high energy and the varied arrangements, the melodic focus, the folk music influence, the lyrical themes (ecosophy and Moomin) and the humour.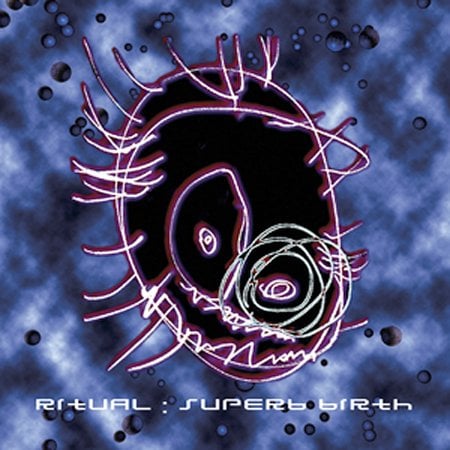 Your second album was Superb Birth from 1999. Please tell us more about this album.
Superb Birth was quite different than the first album. It was an album we just had to make at that point in time. As always we just followed the music and our hearts and that's all you can do as an honest musician. And back then I guess we were a bit tired of the "prog rock" term and we had some darker energies in us that needed to find a voice. We all felt a genuine need to try a more straightforward approach to music and to deliver the music in a more basic and primitive way. I guess our common background in hard rock and heavy metal also comes across on that album. Looking back today, I see that Superb Birth is certainly our least "prog-flavoured" album.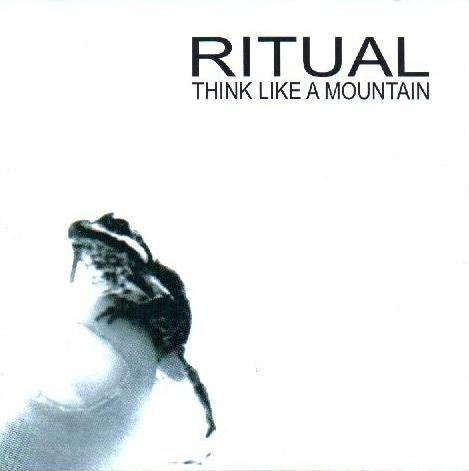 Your third album was Think Like A Mountain from 2003. Please tell us more about this album.
With Think Like A Mountain we had, again, a new approach. We came to the studio with quite basic and unrefined song ideas that were then arranged, refined and completed in the studio. Each song was produced as a separate little entity and we let each song, little by little, manifest itself into its own little sound-world, using whatever means the studio environment had to offer. Our sound-engineer and co-producer Hans Fredriksson was very helpful and inspirational in this process. The result is, again, a very varied album. With TLAM I guess we also gravitated towards the more progressive areas of rock again. So it was a bit of a homecoming.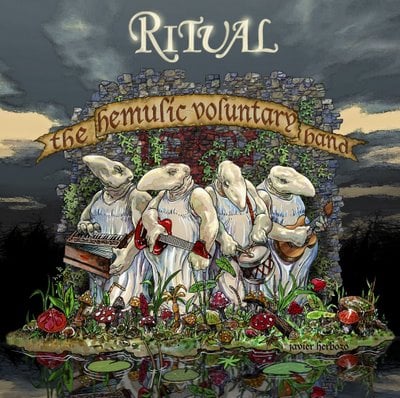 Your fourth and the most resent album is The Hemulic Voluntary Band from 2007. Please tell us more about this album.
With 'The Hemulic Voluntary Band' I think we really wanted to cultivate our musical characteristics in general. We wanted to do a very plain album with just the four of us playing our instruments and not so much studio production and effects. The writing process was also a bit different in that we decided that all music should be written and arranged before we entered the studio.
What we wanted to highlight on that album was the adventure, the childlike imagination, the saga format. We discovered that we wanted to further explore our fascination with the wonderful characters and phenomena of Tove Jansson's Moomin stories (Tove Jansson was a Finnish-Swedish author and illustrator). As soon as the song "The Hemulic Voluntary Band" was born we knew that we had an excellent working title for the album, no matter if it was going to be a Moomin concept album to 100% or not. There was another vision that kept coming back to us and we just couldn't seem to shake it off. The idea of making a longer track had in fact been haunting us for a long time. We were actually already discussing it while making "Think Like A Mountain" but we never seemed to find the right theme for it. But this time we felt quite ready for it and we had a valid lyrical theme, but it never really took off until I came up with the idea to try to put music to Tove Jansson's picture-book "The Dangerous Journey" and all of a sudden we were all up to our knees with ideas and riding on an incredibly powerful wave of inspiration!
Hemulic is actually our most successful album to date. We had been playing and creating music together for fifteen years by then and I like to think that there is a natural creative refinement going on. As long as you keep in touch with the spirit of the band and as long as you can keep your childlike imagination and curiosity, it will be a good refinement!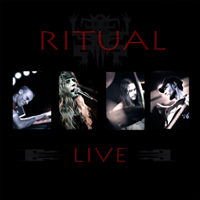 You also released a live album called Live in 2006. Please tell us more about this album.
We had been discussing making a live album for some time, but it was not until we had the opportunity to bring along our sound engineer Hans Fredriksson on tour, as well as the right recording equipment, that it became possible. Also, after three studio albums we had enough music to choose from. All this coincided in the spring of 2004. So we set off on a European tour together with our colleagues and friends Anekdoten. Almost every show we did was recorded and in order to get recordings of as many songs as possible we used to change the set list every night. When we got home we had several hours of music, different versions of different songs, to sort through. We then choose what we agreed was the most inspired performances of each song and basically put that on record. It's a pretty straightforward live album and a good selection of Ritual songs from that period. It's an upfront audio-presentation of Ritual as a live band.
What have you been up to during the last years before you started on the new album?
Actually, we started writing new material already in 2008, right after the Hemulic Voluntary Tour ended. The thing is, we knew pretty much what we wanted to do conceptually and we had some music already. But most of us have other occupations and obligations outside Ritual and we all have families. Ritual is our hobby, even though it's a very serious, passionate and precious hobby. I guess you can say that we do this on our spare time (as often as we can) but time is scarce. So we have been working on the new album since 2008 but not continuously, rather in periods.
The news from your homepage is that you are currently working on a new album. What can we expect from this album ?
In a way it's a continuation from where the last album ended - it ended with the 26 minutes long piece "A Dangerous Journey" - in that it's an epic and a conceptual album. Concept albums are tricky though! You have got to have the right reason, the right means, a valid theme or story and large amounts of concentration and self-discipline. But we figured we wanted to go full out this time - it's just something we have to do! And when the right story appeared there was no turning back! So the new album is a quite dynamic collection of songs telling one story, or a narrative put to music if you like. I don't want to reveal too much about the story in itself, other than that it is an original story set in another time. Imagine a mix of Gogol's "Dead Souls", Sherlock Holmes, dark fairy tale, fable and spiritual journey - just to give you a small hint. The story had been growing in my mind for some years and I wrote a three-page synopsis that I presented to the other guys. And then we basically started to write music with the story in mind. When all the raw material for the album was finished we had over two hours of music, but after arranging, refining and editing it will clock in at around 90 minutes, like the old double LP:s used to be. So it'll probably be a double CD-release. The music is, like always, very varied and dynamic. There are longer tracks and shorter ones. There are electric and acoustic tunes. The music ranges from brutal or bizarre to tender and atmospheric. Perhaps there is a bit more melancholy in the music than there use to be. In all it's our most adventurous album to date.
How is the creative processes in your band from coming up with an idea to it's being recorded ?
We all write music, so usually each of us composes at home and then bring ideas to the rehearsal room. It may be complete songs with arrangements and all or it may be just a riff or part of a song. Then we work on these ideas together, playing the music, trying different approaches and arrangements. We usually record the results of each rehearsal so that we all can listen to the music at home. If a song idea continues to feel right we keep on working on it until completion. Even if one person is the main composer of a song the final touches are always a collective effort. Then, during the recording session, our co-producer and sound-engineer Hans Fredriksson may have some viewpoints or suggestions to take into account.
But from the start, each song basically has its individual composer, even though we inspire and help out each other along the way. The process is still a group effort. We have made music together for so many years now so we are almost like brothers. Ritual is a band, a family, that's why it says "music by Ritual" in the credits.
For those of us unknown with your music; how would you describe you music and which bands would you compare yourself with ?
I think Ritual's uniqueness (if we have one) is a combination of :
- that our main ambition has always been to make good songs with good melodies, no matter if it is considered progressive or not
- an orientation around the vocals and the vocal melodies (rather than around instrumental solos)
- the folk music influence, in both the acoustic and the electric songs
- the use of unusual/ethnic instruments
- our lyrical themes and styles (ecosophy/nature and Moomin)
- a certain humorous spirit
- a meticulousness in the arrangements
Besides of the new album, what is your plans for this year and beyond ?
Hopefully we will record the new album this summer and if everything turns out right and runs smoothly it may be released some time this autumn (2011). Then I guess we will tour and play live as much as we can for a period because we really miss that. That's as far as I can see through the mists of time!
To wrap up this interview, is there anything you want to add to this interview ?
Well, we hope that our listeners have patience, that they will follow us on this peculiar journey and that they will find delight in the new music. I'd like to think that it's an adventure worth waiting for.
Many thanks for your interest!
Peace, love and prog to all!
Fredrik Lindqvist, Ritual
Thank you to Fredrik for this interview