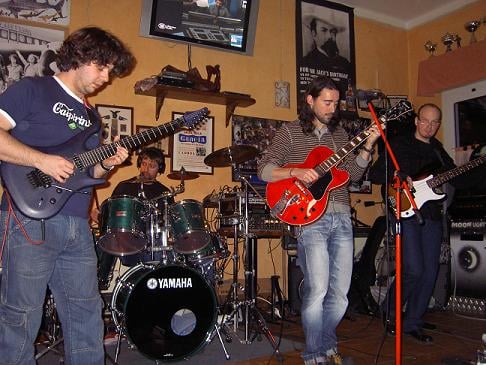 Proteo is a prog rock band hailing from Italy. The band began in 1996 playing mainstream rock, but soon became interested in playing in the more progressive arena and today describe themselves as a prog-pop band. The band was formed by Marco Paulica on rhythm guitars and vocals, Matteo Copetti on lead guitar and sax, Alessandro Surian on bass and Fabio Gorza on drums. The lineup has remained the same since the band's formation until the present day.

I got in touch with the band and Matteo Copetti answered my questions.
############################################################################## 

When, where and by whom was Proteo started ? Did any of you, past and present members, play in any other bands before joining up in Proteo ? Why did you choose that name ?
Marco Paulica (vocals and guitar) and Matteo Copetti (guitar) were teenagers and used to play at a same local youth marching band, the idea of a rock band started to take really place in 1994. The actual lineup, featuring Alessandro Surian (bass) and Fabio Gorza (drums) was born and is the same since 1996, right when the band started regular rehearsal sessions and the name, PROTEO, was chosen.
We chose that name because the proteo is an animal that lives in some caves in our territory. It lives deep, lonely in the ground, where water is almost pure, it is amphibian, blind and delicate but also hard to die, it lives something like a hundred years. We hope our band to be long living as its long lasting life and our way of making music as pure as its purity and sensibility.
All of us came from different musical backgrounds and from different early bands, but we do not consider this a key feature of Proteo, as too often we read in other bios around the web: it is quite normal for four guys to have different tastes in music, it would be rather rare to meet four people with exactly the same tastes.
What comes out, if we mix the ideas of these four people is simply unpredictable.
Beyond  the differences that bring several moods in the compositions, there is a hard work in rehearsal that really makes the difference through the years.
Melting four musicians together gives not an automatic result, this is the alchemy of our work, the random clue that makes our hours spent in rehearsal never boring.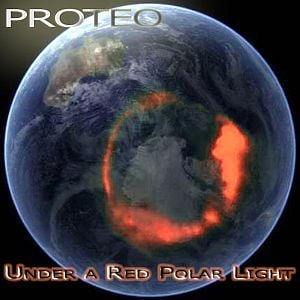 Your only album to this date was the Under A Polar Red Light album from 2009. Please tell us more about this album.
Under a Red Polar Light was intended as our 10th anniversary album: we started recording it in 2006 to celebrate ten years of activity. Searching for an artwork, Marco saw an article in a scientific journal in which they explained the effects of solar cycles on our planet, one of which is precisely the formation of polar auroras in particular reddish hue: we all decided to put this aurora image as the album cover, to meet the solar cycle with the first ten years of Poteo, intended as our "first cycle".
In 2006 we meant to celebrate in a "restricted way": we didn't imagine to really put our compositions in a worldwide distributed CD. Luckily we got more involved in music business after meeting Massimo Orlandini and signing for its label: MaRaCash Records. We took much time to mix it the best way with the help of our sound engineer Diego Pernich. At the end, took three years to complete recording, mixing and releasing it. Thank to this dilated time, the record features both older and newer compositions; some of the old ones took many years to become like they've been recorded, passing through many revisions and changes according to our way of playing and intending music in a certain period. Finally we simply took the best of our production of the last ten and more years and got them on a CD, the pieces are almost all intended into the prog direction, the same direction that we took through the years. There may be songs of the past just as good but not related to our today's composing way.
For those of us unknown with your music; how would you describe you music and which bands would you compare yourself with ?
We believe that our music is largely daughter of our childhood years, a blend of the 80's where we mostly grew up and the weight of the 70's. We always intended and worked on the aspect that our music should be a compact sound, we don't like one instrument to overcome the others. The best way for us to express with music is to compose and play songs that will release details to the listener drop by drop, listening after listening. Each time one plays a PROTEO song, we guess one should enjoy a new detail of our composition, picking up an aspect well hidden inside harmony and melody, making the listening long lasting and ever interesting.
That said, it is difficult for us to identify bands that can actually inspire us, this should be up to listeners and employees of the press: more or less they agree on our sound influenced by pop/new wave music of the 80's, most of the times they have many different views when speaking about our influences. That can only make us happy: it means that we are not easy to label.
However, if we have to name a few, we can say that we had a big influence by the Police, one of the first groups from which we have chosen the cover, on which we created our groove and feeling just playing around. We think the Police is a band that really marked a turning point, played really original music, not only in terms of sound but just from a metric point of view. We make no secret that some ideas on the harmonization of our tracks are directly inspired by the music of the Police.
What have you been up to since 2009 and what is your latest update ?
Since the publication of the CD, we have faced, in cooperation with our label, a double activity: concerts and CD promotion: a path full of success culminated winning 2009 best debut prog album award at the prog event exhibition of independent labels in Faenza (MEI) and participating as opener at Veruno 2DaysProg festival with Moongarden, Gazpacho and Pendragon.
We had great times, especially in Veruno and we came back from there with an agreement with a big management agency (Musicità): we hope this will take PROTEO in more live stages around Italy and Europe. Our first gig in 2011 will be supporting Le Orme at Miela Theater in our town, Trieste, in April 8th.
What is your plans for this year and beyond ?
Like all bands, we draw lifeblood from our live performances, so the goal is always to keep this channel up and running. Obviously we never stopped composing songs and planning our next studio album: we are actually building up some brand new, more complex and challenging songs, surely reflecting our current musical trend. We do this taking care to maintain our peculiarities, while improving the musical quality and the lyrics aspect too.
To wrap up this interview, is there anything you want to add to this interview ?
We wish to thank once again Massimo Orlandini for having taken us in MaRaCash Records, because doing so, he really helped us in making a big step forward in our activity, expanding our motivation to make music and, above all, gave us the opportunity to bring our music outside the usual borders that an unknown band has got.
Last, we are so glad for this interview, thank you so much for your interest in Proteo!
Thank you to Matteo for this interview