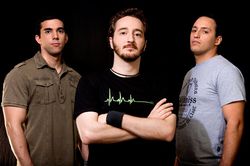 Hollowmind is a Brazilian progressive metal band formed in 1993 by Roberto Gutierrez (bass) and Alexandre Silveira (guitars).The other musicians in this initial line-up(under a different name) were Daniel Salles (drums),Roberto Naban (guitars,vocals) and Alexandre Hiro (keyboards). They have so far released one album. 

I got in touch with the band and Roberto Gutierrez answered my questions.

#########################################################################

When, where and by whom was your band born? Did any of you, past and present members, play in any other bands before joining up in your band? Why did you choose that name?
The group was first born in 1993, in São Paulo. Back then Alexandre (Silveira, guitarist) and myself (Roberto Gutierrez, bass and vocals) were playing in a band called Belvedere – which soon changed its name to Hollowmind. The "new" name aimed to reflect the image of a specific, meditation-like state of mind I often reach when I listen to music: full dedication towards absorbing harmonies, melodies, lyrics and according emotions conveyed, without leaving room for any further thoughts or concerns!
After playing several local festivals, the band was featured in a rare vinyl compilation called Conexão Underground, along with other bands. Although we were really young at that time (around 15), I already had some musical background with this band called Misery, one of the first combos to hit the stage of late Dynamo Brazilie club in the early 90's.
For those of us unknown with your music; how would you describe you music and which bands would you compare yourself with?
Since the beginning we've always strived to do some sophisticated form of heavy metal. I guess I would explain our sound as an unbiased blend between the power and energy of the genre with the musicianship and sonic poetry of progressive rock. Our influences as musicians and composers have come from both sides, worth mentioning Iron Maiden, Metallica, Megadeth, Queensryche, Rush and Yes, among others.
We've always been cautious with the term "prog metal" when defining ourselves – in spite of agreeing it is a nice proxy indeed – because it has somehow been over-associated to the hyper-complex, shredding music many of such bands perform. If an actual comparison has to be made, I guess our sound is closer to bands like Fates Warning and Pain of Salvation – but with a heavier edge –, who privilege the creativity and emotion of their music over the brilliance of their individual skills.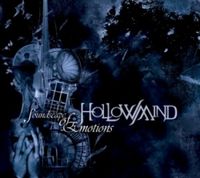 Your one and only album so far; Soundscape of Emotions was released in 2007. Please tell us more about this album.
We conceived the album, as its title suggests, as a kind of soundtrack for a handful of human feelings. Musically it brings a variety of heavy songs, emotional ballads and progressive tracks – including a 4-min instrumental opener! Lyrically speaking, ten different emotions are addressed, one to each song, as highlighted by the subtitles that go under the track titles.
Like in most debut albums, the songs were written during a considerably elastic timeframe – from the early days until a couple of months before entering studio. But on the other hand, I think our clear vision of how the band should sound was an offset to potential differences between the songs. During production time we recruited a few selected guests like long-time friend Kadu Averbach (guitarist, ex-Wizards) to contribute with the album, whose artwork was developed by renowned Gustavo Sazes (Arch Enemy, Kamelot, Manowar, etc). The CD was released in Brazil by heavy metal specialists Die Hard Records and we're happy to say it has only received excellent critic reviews and public feedback so far!
What have you been up to since 2007?
Soon after the album was released, drummer Felipe Gomes joined the band, completing the line-up which remains strong and steady ever since. The positive repercussion of the album enabled us to do several shows, including a participation in the finals of 2009 Wacken Metal Battle qualification in Brazil.
You are currently working on a new album. What can we expect from this album?
We're VERY excited about the new album! You know, this line-up now has a 4-year experience playing together and this means a lot when it comes to putting up the new songs, 'cause we know better how to leverage the individual capabilities and build a sound that deeply and truly represents the three of us.
We have all ten songs fully written, only a few arrangements away. We're doing the whole pre-production work now and look forward to entering studio in July. It has been such a rewarding and fun experience, because this time the process was completely different: the album was kinda fully conceived from the beginning, and we built the songs carefully so that we could fulfill that vision we had. And I think we've succeeded so far! What I can say for now is that there is a logical continuation of the musical style we developed in Soundscape of Emotions – of course with better and more consistent songwriting and production –, and that the album will have, again, a central concept as far as lyrics are concerned! All in all, I think it's gonna be a major leap forward to us; I'm confident our current fans will like it – and more importantly, hope that more fans will join!
Besides of this album; what is your plans for this year and beyond?
This year we'll concentrate our efforts in the new album, but at the same time we will make the digital release of Soundscape of Emotions – with some delay, unfortunately. For 2012 and beyond, we plan a longer tour for the upcoming CD and the release of both albums in other countries. We also intend to shoot our first video, for one of the songs of our next album.
To wrap up this interview, is there anything you want to add?
I would like to thank ProgArchives for this opportunity and the progressive / metal communities for the growing interest in our sound. For a Brazilian band, which stays naturally a bit far off the main music market axis, this is an outsanding channel of communication with our fans. Please keep an eye also on our official website (hollowmind.com.br) for news and on our MySpace and YouTube pages (/hollowmindbr) for updates. Cheers!
Thank you to Roberto Gutierrez for this interview