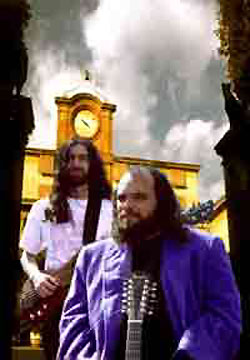 Humus was founded in 1987 by Jorge Beltran as a one man band, where he played all instruments in home recordings made through the ping pong recording technique. He chose the name 'Humus' based the earthy, humus-like sound caused by sound degradation caused by the reduction mixing. During the late 1980s and early 1990s Beltran released five cassettes, causing interest in the underground quarters of Mexico City, where there had been a long history of progressive rock that managed to exist despite all the adversity a Latin American country faces in terms of making independent music business.
I got in touch with the band through Jorge Beltran and the band answered my questions.
#######################################################################
Your biography has been covered in your ProgArchives profile so let's bypass the biography details. But why did you choose that name and which bands were you influenced by?

I first knew about the term "humus" from a book that described the different elements of soil when I was in high school in the 70's. I liked the fact that it was something that had died, but would become alive again into another thing through the earth cycle. Since then I always wanted to name a band Humus but that did not come into fruition until the 1990's.

I think Humus has been influenced by everything that we have heard during our lifetimes, whether we have liked it or not, "good or "bad". The music and groups that we didn't like influenced us on how not to play that thing, and of course we have tried to emulate and create from the things we did like. Another way to say it, we like most everything good from Elvis to Napalm Death...But to be less ambiguous, let's mention the top bands that have influenced our music, considered favorites too:
THE JIMI HENDRIX EXPERIENCE
LED ZEPPELIN
YES
FRANK ZAPPA
BLUE CHEER
GURU GURU
THE BEATLES
CARCASS
KING CRIMSON
BLACK SABBATH
THE ROLLING STONES
POPOL VUH
and many, many others.

This is an archive based interview also intended for the fans you get well after both you and I have passed away so let's go straight to your albums. Please give us your long or brief views on your albums, starting with.......







Tus Oidos Mienten from 1992


This was Humus first LP, but actually the sixth opus. This album represents the culmination of years of work of a one man project that started in 1987. I recorded most of the tracks without thinking they would be appearing as part of a record; instead I thought they would become the sixth home made tape, but fortunately the work became a Long Play, and gave recording status to Humus.





Humus from 1994


The success of the first LP opened the possibility of making Humus an actual performing band, so several other musicians got involved in the project making this album a group effort, but maintained much of the original vein of the one man project as it once was. However, it is darker and heavier than its predecessor, inpart due to high tension between the participants during recording sessions.





Malleus Crease from 1996


My favorite Humus album. By the time of the recording sessions we had switched to 8 channels. Even more muscians participated in this album than in the prevoius one, but i think this is the most cohesive Humus album so far.




4º from 1997

Four Degrees has the distinction of having the most unorthodox Humus collection of songs in the long track "Fatscope" because theyall come from diverse sessions that go back to the early 90's up to 1997, and the tracks all have different origins and themes. And I always liked the fact that the two big tracks on the album ("Fatscope" and "Usa Las Tijeras") are completely the opposite regarding structure.

Whispering Galleries from 1999 (not credited in PROGARCHIVES yet).

This album has been the only one not produced by ourselves, and the conditions of recording were not optimal. We had always made records in a relaxed environment, but in this case we were forced to make only one take for each track, and were allowed to do overdubbing in only one of them. The band does sound unrehearsed because the drummer at that time had only been in the band for two weeks, so the album is plagued with mistakes. The guitar is a flat instrument for most of the album, but anyway there are some brilliant moments in some of the tracks due to the capacity of the then bassist Victor Basurto.


The rumours tells me that you have recorded at least five unreleased albums since 1998. What is the truth here and is there any plans to release these albums ?
Yes, there are several unreleased albums by Humus that have been ready (mixed and mastered) since 1999. You heard that there are five, but in reality there are ten albums waiting to be released as of 2011. Those who used to be our record producers in Mexico and Europe in the 1990's have incomprehensibly refused to release any new Humus material, in spite of the great reviews and response our music has received since it first came out. One of them opted to re-release some of the old albums, an that was not bad, but we have ALWAYS been working without rest to produce at least one new album per year, including their cover designs, credit and song lists, etc... Fortunately, many of our fans have been able to listen to some of the new tracks of the many unreleased albums through different postings we have made in the internet, namely youtube, myspace, and at our Humus official site..




How would you describe your musical development from Tus Oidos Mienten to your latest recording?

It has been a long way. We as a group (and I in a personal level) have improved our musical skills through constant practicing and studying. I have particularly learned a lot from most musicians whom I have played with during all these years, specifically on how to play better and more difficult guitar lines and riffs, as well as on how to compose more elaborate and sensible (full of feeling) music. Although the original primitive drive is still there, we have also evolved by incorporating new influences and styles, and the new digital technologies and their benefits, as can be heard in our first single from 2011, "We Respect Your Decision", which will be posted at the end of March in the internet.

You tend to operate very independent from any trend and scene out there. But which scene do you mostly associate yourself with ?

When the first album came out, we marketed it as "progressive", because we thought the Humus music would fit under that umbrella term, but soon reviews in magazines and other publications from Italy, the U.S., and other countries mentioned it was "psychedelic", a term we didn't even thought was in use any more by then, but we enjoyed that labeling much more, because this way we found ourselves connected to a much wider musical universe than just being plain prog! We also like to think we have some roots in the Stoner genre, as some of our fans and friends from other bands have pointed out. And we also have been called Space Rock (we like that too!).




You have released four albums and have done some gigs. What is your experiences with the music industry and the gigs promotors ?

To be honest, I have found mostly human misery in the music industry, meaning that it is a dog eat dog situation. There have been some good gig promoters and very bad ones. To go into detail would be boring and deppressing. That's why we have almost "disappeared", as Faust once mentioned in one of their albums from the 1990's. But juts as they do, we have always been making new music. The current band members are all professional and highly trained musicians: Dierk Roshman (Germany) is an incredibly virtuosic keyboard player with classical influences, and the solid John Westminster (England) punches drums like nobody else in Humus since 1997.

What is your plans for this year and beyond ?

We hope to put out at least one album this year, but our plans in general are:
Make more albums. Release those albums. Release all the albums we have made. Take our music concept out there. Make more fans around the world.
To wrap up this interview, is there anything you want to add to this interview ?

We would like to thank you for this opportunity of talking Humus music, and we hope readers find the time to look for, listen to, and grab HUMUS albums. We also invite everybody to check out new HUMUS efforts as we post video or steaming links in our official webpage.
Thanks again.
Dierk Roshman, John Westminster, Jorge Beltran.




Thanx to Humus for this interview


Their PA profile is here and their homepage's here